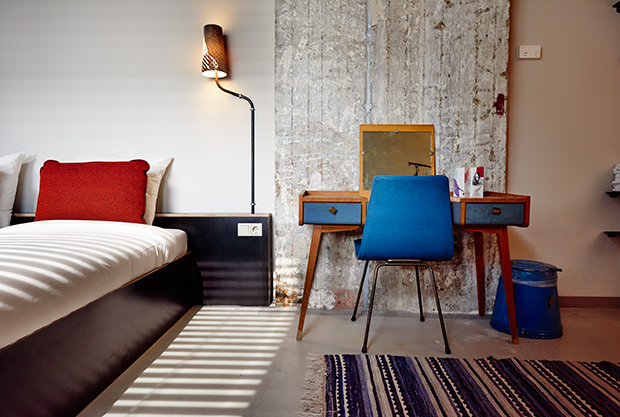 Amsterdam is one of the most popular European destinations among travellers. It's no wonder I get thousands of emails from you guys asking me about where to stay and what are the best hotels near the city center in Amsterdam.
So I have listed down some of my favorite hotel hunts in the City of Sin. There are plenty of hotels in Amsterdam that are both affordable and stylish. Here are 10 of the city's more memorable hotels that are guaranteed to give you the best stay possible.
Related: Amsterdam City Guide
Volkshotel
Conveniently located four stops away from the Central Station, Volkshotel is a lively getaway within the city. With exposed concrete floors and ceilings with vibrant accents, you can tell right away that this hotel has its own flavor. The rooms have a minimalistic appeal with modern furnishings, proving that less is more.
For a competitive price, Volkshotel has a lot to offer. You'll be able to hang out at the café, spend your evenings letting loose at the hotel's nightclub, and relax in the rooftop hot tubs and saunas.  It's no wonder that Volkshotel has a reputation for being one of the coolest and most fun hotels in Amsterdam!
Rates: En suite rooms from 79 EUR/night
Hotel Not Hotel

Hotel Not Hotel is a whimsical adventure all on its own.
From the outside the hotel doesn't look like a hotel which probably explains its namesake. Inside the illusions continue with a secret bookcase and a look and feel that's more like a posh private school than a hotel.
Aside from its quirkiness, past guests rave about the breakfast baskets that are delivered to guestrooms every morning, filled with fresh pastries and other delectable selections.
Hotel Not Hotel really aims to make its guests feel at home. It's even located in a real Amsterdam neighborhood where you'll get plenty of interaction with locals!
Rates: En suite rooms from 85 EUR/night 
Hotel Mr. Jordaan

Hotel Mr. Jordaan is another charming canal house turned hotel. There are many tourist attractions easily accessible by foot — you can even take a stroll right to the Royal Palace.
Hotel Mr. Jordaan is located in the Jordaan neighborhood which is arguably one of the most picturesque and thriving districts of Amsterdam. It's known to be an area filled with many types of artisans and artists alike, ideal for the globetrotting creative who wants a local experience. It's actually one of my favorite neighborhoods in Amsterdam!
Right outside of the hotel, you'll get an old-time nineteenth-century feeling walking up and down the quiet streets with boutiques and galleries.
Rates: En suite rooms from 85 EUR/night
Lloyd Hotel & Cultural Embassy
There is something for everyone at Lloyd Hotel & Cultural Embassy. Located in the Eastern Docklands neighborhood, you can choose a room that's perfect for your own taste. Some rooms have a new modern feel, while others have a rustic and, even stately appeal.
The hotel's Cultural Embassy gives you a look into the fascinating history of the hotel and Amsterdam, and connects you with other travelers looking for the complete Amsterdam experience.
There is a certain unique class about Lloyd Hotel & Cultural Embassy. At the end of your trip, don't be surprised if you feel enriched and completely renewed!
Rates: En suite rooms from 85 EUR/night
Ramada Apollo Amsterdam Centre
Ramada is an affordable and renowned hotel chain that has a reputation for putting their guests first! The Ramada Apollo Amsterdam Centre is no exception — you'll have a world-class experience throughout your stay.
The hotel is located close to the airport and a few minutes from the city center. Rembrandt Park is also along the way, and you'll love the varieties of local dining available in the area. The hotel also has a rooftop terrace where you can wind down after a long day and enjoy a nice dinner, have a few drinks and marvel at the gorgeous views of the city!
Rates: En suite rooms from 85 EUR/night
Motel One Amsterdam

If you want to enjoy the city, but have a quiet place to call home while you're on your trip, Motel One Amsterdam is perfect for you!
Motel One is a great value hotel with rooms equipped with all of your needs. Outside of the motel, there are plenty of bars and restaurants and easy access to public transport.
Motel One Amsterdam is also a newer establishment of the Motel One chain, having only opened in the summer of 2015. With the quality it has now, it's exciting to see what more Motel One Amsterdam has to offer in the future.

Rates: En suite rooms from 84 EUR/night
Seven Bridges
For a true Amsterdam experience, you should consider staying at Seven Bridges, a canal house-hotel that is just a few short minutes away from Rembrandt Square.
What adds to Seven Bridges' cool factor is its historical relevance and location in the Seventeenth-Century Canal Ring Area of Amsterdam, a UNESCO World Heritage Site known for its influence on the urbanization of cities all over the world.
For its size, the hotel has an abundance of sophistication and regal flare. If you'd like, you can even ask to have your breakfast on fine china while you lounge in your private room filled with antique furniture.
Rates: Two-bedroom apartment from 184 EUR/night
Hotel V Frederiksplein
Stylish and convenient, Hotel V Frederiksplein is easily accessible with a tram stop available just outside the main entrance.
When you first enter the hotel, you're welcomed by modern fixtures and elegant interior details seen throughout the building up to the guestrooms' interior.
The hotel is across the street from the world famous Albert Cuyp market where you can buy anything from vegetables to clothing and electronics. Amsterdam's museum quarter is also a walking distance from the hotel.
People rave about the staff who are willing to help with any of your needs to make your stay at the hotel, and in Amsterdam, a wonderful experience. If you haven't decided where to stay in Amsterdam, Hotel V would be an excellent choice!
Rates: En suite rooms from 119 EUR/night
Mercure Amsterdam Sloterdijk Station

Apart from value, location is everything! So what's a better location than a hotel that has a major railway station in its name?
Mercure Amsterdam Sloterdjik is an easy commute to and from the main attractions of Amsterdam. You'll find modern surroundings inside and out, with a few art fixtures in some rooms and common areas. It also has a spectacular sky bar that has a wonderful atmosphere where you'll want to spend your evenings.
Supermarkets and other locally-owned businesses are right outside the door, and you'll never run out of places to try!
Rates: En suite rooms from 84 EUR/night
Ibis Amsterdam Centre Stopera
Newly updated, affordable, and easily accessible with public transport available just right around the corner; Ibis Amsterdam Centre Stopera has accommodations you definitely won't want to pass up!
The hotel provides a local feel with a break from the city. Even so, it's only ten minutes away from Dam Square, with bars and restaurants within walking distance. It's the perfect getaway for the sightseers and laid-back travelers who want to have the conveniences of the city, without feeling trapped in the hustle.
The rooms are small, but for a fair price you can book a room that has a canal view, giving you an even more relaxing stay.
Rates: En suite rooms from 91 EUR/night
Do you have a favorite hotel in Amsterdam that is not included in this list?