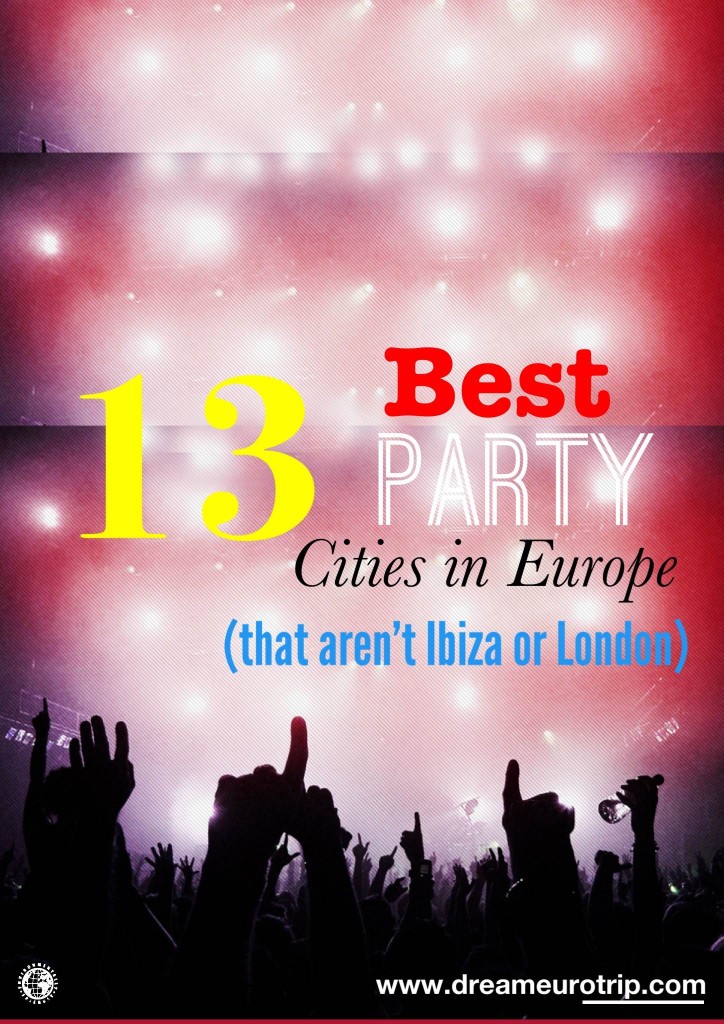 C is for Clubbing! For some of you guys, traveling is a non-stop party. I should know: almost 20% of my email subscribers answered they are going on a euro party trip on my eurotrip calculator, that nifty little thing. I also receive a lot of emails asking where is the best places to party in Europe or even where to score some joints or meet some prostitutes (!!!). I know I have a good web of connections all over the world but seriously, do I look like a drug dealer or a pimp? #emailsbloggersreceive
I digress.
I've created this list with a ready-made itinerary if you want to follow a 2-month euro party trip in Europe to finally answer this question. Of course you're free to include Ibiza and London but here are 13 best clubbing capitals that are more interesting and mostly less expensive (except for Stockholm, Paris and Mykonos). I've listed my favorites and noted those that are gay-friendly destinations. Some are not but they are still fun!
Note: This post is part of The A to Z of European Travel series. Don't miss any post by subscribing to my newsletter on the sidebar.
1. Amsterdam, Netherlands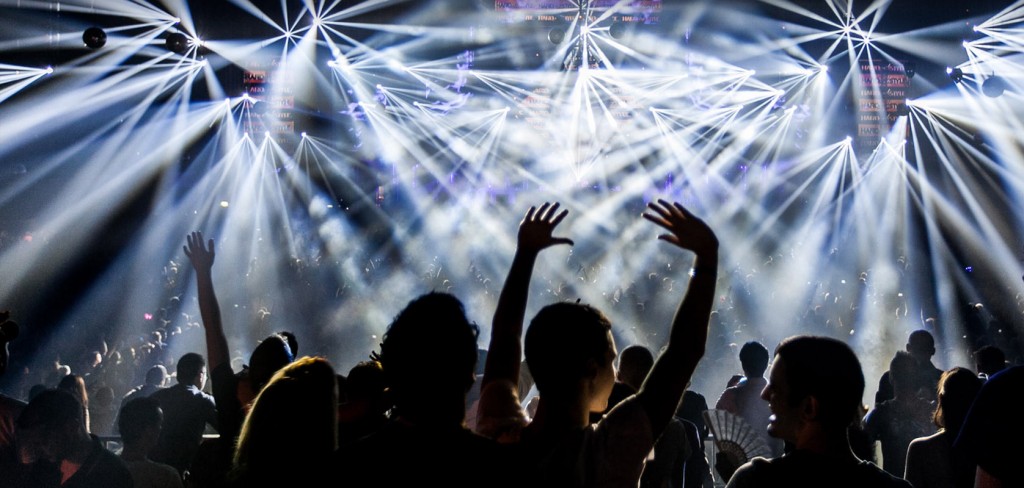 Rule #1: Avoid the coffee shops and you will find a vibrant, varied and wild clubbing scene of the city. Netherlands produced the likes of Tiësto and Armin van Buuren so expect trance to be massive here, but you'll also hear plenty of techno, deep house, hip-hop and your sugary kind of pop. Check out Amsterdam Dance Event featuring over 2,000 DJ's in 5 days this coming October. Read my essential guide to Amsterdam.
2. Antwerp, Belgium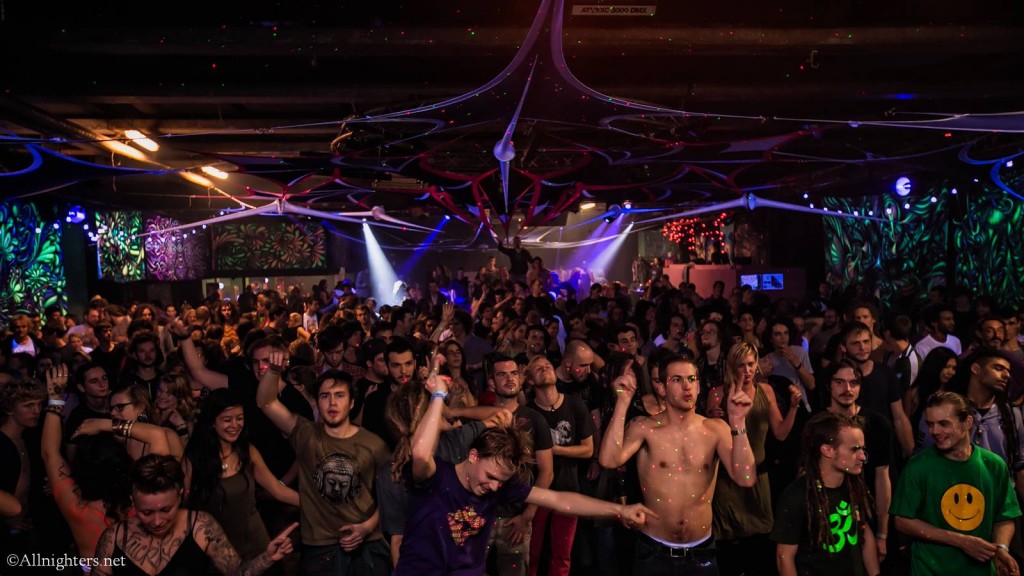 I love Belgian cities specially Antwerp and Ghent. Between the two, Antwerp has a livelier night scene. It has lots of cool bars in the center and it has the biggest gay and lesbian club in the Benelux region (that's short for Belgium-Netherlands-Luxembourg). Yes it beats Amsterdam! Check out Red and Blue Club if you're heading to Antwerp.
3. Berlin, Germany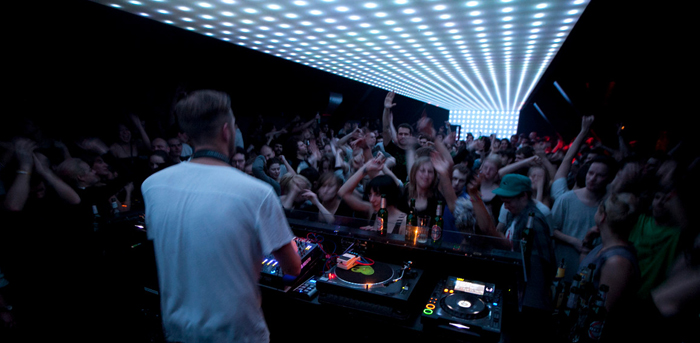 Berlin is the epicenter of techno in the world. But not just that, you can pretty much find any kind of party/music in this city that never stops partying. The beer is cheap and the guys and girls are hot. The party scene here is pretty young and international as the city attracts a lot of party tourists. If you're feeling adventurous head over to Berghain, Berlin's most exclusive night club. And then take a swim at possibly the coolest pool in Europe after all the hardcore partying. Berlin also has loads of open-air parties in the summer which I have enjoyed immensely. Follow Open Air Berlin for updated info on where the parties are.
4. Stockholm, Sweden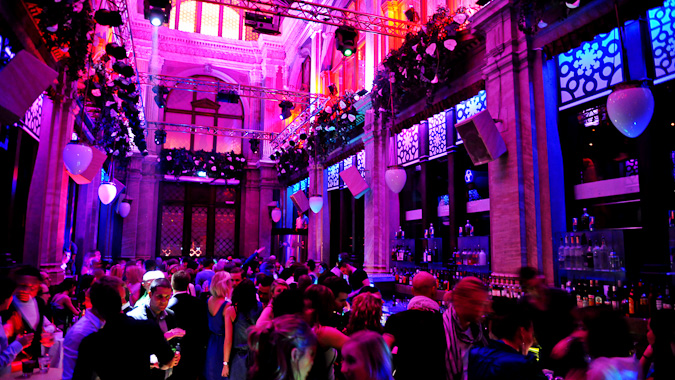 The capital of Scandinavia is probably your best choice if you want to be surrounded by ridiculously beautiful blondes. OK, it's not all blondes but the people here are gorgeous no matter where they came from. Partying here is expensive though but you can always get drunk in your hotel room first or at your friend's place before heading out. That's what locals do. The best places to find the hip, the young and the beautiful Swedish crowd are in Södermalm and Stureplan. The only downside? The establishments close at 3 AM. A great alternative to Stockholm is Copenhagen (sometimes I think the Danes are better at this).
5. Warsaw, Poland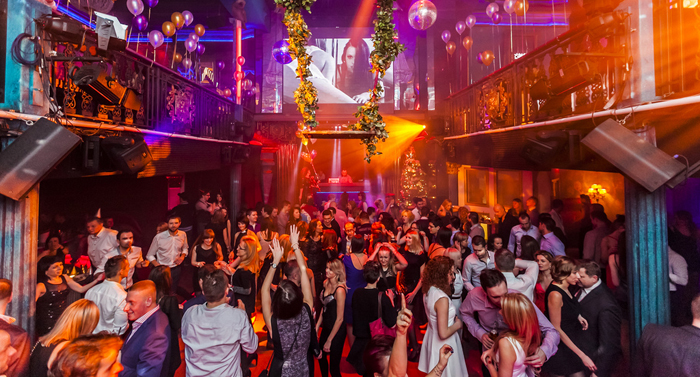 If you can't afford Stockholm, then consider Warsaw. It's super cheap relative to Scandinavia and the girls are equally gorgeous but the guys not so much. A glass of beer can be as cheap as 0.50 euro cent and vodka shots only cost a euro. Don't EVER try to outdrink the Poles though because they chug vodka like water here. My favorite bar is Przekąski Zakąski in the Old Town but apparently they moved location to the city center last August. My Polish friends also recommend Makulatura as an alternative. Shots are less than a euro! These places should be your first stop before heading anywhere in Warsaw. If you're colored and gay, double whammy for you because there are still homophobic and racist Poles here and there. But methinks it does have the best gay scene in Poland.
6. Prague, Czech Republic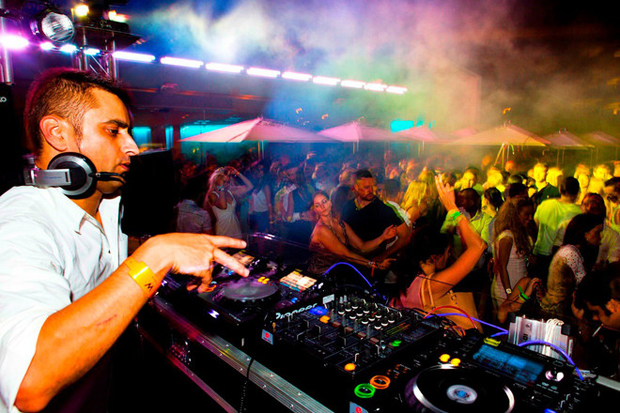 Like Warsaw, Prague is very affordable and the city is ridiculously gorgeous. Drinks are cheap and, unlike Stockholm, the nights are long. The DJs are also top class. Czech Republic also boasts of over a hundred variety of good beers you can sample all night. Beer garden with the most spectacular views? That would be Letná Beer Garden located inside the beautiful Letná Park along the bank of the Vltava river overlooking the old town of Prague.
7. Budapest, Hungary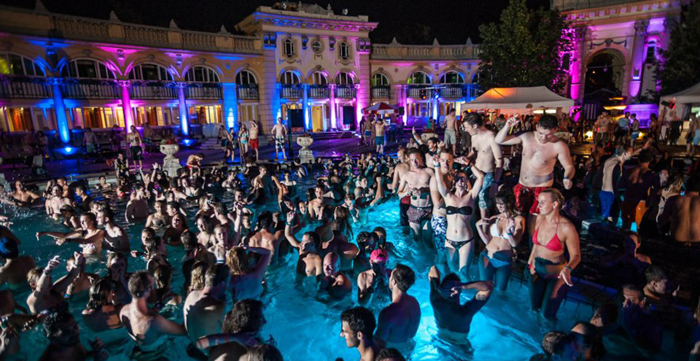 This city is never usually in the radar for best places to party but my god, one word: Sparties! The ridiculously lavish  Szechenyi Bath pools turn into summer night bath parties from June to September. And in other baths the rest of the year. It's wiillllld! They also have a great ruin bar scene. My favorite ruin bar is Szimpla Kert which is probably the coolest bar I've ever been to.
8. Mykonos Island, Greece
Talking about wild, Mykonos is definitely wilder. The parties here never stops all summer long. People are already dancing and drinking long before noon. It's crazy. Just see the video above shot at Super Paradise Beach for reference. I love the vibe of the island and it's very gay-friendly as well. Check out Paradise Beach or the Pinky Beach at Super Paradise Beach. A great alternative to Mykonos is Ios island.
9. Hvar Island, Croatia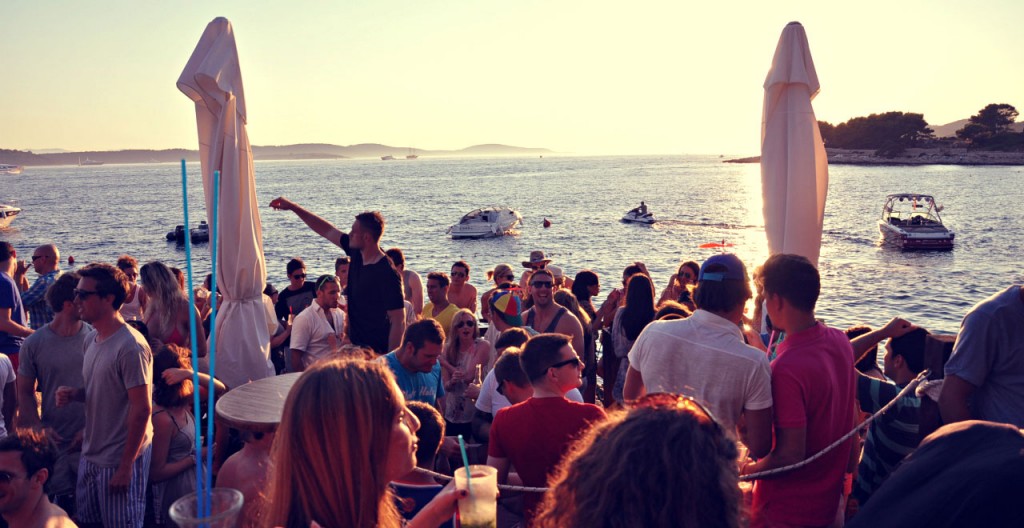 Hvar is another favorite in the Med (short for Mediterranean). The crowd here is mostly young people taking cruise trips around the Med. The center is beautiful, some of the bars and clubs are right by the water and they have drinking parties by the beach starting at noon. Check out the beach parties at Carpe Diem Beach or Hula Hula, the best beach bar in Hvar where you can drink while watching the sun sink into the Adriatic Sea (see photo above).
10. Torre del Lago, Italy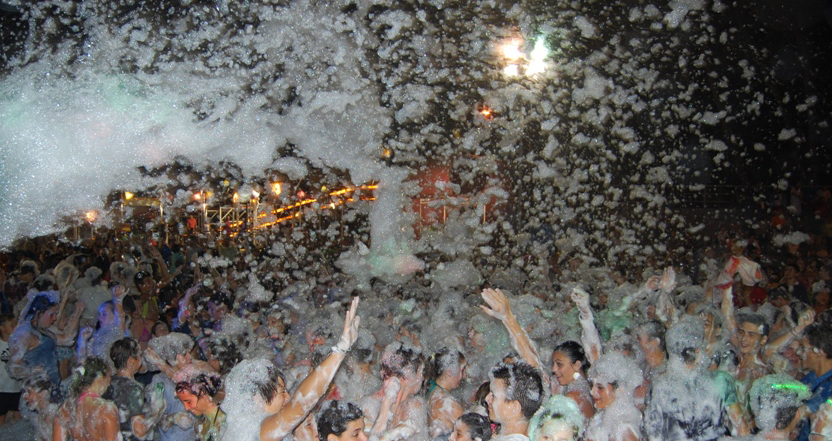 Oh my. When I travelled to Versilia last summer, I had no idea that this largely unknown place to outsiders is pretty happening. The Tuscan Riviera is a pretty great place if you want to party in Italy. Shhhh…don't tell anyone I find Rome boring for partying. Meanwhile, Torre del Lago is apparently the gay mecca in Italy too. Who knew? The best and only time to go is summer as I imagine the place is a dead party place on other times of the year. Check out the Schiuma Party pictured above.
11. Madrid, Spain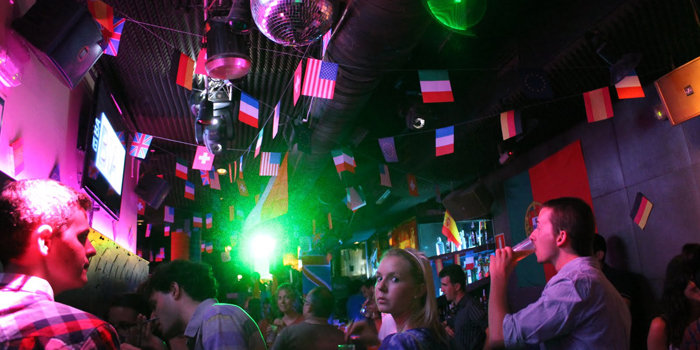 Sorry Barcelona but I had more fun going out in Madrid. Barcelona used to be one of the best places to party but I've been visiting since 2010 and I've never really had one great party night out in the city. Meanwhile, Madrid IS EVERYTHING. You can check out this great google maps of bars in La Latina neighborhood, the best barrio for bars. For the gay traveller, one word: Chueca. My friends Auston and David at Two Bad Tourists, who are currently based in Madrid, have a great list of the best gay bars and clubs in Madrid. Note that parties start really late in Spain in general so you better be a night owl. Also: bar-hopping is a thing.
12. Lagos, Portugal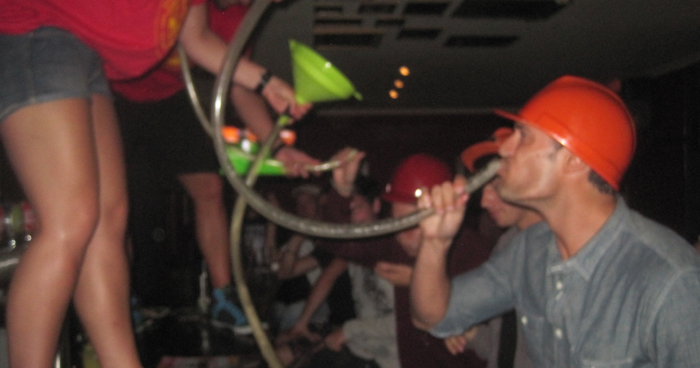 This is the premier partying place in Portugal in the summer. It has some of the best beaches and cheap drinks. Although this place is a bit overrun by heavy-drinking Australians and Brits (I mean you'll most likely find them in all the cities listed above anyway), you will love the wild atmosphere of Lagos. It's more bar scene here than clubbing though.
13. Paris, France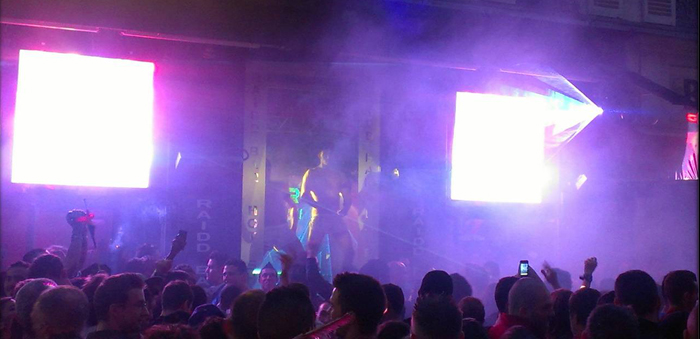 The last time I was in Paris I ended up in Raidd Bar in Le Marais staring at a hot, naked guy soaping himself in a shower. On a platform. With a hard-on. I don't know how I ended up in this place. Well okay. I sort of know. I was in a private rooftop party with friends and then some of us decided to go to Le Marais for some more drinks in one of the clubs there. I don't even remember the name (I googled that's how I remember Raidd's name). And then I think the other people wanted to move and the next thing I know I was watching this particular shower show. It was my first time to see a live show like that. Thanks Paris!
Bonus: Belgrade, Serbia
I went to the Balkans for the first time this summer and, wow, do they know how to party! Check out the unique floating clubs in Belgrade in the summer. The parties are pretty epic. Here is my round-up of the 12 best bars and clubs in Belgrade.
Did I miss any place? Where is your favorite place to party in Europe?
This post is part of The A to Z of European Travel series. Don't miss any post by subscribing to my newsletter (it's on the sidebar on the right). Remember that you can participate by sharing on social media, commenting or emailing your eurotrip questions.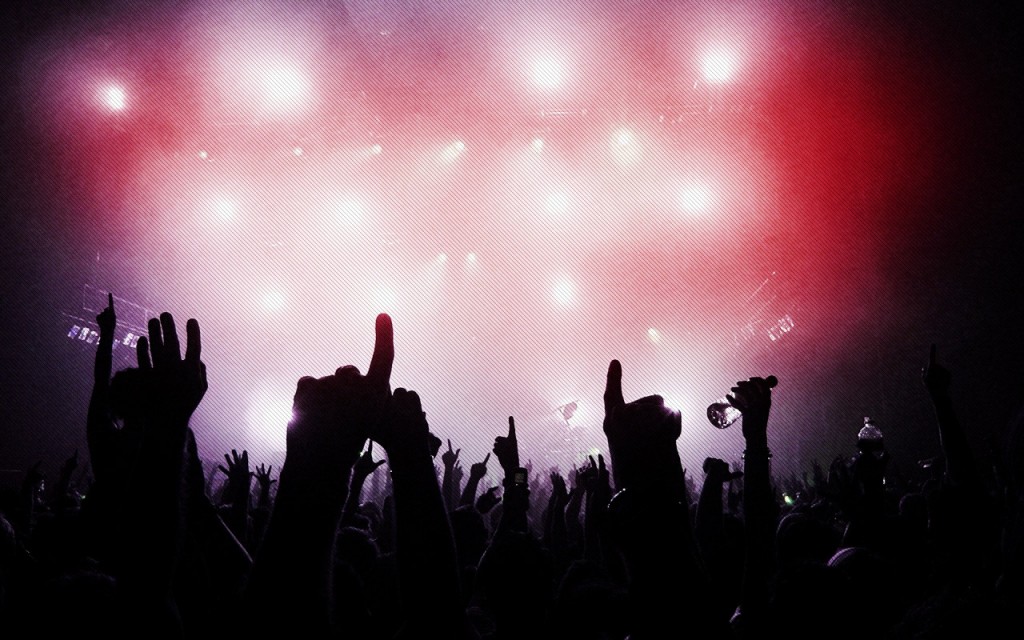 Photo credits: 1. Amsterdam Dance Event 2. Allnighters 3. Berlin Getaway 4. Visit Stockholm 5. Slawek Skrzeczynski 6. ClubbingBreak.com 7. Sandor Fegyverneky 9. Hula Hula Hvar 10. Versilia Today 11. Daisy 12. Richard from Richarding 13. Ken from That's Me