The nightlife guide to the 13 best party cities in Europe from Amsterdam to Stockholm so you can take your eurotrip to the next level.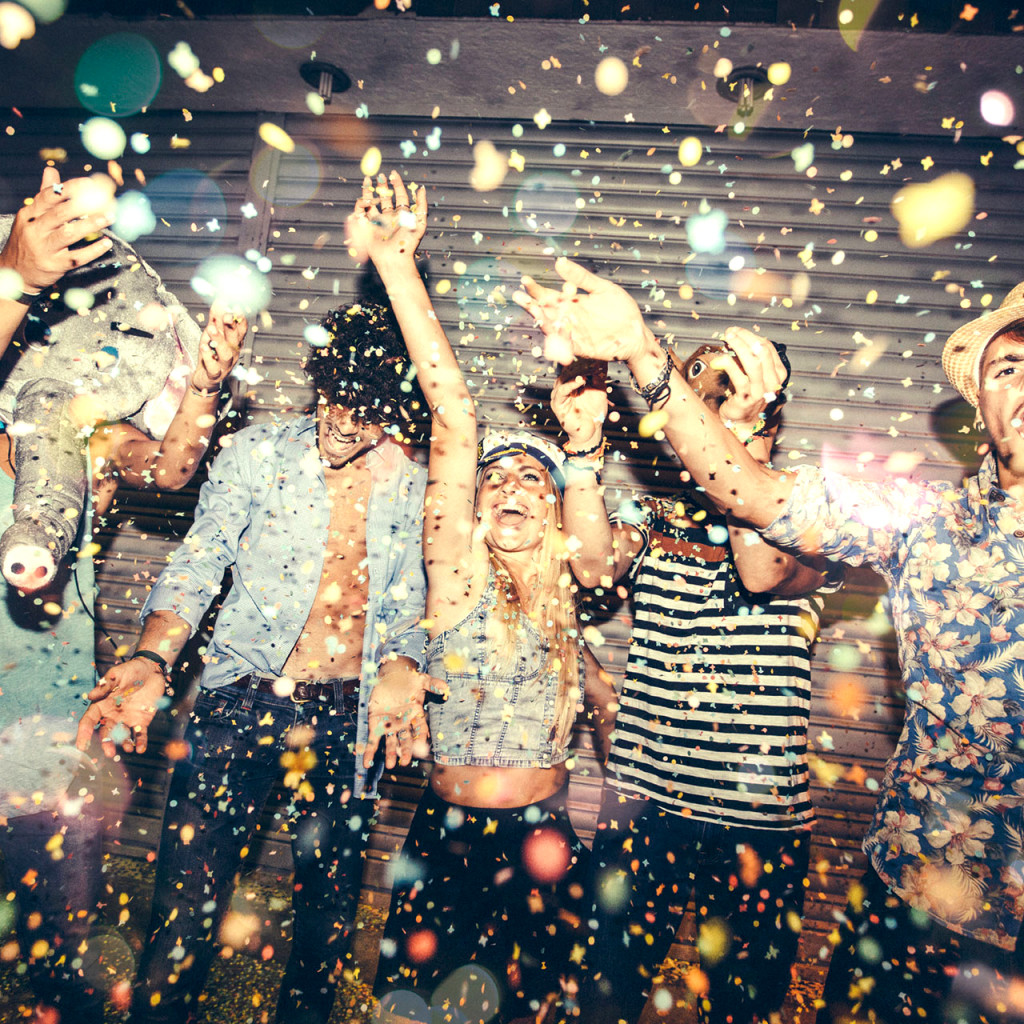 Last updated April 1, 2017
C is for Clubbing! For some of you guys, traveling is a non-stop party. I should know: almost 20% of my email subscribers answered they are going on a euro party trip on my eurotrip calculator, that nifty little thing. I also receive a lot of emails asking where is the best places to party in Europe or even where to score some joints or meet some prostitutes (!!!). I know I have a good web of connections all over the world but seriously, do I look like a drug dealer or a pimp? #emailsbloggersreceive
I digress.
I've created this list with a ready-made itinerary if you want to follow a 2-month euro party trip in Europe to finally answer this question. Of course you're free to include Ibiza and London but here are the 13 best clubbing capitals that are more interesting and mostly less expensive (except for Stockholm, Paris and Mykonos). I've listed my favorites and noted those that are gay-friendly destinations. Some are not but they are still fun!
Note: This post is part of The A to Z of European Travel series. Don't miss any post by subscribing to my newsletter on the sidebar.
1. Amsterdam, Netherlands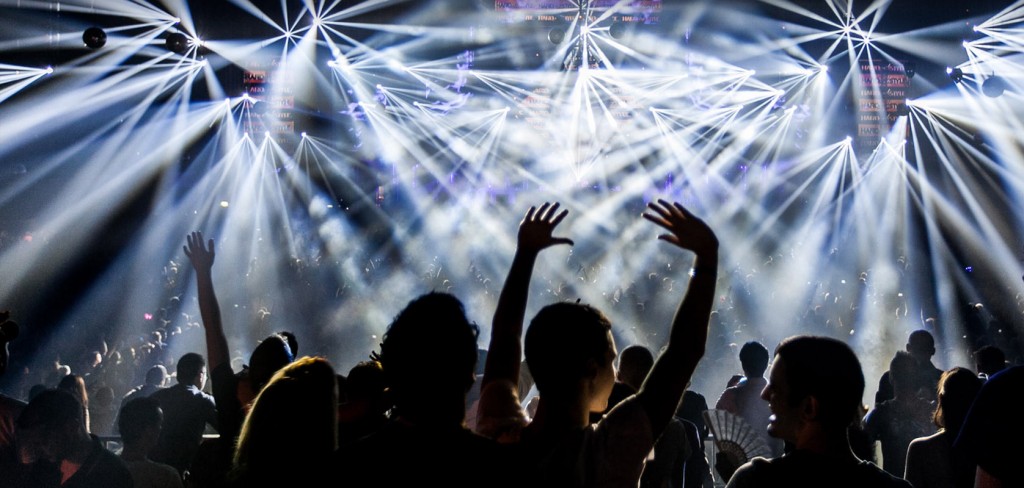 Rule #1: Avoid the coffee shops and you will find a vibrant, varied and wild clubbing scene of the city. Netherlands produced the likes of Tiësto and Armin van Buuren so expect trance to be massive here, but you'll also hear plenty of techno, deep house, hip-hop and your sugary kind of pop. Check out Amsterdam Dance Event featuring over 2,000 DJ's in 5 days this coming October. Read my essential guide to Amsterdam.
Best party hostels in Amsterdam:
Flying Pig Downtown – This is one of the most famous party hostels in the world. Located right next to Amsterdam's Central Station, the Flying Pig Downtown's bar features DJs from all over the world three times a week, giving you a reason to ditch your bed and just dance until the sun rises. It's always fully-booked so you better book your bed way in advance! Click here to see the latest prices. 
St. Christopher's Inn at Winston – St. Christopher's Inn at Winston is a multi-awarded hostel and its not hard to see why. It is excellently located right next to the Red Light District with a bar serving good food, cheap drinks, and great music. It's pretty much the perfect hostel to start your party trip in Amsterdam. Click here to see the latest prices.
2. Berlin, Germany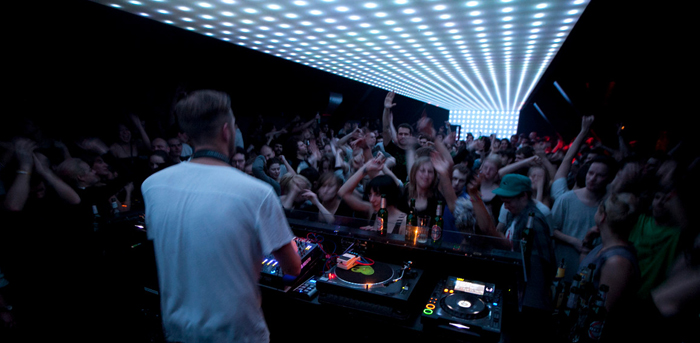 Berlin is the epicenter of techno in the world. But not just that, you can pretty much find any kind of party/music in this city that never stops partying. The beer is cheap and the guys and girls are hot. The party scene here is pretty young and international as the city attracts a lot of party tourists. If you're feeling adventurous head over to Berghain, Berlin's most exclusive night club. And then take a swim at possibly the coolest pool in Europe after all the hardcore partying. Berlin also has loads of open-air parties in the summer which I have enjoyed immensely. Follow Open Air Berlin for updated info on where the parties are.
Best party hostels in Berlin:
The Circus Hostel – Located in one of the best areas in Berlin, Rosenthaler Platz, the Circus Hostel has its own microbewwery at the basement of the hostel. How cool is that? Plus it has free weekly tours and great events to entertain you like featured film nights, history talks, live music, and more.Click here to see the latest prices.
Wombats City Hostel – Award-winning hostel located near Alexanderplatz, Museum Island and Prenzlauer Berg which means very very central in Berlin! You can make your way up to the Wombats City Hostel's rooftop bar and balcony for a happy hour while enjoying the great panoramic views of the city. Click here to see the latest prices.
3. Budapest, Hungary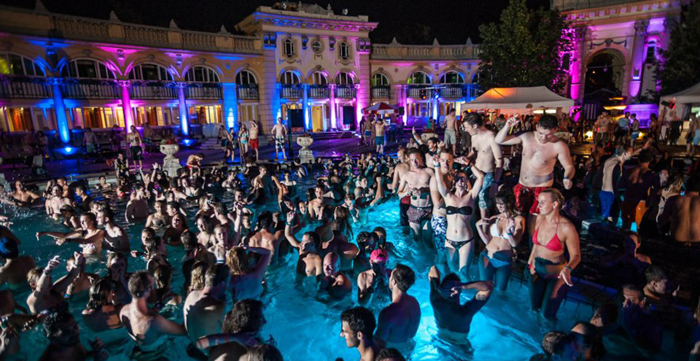 This city is never usually in the radar for best places to party but my god, one word: Sparties! The ridiculously lavish  Szechenyi Bath pools turn into summer night bath parties from June to September. And in other baths the rest of the year. It's wiillllld! They also have a great ruin bar scene. My favorite ruin bar is Szimpla Kert which is probably the coolest bar I've ever been to.
Best party hostels in Budapest:
Retox Party Hostel – Definitely not the place for those who want a good night's sleep, Retox Party Hostel gives you a straightforward crazy party experience right in their bar that offers events such as boat party, spa party, or the classic pub crawl. Click here to see the latest prices.
Grandio Party Hostel – Grandio Party Hostel has the Grandio Bar, a tree and plant-filled favorite among the other kerts (ruin bars) in Budapest offering events such as spa raves, ruin bar crawls, boat parties, and more that you can forget about your needed sleep. Click here to see the latest prices.
4. Belgrade, Serbia
I went to the Balkans for the first time this summer and, wow, do they know how to party! Check out the unique floating clubs in Belgrade in the summer. The parties are pretty epic. Here is my round-up of the 12 best bars and clubs in Belgrade. The best thing? It's cheap and the locals are surprisingly very friendly.
Best party hostels in Belgrade:
Madness Hostel – If you want to be nearby Belgrade's major clubs, you'd be mad enough for Madness Hostel for its great location. There are only 14 beds and 1 bathroom available but so what? You're here to have fun and go around Belgrade hassle-free, but you'll be guaranteed with a good sleep as it is located in a quaint street just behind the National Theater near all the shops, cafes, and banking area. It's right at the center so you won't miss famous attractions like the Kalemegdan fortress and Skadarlija bohemian quarter. Click here to see the latest prices.
Hedonist Hostel – Feel at home in Hedonist Hostel as you stay in a house with a garden where you can chill, have a barbecue party, or watch live sports events. The location is convenient too as it sits in a quiet one-way street but a few walks away to the city's vibrant Old Town where the nice bars are. Enjoy sightseeing by day and making friends till late night. Click here to see the latest prices.
5. Stockholm, Sweden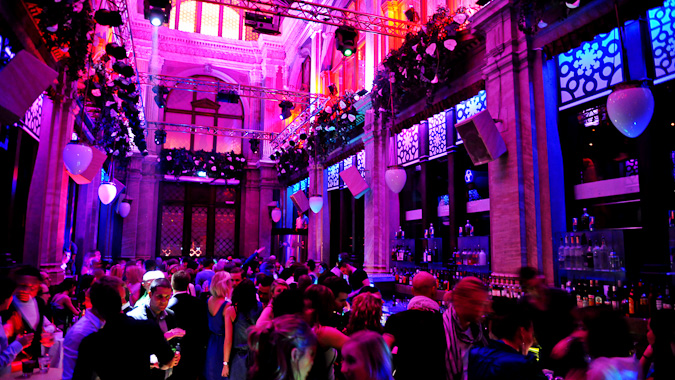 The capital of Scandinavia is probably your best choice if you want to be surrounded by ridiculously beautiful blondes. OK, it's not all blondes but the people here are gorgeous no matter where they came from. Partying here is expensive though but you can always get drunk in your hotel room first or at your friend's place before heading out. That's what locals do. The best places to find the hip, the young and the beautiful Swedish crowd are in Södermalm and Stureplan. The only downside? The establishments close at 3 AM. A great alternative to Stockholm is Copenhagen (sometimes I think the Danes are better at this).
Best party hostels in Stockholm:
City Hostel Central Station – City Hostel is located right by the Central Station which means everything is walking distance or can be easily accessed through Stockholm's beautiful metro. You can easily walk to the closest pubs, nightclubs, and restaurants at Gamla Stan (Old Town) and the trendy hipster neighbourhood, Sodermalm, is just 2 stops away by train. Click here to see the latest prices.
2kronor Hostel – Vasastan – A charming spacious home, the 2kronor Hostel give you the chance to stay in the lovely area of Vasastan filled with bars and small specialty shops. Click here to see the latest prices.
6. Warsaw, Poland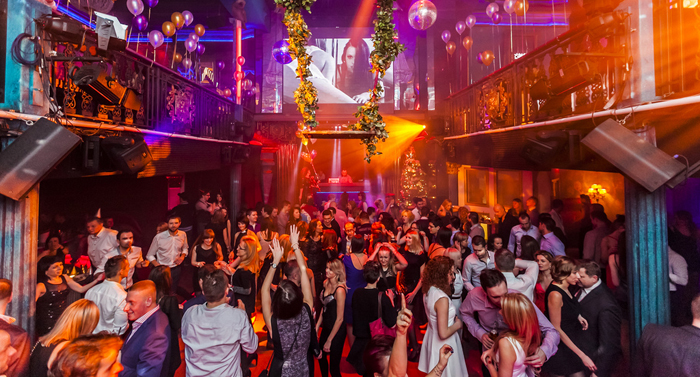 If you can't afford Stockholm, then consider Warsaw. It's super cheap relative to Scandinavia and the girls are equally gorgeous but the guys not so much. A glass of beer can be as cheap as 0.50 euro cent and vodka shots only cost a euro. Don't EVER try to outdrink the Poles though because they chug vodka like water here. My favorite bar is Przekąski Zakąski in the Old Town but apparently they moved location to the city center last August. My Polish friends also recommend Makulatura as an alternative. Shots are less than a euro! These places should be your first stop before heading anywhere in Warsaw. If you're colored and gay, double whammy for you because there are still homophobic and racist Poles here and there. But methinks it does have the best gay scene in Poland.
Best party hostels in Warsaw:
Oki Doki Hostel – This hostel is an institution in Warsaw. Located in central Warsaw, Oki Doki Hostel boasts for having the cheapest beer and for being right at a convenient spot just a few crawls away to the city's best pubs. Click here to see the latest prices.
Patchwork Design Hostel – Funky and cool hostel located right smack in the middle of the parties in the Old Town. The famous "Pawilony" is just a minute away from Patchwork. It is surrounded by bars as well as bistros and restaurants with cuisines from all around the world. Click here to see the latest prices.
7. Prague, Czech Republic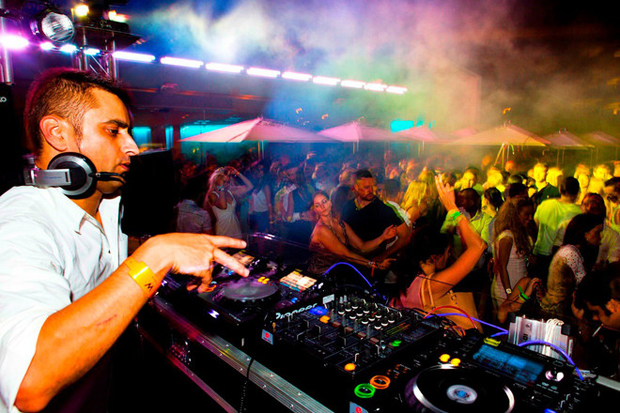 Like Warsaw, Prague is very affordable and the city is ridiculously gorgeous. Drinks are cheap and, unlike Stockholm, the nights are long. The DJs are also top class. Czech Republic also boasts of over a hundred variety of good beers you can sample all night. Beer garden with the most spectacular views? That would be Letná Beer Garden located inside the beautiful Letná Park along the bank of the Vltava river overlooking the old town of Prague.
Best party hostels in Prague:
Czech Inn – The ideal location for those who want to feel Prague and the Czech culture away from the touristy areas, the Czech Inn Hostel is also the place where you'll find the Basement Bar where several events happen from quiz nights to live performances. Click here to see the latest prices.
The Madhouse Prague – In the Madhouse Prague, there's free beer upon check in and if you want more, you can participate in the hostel's beer pong activity, hostel dinners, or tours to the city's beer gardens. Click here to see the latest prices.
8. Mykonos Island, Greece
Talking about wild, Mykonos is definitely wilder. The parties here never stops all summer long. People are already dancing and drinking long before noon. It's crazy. Just see the video above shot at Super Paradise Beach for reference. I love the vibe of the island and it's very gay-friendly as well. Check out Paradise Beach or the Pinky Beach at Super Paradise Beach. A great alternative to Mykonos is Ios island.
Best party hostel in Mykonos:
Paradise Beach Resort Mykonos – Located in the famous Paradise Beach in Mykonos, the Paradise Beach Resort opens from the beginning of April until mid-October to accommodate partyphiles who're warming up for the big events of Mykonos from July to August. Before the main events begin, you can start by hitting up the resort's two beach bars. Click here to see the latest prices.
9. Hvar Island, Croatia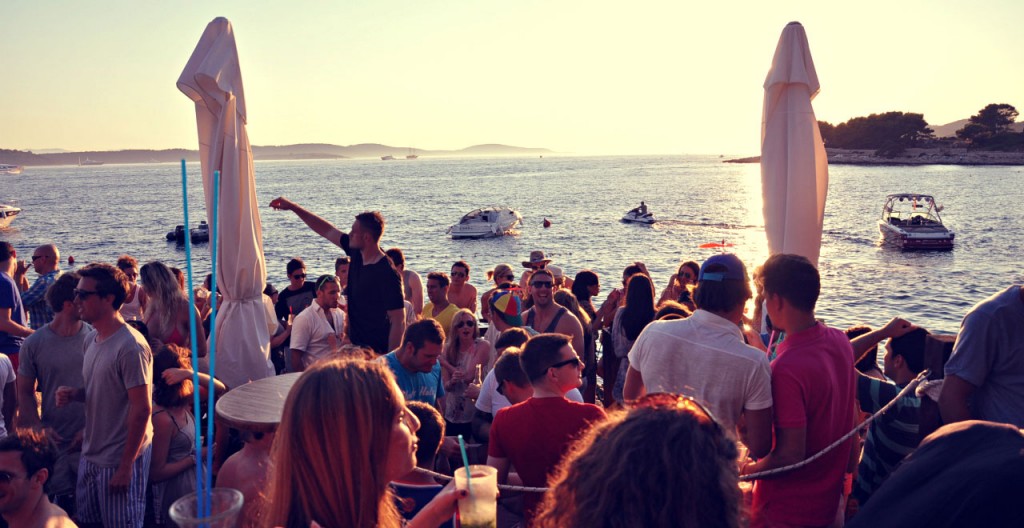 Hvar is another favorite in the Med (short for Mediterranean). The crowd here is mostly young people taking cruise trips around the Med. The center is beautiful, some of the bars and clubs are right by the water and they have drinking parties by the beach starting at noon. Check out the beach parties at Carpe Diem Beach or Hula Hula, the best beach bar in Hvar where you can drink while watching the sun sink into the Adriatic Sea (see photo above).
Best party hostels in Hvar:
Hvar Out Hostel – Hvar Out Hostel boasts the BEST LOCATION of any hostel in Hvar. It is literally a few steps away from the famous Carpe Diem night club and near popular beaches and bars. It has a great rooftop terrace area where you can meet lots of people, have drinks, and just chill before heading out. Click here to see the latest prices.
Hostel Villa Skansi – This hostel is one of Hvar's most hedonistic backpacker's place in town. Enjoy Villa Skansi's expansive bar & dining patio on one of its sunset BBQs, drinking while sitting on comfy lounge beds, watching the sun set and waiting until the night gives you the go signal for the hostel's pub crawl. Click here to see the latest prices.
10. Madrid, Spain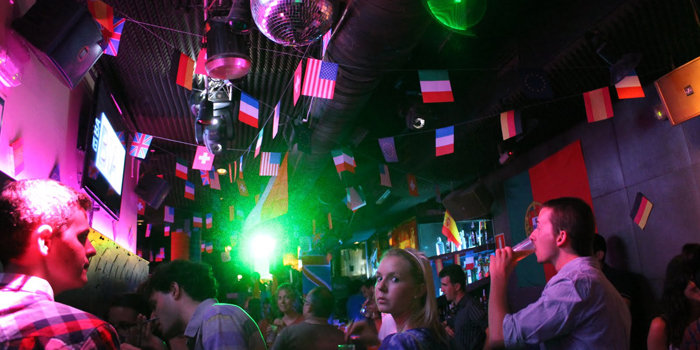 Sorry Barcelona but I had more fun going out in Madrid. Barcelona used to be one of the best places to party but I've been visiting since 2010 and I've never really had one great party night out in the city. Meanwhile, Madrid IS EVERYTHING. You can check out this great google maps of bars in La Latina neighborhood, the best barrio for bars. For the gay traveller, one word: Chueca. My friends Auston and David at Two Bad Tourists, who are currently based in Madrid, have a great list of the best gay bars and clubs in Madrid. Note that parties start really late in Spain in general so you better be a night owl. Also: bar-hopping is a thing.
Best party hostels in Madrid:
Cat's Hostel – Cat's Hostel is a restored 17th century palace close to the excellent tapas bars and sights of central Madrid but what makes it cooler is the underground Cave Bar running theme parties and activity daily. Click here to see the latest prices.
Mad Hostel – Mad Hostel has the Rooftop Bar, a beach terrace offering refreshing drinks, excellent cocktails, and fun events such as barbecues, open air movies, pub crawls, and more. In the day, you can head to the rooftop's solarium to soak that body under the sun. Click here to see the latest prices.
11. Lagos, Portugal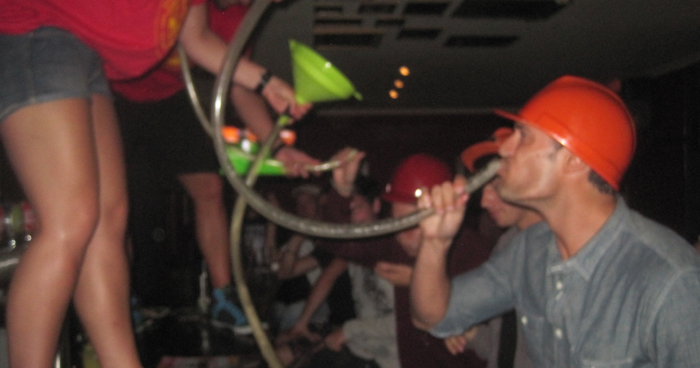 This is the premier partying place in Portugal in the summer. It has some of the best beaches and cheap drinks. Although this place is a bit overrun by heavy-drinking Australians and Brits (I mean you'll most likely find them in all the cities listed above anyway), you will love the wild atmosphere of Lagos. It's more bar scene here than clubbing though.
Best party hostels in Lagos:
Rising Cock Hostel – Be ready to party non-stop as the Rising Cock Hostel takes you on a booze cruise during the day and pub crawls every night. When you wake up, you'll have a great breakfast served to cure your hangovers away. Click here to see the latest prices.
GSpot Hostel – Drinking games, themed parties, family dinners, and pub crawls are what the GSpot Hostel is known for so better make sure your liver is all ready to take the challenge. Click here to see the latest prices.
12. Paris, France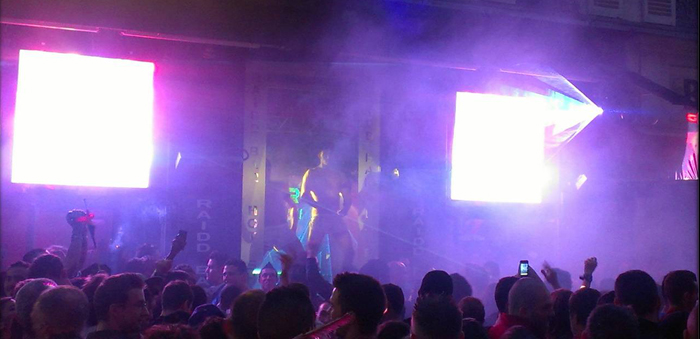 The last time I was in Paris I ended up in Raidd Bar in Le Marais staring at a hot, naked guy soaping himself in a shower. On a platform. With a hard-on. I don't know how I ended up in this place. Well okay. I sort of know. I was in a private rooftop party with friends and then some of us decided to go to Le Marais for some more drinks in one of the clubs there. I don't even remember the name (I googled that's how I remember Raidd's name). And then I think the other people wanted to move and the next thing I know I was watching this particular shower show. It was my first time to see a live show like that. Thanks Paris!
Best party hostels in Paris:
St. Christopher's Inn Gare du Nord – St. Christopher's Inn is the home of the biggest international bar Belushi's where you will meet other travelers and have a taste of their classic food and drinks while enjoying live music. Click here to see the latest prices.
Peace and Love Hostel – Peace and Love Hostel is definitely the place for the young ones who just want to make noise all night long. Cheap beer and cocktails are all available in Peace and Love's bar which is open until 2am. Click here to see the latest prices.
13. Antwerp, Belgium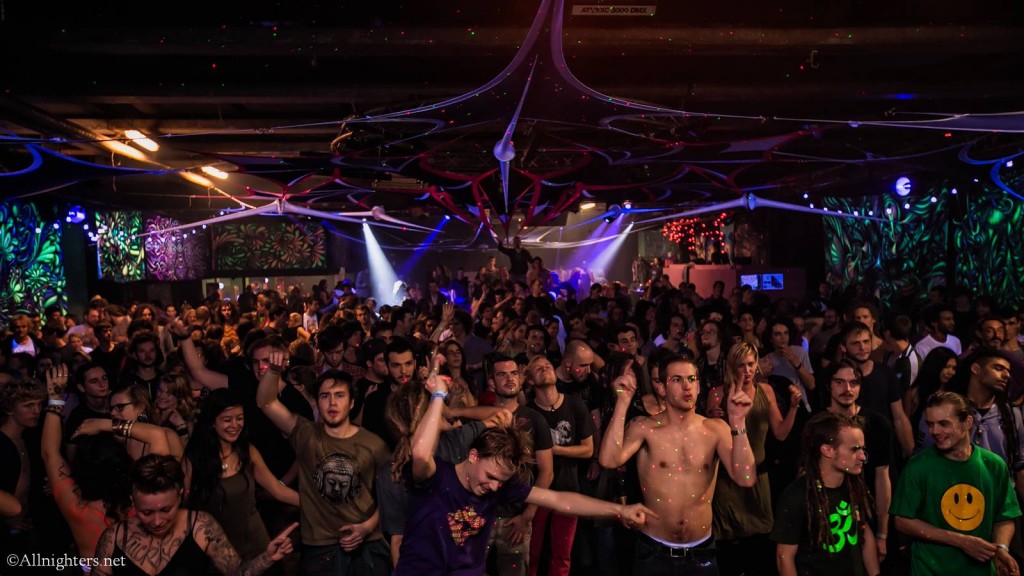 I love Belgian cities specially Antwerp and Ghent. Between the two, Antwerp has a livelier night scene. It has lots of cool bars in the center and it has the biggest gay and lesbian club in the Benelux region (that's short for Belgium-Netherlands-Luxembourg). Yes it beats Amsterdam! Check out Red and Blue Club if you're heading to Antwerp.
Best party hostels in Antwerp:
Antwerp Central Youth Hostel – Before going out to check Antwerp's large collection of pubs, you can stay in Antwerp Central Youth Hostel's bar as your party starter. The hostel is located in the old city center and walking distance to all the bars and clubs. Click here to see the latest prices.
Antwerp Student Hostel – Also located in the city center, the Antwerp Student Hostel offers its guests large communal areas for socializing such as its private garden and it's amazing game room which is perfect for meeting new friends. Click here to see the latest prices.
Did I miss any place? Where is your favorite place to party in Europe?
This post is part of The A to Z of European Travel series. Don't miss any post by subscribing to my newsletter (it's on the sidebar on the right). Remember that you can participate by sharing on social media, commenting or emailing your eurotrip questions.
P.S. You can also check out my post on how to get your flight reservation for your Schengen visa application.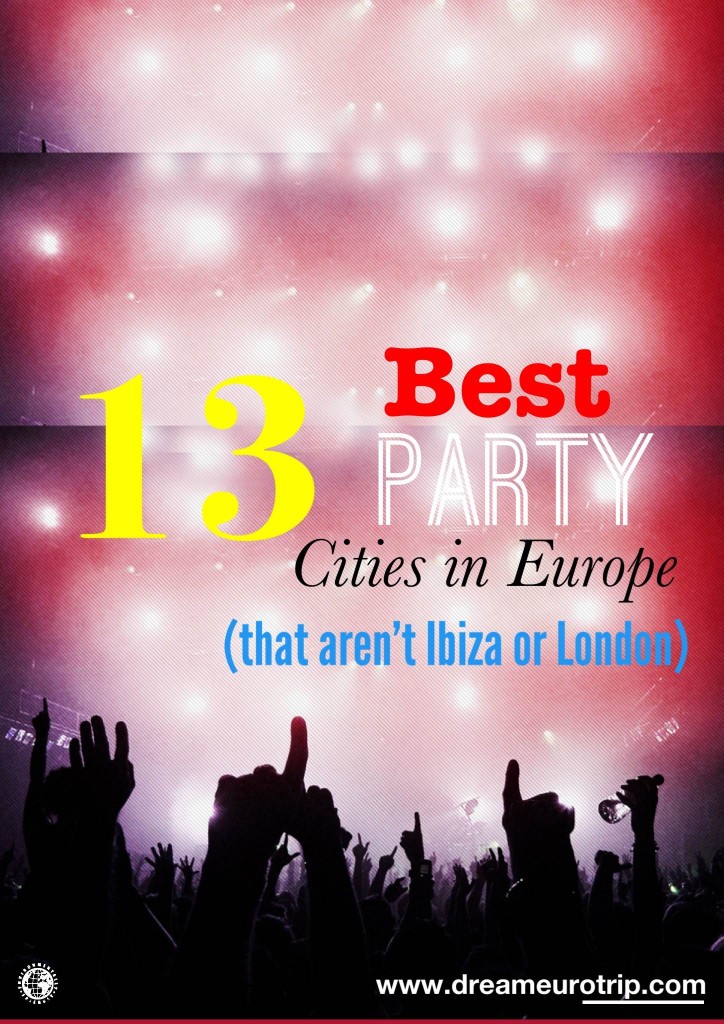 Photo credits: 1. Amsterdam Dance Event 2. Allnighters 3. Berlin Getaway 4. Visit Stockholm 5. Slawek Skrzeczynski 6. ClubbingBreak.com 7. Sandor Fegyverneky 9. Hula Hula Hvar 10. Versilia Today 11. Daisy 12. Richard from Richarding 13. Ken from That's Me