If there is one place that keeps surprising me with its beauty, cuisine, culture and history, it's Italy. As much as I hate to admit it because it is so cliche and predictable even: I love Italy.
No no no no. This is not coming from a tourist visiting for a week for the first time. I have visited Italy hundreds of times, ruined my waistline (all the time) and pretty much abandoned my Paleo diet which I worked so hard for to tell you a fact: I REALLY LOVE ITALY.
I love its big historical cities and its smaller, unknown – sometimes abandoned – towns equally. And my favorite coastline to date? It has to be the famous Amalfi coast and my recent discovery, the lesser known Cilento coast next to it.
The Amalfi coast and Cilento coast are both part of the province of Salerno in the Campania region. I visited Positano, the most famous town along the Amalfi coast, in 2011 and immediately fell in love. I vowed to come back and explore the area more so I am happy to make that dream a reality this summer.
Without further ado, here are 30 photos that prove why this are the most beautiful coastlines in Italy.
I'm sure you're itching to go after seeing these photos. Below are my travel tips for your trip to the Amalfi coast and Cilento coast.
When to go
Summer is really busy and packed, specially in July and August in Amalfi. I suggest you go around April-June or September-October when it is less busy. Cilento coast is not as touristy as Amalfi so go anytime in the summer.
How to get here
It depends where you are coming from. There are buses from Rome. Or ferries from Salerno to Amalfi. You can also take the train from Naples to Salento, then take the local bus. Cilento is also reachable by train via Trenitalia.
Where to stay
Hotel Due Torri (Amalfi)
This hotel in Maiori is right by the coast and boasts of amazing views of Amalfi. The restaurant is at the top floor with breahtaking views of the coast while you eat your breakfast. Make sure to ask for a sea-view room as there is no point staying in Amalfi without a view of the sea!
Hotel Villa Cimbrone (Amalfi)
This is probably my favorite hotel that I visited in this trip. It is located in Ravello and has the most amazing views I have ever seen. The likes of It has a beautiful garden which is open to the public and it also has the Terrace of Infinity which is probably the best viewing spot in Amalfi.
Lloyd's Baia Hotel (Salerno)
If you're staying in Salerno then this is the best hotel for you. Centrally located and waling distance to the Old Town. It also has the Michelin-star restaurant named Re Mauri.
Palazzo Belmonte (Cilento)
This is actually a castle own by a prince! I'm not joking. I met him. Prince Belmonte. It's a gorgeous property with a big garden where you can get lost at night. Well at least I did a few times 😀 It is such a magical and relaxing place. Perfect if you want to get away from it all.
Grand Hotel San Pietro (Cilento)
This is my favorite hotel in Cilento located in Palinuro, my favorite destination in this coast. It has a fabulous infinity swimming pool with a great view and you can go on top of the roof to watch the sunset. I wish I could stay longer!
Where to eat
Calajanara Restaurant in Conca Dei Marini (Amalfi)
This is located in Conca Azzurra Hotel in Conca dei Marini. The food they serve are fresh, the vegetables are even sourced from their own garden. This is where I tried sfogliatalle, a shell-shaped filled Italian pastry native to Campania. And their seafood? So good.
Acqua Pazza in Cetara (Amalfi)
If you love achovy and tuna like me, go to Cetara and eat at this restaurant. Cetara is a small, fishing village in Amalfi and it is known for its anchovy and tuna. So if you want the best, eat here. I love love love love love all the fresh anchovy I devoured here.
Re Mauri (Salerno)
If you want to try a Michelin-star restaurant then this is your place. They serve really good food prepared by an award-winning chef served in a nice setting with a view.
Restaurant Il Rosmarino (Cilento)
This restaurant is located in Oleandri Hotel which calls itself a "shabby chic resort". This is where I tried my first ever Fagottino (pictured in this series) and Delizie al limone, a soft pastry served with a delicious lemon-flavored cream. So good.
Have you been to Amalfi or Cilento coast? Do you have other tips or questions?
Pin this post on Pinterest!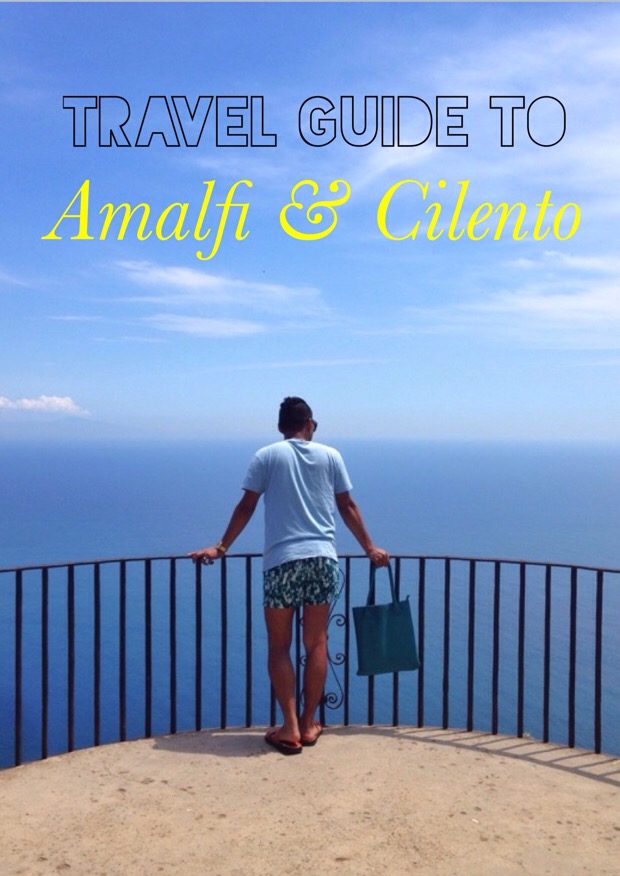 This trip is part of #SalernoC2C organized by TBNet. All photos and stories are my own.