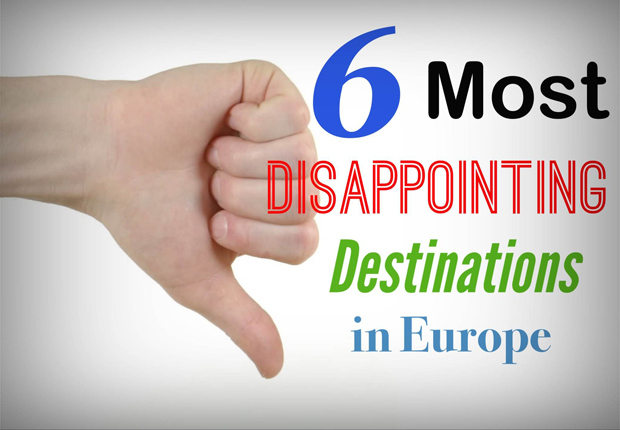 D is for Disappointing Destinations!
First, my apologies. I got so busy with trips to Rotterdam, Sevilla and Madrid and now I'm currently in Hamburg that I have literally no time to update the blog. But I've been updating live via Facebook and Instagram and you should just follow me there if you're not following yet. Why the slowness? Well, I'm such a perfectionist I wanted to publish totally useful stuff for this series and I may or may not kill myself in the process. Thanks for hanging in there though.
Anyway. I am dealing with a very sensitive topic here. Note that these are based on my OWN experiences and how I feel after visiting almost 150 European cities in the last 5 years. And: I DON'T hate these cities. I was disappointed with them. Two very different things.
Some European cities are more a I-wanna-get-out-of-here-asap or meh-so-disappointing than a must-see. Let's get down to it shall we?
1. Katowice, Poland
Why its disappointing? Looks gray and depressing.
I know, I know. You probably don't even know where it is. And that's for good reasons. You don't need to know and you don't need to go there. The city is fugly, gray and depressing. I lived in Poland for almost 2 years so I vowed to see as much of the country as possible. So I checked out Katowice. The first time I visited I already did not feel nice about the city. I arrived at possibly one of the most depressing train stations in the world. (Although now they already opened a new one). I didn't feel any love for the city after going around. It's just not for me.
The second (and hopefully the last) time was a night spent in Katowice while I was in transit to Greece. I hanged out with two Polish guys I met via Couchsurfing and obviously bottles of vodka were consumed. The vodka and the company saved me from killing myself for being back here again. Don't even.
2. Tallinn, Estonia
Why it's disappointing? It sucks in winter. Try going in the summer.
Sure I visited the city in the winter when my friends and I decided to take the cruise boat from Stockholm. I had a long story about how I never made it to Tallinn the other winter which involved visas – AS USUAL (damn you Filipino passport) – even if I was already living in Europe. Let's not start talking about damn visas.
I pushed for a trip to Tallinn the next winter. Only to learn why Dear Universe never wanted me to go there in the first place anyway: it was boring and super uninteresting. At least in the winter. The only thing I remember is eating an expensive breakfast in the Town Square and it may or may not be the worst breakfast I have ever paid for in my life. I'm saying this because Tallinn, like Warsaw where I pay 5 euros for food in the city center, is a cheap destination and paying this much for shit breakfast is just MEH.
3. Oslo, Norway
Why it's disappointing? Beautiful but shockingly expensive.
Interestingly, I have spent three summers in Oslo usually after having a fun week at one of my favorite festivals in Europe, Hovefestivalen. Yes it's beautiful like most Scandinavian cities. But what makes this city disappointing for me is that it is shockingly expensive. You'd think I'd get used to Scandinavian prices after living in Stockholm…
but NOOOOOOO. Nah ah.
Case in point: I paid almost 40 euros per night to stay at an 8-person dorm room in Anker Hostel in Oslo – supposedly the cheapest one in the city. I rarely stay in hostels because I am not a fan (they're usually good and nice, it's just not for me). But we had to stay at one while we were in Oslo because everything is just expensive. I was traveling with 3 other friends so imagine we paid 160 euros for this room and there were 4 more extra beds? That could pay for a 5-star hotel room in other European cities already. So yes Oslo is disappointing in that it's not really good value for money specially if you're on a tight budget.
4. Paris, France
Why it's disappointing? Very high expectations. It's not your fault Paris.
Ah, Paris. A bit shocking that I would list the city here don't you think? How glamorous! How romantic! How (insert cliche description of Paris here)! For a lot of people, Paris is the quintessential embodiment of glitzy and glamorous travel. But I'm sorry to say that the postcard Paris that we know is pretty but also pretty trashy. As soon as I arrived, I was shocked at how many sketchy people are hanging out at the metro station. I did not expect this. I expected fashionable people running for the train before it leaves.
I also felt unsafe because one guy followed me in the train and I caught him staring at me a lot of times. I would know if he was giving me the sexy looks. This was definitely NOT that. I don't know what he was up to but my instinct was giving me the red flag so I got off at another station just to lose him. I did not expect to feel unsafe in Paris.
Also, I was there on Valentines Day and sorry but I did not feel the romantic vibes of the city. More like grey and cold to be honest. I'm sick of people writing how romantic Paris is. It can be romantic but Paris can be a lot of things too. Don't get your expectations too high and I think you'll enjoy the city. I do like Paris now and have visited the city again and had a great time. Just go easy on the Hollywood/glossy magazine expectation of Paris.
5. Brugges, Belgium
Why it's disappointing? No magical moments for me here.
My best friend, Marian, who traveled for 3 months in Europe before I did, raved about this quaint and medieval city, Brugges. She told me how it was one of her favorite cities. How amazing and magical the place was. So of course I made it as one of my must-go destinations.
Unfortunately, when I visited the city three Easters ago with my friends Manon and Javier, I was not impressed. Sure it was a postcard perfect pitstop but the place was just teeming with tourists and this was not yet peak season. I didn't feel the magic my friend was talking about at all. If you're heading to Belgium, my favorites are Ghent and Antwerp. And although a lot of people are shitting on Brussels, I actually like it too.
6. Vilnius, Lithuania
Why it's disappointing? Miserable people according to Tom.
This one was contributed by my blogger friend Tom of Waegook Tom. He says: "I'd looked forward to visiting Vilnius, Lithuania's capital, due to its depiction of being a city full of beauty and, indeed, Vilnius was pretty. But that's where the city's good points end for me. A lot of people comment on the attitude of eastern Europeans, but it didn't bother me when I travelled in the region – until I got to Vilnius.
Service went from disinterested (which I can handle) to flat out rude. Ladies working in supermarkets literally threw change at old ladies, and tutted loudly when the women had to scramble on the floor to pick up their money. The only smile I saw was from a guy working in the tourist information centre – even my CouchSurfing host was miserable. Add in the unforgivable food, and you have my most hated city in Europe."
(DJ: I've visited Vilnius twice in the summer and I liked it. But that's because I was traveling with amazing friends.)
—
What cities/countries have disappointed you in your travels? Why?
This post is part of
The A to Z of European Travel
series. Don't miss any post by subscribing to my newsletter (it's on the sidebar on the right). Remember that you can participate by sharing on social media, commenting or emailing your eurotrip questions.