An in-depth 7-day Iceland Itinerary for a summer road trip with travel tips on where to go, what to see and where to stay. Self-drive around this magical moonscape!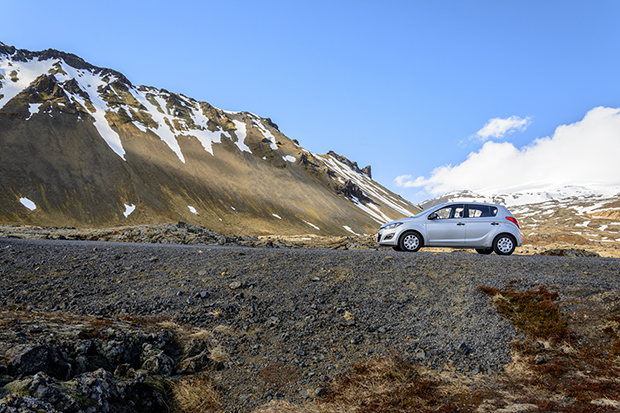 Ever since I watched the film Heima in 2007 I couldn't stop obsessing over Iceland. Heima (Icelandic for "at home" or "homeland") is an inspirational documentary film about one of my favorite Icelandic bands, Sigur Rós, when they undertook a series of free, unannounced concerts for 2 weeks around Iceland, their home country.
It is an alternative primer for Iceland as a desolate, magical land where Nature is king. It is perfectly soundtracked by the ethereal music of Sigur Rós. Very very powerful film and music. It fuelled my growing obsession with Scandinavia and the Nordic region, probably my favorite region on Earth.
When I slept I dreamt of Iceland. That was in 2007.
In the summer of 2011 I finally made my dreams happen and gifted myself a trip to Iceland. It was my graduation gift for successfully finishing my 2-year Erasmus Mundus Masters in Europe. My Iceland trip was everything I ever dreamed of and more!
I absolutely love Iceland with its dramatic landscapes and stunning natural beauty. It's home to gorgeous glacier lagoons, wild waterfalls, moody moonscapes and healing hot springs. It's one of the most magical places I have visited to date. It's totally a #DreamEuroTrip destination. Have you always wanted to visit?
Like most places with four seasons, Iceland is very different depending on when you're visiting. But to be honest Iceland only has two seasons: summer and winter. You don't really notice spring or fall because there are not many trees in Iceland! It's all about dramatic rocky landscapes that look like you're on the moon. So basically winter slowly turns to summer and summer slowly turns to winter.
Summer season usually starts around March or April although you will probably still see some snow because summer hasn't fully arrived yet! Winter season is around September or October when it starts to snow and the magical Northern Lights appear in the sky. Please don't expect to see Northern Lights if you're planning a trip in the summer.
Summer is a great time to visit Iceland because you can do a lot of things outside and you're not freezing to death. You can road trip around Iceland's famous Ring Road, hike to various waterfalls and experience the midnight sun. The days are loooooong in the summer. They are almost as long as 22 hours!
Deciding where to go in Iceland in the summer
Iceland is huge and there are so many amazing places to explore in the country easily accessible via the Ring Road. Iceland's Ring Road encircles the entire country covering over 1,332 kilometers. You could of course drive the entire Ring Road in 24 hours or less but you won't.
Because you'll be stopping every 10 minutes or so to take a picture!
Iceland is so picturesque. It's a photographer's dreamland. You'll be snapping every random nook and cranny of the country in no time. Include the time spent exploring waterfalls or walking on glaciers then you'll need plenty of weeks to explore the highlights of the country. If you do decide to drive the entire Ring Road, know that you'll be driving around 4 hours or more each day and you won't have much time to relax and enjoy the scenery. Because Iceland is all about the scenery of course.
If you want to have more time to relax and enjoy each place, my advice is to choose an area to explore in Iceland. You can either explore the south or the north. If it's your first time in Iceland (and I'm guessing it is) then you will want to explore the south more as it packs most of the best natural attractions in the country.
7 Day Itinerary in Iceland
Let me guide you with this suggested 7-day road trip itinerary in the south of Iceland in the summer including tips on where to go, what to see and where to stay. You can of course DIY your own itinerary from the list of destinations below if you are traveling Iceland for 3, 4, 5 or 6 days!
Day 1 – Welcome to Colorful Reykjavik
Reykjavik is the capital and the largest city in Iceland. It's tucked into a bay in southwest Iceland with dramatic views of mountains across the water. There are many things to see and do in the city but on your first day in Reykjavik, I suggest exploring the city center and grabbing lunch on the go from Pylsuhusid, a kiosk serving hot dogs, Iceland's favourite fast food. If you prefer to sit down on a sunny terrace then order a seafood dish from local favorite, Uno restaurant.
Since Iceland is out of this world, walk to the spaceship aka Hallgrímskirkja church and marvel at its commanding contours. Go up the church tower so you can have a panoramic view of Reykjavik with its colorful houses. In the evening you can walk over to the harbour and check out Harpa, a vast concert hall which is home of the Iceland Symphony Orchestra and Icelandic Opera. It's a beautiful, Instagram-perfect piece of architecture.
Feel free to stalk Björk but I heard she hates it when fans knock at her door.
There's more to see and do in the city but let's save it for your last day!
Where to sleep: Reykjavik
Day 2 – The Quintessential Golden Circle
The Golden Circle makes up Iceland's three most popular natural attractions: Þingvellir, Geysir and Gullfoss. It is an all-in-one loop where you can see one meeting point of the Earth's continental plates (Þingvellir), a spouting hot spring (Geysir) and an impressive roaring waterfall (Gullfoss). A lot of the things you've learned in your Earth Science classes in high school will all come to life!
Þingvellir
Iceland is still volcanically active and you can easily see rifts and fissures in many areas of the country. Iceland is literally drifting apart. The nearest site to see these rifts and fissures up close is found in Þingvellir National Park. At Þingvellir you will clearly see the continental drift between the North American and Eurasian plates. The biggest crack is called Almannagjá and you can walk through it. This means that you will be walking between two continents. How awesome is that?
Geysir
Next is a geothermal magic pit stop at Geysir (the original "geyser" in the world) and it's more active neighbor, Strokkur, which spouts boiling water up to 20 m (66 ft) high every ten minutes or so. If this doesn't amaze you. Then maybe the next one will.
Gullfoss Waterfalls
Gullfoss, or Golden Waterfall, is the most popular waterfalls in Iceland. It offers a spectacular view of the forces and beauty of untouched nature. There's a walkway so you can get nearer to the waterfall and feel the power of nature up close. Shimmering rainbow can be seen over the falls on a sunny day.
Where to sleep: You can spend the night in Arborg or the iconic Ion Hotel in Þingvellir.
Day 3 – Do Go Chase Waterfalls (and Black Sand Beaches!)
Explore the jewels of the south coast and DO go chase waterfalls as there are plenty of them here.
Seljalandsfoss
First stop: Seljalandsfoss waterfall. It's best to go at sunrise to take photos of this place so better wake up early. You can hike behind the waterfalls and climb up at the top to get better views. You can get wet so make sure you're wearing waterproof jackets and protect your camera.
Skógafoss
Your next stop, Skógafoss waterfall, is only 20 minutes away from Seljalandsfoss waterfall. On your way to this waterfall you'll pass by the Eyjafjallajökul glacier volcano, famous for its vicious volcanic spews of ash in 2010, which brought Iceland to the tourism map again! Strange, I know. But what isn't in Iceland?
Skógafoss is much wider and more powerful than Seljalandsfoss. It probably rivals Gullfoss as Iceland's most famous waterfall. And when it's sunny, you're guaranteed rainbows for your Instagram photo. It's definitely one of the most accessible waterfalls in Iceland. There's also a wooden stairway that brings you to a viewing platform on the top.
Sólheimasandur Plane Wreck
On your way to the famous black sand beach, do a quick pit stop at the Sólheimasandur Plane Crash, another iconic photography spot in Iceland. In 1973 a United States Navy DC plane ran out of fuel and crashed on the black beach at Sólheimasandur beach and luckily everyone in that plane survived. Now the abandoned plane is still on the sand very close to the sea. Be careful driving there though as you might get lost and get stuck in the black sand.
Reynisfjara Beach
Finally, head more south to the famous black sand beach called Reynisfjara. I know it sounds like everything on this post is famous this or famous that. Because they are! Anyway, Reynisfjara beach is a geologist's wet dream with an array of incredible rock formations and features. You can find amazing cliffs formed of tubular basalt columns, known as Gardar, rising up out of the sand. Magical stairway to Saturn, maybe?
Where to sleep: Vik is very close to Reynisfjara so it makes sense to sleep here.
Day 4 – Tropicool Icy Iceland
Yep that's a reference to Tropical Iceland, one of my favorite songs from The Fiery Furnaces. Why? Because the fourth day is all about incredible icy landscapes! It's your day on ice.
Sólheimajökull glacier
There are no words to describe the feeling of walking on a glacier. One of the best ways to experience a glacier up close and personal in Iceland is to explore the Sólheimajökull glacier that sticks out of the Mýrdalsjökull glacier. Sólheimajökull glacier has an awesome otherworldly landscape typical of Iceland.  It has a unique terrain full of ice ridges, sinkholes and crevasses.
NEVER go there alone. You need proper equipment and an experienced guide to join you because it is dangerous if you haven't hiked a glacier before. Book a glacier walk in advance and meet your guide at the meeting point.
Jökulsárlón Ice Lagoon
Drive to Jökulsárlón glacier lagoon which streams from the glacier tongue of Breiðamerkurjökull.  This is where the huge icebergs break and crumble into massive, floating bricks of ice in the dark water. Just across the road is Diamond Beach where the icebergs have broken up and spread out over the coast on a a black sand expanse. They call it Diamond Beach because the ice chunks lying on it resemble diamonds glistening in the sun. There are boat tours on the lagoon during summer season. Check out all the Jökulsárlón ice lagoon tours.
Where to sleep: Drive back to Reykjavik and spend the day night there so you can explore the southwest side the next day.
Day 5 – Snæfellsnes Peninsula
Snæfellsnes peninsula is located in the west of Iceland. Explore this microcosm of Iceland in at least a day.
Kirkjufell mountain and waterfalls
Kirkjufell is the most photographed mountain in Iceland just west of the town of Grundarfjörður. Just look at that! It's a beautifully shaped and symmetric mountain. Its name means 'Church Mountain'. There are also three small waterfalls which people love to photograph along with the mountain. You can hike up the mountain for 1.5 hours if you have more time.
Snæfellsjökull glacier
This is undoubtedly the biggest attraction in the peninsula. Snæfellsjökull is an active volcano and a huge glacier that stands 1,446 meters high. It is said to be one of the seven greatest energy centers on earth. The glacier is also believed to have mysterious powers and is the setting for Jules Vernes' famous novel 'Journey to the Center of the Earth'. As with Sólheimajökull glacier, you need to book an experienced guide to join you explore it.
Landbrotalaug hot spring
You can't really travel in Iceland and not find your own natural hot springs, right? Well, after exploring the Snæfellsnes peninsula you can end your day by relaxing in one. Ahhh…to be completely naked in nature and dipping into a perfectly heated natural pool in the middle of nowhere in Iceland! Dreams are made of this.
Check out Landbrotalaug hot spring. It is a bit tiny but what it lacks in size it makes it up in beauty. It has an awesome view of ice-capped Icelandic mountains and lakes. And it is perfectly hot. The best time to go is early in the morning or later in the afternoon because it tends to get busy during the day. You can find it here on Google Maps. You're welcome.
Where to sleep: You can either sleep in Snæfellsnes so you don't feel rushed (I prefer this) or drive back to Reykjavik and spend the night there.
Day 6 – Pamper yourself at the Blue Lagoon
After all that driving and exploration in the last 5 days, it's time to truly pamper your body. Spend a day at the Blue Lagoon. You deserve it. Need I say more? Just don't forget to make a reservation in advance!
Where to sleep: Reykjavik
Day 7 – Last Day in Reykjavik
On your last day explore the rest of the city with its many colorful and great street art. Enjoy snapping them! There are many cute, cozy cafes and restaurants in the city as well as nice parks where you can have a picnic under the sun. I also loved walking by the sea overlooking the mountains in the north.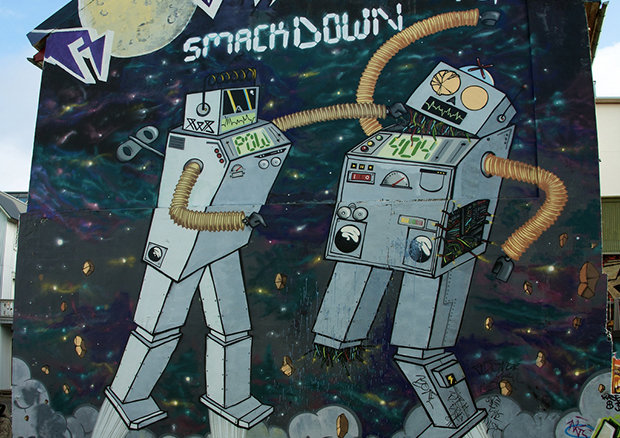 And if you're like me who loves to shop local clothes (or food) when you travel, grab an Icelandic wool sweater with its iconic colorful Icelandic sweater patterns. Maybe you'll use it for your next trip to Iceland in winter! *wink wink*
Any other destinations I should add in this list?