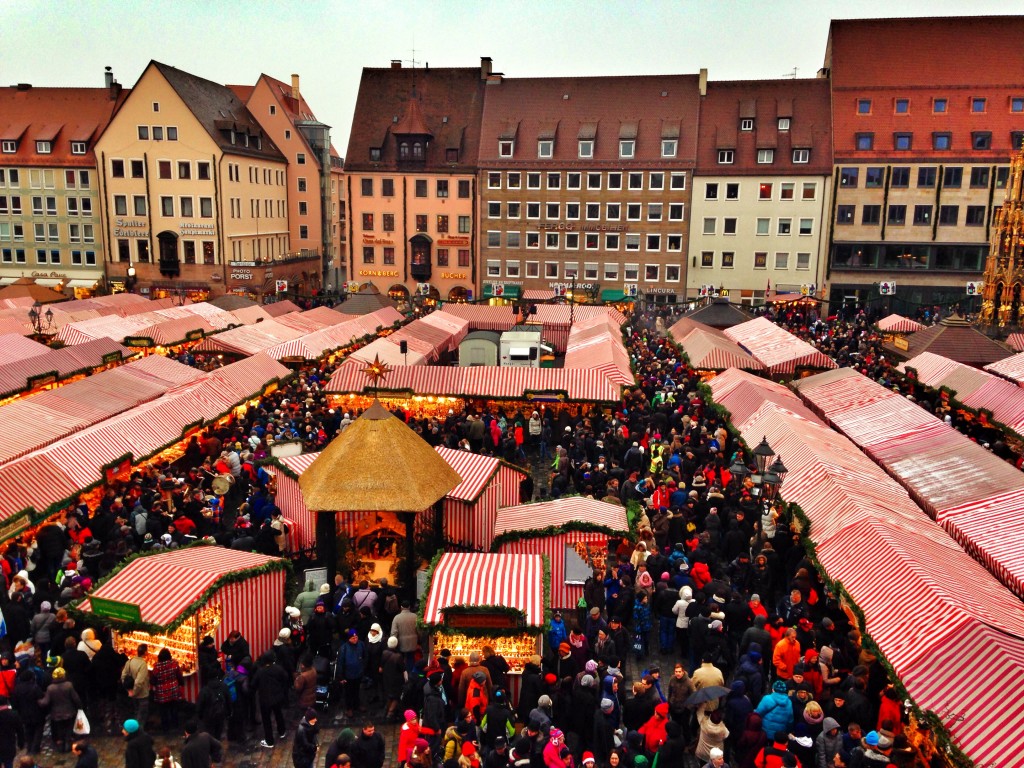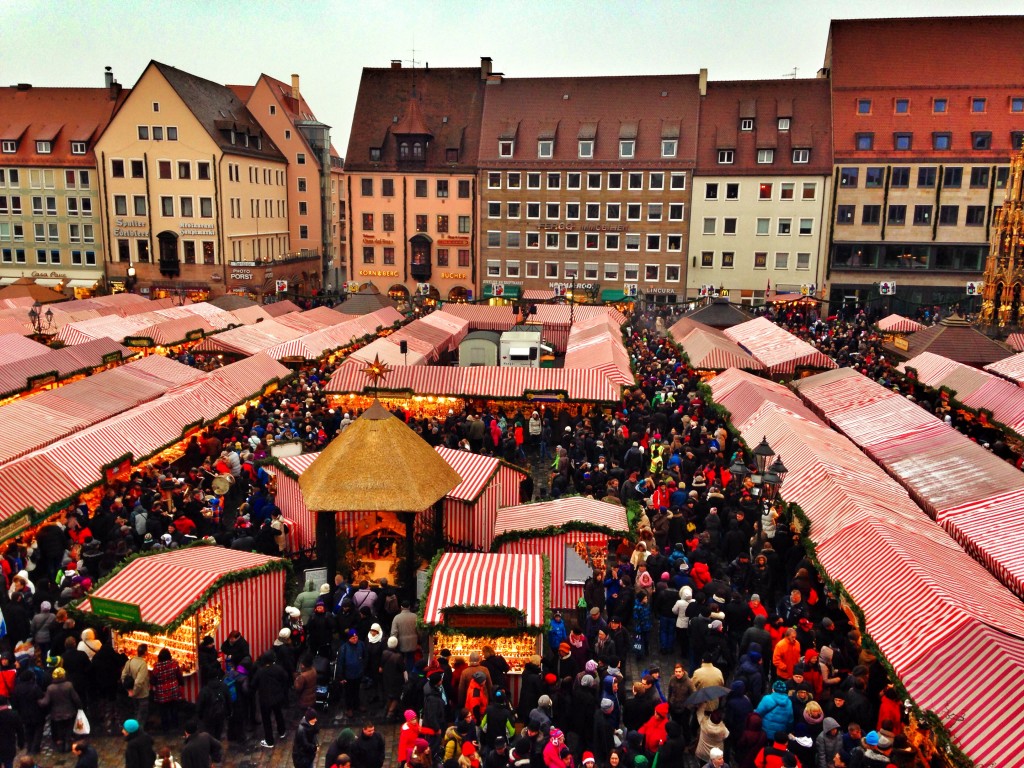 A lot of you have emailed me asking about German Christmas Markets and about the Nuremberg Christkindlesmarkt in particular. Well I went around Germany this December since it was also my first year to experience real German Christmas Markets and it was a lot of fun. If you're planning to go to Nuremberg Christmas Market this year or next year, then bookmark this guide loaded with tips and recommendations so you can have an easy breezy time at one of the most famous German Christmas Markets in the world.
Before your trip
1. Book your ticket WAY in advance
We planned our trip late so when we were looking at train tickets to Nuremberg, it was ridiculously expensive. One way was almost 120 euros per person and the return ticket was a whopping 220 euros per person. Like seriously. It didn't help that one of our friends was able to book a ticket for a mere 19 euros 7 weeks ago. We didn't have a choice so we took it.
Good thing Air Berlin flies from Nuremberg to Dusseldorf so we flew on the way back instead and the flight only costs 95 euros per person. It's even less than half of the Deutsche Bahn ticket price. You don't believe me? Here are train tickets prices this December:


2. Book your hotel/hostel/couchsurfing host in advance
Since Nuremberg Christmas Market is a very popular German Christmas Market it's also not surprising that the city is super busy during the month of December. So if you're going to be there anyway, make sure you arrange your accommodation as soon as possible. Either that or you sleep in the streets. Sorry but just winging it won't work!
At the Nuremberg Christmas Market…
So you've arrived in Nuremberg, probably took the super cool, remotely-operated city trains (U2 and U3 lines) and ready to hit the Christmas Markets. Here's what you need to know:
3. Eat as much Nuremberger rotbratwurst as you can
Nuremberger Rostbratwurst is one of my favorite German wursts. It is small. It's almost like the size of one's finger. And it's juicy and deliciously salty. I am actually salivating and craving for some as I write this. It is traditionally served in sets of 6 or 12 with horseradish and sauerkraut or potato salad.
In the Christmas Market it is commonly sold in 3's with a Brötchen (a German hard roll bread) and they call this Weckla. Squeeze copious amounts of mustard on top and you're all set. A weckla costs around 3 euros.
4. But don't eat the Prune men!
The Prune Men, or Zwetschgenmännle in Nuremberg dialect, are miniature figures made of dried plums, nuts, raisons and figs. They are one of the most popular souvenirs at the Christkindlesmarkt sold by over a dozen stalls. The sellers are pretty creative. They offer various kinds of prune men: fishermen, Santa, gardener, couples and even skater prune boys!
The only thing you need to remember is to NOT EAT the Prune Men! (Although some people did and they said they were delicious.)
5. Easy on the glühwein
Glühwein or mulled wine in English is usually prepared from red wine, heated and spiced with cinnamon sticks, cloves, star aniseed, citrus, and sugar. I normally drink red gluhwein although I prefer white wine over red most of the time. Why? Because the white gluwein is sweeter than the red gluhwein. If you have a sweet tooth then the white gluhwein is probably a better choice for you. But you should drink both so you can taste the difference.
Just take it easy as this hot, alcoholic punch makes you drunk considerably faster than beer or wine because the sugar in this usually heavily sweetened drink promotes absorption through the stomach and intestinal lining.
A glass normally costs around 2.50 to 3 euros.
6. Choose your Christmas Market
I have to be honest with you. In the beginning I was a bit underwhelmed by Nuremberg's Christmas Market because it lacked the shiny, sparkly decorations that most Christmas Markets have. You know why? Because they wanted to keep it as traditional as the old days. Germans being Germans, they strictly implement a lot of rules to make sure they stay on tradition. And that my friend is how they become one of the most popular German Christmas Markets in the world.
You should know that it is divided into 3 sections. The one in the Hauptmarkt is the main Christmas Market where all the German products are being sold. And 200 meters away is the international one they call Christmas Market of Nuremberg's Sister Cities where they sell stuff from different countries like Spain, Italy, France, USA etc. And lastly, they have a Children's Christmas Market complete with a two-level carousel. Super fun! The other two are less crowded and offers other stuff not available in the main one. But of course all three have all the wursts and gluhwein 😀
There are over 180 Christmas Market stalls so shop til you drop!
7. Stuff yourself with Pretzels
Nuremberg is home to The Pretzel. The yummiest pretzels can be had at Brezen Kolb for only 1.60 euros. Nomnomnom.
While in Nuremberg…
What makes Nuremberg a perfect destination in December as well is the fact that the city is truly historical (Nuremberg trials, hello?) and has a lot of cultural offerings. I freaked out when I saw the list of museums that I can visit. So while you're in the city you should probably:
8. Head to Kaiserburg Castle to have the best viewing spot in Nuremberg
9. Immerse in Nuremberg's dark past
For the history buffs out there, I'm sure you're all too familiar with the Nuremberg trials. If you're not you can read about it all in the link. Hitler once called Nuremberg "the most German of German cities" and made the city the host of the Nazi Rally parties. You can learn more about all this if you visit the Documentation Center which I HIGHLY recommend. And if you have more time, you can also visit the actual Nazi Party Rally grounds.
10. Tour Albrecht Durer's house
Nuremberg is the home of Albrecht Durer, one of the greatest figures of the Northern Renaissance. His most famous artwork is the Praying Hands. My favorites though are his self-portraits. He kinda looks like Jesus (see below). What I love about his house-turned-museum is that they have free audio guides so you can easily go around the house on your own and learn more about him and his life.
11. See the world's oldest surviving globe
If you're a map geek, you might want to head over to Germanisches National Museum and see the world's olderst surviving globe. Or if that doesn't interest you then head over to Spielzeugmuseum (Nuremberg Toy Museum) and live your childhood again.
How to Get There
How to Get to Nuremberg Christmas Market
Depending on where you're coming from, Nuremberg is easily accessible by ICE and regular trains or flights. As I said above, book your tickets in advance to avoid spending so much money on transportation so you can spend more on drinking gluhwein and pigging out on rotbratwursts.
How to Get to Nuremberg Christmas Market from the Train Station
The Christmas Market is located in the Hauptmarkt which is a mere 10 minute walk from the main train station. No need to take taxis!
—
Disclaimer: My trip to Nuremberg was in collaboration with Visit Nuremberg. They did not bribe me with one-year supply of Nuremberger for this article. Which means I maintain full control of what I choose to write on Dream Euro Trip.