Your passenger rights at hand, everywhere.
That's what the new free smartphone app, Your Passenger Rights, promises to people backpacking in Europe or frequent travelers in Europe. Released by the European Commission, this app allows travelers to be more easily aware of their rights if something goes wrong with their trip, regardless of the mode of transport they use or whether a journey takes place wholly within a single European country or goes through different European borders.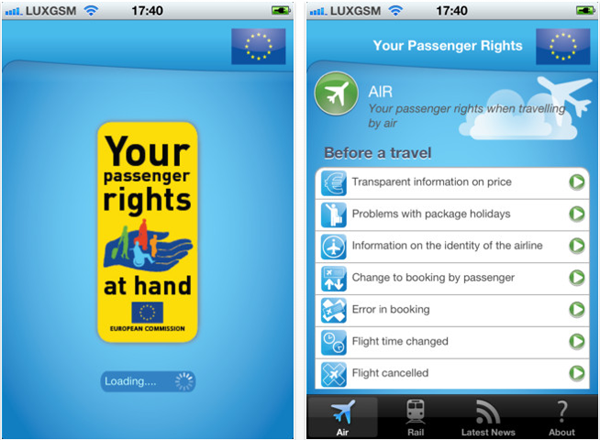 This is so exciting! I have a few delayed flights in my travels in Europe and it would have been great if I have this app so I know what those damn airlines owe me for such inconvenience. What I used to do is approach the airport desk and ask for help. Most of the time they are also clueless about the rules. Or, they don't really care because they are not working directly for the airline anyway.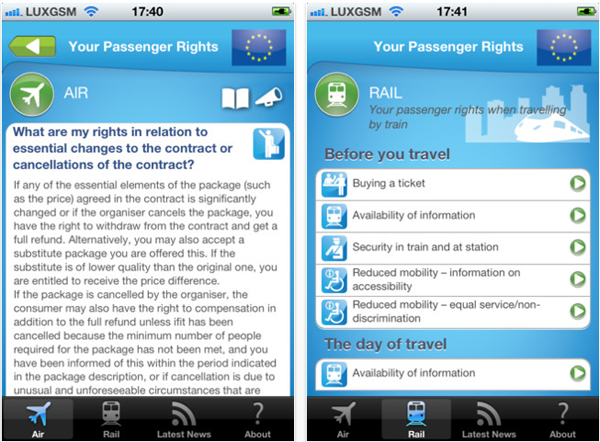 With this app, you can easily check what your rights are for flight delays, denied boarding and lost luggage among others. And that's just for air travel. The app also includes your rights if you're traveling by train (buses and boats will be released next year)! Super cool!
Armed with this knowledge, you can then juice out those companies for ruining your trip! Think free food, free hotel stay, ticket refund etc. Ha!
The app works on four mobile platforms: Apple iPhone and iPad, Google Android, RIM Blackberry and Microsoft Windows Phone 7. It is also available in 22 European languages. It currently covers air and rail transport and will be extended to bus/coach and marine travel in 2013 when these rights come into force.
Backpacking Europe soon? Then get it. It's free!
I love this app and I totally recommend it to those who want to travel smarter in Europe.
You're welcome.
What other apps are you using on your travels?
*