An expert guide to the 25 best hostels in Europe including the coolest and most stylish hostel hunts from Amsterdam to Zagreb. You should definitely bookmark this and/or share with your friends for your dream eurotrip.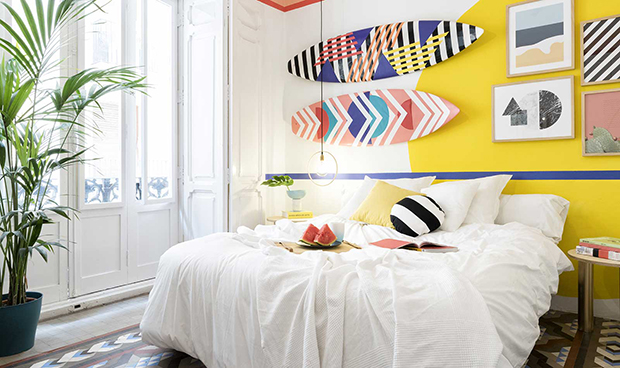 Europe is a continent loaded with history, eye-catching architecture, endless things to do and explore and of course, beautiful stylish hostels! Staying at hostels while traveling Europe is a great and affordable way to get to know the city and to meet more like-minded travellers.
A lot of you have expressed concern about the quality and safety of hostels in Europe. The truth is that there's a smorgasbord of stylish and safe hostels all over Europe it's almost difficult to choose.
These unique, stylish and well-serviced hostels in Europe put some hotels to shame. The hostel experience is not all about shady shared dorm rooms and dirty communal bathrooms. Some of these hostels even have swimming pools. For real. And 50 Cent approved! Yes, he stayed in one hostel in Barcelona I recommended in this list.
I've collaborated with the Hostel Expert, Matt from Hostel Geeks, for this guide. Hostel Geeks is designed to award Hostels with 5 Stars mark based on a transparent criteria. Every single 5 Star Hostel is a unique, eco-friendly, well-designed accommodation with a social heart and great staff. So the hostels listed below are sustainable and one-of-a-kind hostels not part of a hostel chain. If they are, they are part of a national chain like one of my favorite hostels in Barcelona. Matt shares 21 of his favorite hostels and I've included 4 of mine (those with an asterisk).
We've handpicked the best for you. Because traveling Europe in style need not cost a fortune.

1. Wallyard Concept Hostel in Berlin
As DJ is such a Berlin-lover, I wanted to start right with his city. Wanna feel the real Berlin vibes? The Wallyard Concept Hostel is a new player in town, combining the comfort of a cozy coffee place with a fashionable hostel, located in an oldish industrial design environment! This design hostel really impressed me from the very first moment. And it is even cooler at a second glance. The Wallycard Concept Hostel has its own little garden where they organize events like concerts and small get-togethers. The building is up to the newest standards with modern installations, and the design itself is a combination of an industrial and modern look. Truly a unique Hostel in Berlin! The owners are in fact true Berlin locals and were born in the city. Once you've spent some time in Berlin you will know that Berlin-born locals are super rare. In fact, we did not know anyone 'till we met the proud owners of Wallyard Concept Hostels!
Rates: Dorm room beds from 12 EUR/night | Private rooms from 20 EUR/night

2. Ecomama Hostel in Amsterdam
So many choices, so little time! Amsterdam's hostel scene is growing, but still there are two hostels I will always recommend: Cocomama and Ecomama Hostel in Amsterdam. Ecomama is the newest sister-hostel of Cocomama, and this is the hostel I want to introduce you to here. The reception is made out of old books and some chairs are made out of old magazines – how cool is that! Keep your eyes open when walking through the hostel. Most of the design elements are upcycled, and in the shower you will notice a different kind of shampoo: Stop the water while using me! This shampoo only uses ingredients from certified organic agriculture, and does not contain cheap ingredients from the lab. The common area in the ground floor is spacious, and gives you numerous options to relax or mingle with the other travelers.
Rates: Dorm room beds from 19 EUR/night | Private rooms from 51 EUR/night 
3. Oops! Design Hostel in Paris*
Looking for that je ne sais quoi? Oops! Design Hostel offers budget Parisian chic located at the start of Latin Quarter, one of the most gorgeous and less touristy districts in Paris. Oops! is a blend of modern comfort and contemporary design. The interior with bold splashes of color throughout the hostel is designed by Philippe Maidenberg in collaboration with the graphic decorator Daniela Millas. Most of the shared rooms are for 4 people so you won't feel that it's too crowded. Of course they also have private rooms, perfect for couples on a budget. The price includes free breakfast, free Internet access, and free linens. Budget-friendly place for your backpacking trip to Europe.
Rates: Dorm room beds from 27 EUR/night | Private rooms from 70 EUR/night
4. TOC Hostel in Barcelona*
Remember I said some of these hostels put hotels to shame? TOC Hostel Barcelona is one of them. The private rooms are so beautiful, clean and well-designed that I had a way better experience staying here than staying in other 3- or 4-star hotels in the past. No, seriously. It even has a swimming pool and 50 Cent stayed here! If it's good enough for him, it's good enough for you too! It's centrally located in Eixample, one of my favorite neighbourhoods in Barcelona, and walking distance to some of the most popular spots in the city. Book in advance though because it gets fully booked fast!
Check out their properties in Madrid or Sevilla as well if you're headed there.
Rates: Dorm room beds from 23 EUR/night | Private rooms from 75 EUR/night

5. Superbude Sankt Pauli in Hamburg
I personally love Hamburg, especially the people! I love to hear their unique north-german accent, and their passion for their very lively city! We discovered the two Superbude Hostels in Sankt Pauli and Sankt Georg and fell in love with them too. Here everything we enjoy about Hamburg is combined. The hostel is a design paradise, totally reflecting Hamburg at its finest. There are many elements reminding you of the port of Hamburg, as well as upcycled furniture from construction sites, turned into stylish furniture to add personality to the common areas. You can choose between many different styled rooms and I recommend to do your booking as soon as possible. Why, I hear you ask? By booking in advance, you have the option to choose your favourite room based on colour and design! If you make a last minute booking and this option isn't available, no worries: you will stay in a cool room nonetheless!
And hey, when was the last time you listened to live acoustic music while you were having your breakfast? Superbude Hostels know how to enjoy life!
Rates: Dorm room beds from 25 EUR/night | Private rooms from 29 EUR/night

6. Hostel Ani&Haakien in Rotterdam
Oh, I am a such big fan of the Hostel Ani&Haakien in Rotterdam. This artsy accommodation feels like a home from home as soon as you step through the door. The common areas including the living room and the kitchen are wide open spaces and there is tons of room to mingle around. The hostel cat Suzy La Cubanita welcomes you at the reception, and the green garden invites you to have a small siesta in one of the hammocks. The design of Ani&Haakien Hostels feels warm and friendly because of its natural colors and the thoughtful, quirky details that have gone into it. The Ani&Haakien team also organises many events including hostel dinners, pancake breakfasts, pub crawls, bike rental/tours plus a free architecture tour. Another cool thing that we love is their vintage shop inside the hostel – don't forget to pop in and have a look around! And oh, their website is so cute!
Rates: Dorm room beds from 17 EUR/night | Private rooms from 49 EUR/night
7. Valencia Lounge Hostel in Valencia*
The recently redesigned Valencia Lounge Hostel strike a perfect balance between cheap, cheerful and chic. The 11 neoclassical rooms and common area were designed by Masquespacio in a palette of cheerful colours, bold graphic patterns and modern finishes. Each room is unique and has its own identity from the surf-themed chamber to the soothing ombre room. All the rooms are privates for 2 to 4 people and includes linen and some with en suite bathroom. It's so beautiful it has been featured in various design magazines like Architectural Digest and Wallpaper*.
Rates: Standard privates for 2 from 39 EUR/night | Private rooms en suite from 58 EUR/night

8. Fair and Square Hostel in Belgrade
The Fair and Square Hostel wanted to open their doors back in March 2015, but it turned out they were such an exciting new place to stay in Belgrade; the casting lady for the TV show X Factor, Adria, decided to book the entire hostel for a couple of months! The hostel officially opened for travelers in July 2015 and instantly became one of the most popular spots in Belgrade. The hostels design is based on the principles of industrial design. Wide spacious rooms and lounge, fashionable vintage styled furniture and a large, lush garden offering up a perfect space for that all important summer BBQ.
Rates: Dorm room beds from 6 EUR/night | Private rooms from 14 EUR/night

9. Sunset Destination Hostel in Lisbon
What do you think about a roof top terrace with a swimming pool? And how about we add an incredible view to a local landmark whilst the sun sets? Welcome to Sunset Destination Hostel in Lisbon!
Lisbon is certainly a hostel paradise and the Sunset Destination Hostel in particular is truly unique. They are famous for their super cool swimming pool on the roof top terrace and their interesting hostel design. You will notice the bunk beds are shaped differently, right?! The owner was so inspired by the caves of Cappadocia in Turkey, he decided to incorporate and design a different type of bed for the hostel. If you are as intrigued as we were, have a look and book your stay:
Rates: Dorm room beds from 9 EUR/night | Private rooms from 23 EUR/night
10. STF Youth Hostel af Chapman in Stockholm*
What's a list of unique hostels without mentioning this cool and unique ship hostel in Stockholm? STF Youth Hostel af Chapman is located in the beautiful Skeppsholmen island in Stockholm, Sweden. The sailing ship is actually even one of the city's most famous landmarks. Imagine sleeping in a ship cabin and peering out the porthole overlooking the gorgeous Gamla Stan (the Old Town) and the Royal Palace. It is quite a view not even 5-star hotels in Stockholm can boast of. You can also hangout at the deck and have your own Titanic moment. The breakfast is ecological and is quite filling. All rooms have bed linen and towels included.
Rates: Dorm room beds from 39 EUR/night | Private rooms from 89 EUR/night

11. Copenhagen Downtown Hostel in Copenhagen
Copenhagen Downtown Hostel has been voted as the best hostel in Copenhagen and Denmark for 2015! I guess it is pretty obvious that Copenhagen Downtown Hostel is located, well, downtown. I especially love the bar here on the ground floor. You can get a drink and delicious food, play some foosball or board games, plus you can sit outside on cushions at the windows when the weather allows. Copenhagen Downtown Hostel knows how to organize cool events for travelers so there's never a dull moment to be had. In fact the Copenhagen Downtown Bar is so cool, even locals love to come over to enjoy a drink.
Rates: Dorm room beds from 24 EUR/night | Private rooms from 28 EUR/night

12. Mosaic House in Prague
Mosaic House in Prague impresses me in many different ways. The art already starts before you have even entered the hostel. Near to the hostels entrance you will find the popular Umbrella People statues hanging from the sky, giant mushroom statues, and a small fountain. Mosaic House is actually both a hostel and a hotel inside one big building, combining the comfort and style of a boutique hotel with the heart and passion of a social fun hostel. It is located right in the heart of New Town, and just around the corner you have my favorite Café Neustadt. Geeky fact on the side: This hostel is super green! In fact they produce 0% emissions thanks to numerous installations like solar collectors, heat recuperation, and insulations.
Rates: Dorm room beds from 10 EUR/night | Private rooms from 34 EUR/night

13. CODE Hostel Edinburgh
The Code Hostel is a modern, geeky establishment. There are no keycards or anything for you to enter the hostel, you simply need your own key for the room. CODE hostel also offer pods instead of bunk beds! What does that mean? The beds are pod-styled, each with their own curtain, power socked and locker – some perfect privacy that everyone can appreciate! And last but not least you can enjoy some fantastic views over Edinburgh without leaving the comfort of the hostel – just head on up to the common area on the top floor.
Rates: Dorm room beds from 28 EUR/night | Private rooms from 66 EUR/night

14. Marken Guesthouse in Bergen
A lovely, homely hostel! The Marken Gjestehus in Bergen, Norway features a cosy, easy-going vibe with a warm, Norwegian style. This hostel in Bergen is popular for its location right in the city center and the super-welcoming staff that will help you settle in. Whatever you want to do and see during your time in the city, the Marken team are always keen to help you get there.
Rates: Dorm room beds from 26 EUR/night | Private rooms from 35 EUR/night

15. Swanky Mint Zagreb in Zagreb
The Swanky Mint Hostel in Zagreb is a true treasure for design hunters! The industrial design takes it to the next level, using old industrial machines as reception desks and old hood dryers from barber shops as lamps. You can find many decorations like this throughout Swanky Mint, so be sure to keep your eyes peeled. Whilst the terrace, bar, and common areas are truly industrial, the interior designers decided to keep it simple within the bed rooms. Within these spacious rooms all of the walls are white and the beds are tailor-made out of wooden pallets.
Rates: Dorm room beds from 11 EUR/night | Private rooms from 24 EUR/night

16. Palmers Lodge Swiss Cottage in London
The biggest city in Europe obviously offers a wide range of hostels and accommodation. My favorite here is the Palmers Lodge Swiss Cottage in London. The hostels building dates back to 1880/81 when Samuel Palmer of Huntley&Palmers Biscuits decided to build himself an impressive Victorian grade II Cottage. I am a big fan of Swiss Cottage as it feels like a step back in time thanks to this historic building, with the added warmth of a wooden interior design. The two big common areas allow you to decide how you want to spend your time here. The lounge is for the tranquil traveler while the bar and restaurant is the place to get a drink and mingle.
Rates: Dorm room beds from 22 EUR/night | Private rooms from 38 EUR/night

17. Backstay Hostel in Ghent
Backstay Hostel is a stunning design hostel in Ghent is quite new, but they have already made it on the list because their design and their history is unique! The building used to be the office of the socialist newspaper Dagblad Vooruit and their history has now become a part of the modern-day design. A well-known newspaper called The Guardian once described the Backstay as a ''newspaper hostel'! The bar on the ground floor of Backstay Hostel has a special design. The letters from the old printing machines have been recycled to give the bar a unique look and no doubt you will recognise it instantly when you walk in. The rooms are also named after different popular newspapers from all over the world. When entering the hostel you can actually see the old working desks and counters that have been built in to the renovated building.
Rates: Dorm room beds from 19 EUR/night | Private rooms from 31 EUR/night

18. CUBE Hostel in Leuven
The CUBE Hostel is not just a trendy design hostel in the students town of Leuven, it is also part of a city tour! The staircase and different sections of the hostel display many cool graffitis, and therefore the Graffiti tour Leuven includes a visit to the CUBE Hostel. The thing I like most about this hostel is that their design kept traveling in mind. For example old suitcases were turned into furniture, and this you will see during your checkin at the reception desk. Actually you will find many travel accessories around CUBE Hostel as you find your way around plus the added bonus of an in-house cinema!
Rates: Dorm room beds from 23 EUR/night | Private rooms from 29 EUR/night

19. Gastama Hostel in Lille
The Gastama Hostel in Lille, Northern France, is a great combination of a design-driven hostel and local-bar atmosphere. The Gastama bar itself is a very popular place for locals to get together. As there are always many events happening, the Gastama Hostel brings together locals and travelers from around the world. If you as a guest don't feel like going to the bar, don't worry, there are quiet common areas that are only available to the guests. Also, the design is important to mention here. This fancy hostel features a new industrial style, using old materials like lamps, signs and chairs from the old train station, harbor and other locations, cleverly mixing the old with the new.
Rates: Dorm room beds from 21 EUR/night | Private rooms from 40 EUR/night

20. Bunk Hostel Taksim in Istanbul
This #Bunk Taksim Hostel is a perfect example of how a big, locally managed hostel can have such a big impact on the local community. The current building that houses Bunk Taksim was in ruins before the investors decided to renovate and make it a design hostel, during a time when few businesses thrived in the area. As a result of this renovation, the local community around the hostel has been growing, and a number of new shops, cafes and eateries are flocking into the vicinity thanks to the increase in tourism. The modern, temporary design is what attracts and intrigues most people about the Bunk Taksim hostel. But we should also mention another of its highlights: a roof top lounge with an in-house bar and restaurant where wonderful views over the city of Istanbul can be enjoyed!
Rates: Dorm room beds from 16 EUR/night | Private rooms from 30 EUR/night

21. Tattva Design Hostel in Porto
Let's head over to the northern part of Portugal. Porto is still a European secret destination, becoming more and more popular every year. Here I adore the award-winning Tattva Design Hostel with the added charm of the Tattva Bar and Restaurant. The location in the city center could not be better, their hostel team is super friendly and you can tell they are enjoying what they do. Most of all, my favorite part about Tattva Design Hostel are the details. Tattva is a sanskrit word and translates to '5 elements'. The design of the hostel combines the five elements of earth, fire, water, air and sky, with every floor and one different space having one designated element associated to it. The bunk beds in the dorms provide you with some privacy thanks for their curtains and the personal lamps. You will also notice in every dorm room that one curtain has a different colour to the other. Why is that? The curtain is designed to match the element of the floor – a clever idea that is originally brought from India. However the building only has four floors, so where is the sky? The huge outdoor terrace symbolizes the sky and the aforementioned restaurant offers a 7-day, 3-choice menu during the day: one meat dish, one with fish and one vegetarian option.
Rates: Dorm room beds from 15 EUR/night | Private rooms from 26 EUR/night

22. The Nomad Hostel in Sevilla
Passionate about travel and sustainability, this is The Nomad Hostel in Seville! The owners created a design hostel with the help of local designer and the bespoke products. The beds are tailor-made, and the travel accessories you can see all around the hostel are brought by the hostel team themselves – an excellent personal touch that we just love!
You won't find any TV inside TheNomad Hostel but plenty of space to kick back, relax and get talking to fellow travellers. Be sure to check out the events on the roof top terrace and share a drink with the passionate staff.
Rates: Dorm room beds from 16 EUR/night | Private rooms from 19 EUR/night

23. Bed And Be in Córdoba
Bed And Be in Córdoba really impresses me as it has a very clear concept. The design is kept simple, almost minimalistic, throwing little Andalusian elements in here and there. You have a lot of space here, although you would not expect that in an old historical building such as this one. Bed And Be is a place with a calm and warm feeling and this is a result of José: the owner who refers to Bed And Be as 'your friendly hostel in Córdoba'! Before you even arrive he knows your name, and it feels like you are stepping inside an old friends house. The last detail I am truly passionate about is their roof top terrace. Typical for Andalusia, the terrace is loaded with flowers and plants and of course, Hammocks. Here you can join cooking classes, and listen to local bands.
Rates: Dorm room beds from 16 EUR/night | Private rooms from 19 EUR/night

24.
Hello I'm Local. I am the most Local Boutique Hostel in the World in Haarlem
Let me guess: you were reading the name of this hostel twice, right?! The short name of Hello I'm Local Hostel is more common – and probably easier – to use. Nevertheless I love the full, long name simply because it gives you an idea of what this hostel is about. I made sure to have a close look to see if the hostels design and style really fits with the name. And it does, 100%! The Hello I'm Local is truly a Boutique Hostel, and the local effort the hostel goes to is truly inspiring. If you are traveling to Amsterdam, and fancy a cosy place to stay outside the city, the Hello I'm local Hostel is the place to be. It is located in Haarlem, just a quick 15-min train ride away from the city center of Amsterdam. You will find travelers of every age from the young student to the retired couple. This mix of ages creates a unique feeling that not many other hostels possess. In fact the hostel does not organize too many events from their side, as they are happening organically.
Interested in the background of Hello I'm local? Saskia, the owner of this Boutique Hostel in Haarlem, wanted to build her hostel from the bottom to the top with locally produced products, and with the help of local people. The Hello I'm Local is built and designed by young dutch designers, some of which were still students at the time they agreed to get involved. The bunk beds are tailor-made and even the cushions are produced in the Netherlands. We say that with surprise as the dutch industry for cushions and furniture used to be quite successful until globalization came along. Saskia saw this as a welcome challenge and managed to succeed nevertheless.
Rates: Dorm room beds from 19 EUR/night | Private rooms from 39 EUR/night

25. 7 Fells Hostel in Akaslampolo
The 7 Fells Hostel in Äkaslampolo is our most northern hostel in Finland. Tina, the owner of 7 Fells, actually told me that her Hostel is not a 5 Star, but a billion star hostel. Why? It's perfectly positioned to see the northern lights and the open sky full of stars. And not just from outside: you can see all this from your very own dorm bed! This accommodation is built like you would imagine a typical Finnish home, all warm and cosy with mostly wooden furniture. The 7 Fells Hostel is also pet-friendly and guests are welcome to bring their beloved pets along to enjoy their stay with them.
Rates: Dorm room beds from 19 EUR/night | Private rooms from 27 EUR/night
* * *
I hope you enjoyed discovering all the amazing 5 Star Hostels Europe has to offer. As you can see every hostel has its own character and design that makes it unique, quirky and fun. If you want more info about the 5 Star Hostels, please check out Matt's Hostel Geeks for detailed reviews of the hostels. 
What is your favorite hostel from the list? Is it listed in this article or maybe you have another hostel in mind you are dying to tell us? Let me know in the comments below!