The ultimate Amsterdam city guide showing you the best things to see and do in Amsterdam, the coolest neighborhoods, where to stay, where to rent bikes, where to find windmills and more!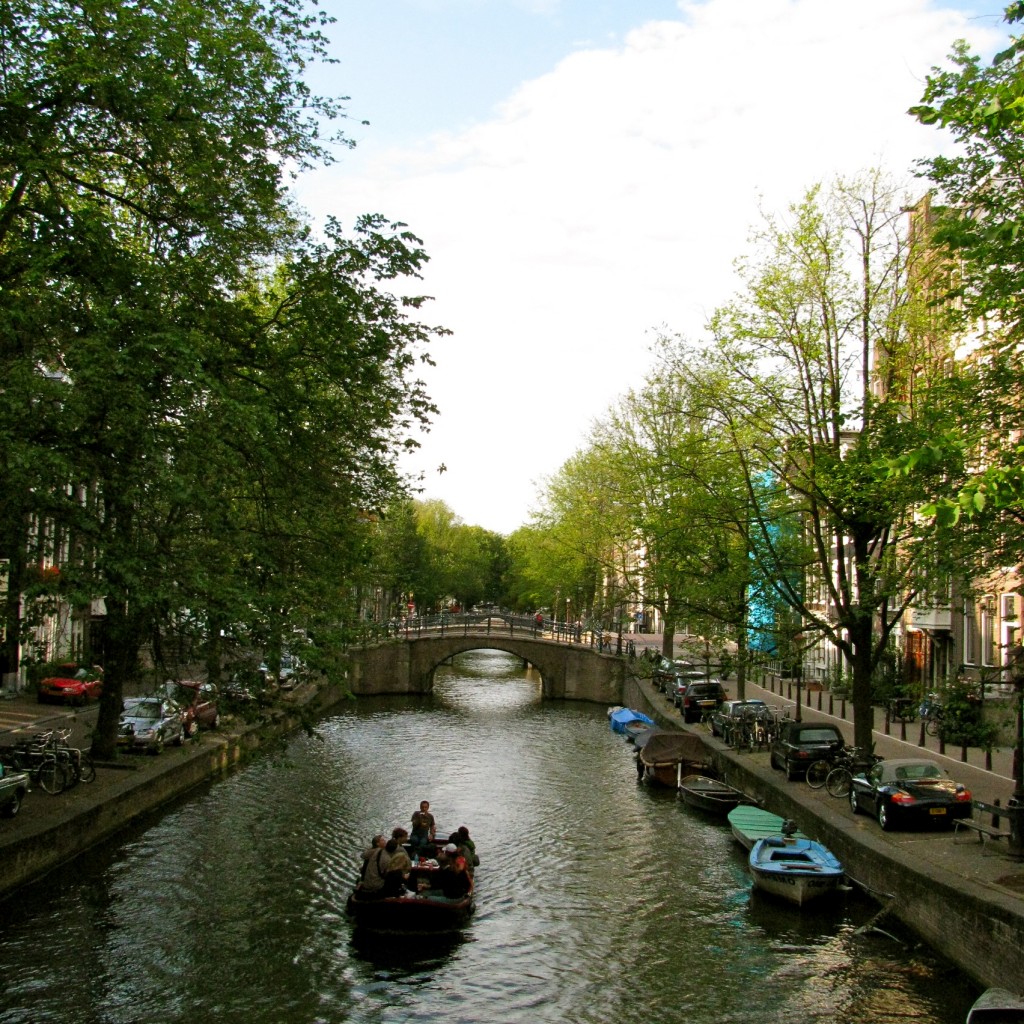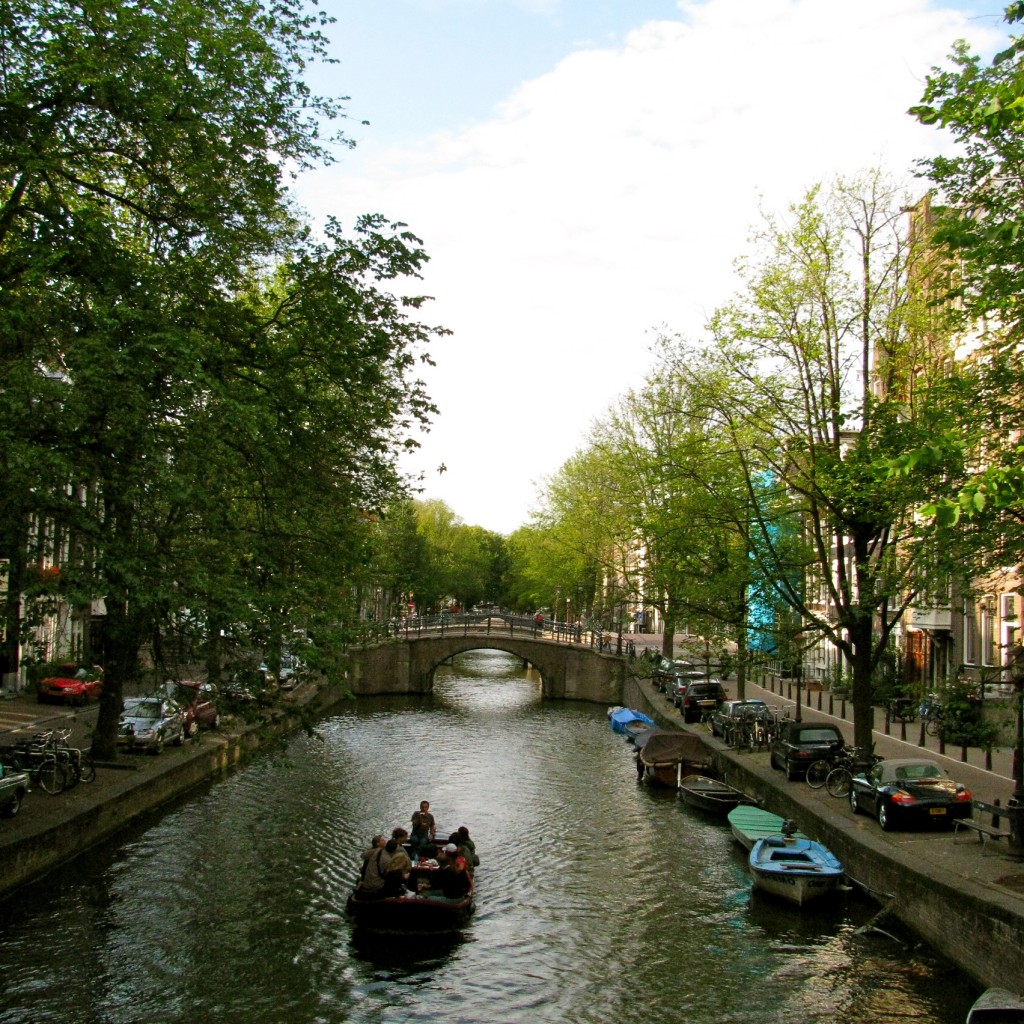 Amsterdam is one of my favorite European cities not because of sex, drugs and Dutch beers. The city is so much more than these. It definitely deserves more than a visit of its coffee shops and the Red Light District. There are many things to see, do and experience in this vibrant city. If you have at least three days to spend in Amsterdam, then here are the essentials that you need to know before you go. It covers many important information for backpackers, specially tips and tricks on traveling Amsterdam on a budget.
What Are The Best Things to See?
4 Best Museums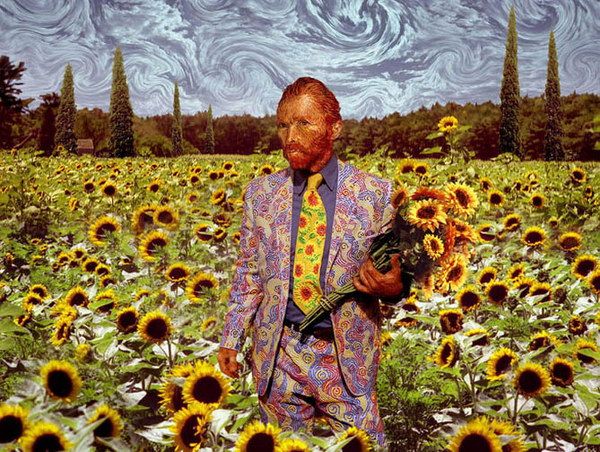 Van Gogh Museum – offers a vivid insight into Van Gogh's work and life through permanent and special exhibitions. It houses the world's largest collection of Van Gogh works (200 paintings alone) and shows other works of 19th and 20th century artists like Monet, Manet, and Matisse. I love Van Gogh and you can see his iconic paintings like Sunflowers, The Potato Eaters, Bedroom in Arles and Blossoming Almond Tree.
Rijksmuseum – or the Dutch National Museum. It showcases a collection of top Dutch masters' masterpieces including works by Rembrandt, Frans Hals and Johannes Vermeer. Some parts of the museum is under renovation but you can view the Golden Age Masterpieces in the Philips Wing. You can see one of Rembrandt's most renowned paintings in the world, The Night Watch. The museum is found just beside the Van Gogh Museum.
Ann Frank House – Faithfully preserved rooms in the back of the 17th-century canal house on the Prinsengracht, where the Frank family hid from the Nazis for more than two years, and where Anne wrote her diary. Travel Tip: Anne Frank House always have a long line and if you don't want to wait 2 hours or more in line you should buy your tickets online.
FOAM Photography Museum – Exhibits all genres of photography (fine art, documentary, historical, contemporary) and features shows by both major names and emerging talent. I have never been here myself but this was favorited and highly recommended by Jurriaan, the Dutch travel journalist from Amsterdam. This is now on my high priority list for my next trip to Amsterdam.
Free Museums? Check out Hollandsche Schouwburg (The Dutch Theater), Multatuli Museum, Reflex New Art Gallery, Melkweg Photogallery and Botanical Gardens at Vrije University.
3 Coolest Neighborhoods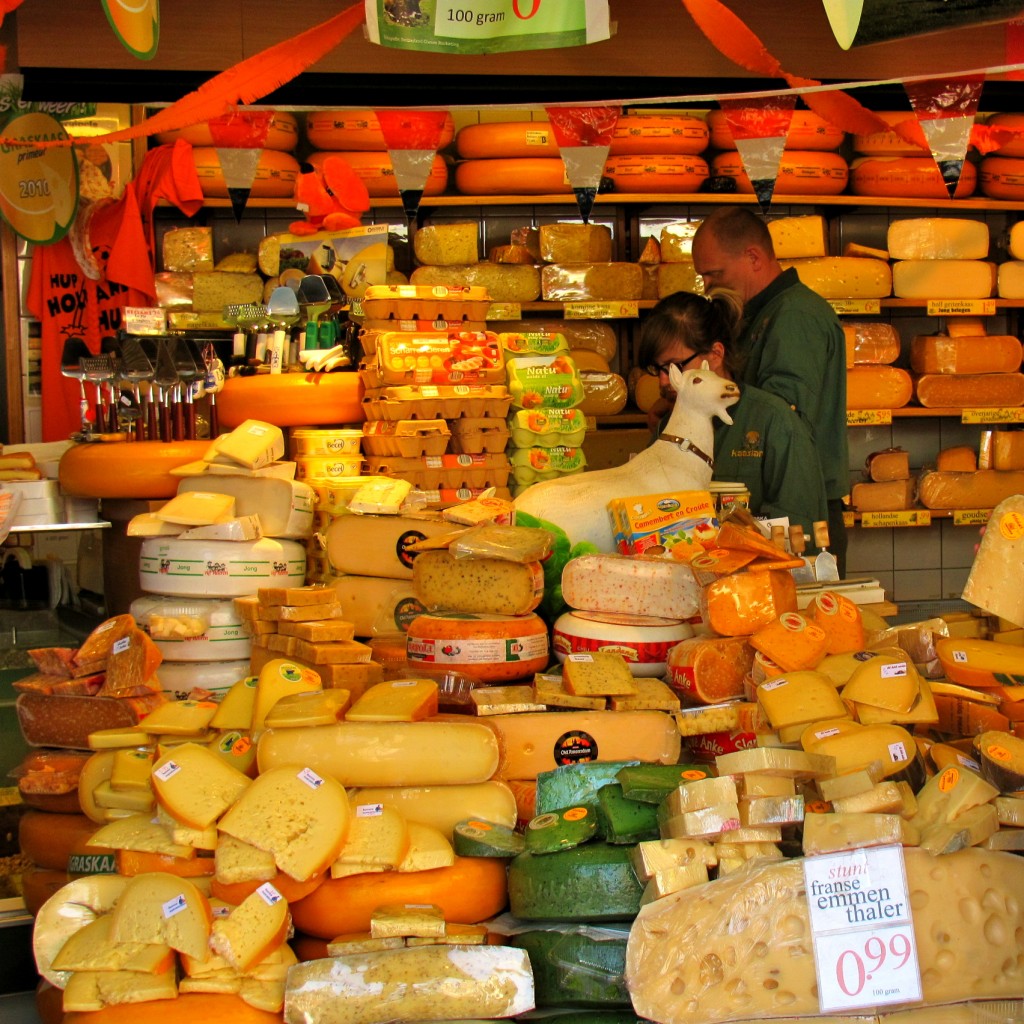 Red Light District – Very touristy so it's not that seedy. You see working girls by the glass windows. They say that you can't take pictures of the girls because big, tall bouncers might appear out of nowhere and throw your camera to the canal. Haha. Actually Amsterdam wants to get rid of its image as a "Sex City". Lately, more and more prostitutes are moving out of the houses because the city government didn't renew the permits. The business owners are apparently connected to organized crime. The city government then gives these houses to artists (painters, writers etc.). Now the houses host exhibitions and restaurants and shops. Amsterdam is trying to make the neighborhood a really hip place with these kind of actions that's why there's a cool vibe hanging around the Red Light District when you walk there these days.
Jordaan – I think this is one of the coolest neighborhoods of Amsterdam. It boasts of lovely little shops, cosy restaurants and trendy hotspots. There's Noordermarkt, one of the best open-air, canalside markets in Amsterdam. It is a really popular place to live in, even for Dutch people. This district is the most romanticized place in Netherlands and this is evidenced by so many Dutch songs written about it. Walk around the area and get lost in the little alleys and discover a whole new world. Best thing is it's not flocked by tourists.
De Pijp – It's also top on the list of cool neighborhoods in Amsterdam. The area is full of fantastic cafes, restaurants, coffee shops and bars. This place is a dynamic melting pot of cultures and nationalities and is known as the "Latin Quarter of Amsterdam". It is famous for its Albert Cuypmarkt, the busiest daily open-air market in the city. You can drop by here to buy some cheese, snacks and try some Dutch goodies. It is a true feast for the senses.
2 Beautiful Parks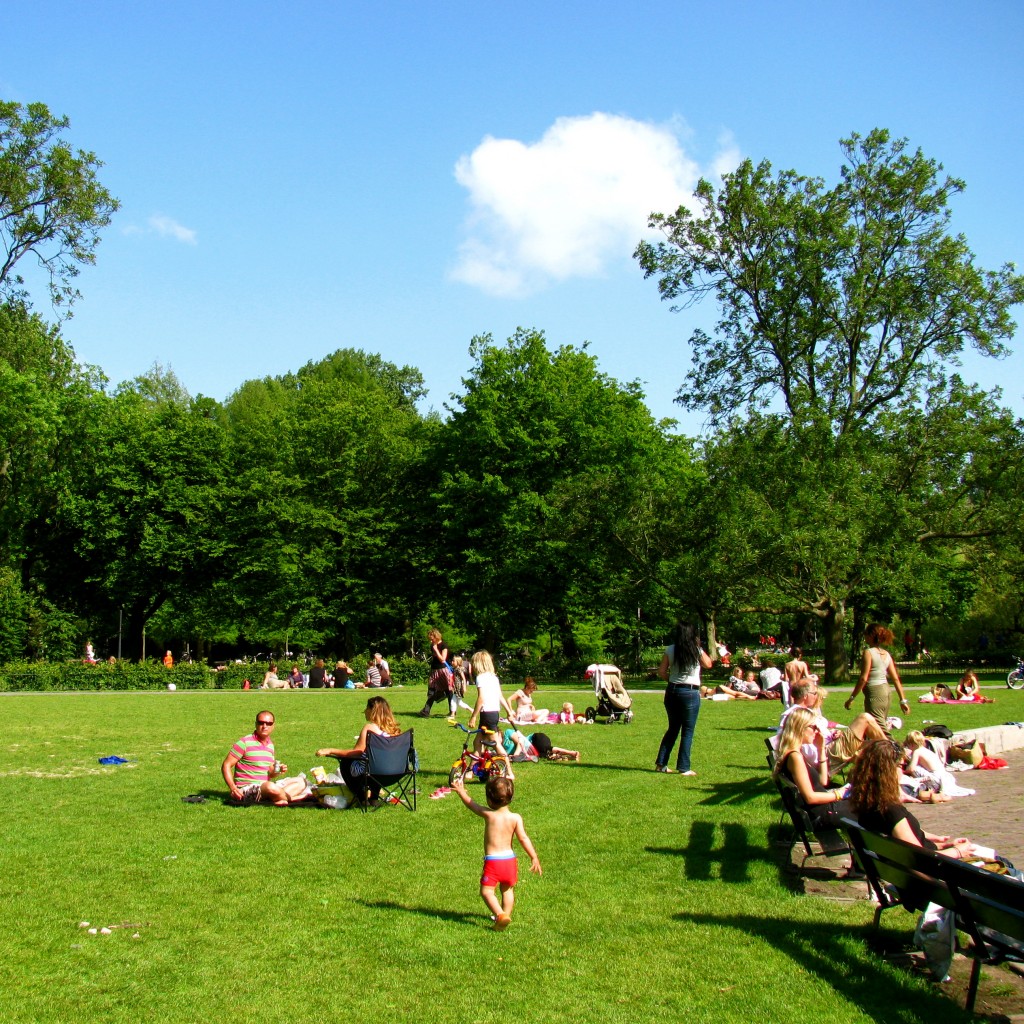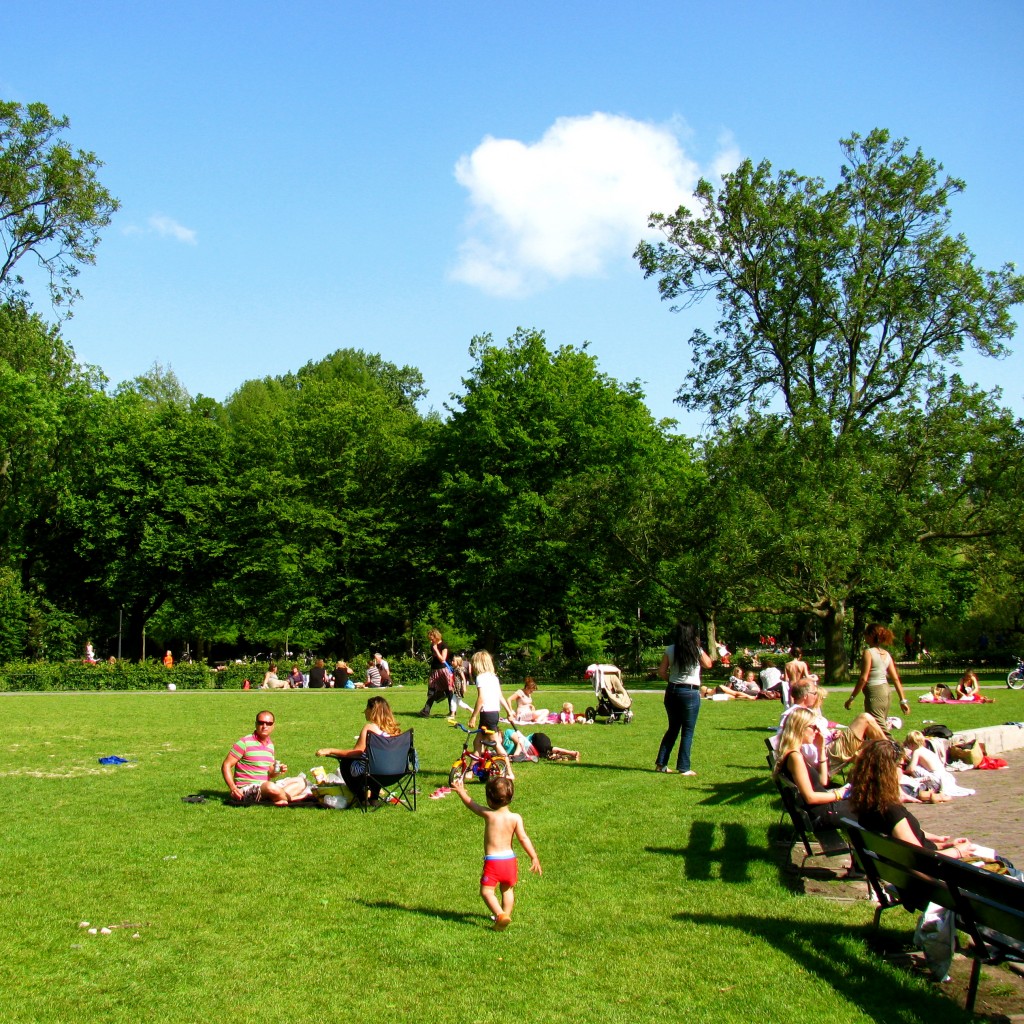 Vondelpark – This is my favorite park in Amsterdam. It's huge (like almost 49 hectares!) with lots of green space, gardens, playgrounds, bike trails and mini-lakes. You can spend all day just hanging out here in the summer. I believe this is the most popular park in Amsterdam, attracting tourists and residents alike. Dutch people come here to exercise, bike around, have a barbecue, hangout with friends, take the kids in the fountains etc. The park was designed by landscape architect L.D. Zocher and has been awarded national heritage status.
Oosterpark – This is a smaller park in the east side of Amsterdam. It also has lots of green space, a large pond, wading pool and bike and walking paths. Go here if you want to stay away from the crowd of Vondelpark.
2 Happening Beaches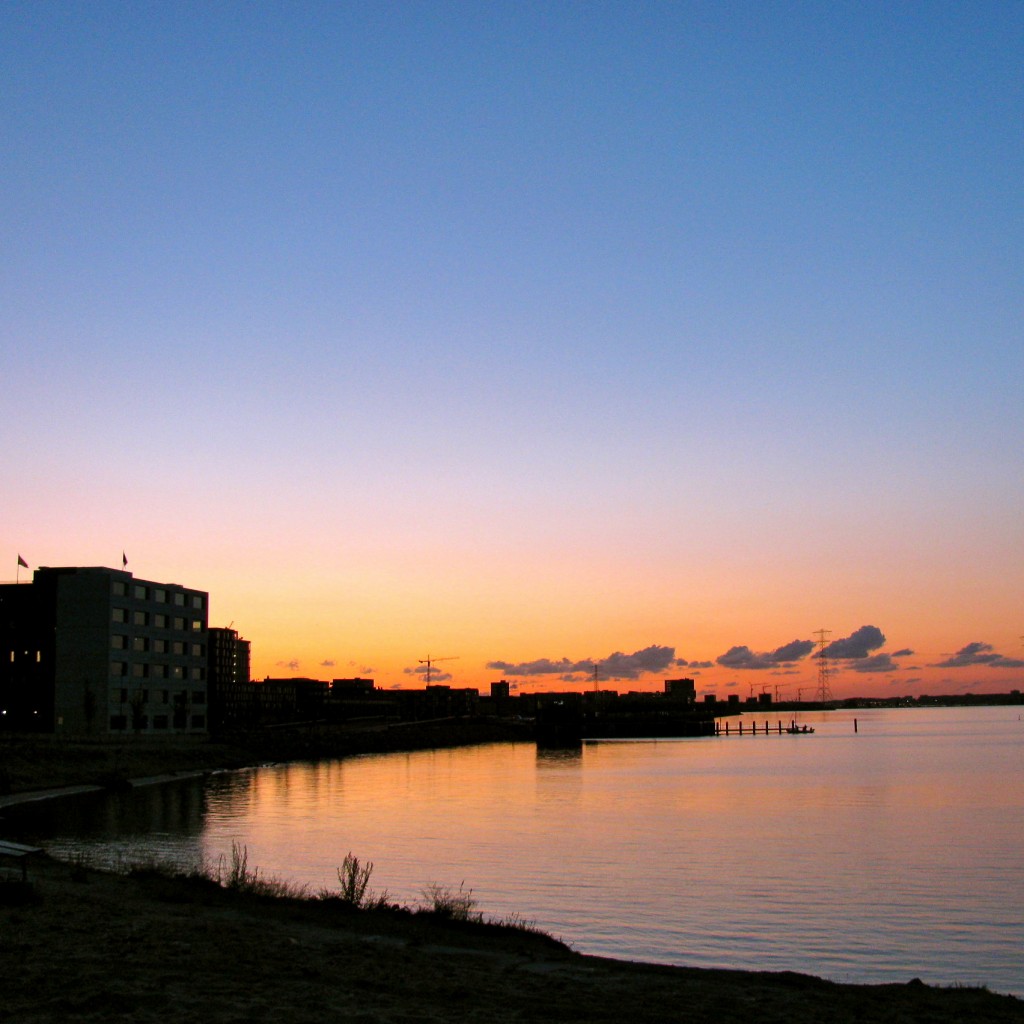 If you are in Amsterdam in the summer and you want to go where the locals go then try going to the beaches near the city. Yes, they have beaches! They are in Zandvoort and Ijburg. Zandvoort beach is a stretch of coastline dotted with cafes and a hippie-style party house named Woodstock 69. How to get there? Take the 30-minute direct train from Amsterdam Centraal for €5. Save time by buying the ticket online the night before you go.
Meanwhile Blijburg beach is located within Amsterdam, in the residential neighborhood of Ijburg. (Quick note: "blij" means happy in Dutch). My friend Willem owns an apartment in this area so I spent more time here. Blijburg is Amsterdam's city beach. I don't know if you can actually swim in the water because it looks murky. Dutch people hangout here and have lunch or dinner at the Blijburg Restaurant. I had a nice dinner here with my friend on a breezy August night. How to get there? Take tram 26 to Ruisrietstraat from Amsterdam Centraal for €2.70. You can buy tickets on the tram. Travel tip: Buy the GVB day card for €7.50 and you can travel around Amsterdam for 24 hours.
Related post: Amsterdam Travel Budget per Day
Where Should I Sleep?
Budget Hostels
Flying Pig Downtown – Located right next to Amsterdam's Central Station, the Flying Pig Downtown makes it easy for travelers to roam around the streets of Amsterdam. You start with the hostel's neighborhood which is a busy shopping district, later on to the famous coffee shops and Red Light District – all accessible for a few minutes. If looking for a smoke with friends and acquaintances, the hostel has the 'pillow stage' for that.
Rates: Dorm room beds from 32,90 EUR/night | En suite rooms from 64 EUR/night
Stayokay Amsterdam Vondelpark – Stayokay Amsterdam Vondelpark is one of the city's largest hostels with a quite unique location right in the middle of Vondelpark. From here you can walk to close attractions like the Van Gogh Museum, Rijksmuseum, and the famous nightlife square Leidseplein. If you decide to stay in the hostel, visit their bar and restaurant overlooking Vondelpark.
Rates: Dorm room beds from 31 EUR/night | En suite rooms from 76 EUR/night
Hostel WOW Amsterdam – If being right at the center of Amsterdam and its tourist attractions isn't in your travel planner and you'd rather stay somewhere else, the Hostel WOW Amsterdam is a cheap and artsy alternative with a lot in store. WOW Amsterdam is a creative hub that, besides a hostel, houses art studios, a restaurant, an urban farm, an exhibition space, and more. It is 10-15 minutes away from nearest Station Sloterdijk.
Rates: Dorm room beds from 23,33 EUR/night | En suite rooms from 29,33 EUR/night
What Are The Best (And Free) Things To Do?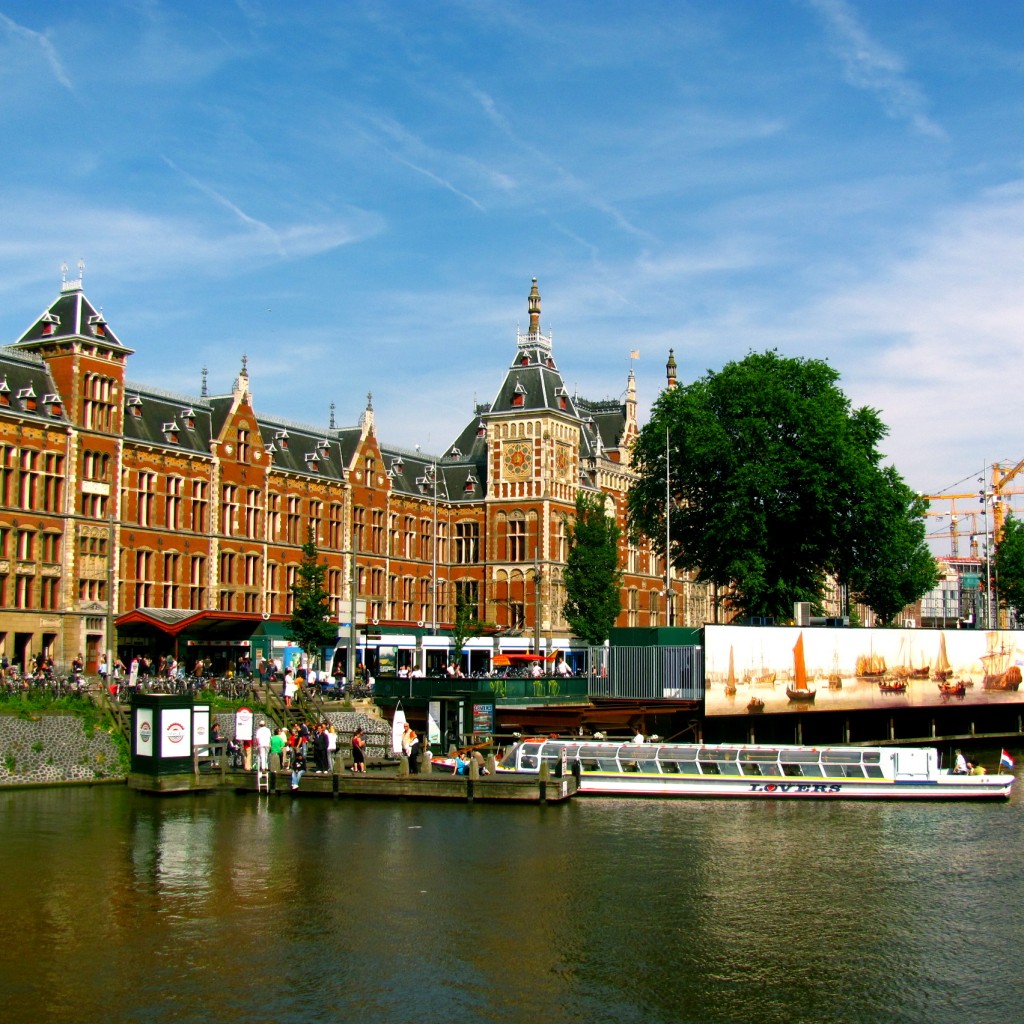 Free Walking Tour – I love these free walking tours. This New Europe's 3-hour walking tour takes you around key spots in Amsterdam. It gives you a general overview of the city and its history. I totally recommend doing this on your first day in the city. It's totally free but do give some coins to your tour guide as a thank you (as they don't have salaries, they make money from the tips).
Free Boat Trip – All ferries behind Central Station are free; so pick one and enjoy the ride. The average travel time is just 5 to 15 minutes though. While it is quite a short trip, the ferry ride to the northern banks affords you an expansive view of the Amsterdam waterfront.
Bike Tour – Rent a bike and bike around the city. This is what I do 95% of the time when I'm in Amsterdam. It's a great way to see the city. To know more about where to rent bikes and how much it costs, continue reading.
Best Bars and Pubs (+ Free Live Music) – If you enjoy live music there are bands performing nightly across Amsterdam. And they're free (or almost!)! Jamming sessions, jazz and blues. Here are some hotspots: Mulligan's Irish Bar – free on Sundays, Cafe Belgique – free on Mondays, Jazz Cafe Alto – free on Tuesdays, Maloe Melo – free on Wednesdays, The Last Waterhole – Thursdays, €1.
Here are other cool bars and cafes that you should check out: Brouwerij 't IJ (the windmill brewery; a local microbrewery and cheap!), Cafe Pollux (late-night dive bar), Cafe Brecht (Berlin-style cafe for students and literary types; love the interiors of this place!), Cafe Sound Garden (alfresco drinking by the canal).
Where Can I Rent Cheap Bikes?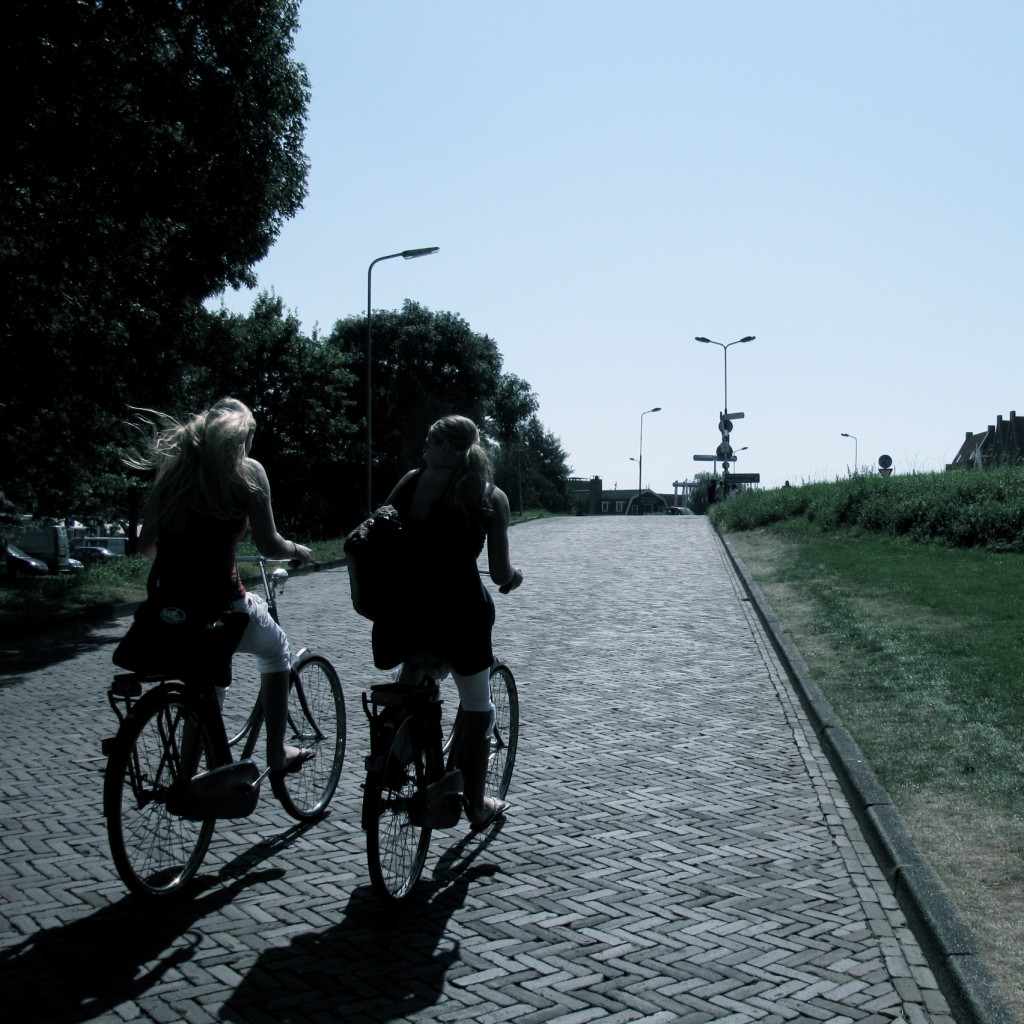 One of the most popular and cheapest bike rentals in Amsterdam. They rent out Beach Cruiser bikes that comes with two locks. When renting a bike, you need to leave one of the following as a deposit: passport, a credit card or €200 in cash. They are located in Kerkstraat 134.
How much is a bike? The cheapest is €8 (including insurance for theft) for 1-4 hours.
They are kind of no-frills. A bicycle is €10 for a day, no money deposit and you have to leave a copy of your credit card or a valid ID card/passport. It comes with a bike theft insurance, bags, solid locks and a child seat. They are located in Brouwersgracht 78.
How much is a bike? €10 a day (until 5:30pm). Although they offer bikes for €8 for three hours.
Where Can I See Windmills?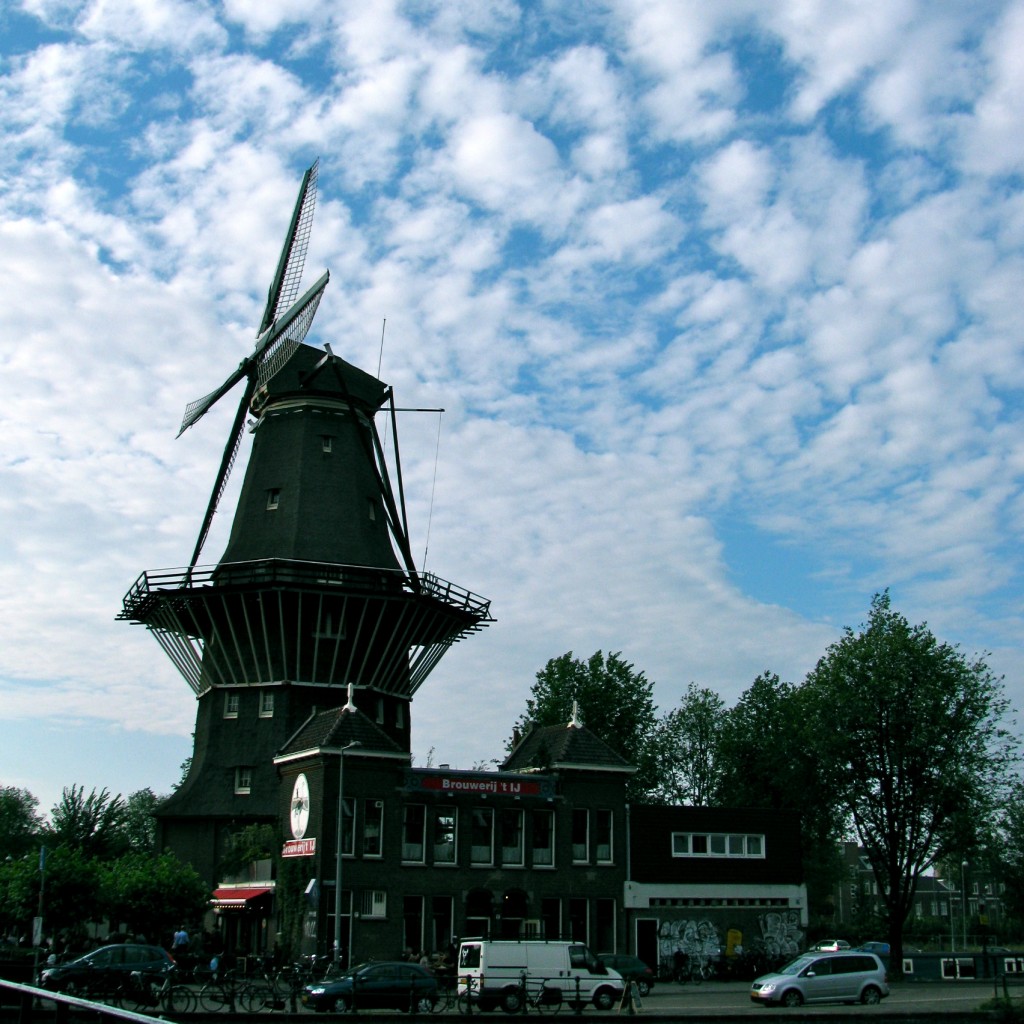 No trip to the Netherlands is complete without a visit to a windmill as they are an iconic part of the Dutch landscape. With eight windmills located in and around Amsterdam, windmill spotting is a great way to see the city. Most of Amsterdam's 17th-century windmills are unfortunately not open to the public. Of Amsterdam's eight remaining windmills, the only windmill regularly open to the public is the Molen van Sloten. The Molen van Sloten is a renovated, working windmill built in 1847. The mill lies on the outskirts of Amsterdam, on the ring canal and it ensures that the water level in the lower-lying surroundings remains below a specific level, by draining the area.
How to get there? Take bus 192 from Sloterdijk or bus 145 (from Leidseplein) which stops nearly at the door of the mill. Alternatively, you can also take tram 2 to Nieuw Sloten and its a 10-minute walk from there.
Where Can I Have Free Internet Access?
Free Internet access is not a common feature in Amsterdam. Most establishments offering access charge a fee. But the public library (OBA) offers computers with free internet access and free wireless. Best part is its located in the center, right next to Amsterdam Centraal Station. You can even buy theatre tickets here (AUB Ticket office). Travel tip: The 7th floor has a restaurant with beautiful view on Amsterdam.
Where can I leave my luggage? Any lockers?
Most bigger train stations in Netherlands have lockers. In Amsterdam, you can leave your luggage in lockers in Amsterdam Centraal Station. It costs around €3 for small lockers (for a medium backpack) and 5€ for big lockers (large enough to store everything you want).
What About Tourist Scams?
I've never been scammed in Amsterdam but I heard that you should be careful when dealing with beggars, junkies, taxi drivers, tulip sellers/flower shops and prostitutes. For more details on Amsterdam scams, read this.
Amsterdam Travel Basics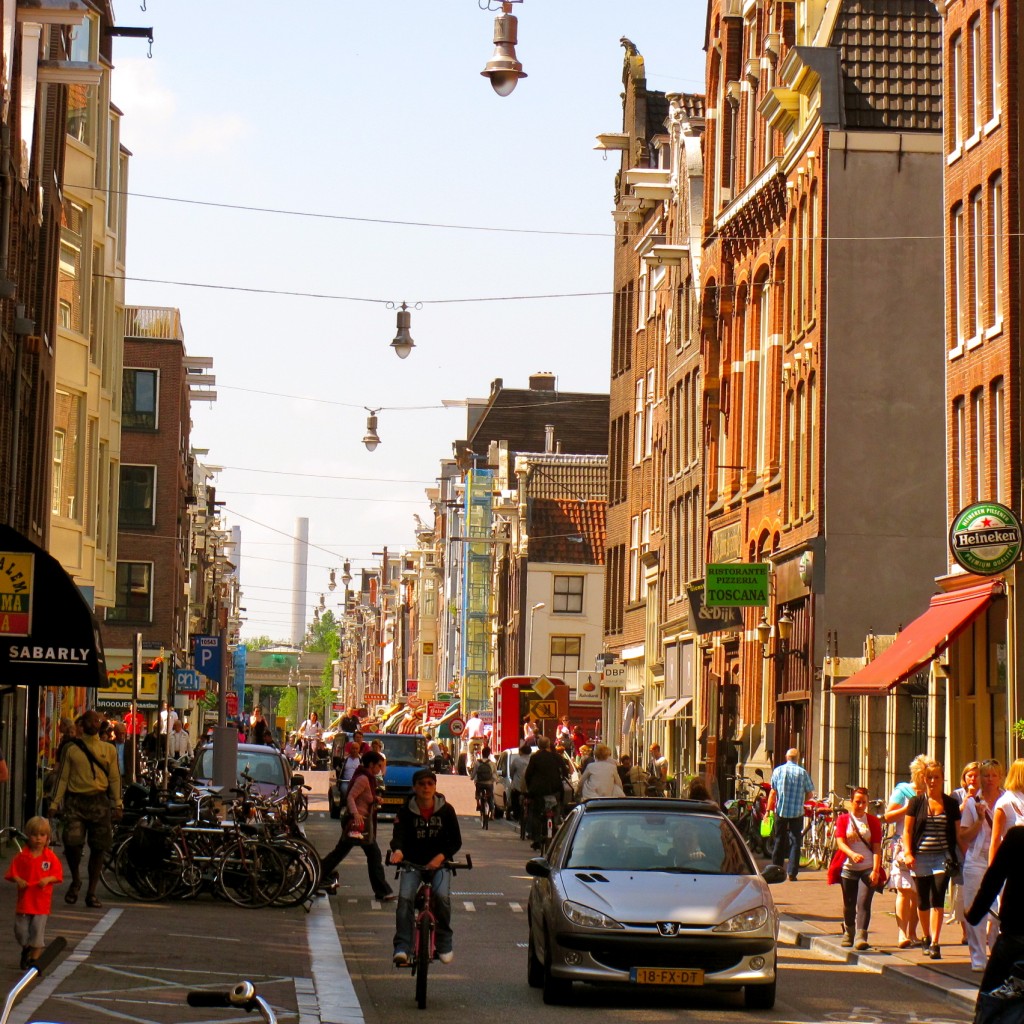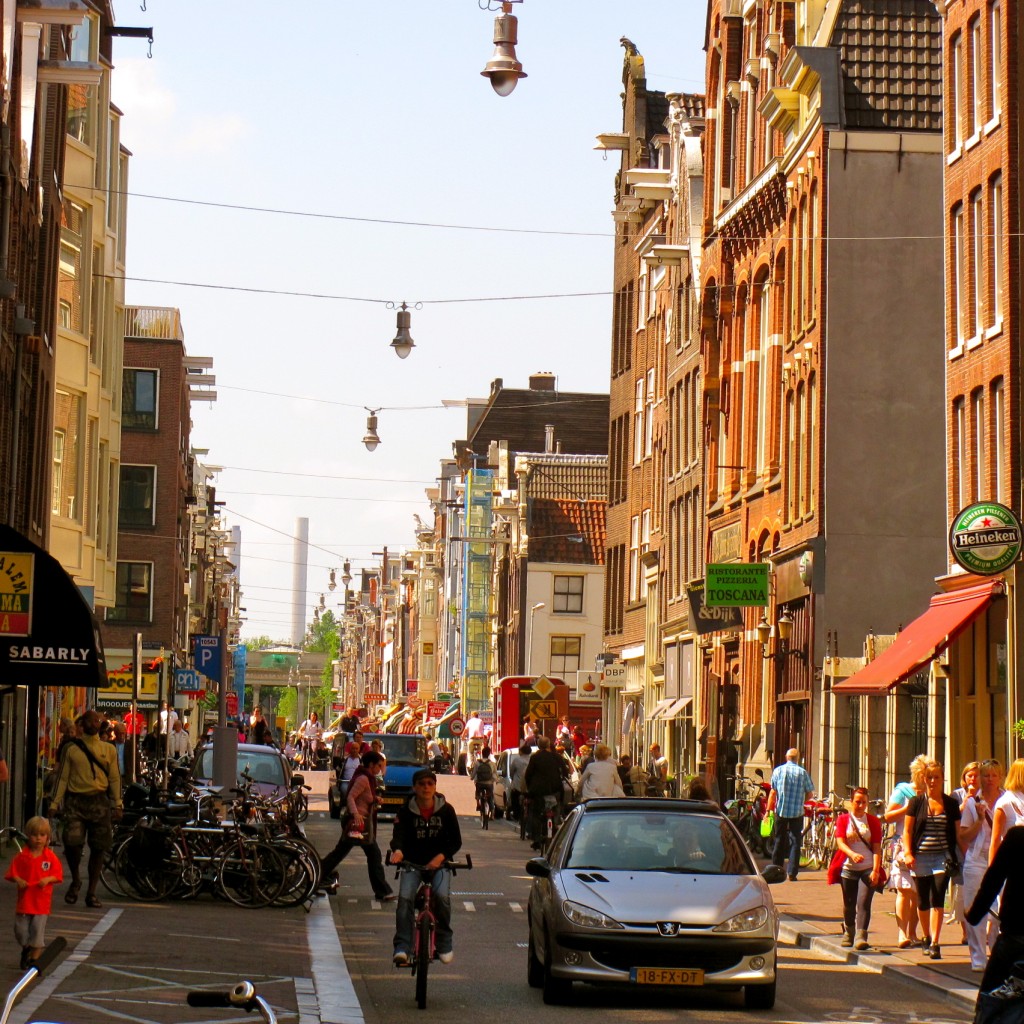 Getting there
The are no low-cost airlines flying directly to Amsterdam. Only big airlines. The train is the most convenient way to get into the city centre from Schiphol airport.
There are direct trains to Amsterdam from many European cities including most destinations in Belgium, Luxembourg, northern France, Germany and Denmark. These include the Thalys express train that connects Amsterdam with Antwerp, Brussels and Paris. Thalys connects Amsterdam and Paris in just four hours.
A cheaper alternative is to take the bus. Eurolines buses go to Amsterdam from most European destinations including London, Brussels, Paris, Copenhagen and Berlin with prices much cheaper than the train.
Travel Insurance
You need a travel insurance when traveling to Amsterdam or anywhere in the world. I use Care Concept travel insurance and World Nomads. It's cheap, affordable and easy to get reimbursed when you use it abroad.
Money
The Dutch currency is the euro. For current conversion rates, go to www.xe.com.
Visa/Entry Requirements
Most people need a visa to enter Netherlands. Read this comprehensive post on how to apply for a Schengen visa at the Dutch embassy.
Calling Amsterdam
The Netherlands' country code is +31 and 20 for Amsterdam. To call Amsterdam from abroad, add +3120 to the numbers listed.
Language
Dutch is the first official language. The second is Frisian, a minority language used in the North of the country. Almost everyone, especially in Amsterdam, speaks English fluently and often German. French is widely understood and sometimes spoken.
Converter and Adapter
The electrical current in Holland is 220 volts; outlets require continental plugs with two round prongs.
More Information
Amsterdam Tourism – iamsterdam.com
Museums – information on all museums in Amsterdam – amsterdammuseums.nl
Eating – comprehensive guide to dining in Amsterdam – specialbite.nl
Events – reviews and a weekly calendar of events in English – amsterdamweekly.nl
P.S. I didn't include coffee shops in this list because there's more to Amsterdam than space cakes. If you do want to go to some, you'll find them all around the city.
P.P.S This list only touches the surface. There are many off the beaten stuff to see and do in Amsterdam which you can include in your trip. Three days is never enough to fully experience a city but its enough to hit the major spots of Amsterdam.
– – – – – –
Have you been to Amsterdam? Did I miss out on any essential info? Are you going there soon? Do you have other questions not covered in this guide? Post your burning questions in the comments section below.