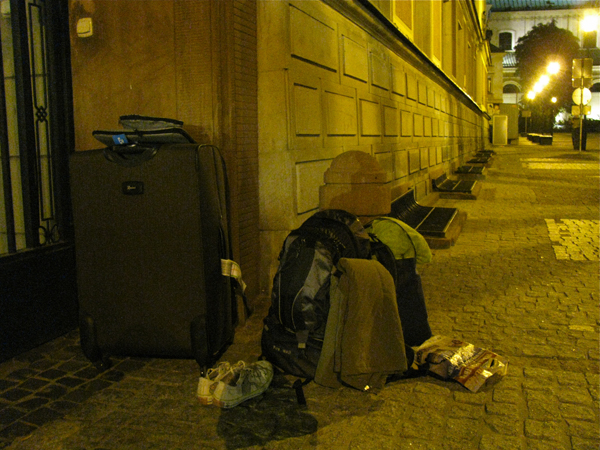 I have been traveling the world since 2008 and have started living abroad since 2009. This is everything I own, arranged alphabetically. I cleaned the cobblestones first with bleach don't worry.
All my stuff fits in my huge, brown luggage and my backpack. The rest are just things I accumulate as I move from one apartment to another, one country to another, bound to be thrown or given away.
By now, I have stuff scattered all over the world. Clothes in Warsaw, a boombox and shoes in Stockholm, winter clothes in Cologne, and boxes and boxes of stuff I own in Manila.
My underwear are also sporadically dispersed all over the world, not by choice but by way of my forgetfulness. My friends who I visited even post pictures of them in my Facebook wall just to make fun of me, asking "when will you come back to pick this up?".
My favorite black underwear is in Berlin, the orange brief with the funny print is in Barcelona, the classic white one with two holes from overuse is in New York, the stripe-y underpants is in Reykjavik and my red boxer brief is in Hong Kong.
There are more but I don't remember anymore.
It makes me feel sad and nostalgic when I look at the photo above. This was taken in Warsaw on September 31, 2009, when I had to move from my apartment in the Old Town to another one closer to my faculty.
I still remember how perfectly cold the weather was, my first ever autumn, while waiting for my Polish friend, Marcin, to pick me up in his car and help me move. And then in the next 3 years I moved to Stockholm and then back to Warsaw and then to Cologne and then to Manila, Bohol, Cologne, Uppsala, Boracay… so much moving around.
It used to scare me to move to new places, new countries. But now it's second nature to me. I became so used to it that most of the time I don't completely unpack my big luggage anymore.
Five years and countless of travels and eurotrips after, I still move around the world with this luggage and backpack. In a month or so I am moving again to a new city, a new place to embrace and make it my own.
I will start yet another exciting chapter of my nomadic life.
—-