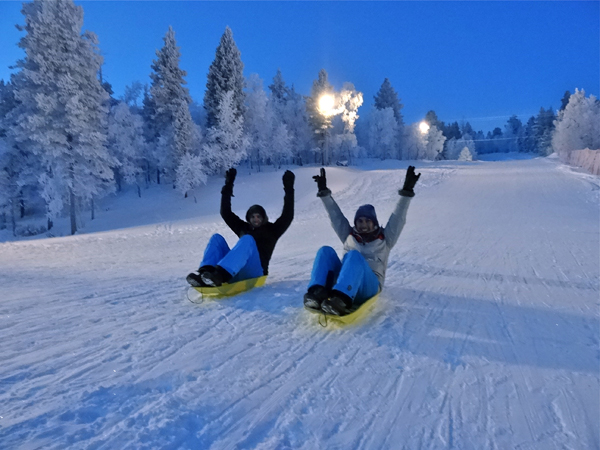 One of the best free things we did while we were in Finnish Lapland, far up in the Arctic, was to ride a toboggan through the longest toboggan run in Finland located in Saariselkä. In fact it is the longest toboggan run in Northern Europe at 1.2 kilometers long and a vertical drop of 130 meters!
Finland's most thrilling toboggan run starts from the summit of Kaunispää fell. A fell is a high and barren landscape feature or barren hill and Kaunispää means "beautiful head" in English. Yes, I know. This fell was made for me. Watching the first sunset of 2014 in the Arctic at the top of Kaunispää was amazing.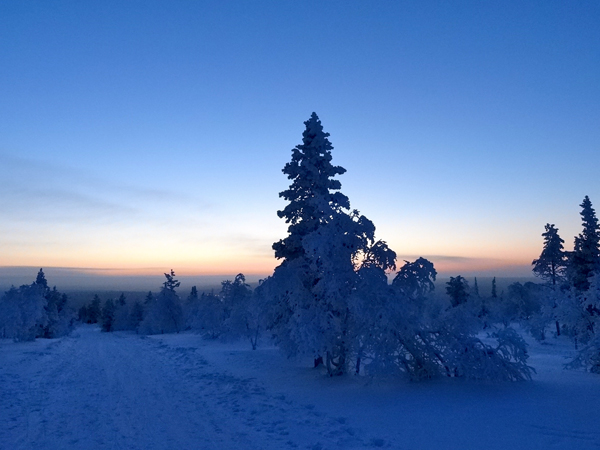 You can either walk or wait for the bus to take you to the top of the fell but who's got the time for waiting. We decided to walk up the fell from our hotel. (Travel tip: Hotels lend out toboggans for FREE so get one at the reception before hiking up the fell.) It was a winter wonderland out there and we thought we could see and explore the place a bit more if we walked. I mean: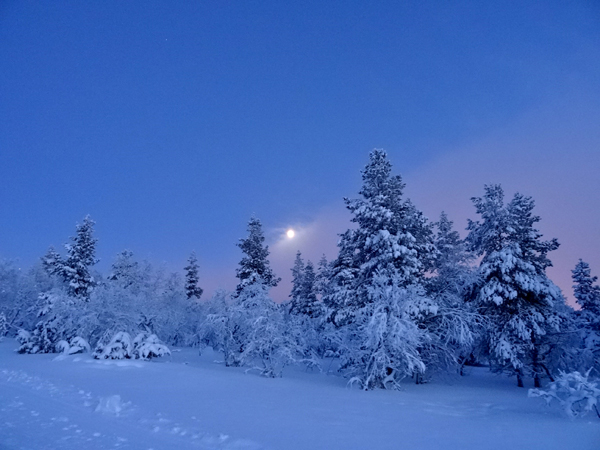 But before we even got to this beautiful place WE GOT LOST. Because Mr. Group Leader me took the lead thinking I knew how to walk to the fell.
I didn't.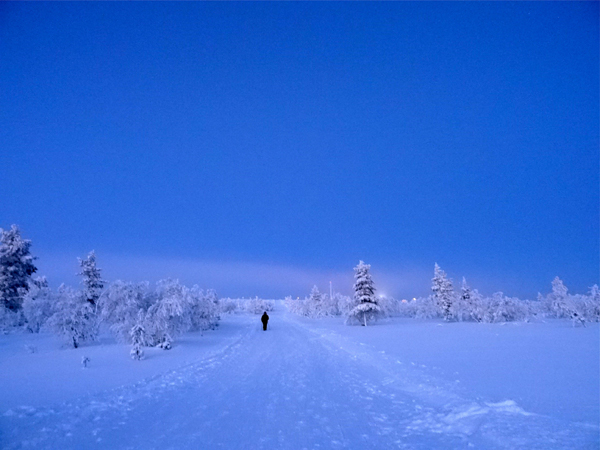 Let me tell you a secret: I suck at directions. Even with Google Maps on my hand. I know, I know. I'm a seasoned traveler blablablah but I really struggle at using maps it's not funny. I'm also an engineer and I really don't know how I managed to pass my Engineering Drawing class where I was required to do projection drawing from different points of view. Oh. I almost failed that class. Right.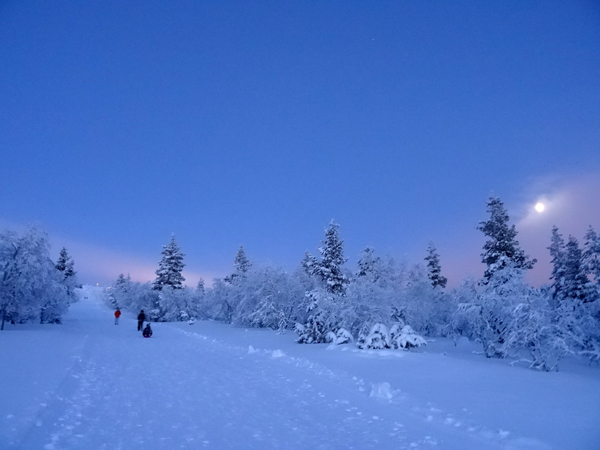 Getting lost in a city is fine. But getting lost in winter wilderness? Good luck! Everything was all white so it made it difficult to remember which turns we made. And you are more likely to find reindeers instead of people to help you find your way here. There are more reindeers than humans in Finnish Lapland. Fact. And the average population density is about 2 people per square kilometer. Yes, don't even think about a winter romance with a Sami here.
Luckily Michael is the exact opposite of me and he eventually found the way to the toboggan run. It turned out I took the opposite direction at the "highway". The toboggan run was actually very easy to find from Saariselkä center. You just turn right and there it is. Me? I turned left 😀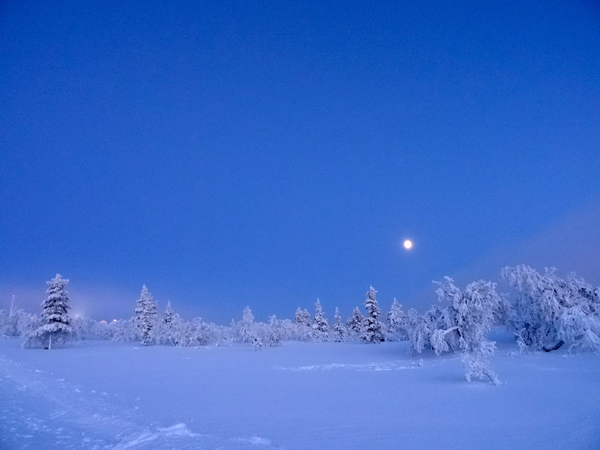 The place is super gorgeous. I CAN'T SAY ENOUGH HOW MUCH I LOVE SNOW. I have miles and miles of snow-covered landscape here. The air was so fresh and crisp. I actually felt warm and sweaty under my five layers of clothing after hiking up the fell. It takes around 30 minutes to go up depending on how many times you stop to ogle the scenery and take pictures. Yes, that white dot of light was the full moon at 2:30 PM.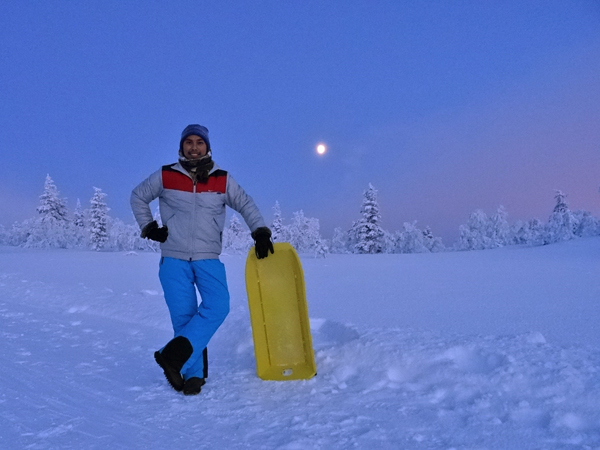 When was the last time you did something for the first time? This question was always answered with "an hour ago" in our trip in the Arctic because we seriously experienced a lot of new things here.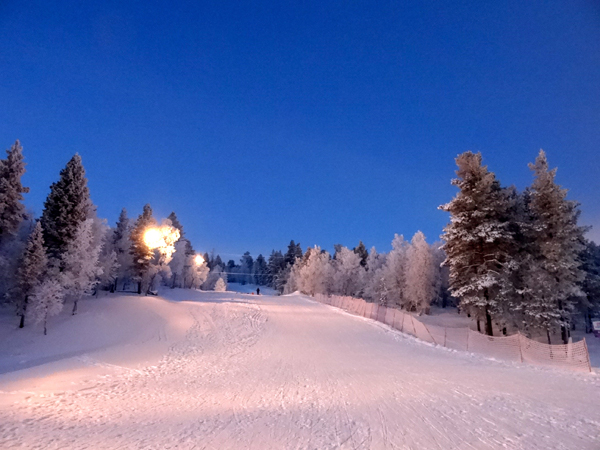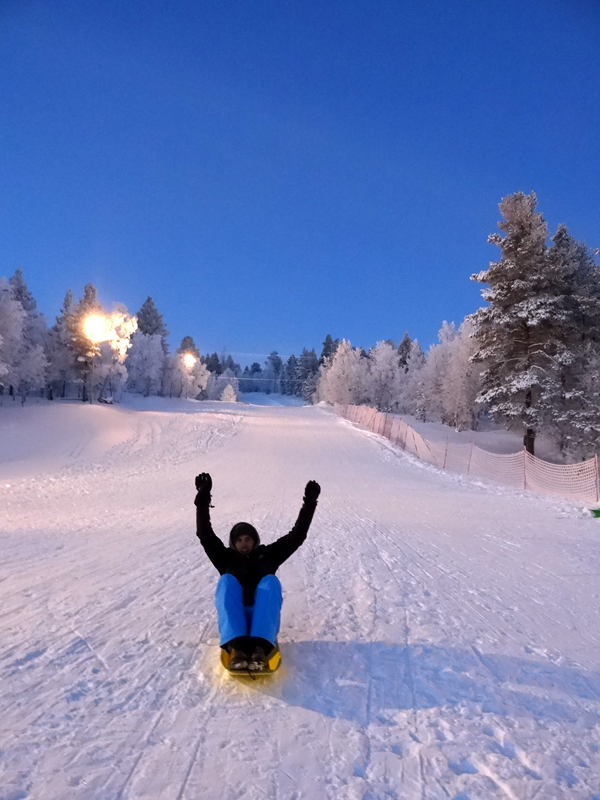 If you're a speed freak, you will love riding a toboggan! It was a bit scary at first because we started at the highest point of the fell. As soon as I was gaining speed I tried to break and slow down but this was not good. Snow was flying all over and covered my face and I kept crashing into deep snow. Fun but cold!
On our next try, I did the whole stretch non-stop and landed at the bottom successfully. It was so fun!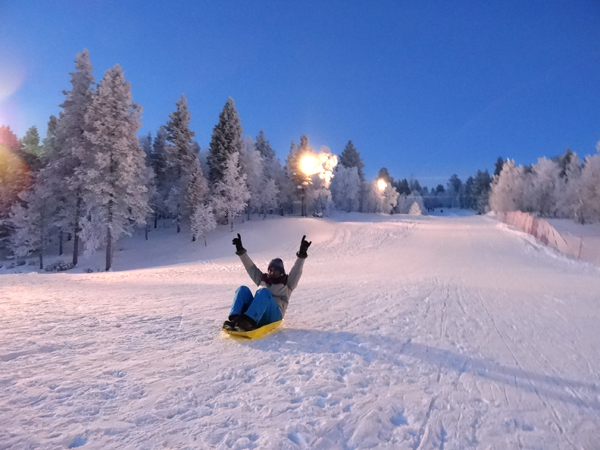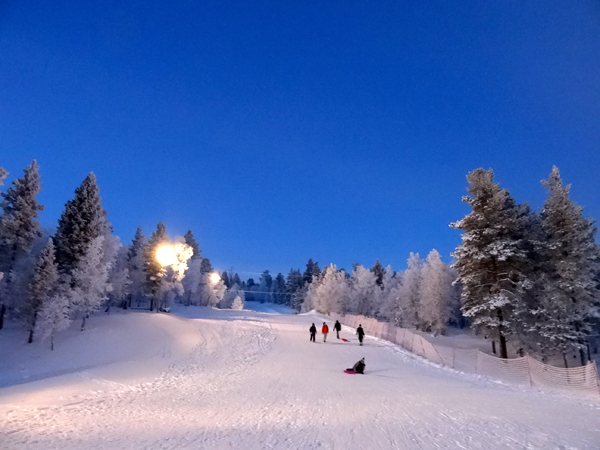 What I loved about it is that it brings out the kid in you. I don't know anyone who will not enjoy this.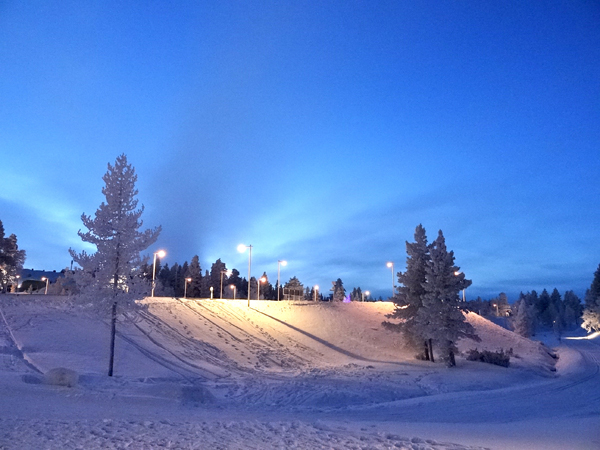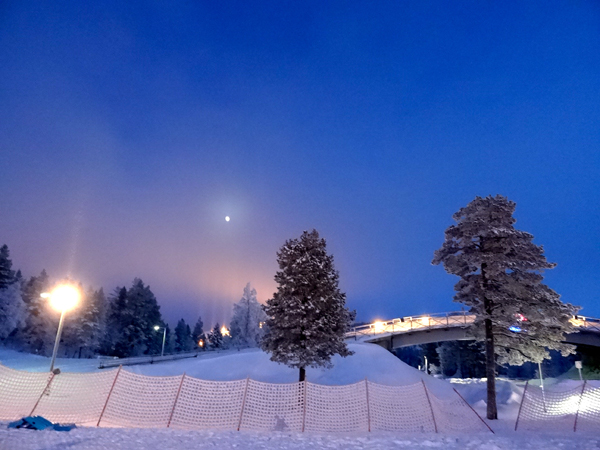 Have you ever tried riding a toboggan? If you haven't, would you like to try it?
This post is part of the Instagram Travel Thursday hosted by Katja from Skimbaco. Join us by tagging your Instagram pics with #IGTravelThursday or blogging about travel on Thursdays! Follow me on Instagram. I post loads of fun, travel-y pics there.