Call me the worst blogger ever. I promised to update things here about my journey (a.k.a. ongoing 5-year struggle) to German fluency with the 3-month German challenge but so far all I did was travel and – bam! – everything got out of control.
This post was actually on my drafts since November but since internet in the Philippines is a turtle on a marathon, I was never able to publish any posts during that trip. Excuses, excuses. I am totally giving you the right to roll your eyes at me.
Anyway. I'm back learning German!
I love all your comments and emails on my first post. It's good to know I'm not alone in learning German. I hope you stick with me on this challenge.
My first week was all about getting my footing and rhythm with my amazing German teacher, Anja, and this second week was all about cooking and condoms and a lot of fun, random phrases I could actually use!
Don't get too excited about the condoms. Here's some spaghetti ice cream for you.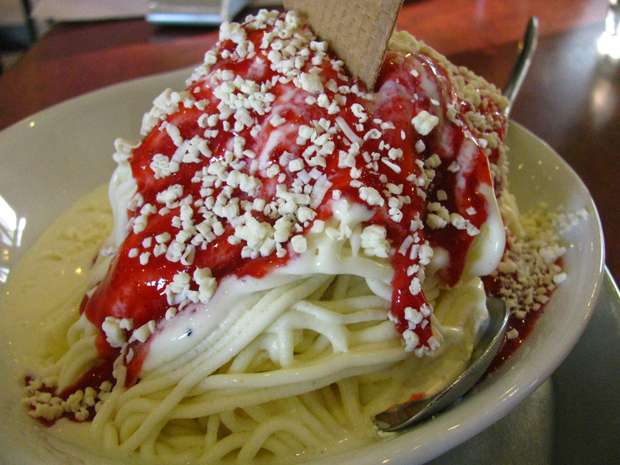 Before anything else, can I just say how difficult it is to make a commitment to wake up early for German class 5 days a week? Since my German teacher is based in Thailand, we have to schedule our lessons in the morning. I know 9 AM is not that early but I'm nocturnal and that's pretty early for me.
This German language challenge is truly proving to be a real challenge on so many levels.
Cockvocabular! I mean Kochvocabular!!!
If you're following me on Instagram, you all know I love to cook, style food, throw dinner parties and eat! So this week I specifically asked my German teacher in italki to focus on learning about cooking words and understanding a recipe.
Most of our cookbooks in the kitchen are in German and I use them all the time so it is truly a matter of life-and-death to understand that "scharf anbraten in Edelstahlpfanne" means to sear in a stainless steel pan and not "throw the damn cookbook and prepare an omelette instead".
Here is a list of new German words I learned this week (besides the obvious word das Rezept for recipe):
gewürfelt – diced
Like when you have to cut something into squares. It oddly reminds me of the word der Würfel which means dice used in board games we play.
scharf anbraten – to sear
Scharf here means sharply or severely but it usually means spicy. Meanwhile, anbraten means to roast gently. So if you combine the two words it means to cook that piece of dead animal in a searing hot pan.
zerkleinern – to make it smaller
If you've passed A1 exam and you still don't know the root word klein than do yourself a favor and go back to school, bitte.
salzen – to put salt
Root word: das Salz and slap an -en ending and you've got a verb! Notice how I always write down the genders of the nouns. Remember: This is how you learn German. Always learn nouns with the corresponding gender.
pfeffern – to put pepper
Easy breezy. Der Pfeffer.
rühren – to stir
There is no way to remember it except to know that rühren means to stir that soup or whatever you're cooking.
durchrühren – to stir thoroughly
Here's a compound word of stirring. Durch means thorough.
gebraünt – browned
This also means tanned. Sounds like brown!
schneiden – to cut
It' one of those words that transforms in its past tense: geschnitten.
dazugeben – to add
No I don't think you can say "dazugeben salzen". It's just wrong. Maybe you can say "das Salz dazugeben"?
abschmecken – to season or to taste
Absolutely one of my favorite words and one that is used very often in cookbooks.
köcheln – to simmer
For example, "zum Köcheln bringen" which means to bring to a simmer.
schmelzen – to melt
Melzzzzzz almost sounds like melt so there's your helpful hint.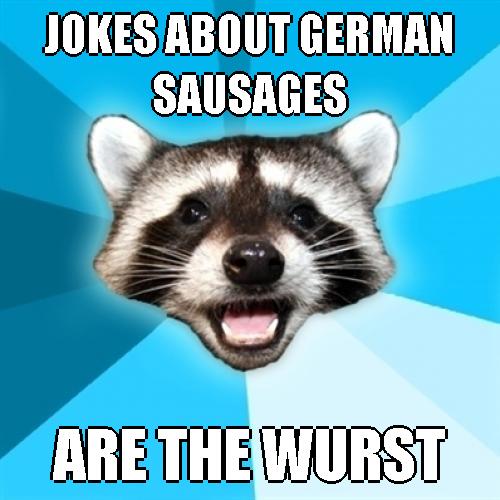 So those are the verbs, now for some nouns…
Zutaten – ingredients
This word sounds funny.
die Zubereitung – preparation
Basically preparation instructions or Zubereitungsanleitung
nach Belieben – as desired or as much as you please
This is one of my favorites. It sounds like Justin Bieber haha. It' an expression that means that when used with nach.
die Arbeitszeit – preparation time
Arbeit (work) + Zeit (time)
Gewürze – seasonings or spices
It's always in plural form it seems.
die Flussigkeit – liquid
Sounds like der Fluss which means river.
Kraütern – herbs
This is usually in plural form too without the gender.
Measurements in German
Some German measurements I learned this week:
ein Pfund – 500 grams
eine Dose – a can of
eine Packung – a pack of
eine Flasche – a bottle of
eine Becher – a cup of
I also had a lot of A ha! moments this week. You know when you're learning a language and there are just some rules and words that confuses you? Well I have a lot of them in German and I'm always very happy when I finally get them. Below are a few confusions.
The difference between viel and viele
I am still having a hard time knowing when to use viel or viele and this week, Anja, my German teacher, taught me how to use them correctly. Viel means much or a lot which you use for things that you can't count. For example: Ich habe viel Arbeit or I have a lot of work.
On the other hand, viele means many which you use for things that you can count. For example: Ich sehe viele Leute or I see many people.
When to use erst and zuerst
I am always so confused between these two words. And German being German, I am very sure there's a specific rule when to use these adverbs. Erst means first…as in not second. But probably you've seen it in other forms like erste, ersten, erstem, so erst with an ending like, you know, when it is paired with nouns. Aren't you glad you're learning German sometimes 🙂
On the contrary, zuerst is used to start a time-list. Like when you say "First I went to the bathroom. Second I put down my pants. And third I dropped an atomic bomb of a booboo."
This is like the simplified explanation of it. There are obviously many ways of using erst but let's not complicate it for now. At least I finally understood the difference between the two!
Flirting in German 101
In this section, I'll write one sentence you can use to flirt in German every week. Plus I'll introduce you to a weekly German hottie to keep you motivated. *wink wink* This week's hottie is Kevin Trapp, who plays as a goalkeeper for Eintracht Frankfurt in the Bundesliga. Stalk him on Facebook.
This week's sentence is about the condom. I hear a collective grasp saying "Finally!".
"Sei kein Dummy, nimm einen Gummi!"  Don't be a dummy and take a condom!
Gummi is vernacular for condom. I know that this is not a normal sentence you would use for flirting but if you're successful then you can use this 😀
New Favorite Vernacular Expressions
"Das freut mich." – I'm happy about that.
"So ist das Leben." – So that's life.
"Das ist immer so!" – It's always like that.
"So ist das!" – It's like that!
"Ich bin ganz aufgeregt!" – I am so excited.
"Wie laüft es mit der Arbeit?" – How is it going with your work?
If you're learning a language, you can follow me at italki as well. Let me know if you have other cool German words or expressions I should know about!
All of me,
DJ