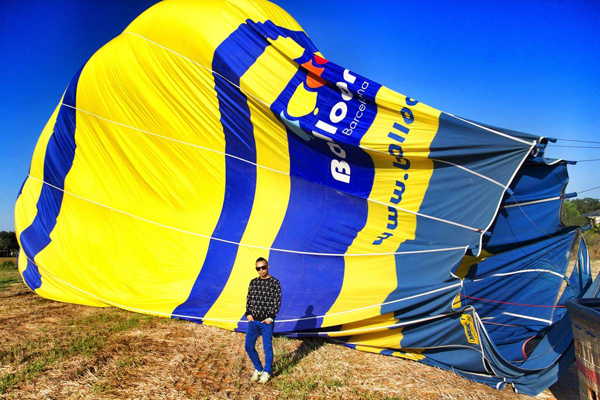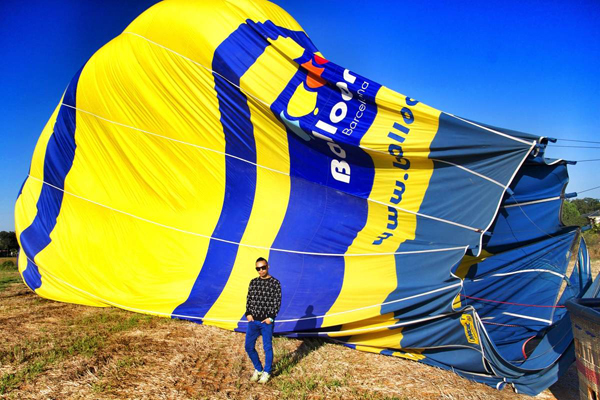 This sort of life event does not need an intro. Taking a hot air balloon ride in Barcelona was one of the best experiences I've had in Spain so far and I am so happy to tick it off my dream list.
It started innocuously enough. I already booked my flights to Rimini for TBD Italy 2013 travel fair when Ismael, my Spanish bestfriend, messaged and asked if I wanted to come visit him in Barcelona. If you remember, he was the one who took me to this secret viewing point in Barcelona on my first trip there last 2010. I haven't seen him in two years because he is now based in Melbourne so this was my only chance to see him again while he was visiting Spain for a few weeks.
And you know I'm pretty spontaneous so the next thing I know I booked my flights for my detour to Barcelona.
"Would you like to ride a hot air balloon?"
I curiously asked Ismael. OBVI he's as adventurous and spontaneous as me so he said "Porque no?" – well he actually said "Sure! That would be fun!" or something of that sort. I don't remember anymore because I was too excited about all this.
A few days later we're booked and Benjamin, one of the hot air balloon pilots of Ballooning Barcelona, emailed me "Meanwhile some photos to show you the beauty of the thing…" and attached a few pictures like this: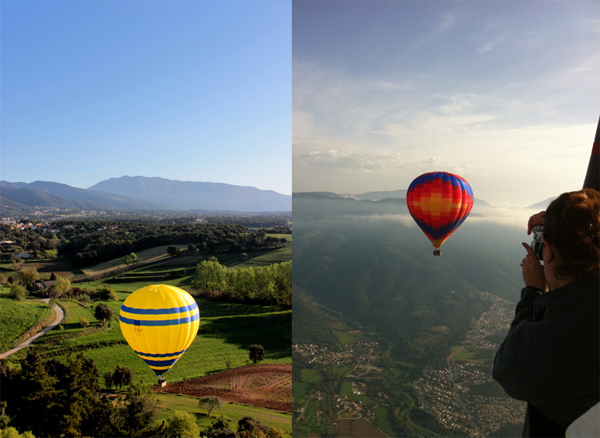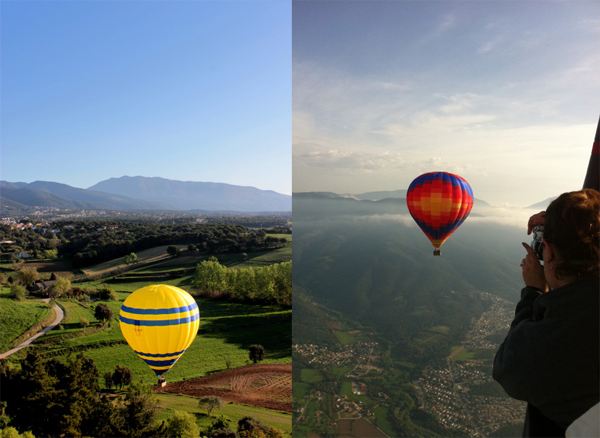 I went ballistic. The crazysexycool kind.
I was so excited. No. I was BEYOND excited. I was supposed to ride one in Stockholm but I didn't have enough time. And now it's all happening!
I arrived in Barcelona at midnight and OBVI we didn't sleep much because we had a lot catching up to do. But we were up at 6 AM to meet the guys in Plaza Catalunya so they can take us to Cardebeau, the starting point of our first ever hot air balloon ride.
They can't fly from the city center because of air traffic so all commercial hot air balloon flights normally have to take off somewhere in the outskirts of the city. And most hot air balloon launches are made during the cooler hours of the day hence the (very) early morning call time. I'm not a morning person 😀
I was a bit tired but super excited. And maybe a little scared. It was pretty much representative of the mixed emotions I feel about travel. And I love this feeling.
The art of hot air balloon preparation
I've always wondered about the behind the scenes of hot air ballooning. I bet you do too? Well let me show you how in pictures ;D
To ensure a safe and enjoyable hot air balloon flight, the pilots MUST make sure the weather is suitable for flying. They check two things: visibility and sufficiently slow winds. They release a balloon to verify the wind conditions and also check the weather forecast.
If it's a go, then they unpack the balloon, lay it on the ground, and connecting it to the basket and burner. The balloon is huuuuuuuuge. Before inflating it, we have to open up the balloon like this: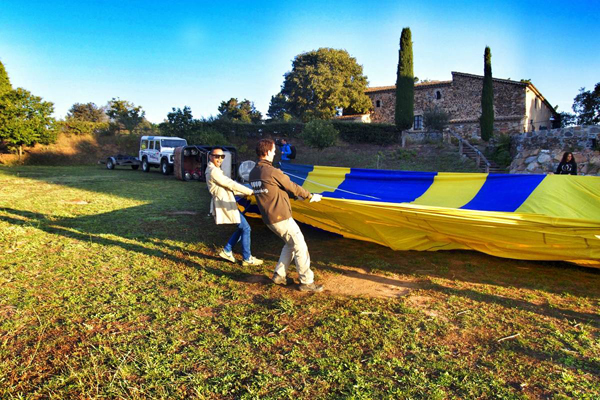 Then we have to hold the opening and inflate the balloon with cold air like this: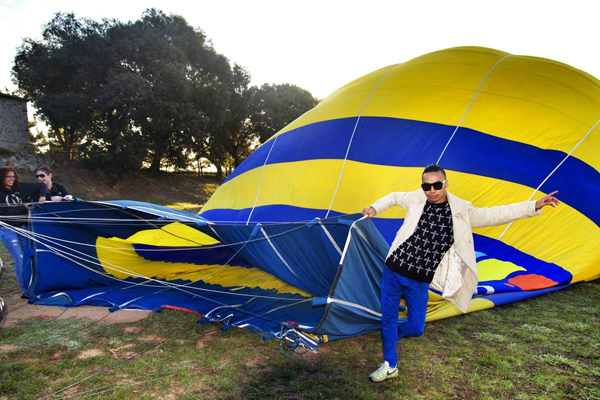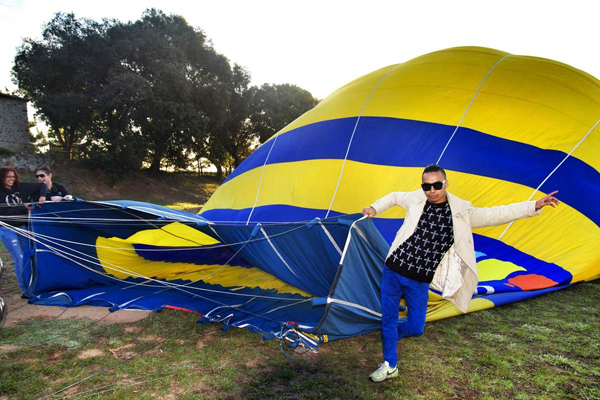 Using what, you wonder? Simple. An electric fan!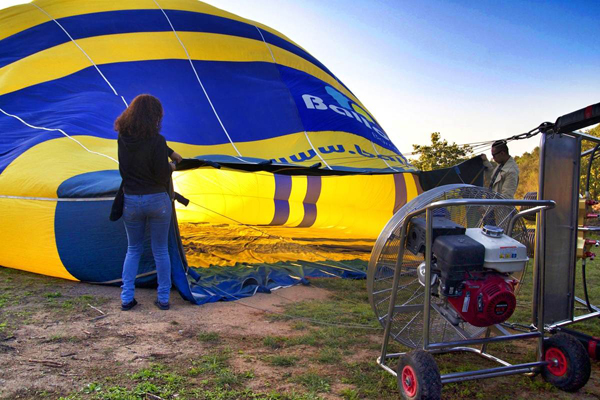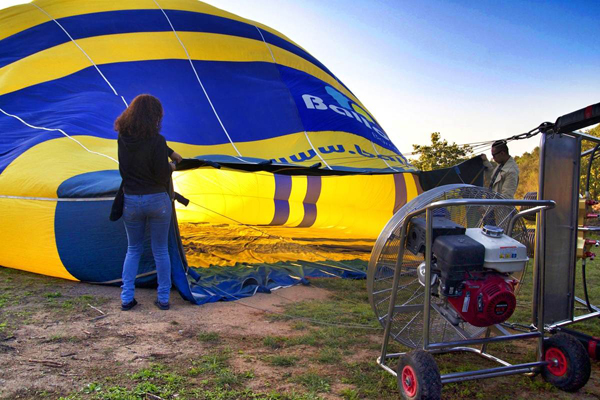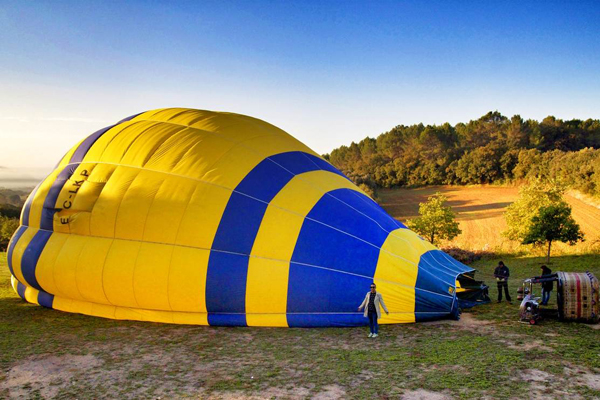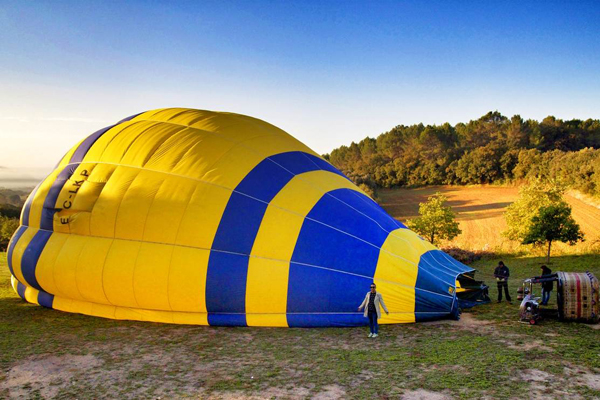 While inflating, one of the pilots went inside the balloon to make sure everything was good and safe and fabulous.
Meanwhile, we took jumping photos.
Because panda.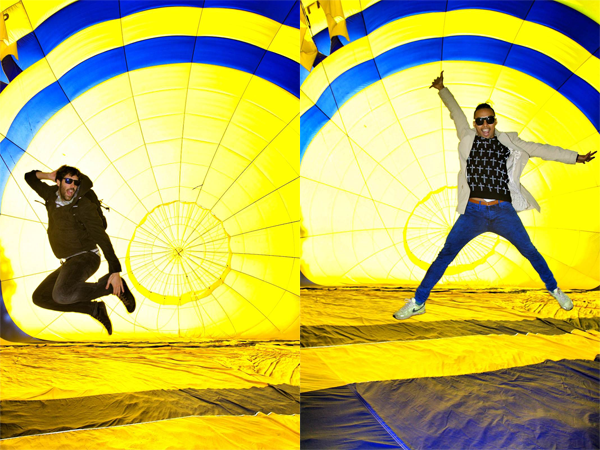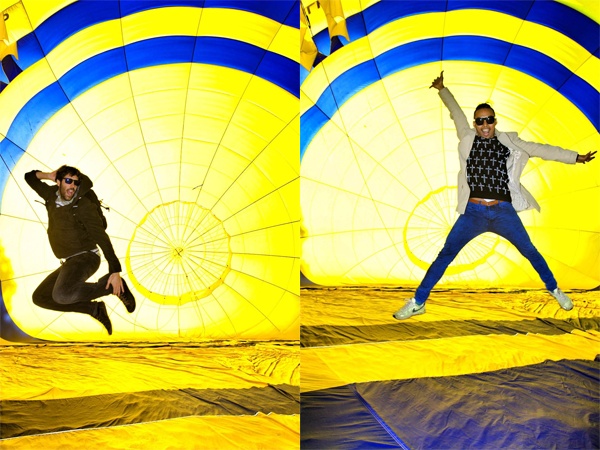 Then the burner was switched on to heat the air inside like this: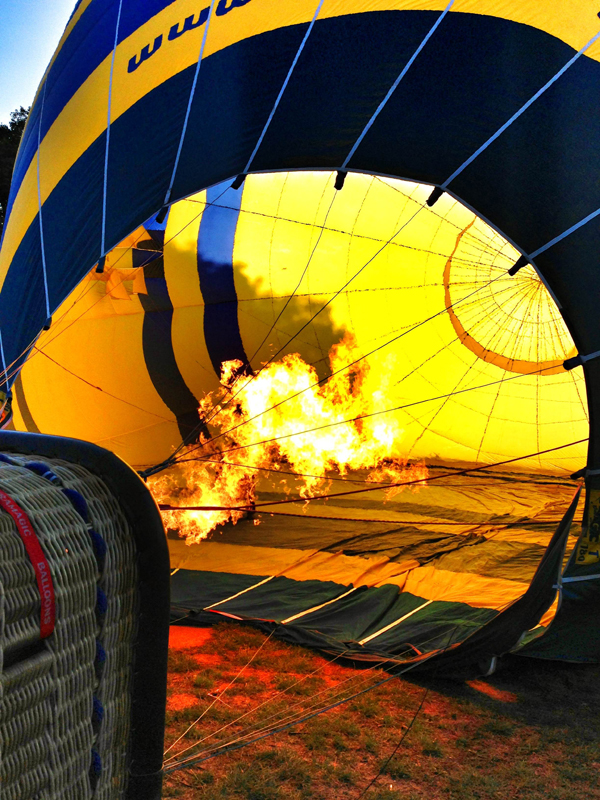 Am I ruining this for you? Should I shut up and let you experience this yourself?
Anyway, they slowly put the balloon upright. It was as tall as a building. Unreal. I celebrate our initial success: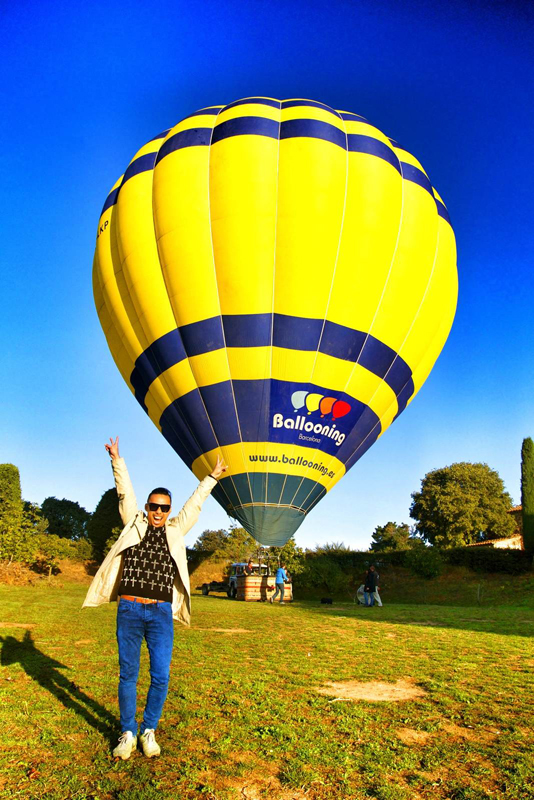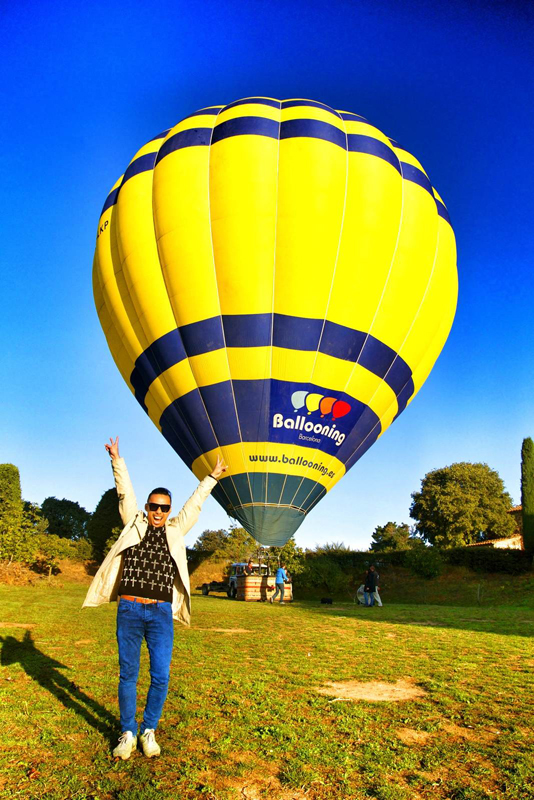 Now, all the passengers and pilots can ride the basket before take off. There were six of us passengers and Thomas was our pilot for the day.
And so we were ready to go! At this point, my stomach felt like the Garden of Eden Secret Garden mobbed by a thousand butterflies.
"What if we crash? What if we die? What if its too windy? How long are we really flying? One hour?!? How high do we go? Where will we land?"
I actually asked all this questions just to calm myself. And so we got on the basket and we were back to being excited kids again: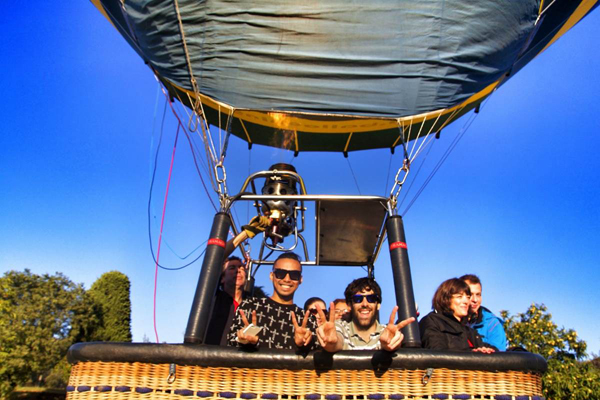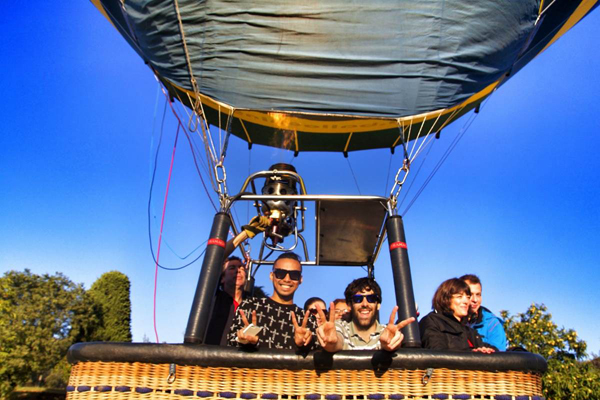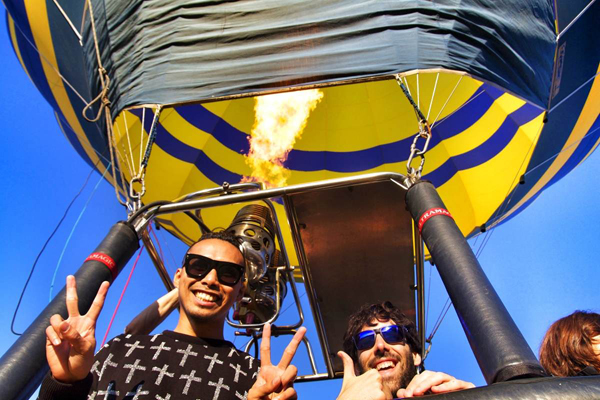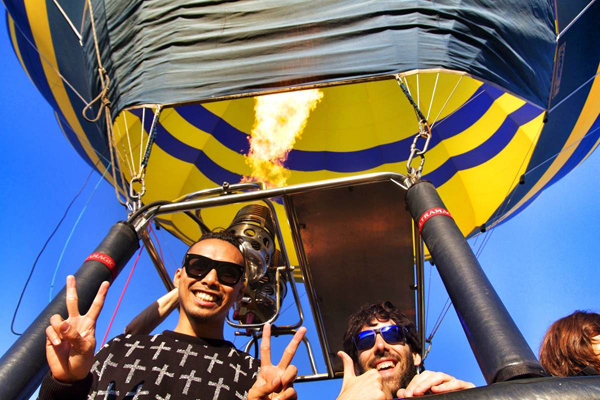 And then we took off! "We don't say we're flying, we're floating," said Nicholas with a comforting smile. He's also a pilot. And he was right. It felt like we were just floating up, up, up!
It was phenomenal.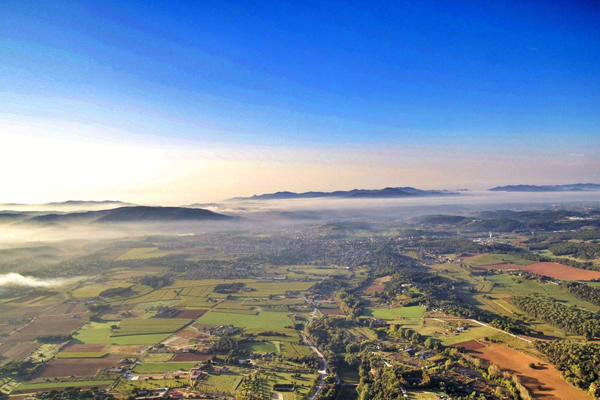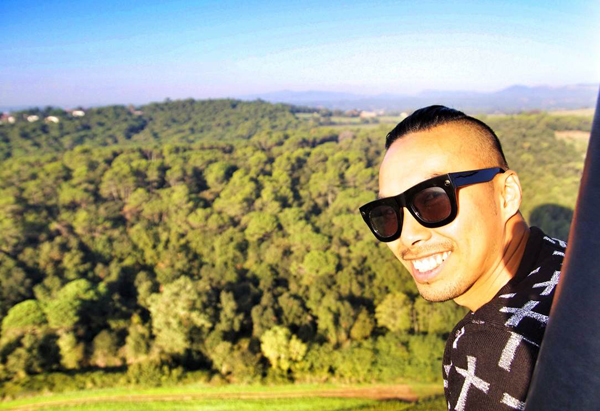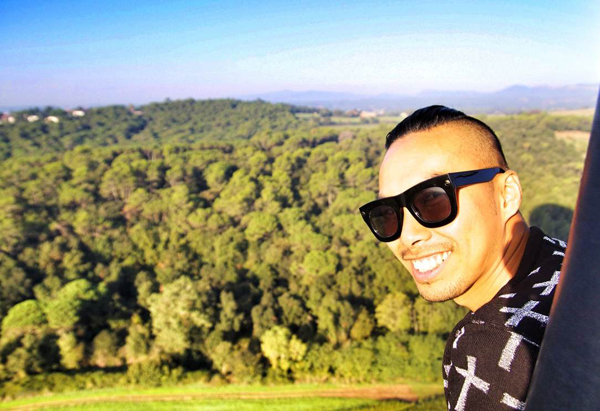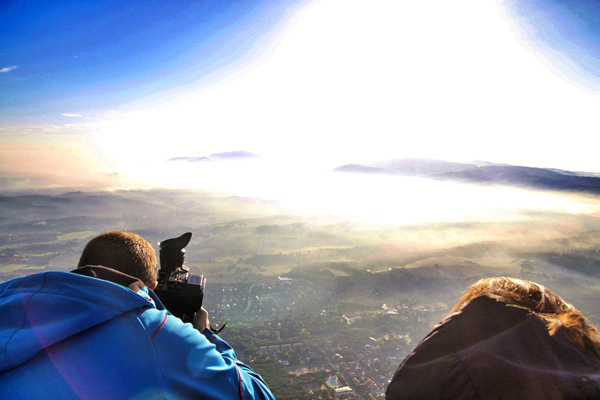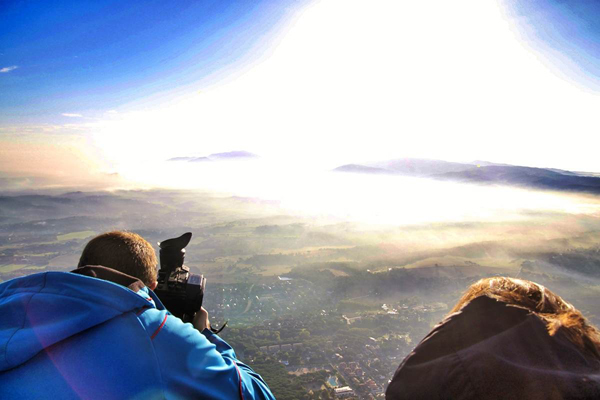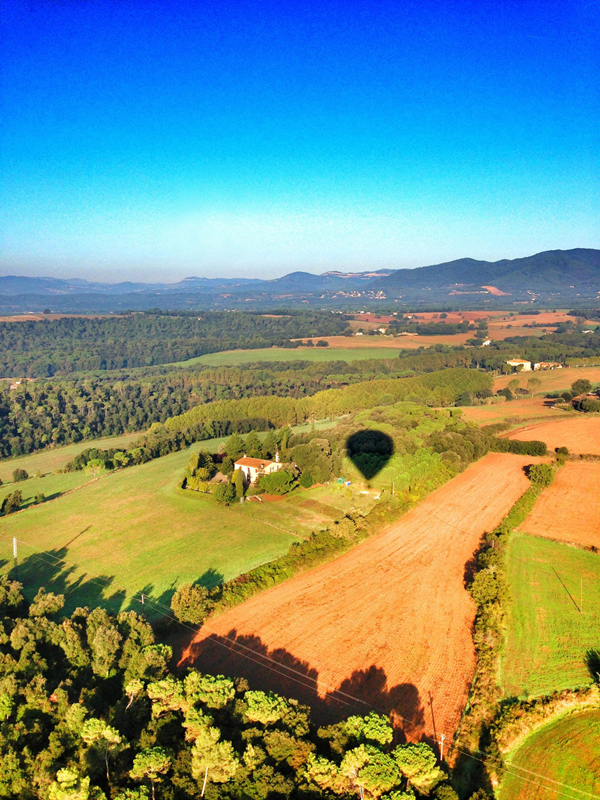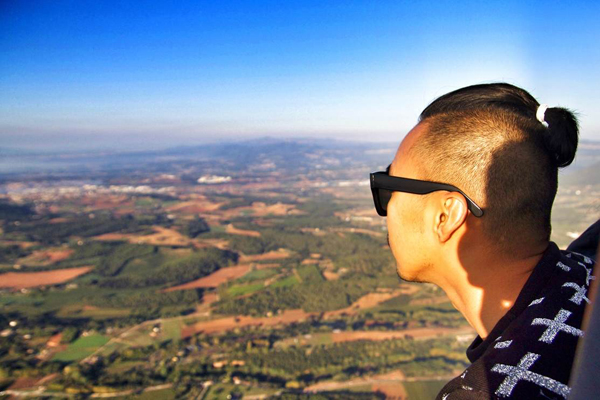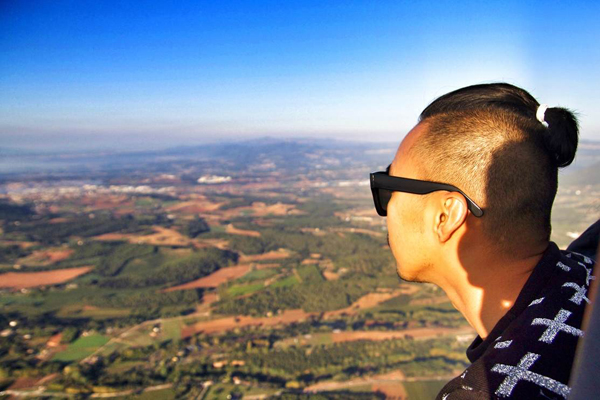 We went as high as 1,000 meters or so. Apparently they can't go super high for first-timers. The view of the Pyrenees and the stunning landscape of Cardebeau was just magical.
It did feel like floating and not flying at all. We were just going with the wind. Riding a hot air balloon was actually a very calm and tranquil experience.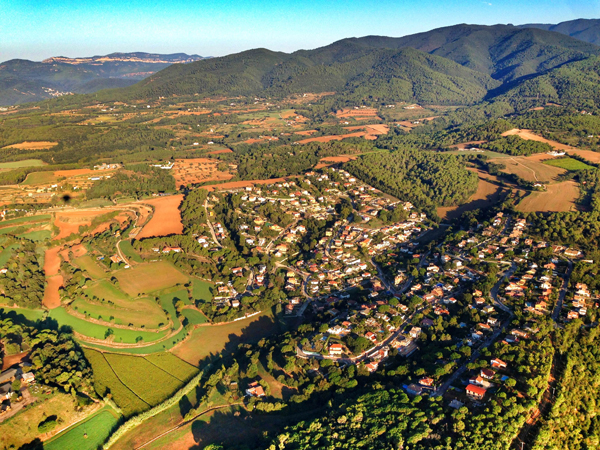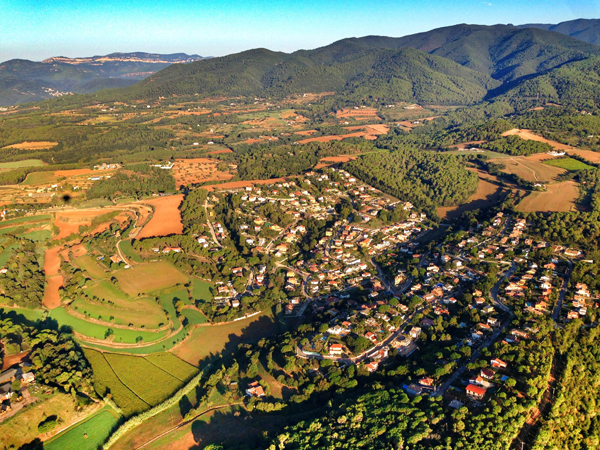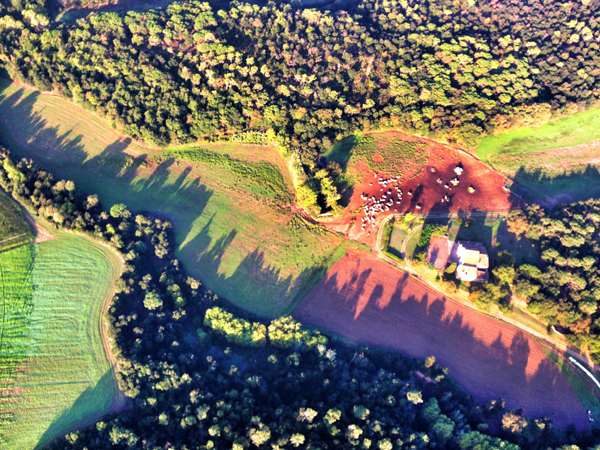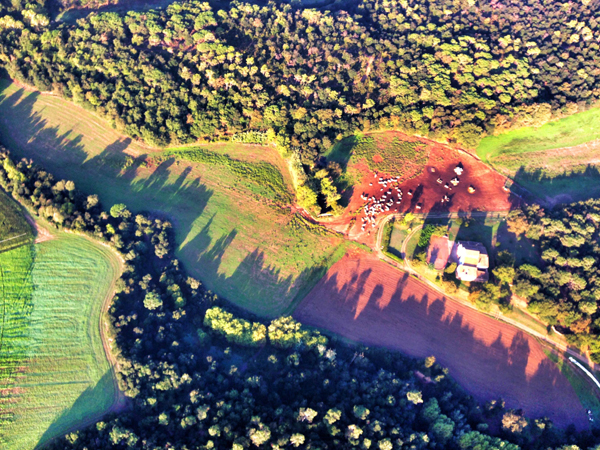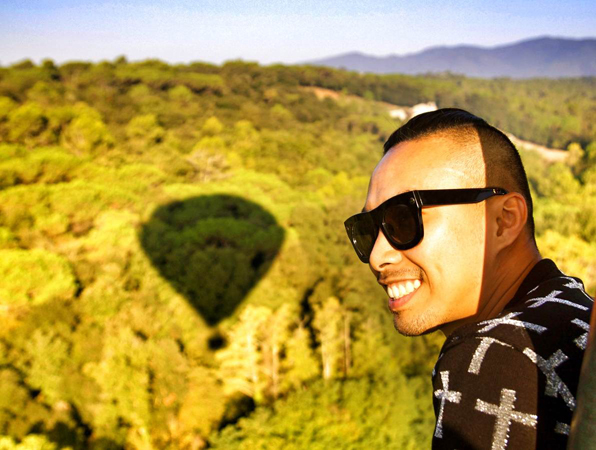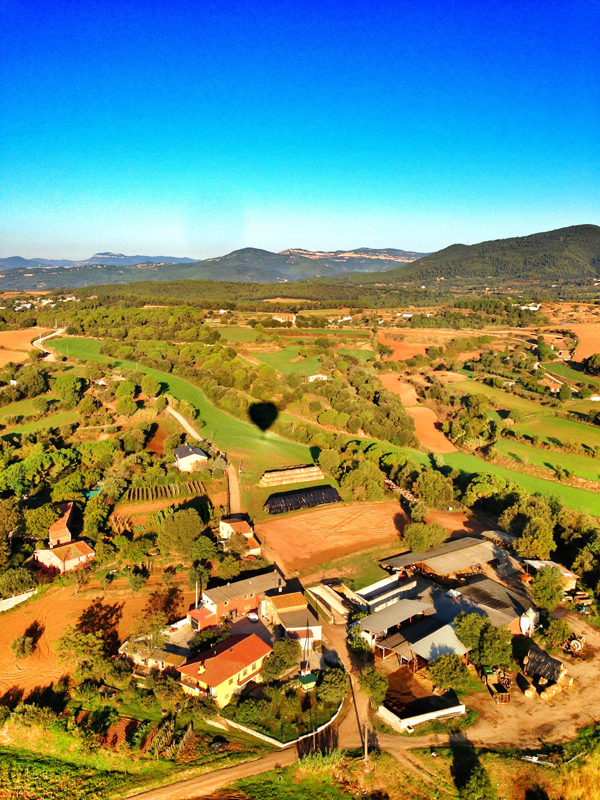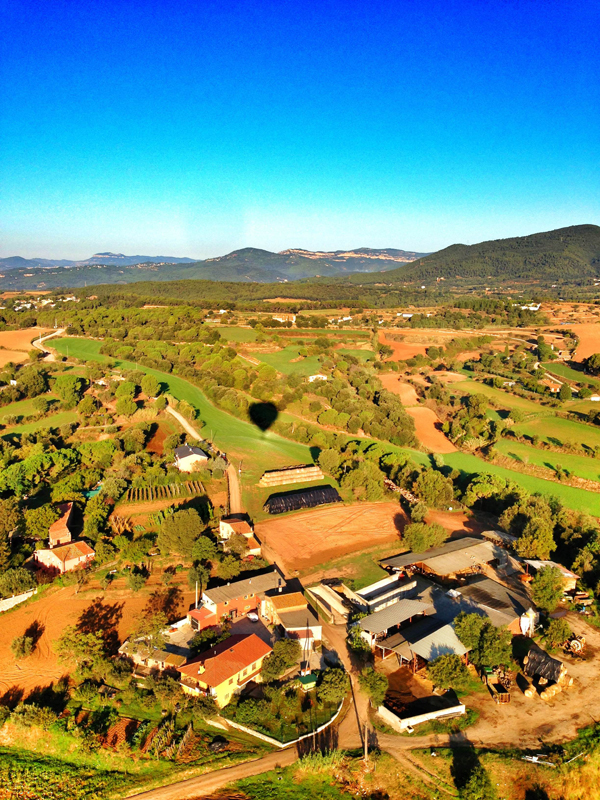 #HotAirBalloonSelfie
The ride was super smooth. It was probably one of the calmest rides I've ever taken so much so that I ended up taking #hotairballoonselfies with an OBVI nod to Mylie Cyrus. Excuse me while I bombard you with photos of my face on MY blog. ;D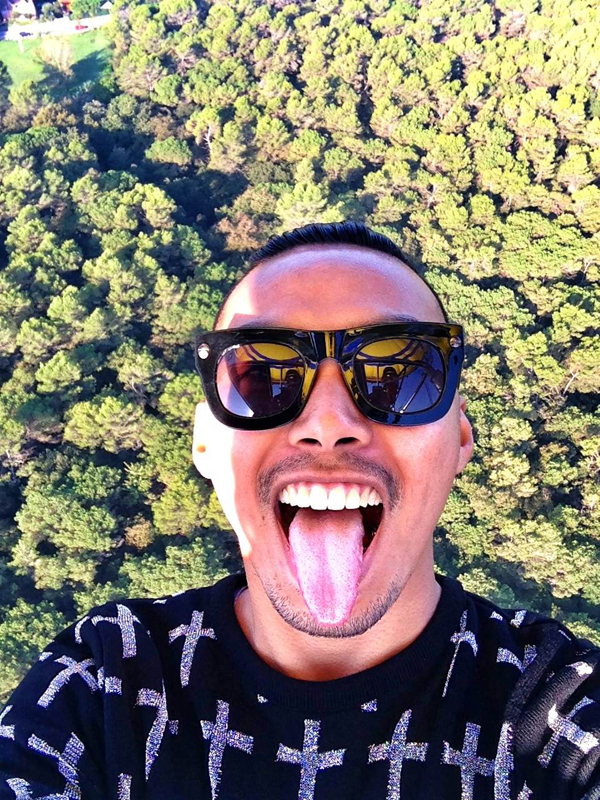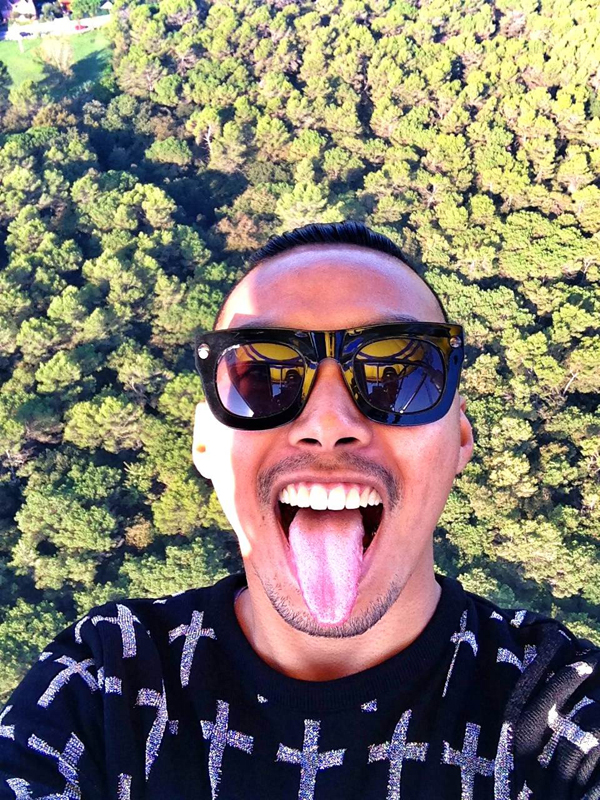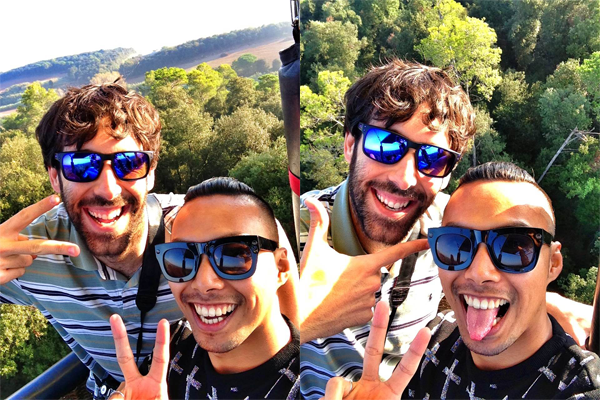 At some point we looked like we were gonna crash into the forrest and here I am taking my final picture before my death. At least I would have died happy?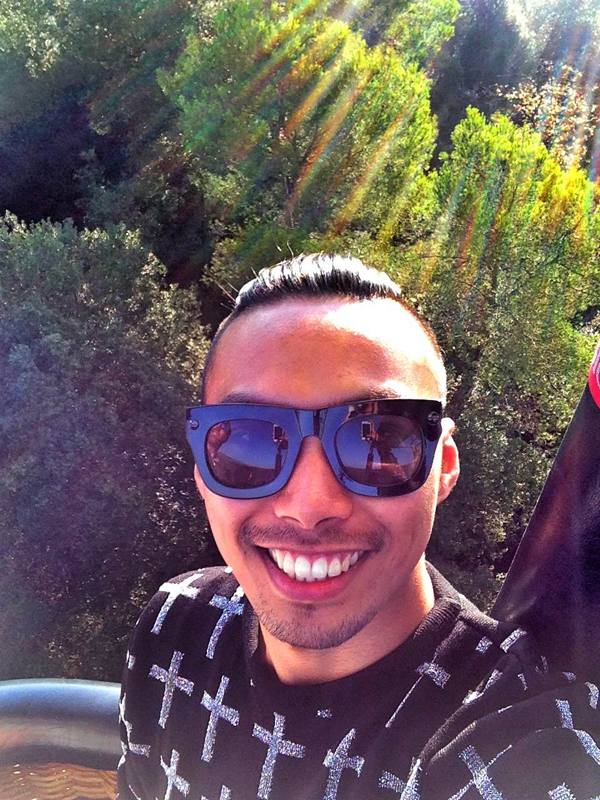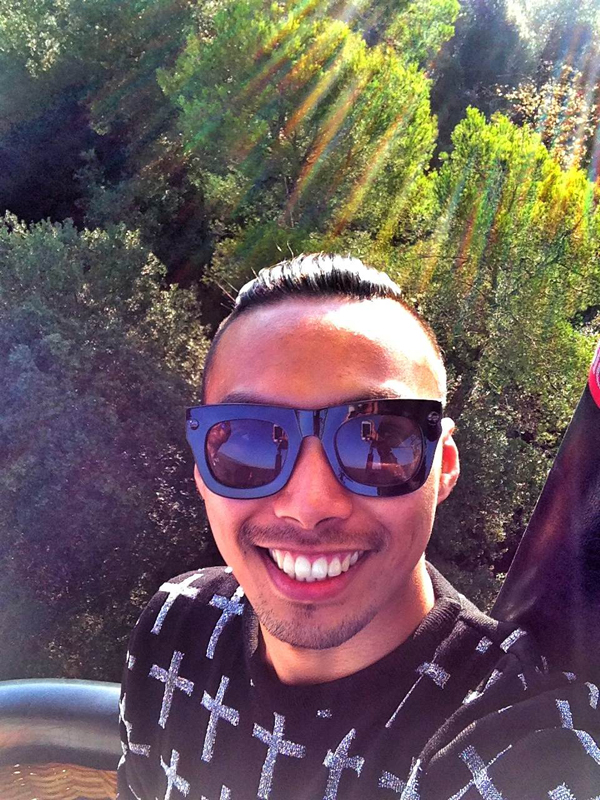 Look closely
Do you see that? Each house has its own swimming pool. I think I want to have a friend from Cardebeau. Apparently it's where rich people from Barcelona buy properties/live.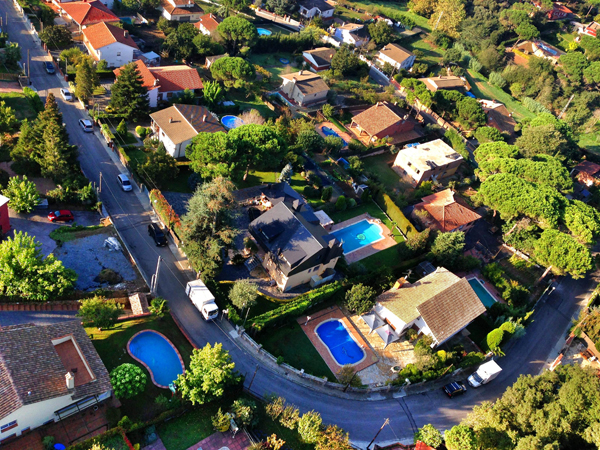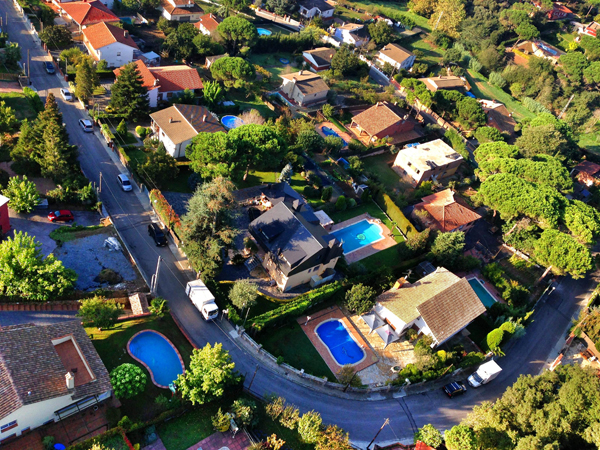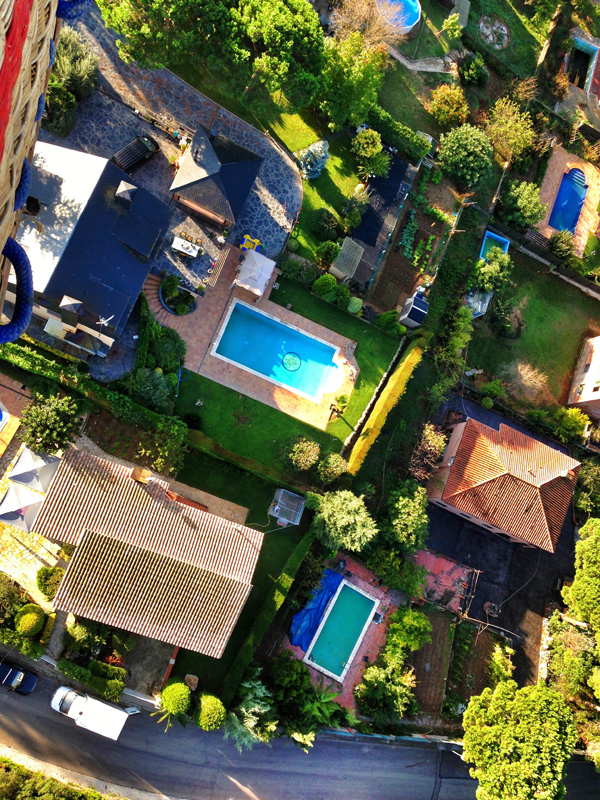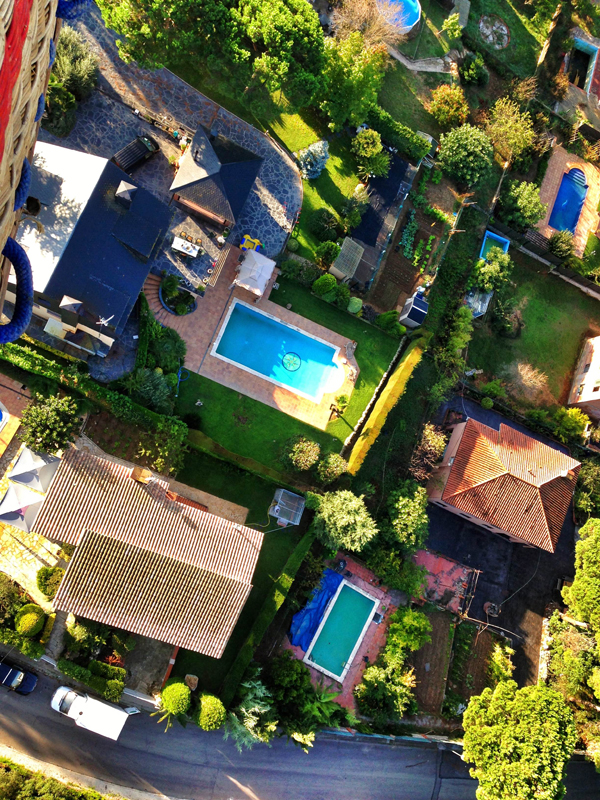 I was featured on Barcelona TV!
I didn't really talk about the people we were "floating" with yet. Well, there was the American mother and daughter tandem of Salome and Iris who were super nice. It was their first time in Europe and they were already doing cray cray things like this so good for them!
And then there was the pair from Barcelona TV who covered our maiden voyage. All six of us were first-timers! 😀 You can watch the Barcelona TV video here. I didn't put it here because it automatically plays and I can't figure out how to switch it off.
My dimples were twerqin in Spanish. Click the screen cap to watch the video!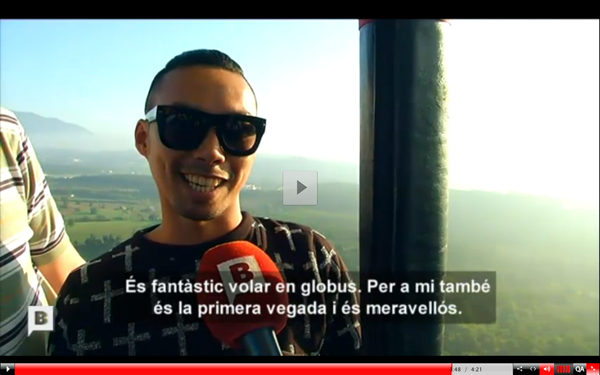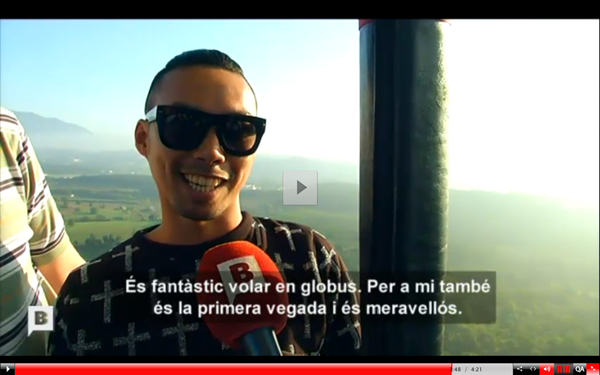 "Brace yourselves!"
And then we had to land. Since hot air balloons are not equipped with landing gear like airplanes, you just kind of crash land it and hope for the best. And like the launch, managing a great landing is one of the true mark of a good pilot.
When Thomas told us to brace ourselves and kneel down/sit against the basket, I was a bit scared again.
We crashed…briefly and then we were back on air again. We bumped on for a few seconds and then we landed smoothly. Thomas definitely got an A+ for this one.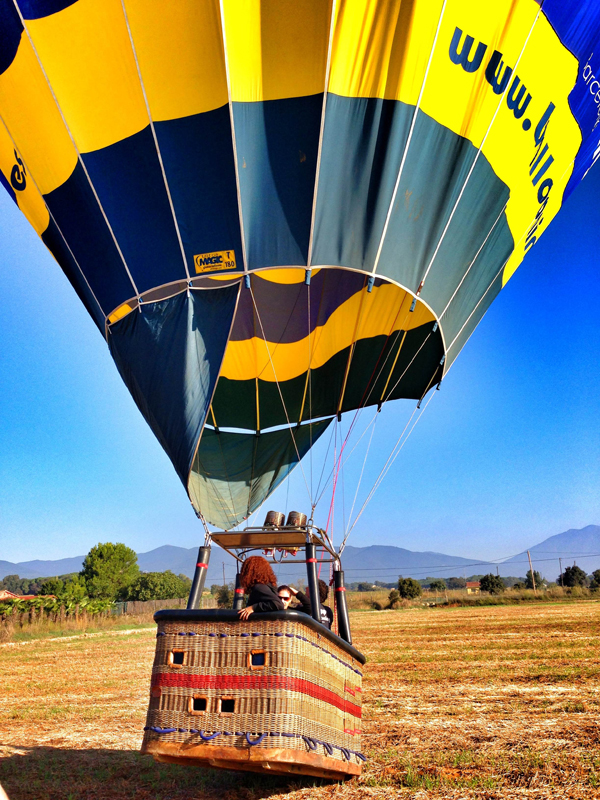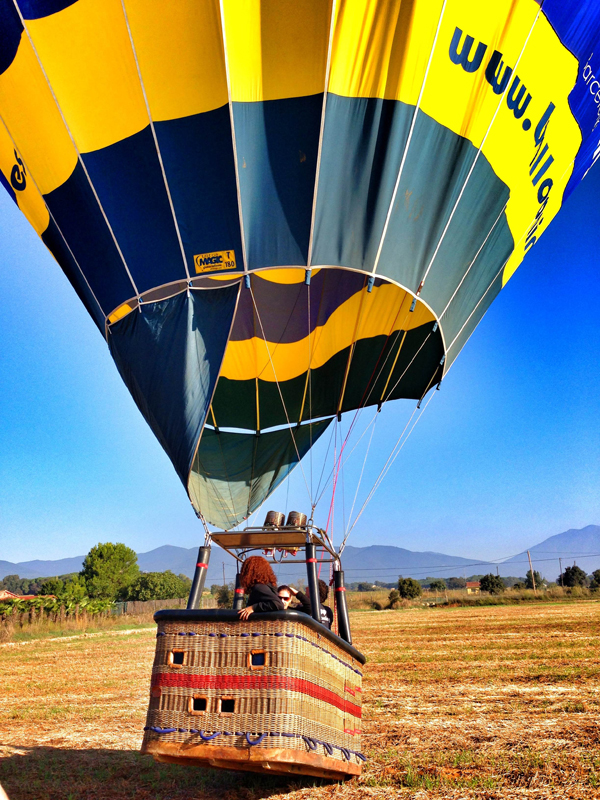 Then we packed the balloon like this: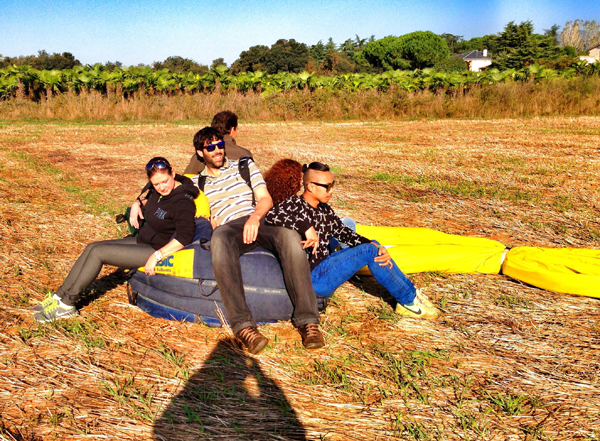 It was a great ride! After packing, we were altogether again with Nicolas, Benjamin and Thomas and they served us some sandwiches and glasses of cava. Nomnomnom.
And I got a certificate too! Now one of my goals in life is to fly hot air balloons around the world.
If you're going to Barcelona and want to experience this yourself, then check out the details at Ballooning Barcelona. They said the best time to fly is during winter because weather conditions are more stable and it's cold enough so you don't have to start so early like we did! They fly all year round.
Do you want to ride a hot air balloon? If you already did, where is the best place that you've taken one?
**