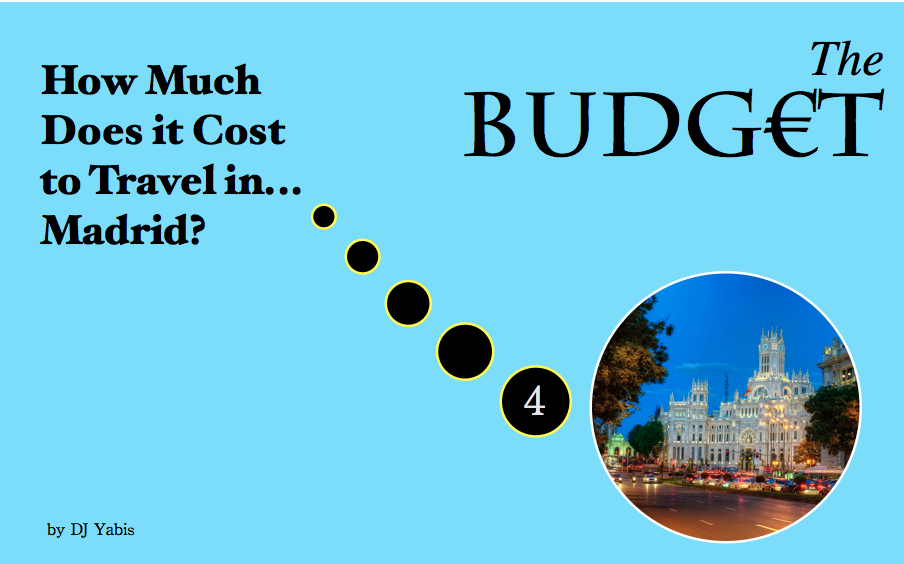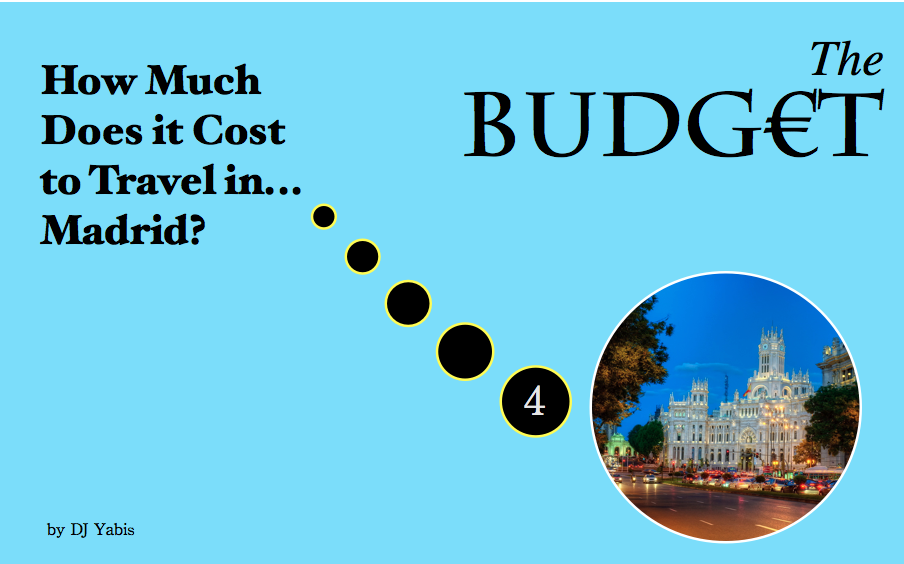 Here is my travel expenses breakdown for my 3-day trip in Madrid, Spain in my 3-month summer eurotrip adventure. I hope the information helps in budgetting your trip to Madrid! I also keep a record of my actual travel costs in various European cities. Click the link below to see all the other reports.
See All Europe Travel Cost Reports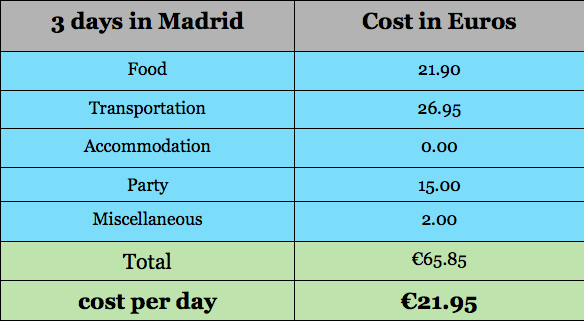 How much does it cost to travel in Madrid for 3 days? Mine came down to 65.85 euros or 21.95 euros per day. The detailed explanation follows:
Madrid Food Cost
Most of my cost of food in Madrid was spent in the supermarket where I bought most of the stuff I ate in Madrid. I was visiting my Brazilian friend, Fabio, who is based in Madrid so he prepared dinner for me and I've also prepared dinner for him. My travel partner, Michael, came to Madrid to meet me before we headed to Norway. Sharing the cost of food definitely lowered down this part of my travel expenses. Eating out in Madrid would cost you around 10 euros. Menu del dia (menu of the day) is a cheaper, popular option at lunch in restaurants and would save you significant amount of money.
Madrid Transportation Cost
This cost includes the cost of going from Madrid Barajas Airport to the center of Madrid (4.50 euros), bus tickets from Albacete to Madrid (17.85 euros) and all the single metro tickets I used in the city which cost 1.50 euros each. I walked alot in Madrid so I didn't spend much on transportation cost in the city.
Madrid Accommodation Cost
I was visiting my friend Fabio who hosted us in Madrid so I didn't really spend anything for accommodation. But I don't have friends in Madrid, you say. You can compare prices and find cheap hotels in Madrid instead. There are many accommodation options to choose from. You can budget between 20-100 euros per day for your accommodation cost depending on where you stay.
Madrid Party Cost
We watched Spain versus France in Marca sports bar in the city center and paid 5 euros for the entrance. The cost also includes our beers and our expenses when we were out having botellon (Spanish culture wherein people drink outside in groups) in the park which was actually forbidden or something. Fabio was saying that we should hide our beer every time we see police coming. It was funny because it was so obvious that 90% of the people in the park where drinking and all the cans and bottles disappear once a policeman was in sight. Haha. Fun times!
Madrid Miscellaneous Cost
This is mostly the prepaid cost of my cellphone which I used to communicate with Michael and Fabio. I didn't spend money when we went to the amazing Musel del Prado because students are free (although I'm not a student anymore haha but it worked when I showed my student ID).
See All Europe Travel Cost Reports
—-
Next budgeting post will be my total travel expenses from my one-week trip in Spain. Watch out for that!
Want to know how much your backpacking trip in Europe would cost? Use the free online EuroTrip calculator found at the sidebar.
Have questions? Feel free to post a comment or email me.
Happy travels!
DJ
Related: How to get a flight reservation for visa application