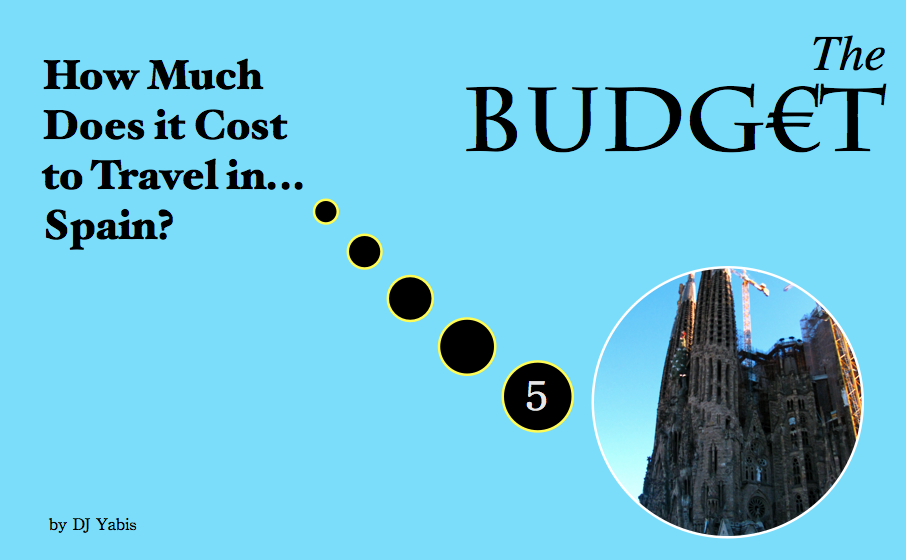 I just recently finished a 3-month eurotrip and went to Spain for a week as my first stop. I went to Valencia for 3 days, Albacete for 2 days and Madrid for 3 days. How much does it cost to travel in Spain for a week?
See all Europe Travel Cost Reports per city and country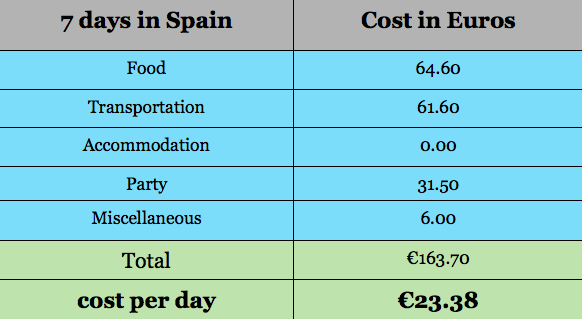 How much does it cost to travel in Spain for 7 days? Mine came down to 163.70 euros or 23.38 euros per day. The detailed explanation follows:
Spain Food Cost
How much does it cost to eat out in Spain? Around 10 euros. Good deals can be had at lunch if you eat the menu del dia or menu of the day. It can be higher if you eat more stuff. There are other cheaper options like buying ready-to-eat food in the supermarket or in the mercado or buying stuff and preparing your own food. For me, I spent 64.6 euros for food in my one-week trip in Spain. It's not that expensive because I ate out and prepared my own food as well. There are so many amazing and delicious tapas and drinks in Spain.
You can also try going to the mercato (or the local market) to buy your jamon and cheeses!
Spain Transportation Cost
Transportation in between cities by train in Spain can be quite expensive. Sometimes, it's even cheaper to travel by plane. Other alternative way is to do carpooling in Spain. I've tried this on my trip to Valencia from Madrid and I've saved a lot of money. You can also check out the buses because they are usually cheaper than the train. But if you are pressed for time then choose between flying or taking the train.
As for city transport cost, you're looking at 1 euro for a ride in the train. You can save a bit by buying the daily pass or 3-day pass tickets. If you're in the center anyway, walk. It's good for your health and your pocket.
I spent around 61.6 euros for my bus tickets and carpooling in between the cities and also for my city transport. It's also important to note that I walked a lot that's why I also didn't spend more for transportation.
Spain Accommodation Cost
Accommodation in Spain would cost you around 20-50 euros if you're staying in backpacker hostels. If hotels is your thing then be ready to pay more. I was visiting friends during my entire trip so I didn't really spend anything for accommodation.
Spain Party Cost
It's not that expensive to go out in Spain. A glass of beer with tapas would cost you between 1.5 – 2.5 euros. Spanish people also love to have a botellon which is basically a group of people drinking outside in public, usually in parks. It's cheap because you get to buy your drinks from the supermarket or beer store. People then head out to the bars and club around 2am or so.
Parties usually start late in Spain. I recommend you to go out around 1am or 2am. In some places that's even early! I spent 31.50 for going out and drinking when I was in Spain. It's mostly hanging out in bars and parks with my friends. No crazy partying for me in this trip.
Spain Miscellaneous Cost
For me this includes the cost of using my phone to contact my friends which cost me around 6 euros. This can also include your travel insurance and shopping. Shopping cost will vary person to person.
See all the travel budget reports.
Next up, budget expenses for a week in Norway!
Happy travels!
DJ
Related: How to get a flight itinerary for Schengen visa application