Learn the step-by-step remonstration procedures on how to appeal a denied or rejected Schengen visa application at the German embassy and get your visa approved.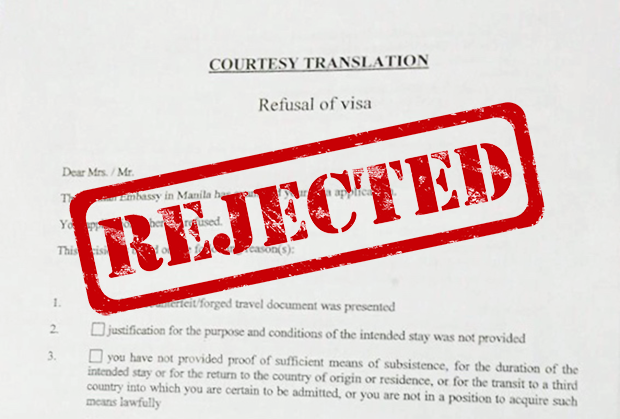 So you applied for a German Schengen visa, your application was denied and you don't agree with the decision? You think it's unfair and you truly just wanted to travel to Germany?
Based from my Schengen Visa rejection article, it seems like a lot of you guys didn't know that you can appeal against the decision to deny you a Schengen visa.
Yes, you can actually appeal and successfully get a Schengen visa approval if you do it correctly. The following remonstration procedure applies to the German embassy. It is usually the same for the other embassies too so take notes. If you want me to write about the other embassies, let me know in the comments.
In this series:
Schengen Visa Rejection Horror Stories
How to Appeal a Schengen Visa Refusal and get your visa approved
How to Write an Appeal for Schengen Visa Refusal that works
Sample Appeal Letter for Schengen Visa Refusal
How to Appeal A Rejected Schengen Visa at the German embassy
There's only one way to appeal a rejected German Schengen Visa and that is by writing an appeal letter addressed to the German embassy.
Here are 4 things you need to know before writing your appeal letter:
1. The appeal can only filed by you, a legal representative (a lawyer for example) or a person authorized by you in writing (a family member for example). I think it's best to lodge the appeal personally without the help of others to show the embassy that you are serious about your visa application. It is quite easy to do it. I will show you how below.
Should you choose to ask the help of a lawyer or another person for help to lodge it for you then you will need to write and include a signed Letter of Authorization which they need to be able to submit your appeal. You don't need a travel agency to help you with your appeal but they can help you write an appeal letter or organize your supporting documents for the appeal.
2. You can only appeal within one month of getting the Schengen visa rejection. There's a different timeline for other kinds of German visa. This one-month deadline ONLY applies to tourist or Schengen visa. I suggest you apply as soon as possible specially if you're traveling soon.
3. It is FREE to appeal. There are no fees involved in submitting a Schengen visa remonstration at the German embassy in Manila.
4. You can write your appeal letter in English or German. Unless you're very fluent in German (which I highly doubt), then write in English. There are a few guidelines for writing the appeal letter. You can check them here for the most updated info.
How to Submit an Appeal for Schengen Visa Refusal
You can submit your appeal by courier service, post, fax, email or personally at the embassy. I suggest submitting it via email because it's faster and much easier. You can do it without leaving your house. And who owns a fax these days?!?
Submit by email:
Email the German embassy at visa@mani.diplo.de with the subject line: Remonstration for Full Name. We used a more urgent one for my sister since she was flying in less than 2 weeks. Her subject line was URGENT: Remonstration for Full Name – Flight: June 25, 2016. We used this so they know that this was a rush appeal. And it worked! They called her in less than 48 hours to approve her visa.
Remember that they need an appeal letter signed by hand. So you MUST print your appeal letter, sign it and either take a picture or scan it. We took a picture. And created a PDF of each supporting document. So here's how you can email:
Email to: visa@mani.diplo.de
Subject: Remonstration for Full Name or URGENT: Remonstration for Full Name – Flight: Departure date
In the email she wrote:
Good day! I am writing to remonstrate against the rejection of my visa. Please see in the attachments my signed appeal letter and supporting documents. Hoping for your quick response as I am planning to join my parents on a family trip to visit my brother on June 25, 2016.
Thank you for your consideration.
Regards,
Full Name
Mobile Number
If you want to appeal personally by going to the embassy, by fax or by courier here are the details:
Submit by courier service or by post:
Embassy of the Federal Republic of Germany
Visa section
25/F Tower 2, RCBC Plaza,
6819 Ayala Avenue,
Makati City 1200
Submit in person:
Go the German embassy from Monday to Thursday between 11:00 a.m. and 12:00 p.m., Friday between 10:00 a.m. and 11:00 a.m. No appointment required.
Submit by fax (really?! LOL):
Fax to (632) 7023015 or 702 3045

How long do I have to wait for results of my appeal?
Appeal for Schengen visa refusal takes several weeks. They used to say it's around 4-6 weeks but now they only say "several weeks". So expect to wait long unless you did the trick we did where we sent and email with an URGENT subject to it and telling them that my sister was planning to fly to Europe in less than two weeks.
She emailed them on Monday and they called her on Wednesday afternoon. It was that fast. I suggest you include your phone number in the email so they can call you.
Some people waited for 1 or 2 months. I waited for 5 weeks on my appeal before but that was because I have the luxury of time. I applied 3 months before my planned departure so I had enough time to wait for the results of my appeal.
After she got the call, she waited 3 more days before her visa was available for pick up. Once your visa is approved, you can personally pick up your visa at the embassy. I think it is also possible to send it by courier but if you're in a rush then obviously it's best to go there yourself.
RELATED: Flight reservation for visa application
What if my appeal is rejected? What can I do?
If your appeal is rejected, you will also get a letter about your rejection. I'm sorry in advance if this happens to you. What you can do is apply again with more complete documents and better proof to support your application. You can apply as soon as you get rejected. There is no time limit or waiting time to apply again.
Need Help Writing an Appeal Letter for Denied Schengen Visa?
If you need help on how to write an appeal letter and how to appeal, I can help you write a customized appeal letter based on your visa application situation and why the embassy rejected your application. There are 9 reasons why an embassy will deny your Schengen visa application and each reason of denial needs different proof when you appeal.
Just order the service below and I will send you the Appeal Letter Questionnaire via email after ordering. I will ask you a few important questions regarding your visa application before I start writing your customized appeal letter. This service also comes with FREE visa consultation so you can ask me anything about your Schengen visa application during this process.
Sign up below so you are updated via email when the articles are published!