Book flight reservation for visa application or get valid flight itinerary with a unique booking code verifiable on airline website without paying flight ticket.
Don't make the expensive mistake of paying for a full price airline ticket WITHOUT your visa. Get your flight reservation online easily and then print it for your visa application.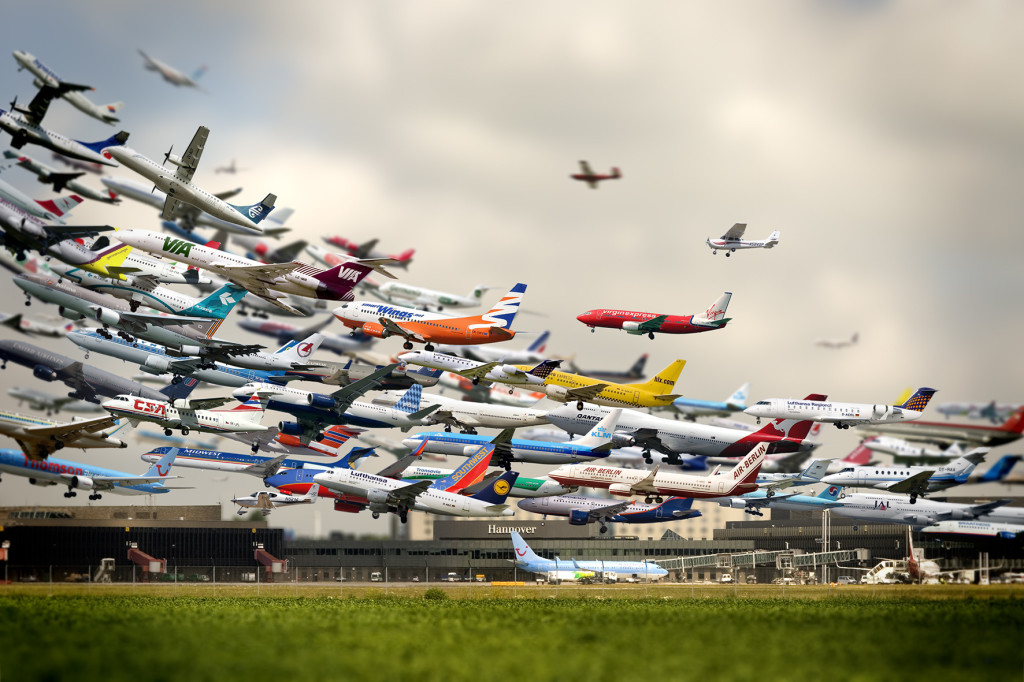 If you're applying for a Schengen visa (or US visa, UK Visa, Thailand visa, Canadian visa or any kind of visa for that matter), most of the time the embassy requires you to submit a flight reservation for Schengen visa, flight booking or dummy flight ticket itinerary and you wonder what exactly that is.
In this post I explain and help you on how to get a flight itinerary or flight reservation for visa application without payment of the actual plane ticket with a unique booking code which you can verify at the airline website (if you want to skip this part, check the end of the post how!).
This post applies to ALL KINDS of visa application, NOT just for Schengen visa.
Here's what the embassies require from their official websites:
Details regarding the means of travel for the outward – and return journey (details regarding the airline), proof of reservation of a roundtrip ticket – German Embassy
Roundtrip flight booking (please do not purchase your ticket unless your visa is granted) – French Embassy
Copy of the roundtrip airline reservation with Passenger Registration Number (or reservation number) and travel itinerary. The reservation should prove that the stay in the Schengen area does not exceed 90 days. It is recommended not to buy the ticket until the visa is granted. – Dutch Embassy
Copy of your confirmed flight reservation – Belgian Embassy
What is a roundtrip flight itinerary, flight confirmation or flight reservation for visa application?
I know a lot of you are confused about this. I was too! Some questions that ran in my mind were: Do I really need to book a flight? What if my visa is denied? Where can I get this flight confirmation or flight itinerary for Schengen visa? How do I get a confirmed flight reservation? Do I have to pay for the flight now? Do they need to see itineraries from Skycanner or something but they don't need to see that I've actually booked and paid for those flights? How does one get a confirmed airline reservation without buying a plane ticket?
WHAT THE HELL IS THIS?!?
Please stop banging your head against the wall. It's actually VERY EASY.
A flight confirmation, flight reservation, flight itinerary or whatever they call it is basically the same. It's a piece of paper that shows your flight itinerary which you can easily get from an airline or from a travel agency. Not all airlines or travel agencies issue this though so it does take time and money to find an airline or travel agency that will give you one. The travel agency has access to flights via their Amadeus booking system and can make the flight reservation for all kinds of visa application. Most of them charge differently for this.
In short, it's basically just a formality for visa application purposes.
Below is a sample of a flight reservation so you can imagine how it looks like. Note that the travel agency only "reserves" the flight for you so you don't actually pay for the flight ticket. It is recommended even by the embassies themselves that you only book your actual flight AFTER your visa is approved. Don't make the huge mistake of buying a flight ticket without your visa! You can book your flight on your own or via the same travel agency AFTER you get your visa. It doesn't matter. You don't have to actually take this flight. And you don't need to cancel it after or anything like that. It will be automatically cancelled by the airline. It's just for the embassy visa requirements.
Why do you have to get it from a travel agency instead of directly from airlines? Most airlines don't offer flight reservation. Only a few does. And if you do get a flight reservation from them, it will only be valid for 24 hours or less and you still have to cancel it yourself. Some airlines also charge for this service and some airlines require you to pay for the flight and then they will refund your money if you cancel it. And that refund process takes a while. Who wants to go through all that trouble?
Meanwhile with a travel agency, they can create flight reservation for almost all airlines around the world. And the best thing is that this flight reservation lasts way longer from 2-3 weeks validity. This is perfect for your visa application because you might be denied if the embassy checks your flight reservation online and it's not there anymore.
Sample Flight Reservation for your Visa Application
So how does a dummy flight reservation look like? It looks like a flight ticket. Here's a sample of an actual flight reservation. Feel free to check the PDF copies of two other flight reservations here and here. Note that a real flight reservation has a 6 digit booking code or reservation ID. Some websites offer fake flight reservation without a booking code and you can't check them on the airline website. Beware of those! Here is what an actual flight reservation looks like:

How can I find a travel agency that can issue me a flight reservation/Confirmation/Itinerary?
Well you have to know a travel agency near you and ask. Repeat process until you find one which can create a flight reservation for you. Each travel agency charge differently for a flight reservation.
There are many websites offering this service as well but be careful because some of them are not real travel agencies and don't give you legit flight reservation. Check the actual reviews from people like the one you can see at the bottom of this post before you trust anymore.
Obviously I am going to say you should order below directly because I receive many messages from people who ordered from these other websites only to be scammed by them. They got fake flight reservation that can't be verified on the airline website. And now they want to use our service instead. I feel bad when I read these messages because applying for a visa is stressful and when people try to cheat others like this and get their visa denied, it's heartbreaking.
How to get a flight reservation for visa application without payment of the full ticket price

I HATE EMBASSIES AND VISA APPLICATIONS like you do so my goal in life is to make it less stressful and easier for you, me and everyone of us. If I can help one person everyday I am happy. Lots of good karma for me and my work is done!
I have created an online solution to this flight reservation issue. I have partnered up with Travel Visa Services, an authorised DTI-accredited travel agency which can book your flight reservation with a valid, unique reservation code and email it to you in a few hours.
You don't have to waste $1000 for a flight booking without your visa and you don't waste time looking for a travel agency to book it for you. All you have to do is order below and print it! Voila! Hassle-free. You will receive a flight reservation similar to the sample flight reservation I showed above.
This service is available to everyone around the world who needs to apply for a Schengen visa or any kind of visa. US Visa, Japan visa, Chinese visa, Brazilian visa, Canada visa, UK visa. You name it. You can use this.
Why should you order from us? We are the first to offer this service online since 2014 and we are the best. There are many copycat scammy websites out there who give fake flight reservation without a unique booking code. We provide confirmed flight tickets that are real and verifiable on airline website.
We have been providing quality and on-time service since 2014 and have helped hundreds of happy travellers with their visa application. Our customer service is also available 24/7. Email us at flights.ph@gmail.com and we will reply to you within 24 hours.
Feel free to read all the genuine messages and feedback from our happy customers in the comments below.
What more? Your money is safe with us with a money-back guarantee. The payment system is secure and handled by Paypal which means you're protected by Paypal buyer protection if you don't receive the flight reservation from us.
It's super easy to get it and you'll have it in your inbox in as fast as 4 hours or less!
1. Order The Service. Choose which package is right for you here.
2. Submit Your Flight Details. After paying, answer the Flight Reservation Form so we could book your flights.
3. Receive Your Flight Booking. The travel agency will email your flight reservation direct to your inbox ready for printing!
Step 1: Order The Service
Order the service that fits your needs. Note that we offer Regular, Rush and Critical service depending on how fast you need the flight reservation or how many flights you need to reserve. Regular order is sent within 18 hours (we usually send it earlier than that) while Critical is sent as fast as less than 3 hours if you really need it ASAP! We also offer 25% off group discount if there are 4 or more of you in one flight reservation. Kids below 5 years old are FREE! Just email us.
The flights are valid up to 3 weeks depending on the airline. And the travel agency is open even on weekends and holidays!
BE CAREFUL: There are many cheap copycat websites out there who give fake flight reservation without a unique booking code or PNR. You should not pay for those fake tickets. They should be free. They are not real travel agencies. They are just a bunch of kids with photoshop skills. We provide confirmed flight tickets that are real and verifiable on airline website. If you submit fake documents your visa will be denied.
RELATED: Flights + Hotel Reservation for visa application
up to 8 flights
inbox within 18 hours
valid up to 3 weeks
24/7 customer service
up to 12 flights
inbox within 9 hours
valid up to 3 weeks
24/7 customer service
up to 10 corrections
priority service
unlimited flights
inbox within 3 hours
valid up to 3 weeks
24/7 customer service
unlimited corrections
express service
Note: You don't need a Paypal account to pay. Just click Check Out Pay without a Paypal account at the bottom right of the page and enter your credit or debit card details to pay. If you're Filipino, it's also possible to pay via bank deposit to BDO or BPI or Western Union transfer. Just email flights.ph@gmail.com for bank details or Western Union info.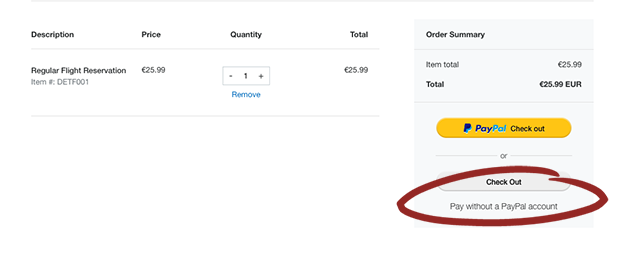 Step 2: Submit Your Flight Details
After ordering, you will be redirected to the Flight Reservation Form where you need to fill out the form to send us your flight details. Please fill out the form completely and click Submit. You can also access the Flight Reservation Form directly here.
Step 3: Receive Your Flight Booking
You will receive a PDF copy of your flight reservation via email ready for printing. The travel agency will process your flight reservation depending on what you ordered. But they usually send reservations earlier than this. If you have more questions, check the FAQ below or post on the comments and I'll answer it.
Confirmed Hotel Reservation for visa application
Need confirmed hotel reservation for your visa application as well?  We also provide this and book your hotels with your flights. We can reserve any kind of hotel. Check our Flights + Hotels packages below. If you need hotel reservation only, please email us at flights.ph@gmail.com for more info.
up to 2 hotel reservation
up to 5 flight itineraries
within 36 hours
24/7 customer service
up to 5 hotel reservation
up to 6 flight itineraries
within 24 hours
24/7 customer service
2 FREE corrections
up to 8 hotel reservation
up to 9 flight itineraries
within 18 hours
24/7 customer service
unlimited corrections
priority booking
Feedback and Testimonials
Here are some feedback from happy travellers who have used the service. Please check the comments section below for more genuine testimonials.
I didn't want to write my comment too early because I wanted to wait until my visa application is approved and I actually got my visa. I did get my visa couple days ago without any problem. They are extremely helpful. I have some errors in my first flight reservation, and they even worked on the weekend to get a new one for me for my interview on Monday. I really appreciate their help and their patience. Thank you so much! – Suchang Du, China

Great post and great service. DJ Yabis helped me get 2 flight reservations, in one day, not two, and this helped my Chinese friend get approved for his American tourist visa. I just ordered another resrvation for one of my students here in China, and plan to more reservations for my other Chinese students in the future! He also pointed me to a website for making cancellable hotel reservations, without having to pay for the reservation or pay a deposit for the reservation..this was a life saver! Thanks DJ Yabis!!! You rock! – Courtney Watkins, USA

I really want to appreciate you guys for the wonderful service. I was really cynical about it at first, it got worse when I didn't get it in time (or so I thought) but I am glad I was wrong. I was also quick to recommend you guys to a few friends. I won't hesitate to use this service again. – Ojo Isaac, Nigeria

I made the payment and received the flight reservation just hours later! Super fast! I have my appointment for the French embassy in two days, I'm absolutely sure it will work! Thanks! – Santiago Perdomo, Colombia

Received my ticket this morning and I love the fact that this was so easy. I didn't have to go through the hassle of finding a travel agent and checking if they would be willing to make a dummy booking for me. The team is very responsive and so quick, I got my confirmation and ticket within 24 hours. Lovely guys. Thanks a bunch. – Pooja Dhiman, India

Just received the ticket reservation for my brother that he will need tomorrow. And i just ordered it last night. Thanks so much! – Gaudiosa Gan, Philippines
Frequently Asked Questions
Is this only for Schengen visa? No. You can use it for any kind of visa application.
When do I have to order the service? My visa interview is in a month or so. You can order it as soon as you want and you can schedule when we will book your flights or order it 3-5 days before your scheduled interview. The flight reservation will still be valid.
How can I check if this is real? Each flight reservation has a unique booking code or PNR number. You can simply verify your flight details on the respective airline websites using the unique booking code and your last name.
I am from Botswana, can I get a flight reservation? Yes of course! It's for everyone worldwide, no matter where you are from. That's the beauty of the internet! You will receive your flight reservation via email.
Do I have to cancel the flight? Cancellation is FREE. You don't need to do anything. It will be automatically cancelled by us.
Is it refundable if my visa is denied? No. Payment is not refundable if your visa application is denied. The result of your application does not change the fact that you used the service.
Can you give me a sample flight reservation? Sure you can easily download them here and here.
I have more than 2 flights. Can you book them all for me? Sure. Just choose which package works best for you. We even offer unlimited flight reservation.
What if there are 2 or more of us? If there are 2 or more of you just order the service for each one and follow the instructions above. You only have to email once and attach everyone's details in the email. The travel agency will create unique flight reservations with a unique booking code for each one of you.

What if we have the same itinerary? Same thing applies. The travel agency still needs to create a unique flight reservation for each one of you. Just order the service for each one of you.
Do I pay for the full price of the flight? No. If you actually read the post, this is just a flight reservation so you're not paying for the full price of the flight. You only need to pay the flight reservation fee.
Can I have it in less than 24 hours? Of course! We now offer critical processing and we can book your flights within 3 hours. Please see details here.
There's a mistake in my flight reservation. No problem. Just email us and we will send you a new flight reservation FREE of charge.
——————————–
Related Posts:
How to apply for a Schengen Visa at the German, Dutch or French embassy.