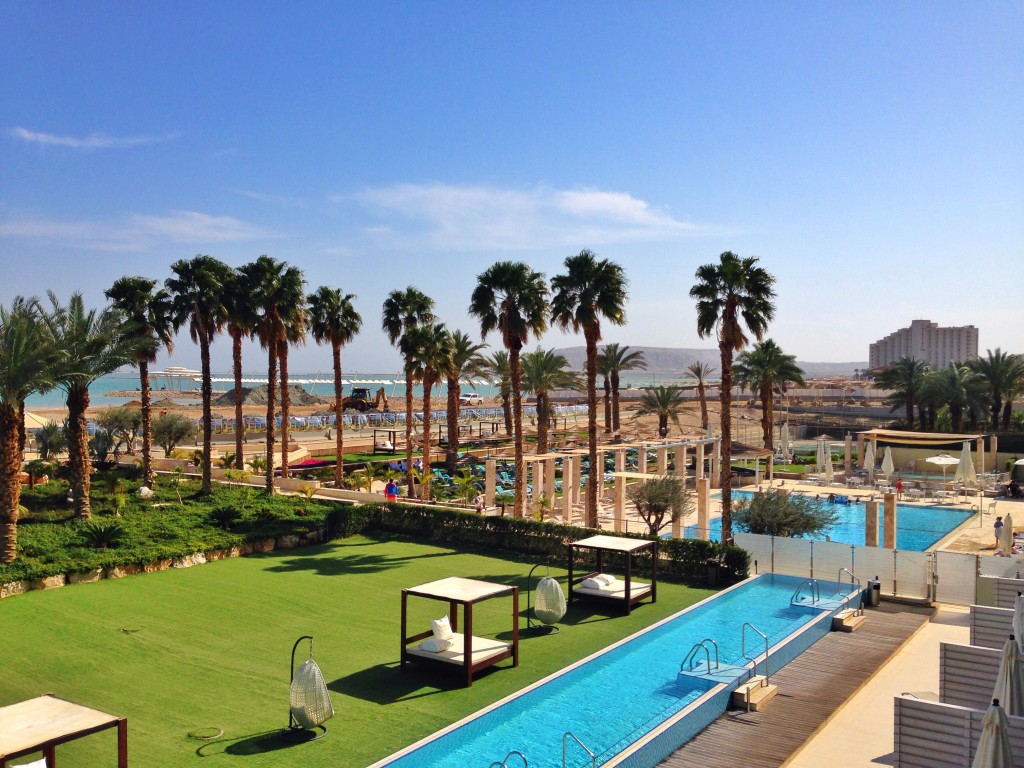 You know that intoxicating feeling when your dreams unfold right before your eyes?
I'm all about that. I'm addicted to THAT feeling.
It can be a big dream or a small dream. It doesn't matter.
What matters is that it's all happening.
Remember, this is a blog about dreams that come true and making things happen. It's about being awake and dreaming and not knowing the difference.
I feel that way about my recent trip to Israel.
Let me tell you a story.
I actually don't know why or how I got interested in Israel. I am the most apolitical person you'll ever meet so it's probably not the constant barrage of news about this country that made me want to visit. In fact, that would most likely deter the average person from visiting.
I'm also pretty sure I was not planning to take a religious pilgrimage because last time I checked, I only go to church on Christmas. With my family. When people learn I'm from the Philippines and ask if I'm Catholic, I always say: Yes, I'm culturally Catholic.
Perhaps the food? Well I'll be completely honest with you. If the million dollar question is: Can you name one Israeli dish? I would probably answer Shabbat shalom! which is one of the few Hebrew words I know.
Maybe the people boys? Probably. I was dating an Israeli back in 2008. I mean those eyes! There was something about them.
I wasn't really sure. But I do know that I planned to live in Israel for 3 months back in 2011 after I finished my Erasmus Mundus Masters in Europe. Why only 3 months? Because we don't need a visa to visit for 3 months! Yay!
Three months is long so I imagined I would live in a kibbutz. I didn't even freaking know what a kibbutz is (until now shhhhhh) but people told me I should try it – and you know me I'm always open to new experiences – so I thought yeah why not. I thought of maybe working in a hostel or resort somewhere in the desert. I saw an ad for a job via Couchsurfing. I even messaged the girl who posted it and talked to her.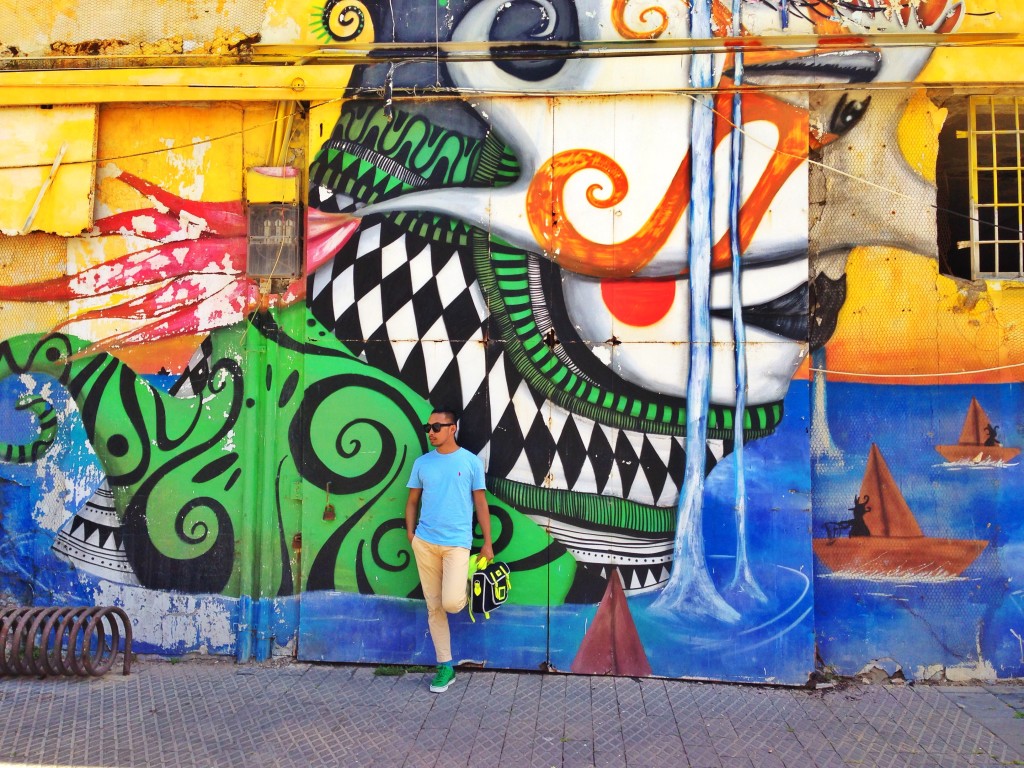 My point is that this plan was real! I was trying to make it happen. But bureaucracy got the better of me and I got stuck processing my paperwork for a job in Berlin which eventually fell through. (This is another big story on its own). I eventually blew the rest of my savings on another 3-month eurotrip instead.
Over the the last 4 years, I've heard a lot of people tell me how much they love Tel Aviv and Israel. One of my good friends, Vicky, visited last year and she told me how much she loved the place. Micha, my boytoy, lived in Israel for 6 months a few years ago. My interest in the country grew so much so that when my friend Nadav, who runs the LGBT travel company Outstanding Travel, invited me to come visit last November it made me sad because I couldn't make it. I was about to embark on my 2-month birthday trip at that time. I'm not complaining.
But I had another opportunity to travel with his company this February so I booked my flights and got excited for making another dream happen.
I was not prepared for what would be one of my favorite trips this year. Yes, it's too early to say this but I am already declaring it as a favorite!
Before I tell you the highlights of our one-week whirlwind tour of Israel, you need to know some facts:
10 – The number of guys in this trip: 8 gays and 2 guys from Spain, Colombia, Italy, Portugal, UK, Poland, Israel and the Philippines!
1 – The only girl who joined our trip. She was our Israel expert tour guide.
#BOG – shortened hashtag for Bunch Of Gays; I coined it as a name of our group
Here's our 7 day itinerary of our Israel tour showcasing the best of the country for first-time visitors. Note: there will be lots of happy faces and selfies. It's my blog so deal with it!
Day 1-2 Jerusalem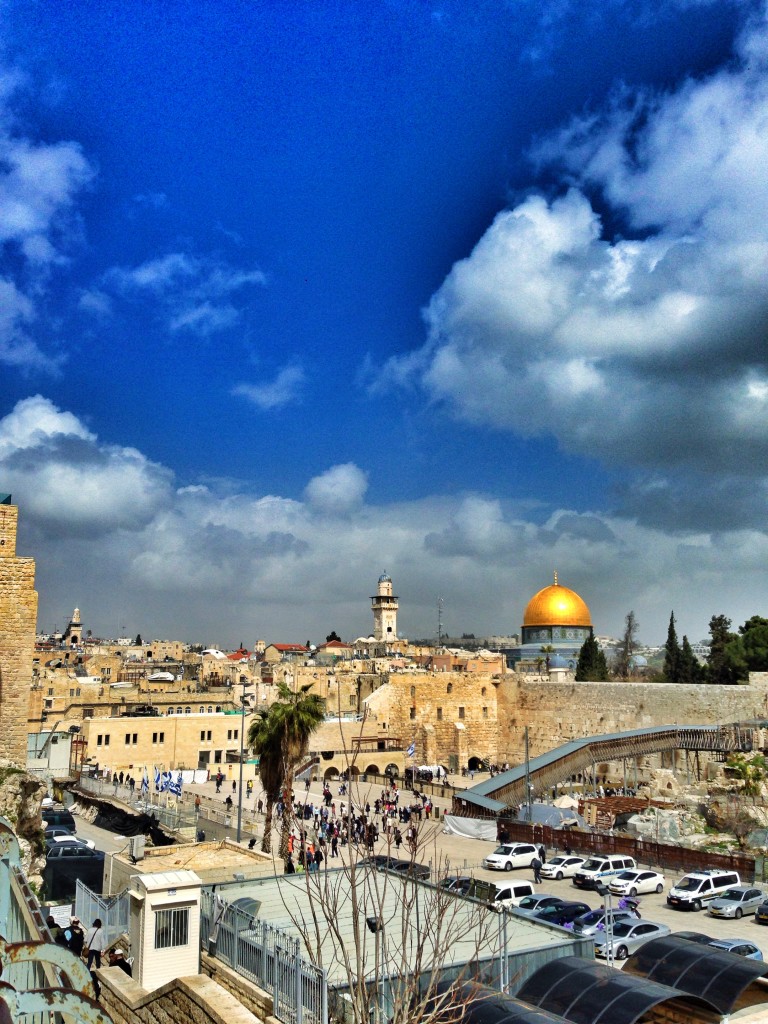 Ah, Jerusalem. The biggest city in Israel and one of the oldest cities in the world. Only 40 minutes away from Tel Aviv, it is a fascinating place to start our trip. As I've said earlier I'm not religious but it felt so surreal to be in this city where you feel how the old and the new elbow each other for legitimacy and space. It's a place that fascinates and scares me at the same time.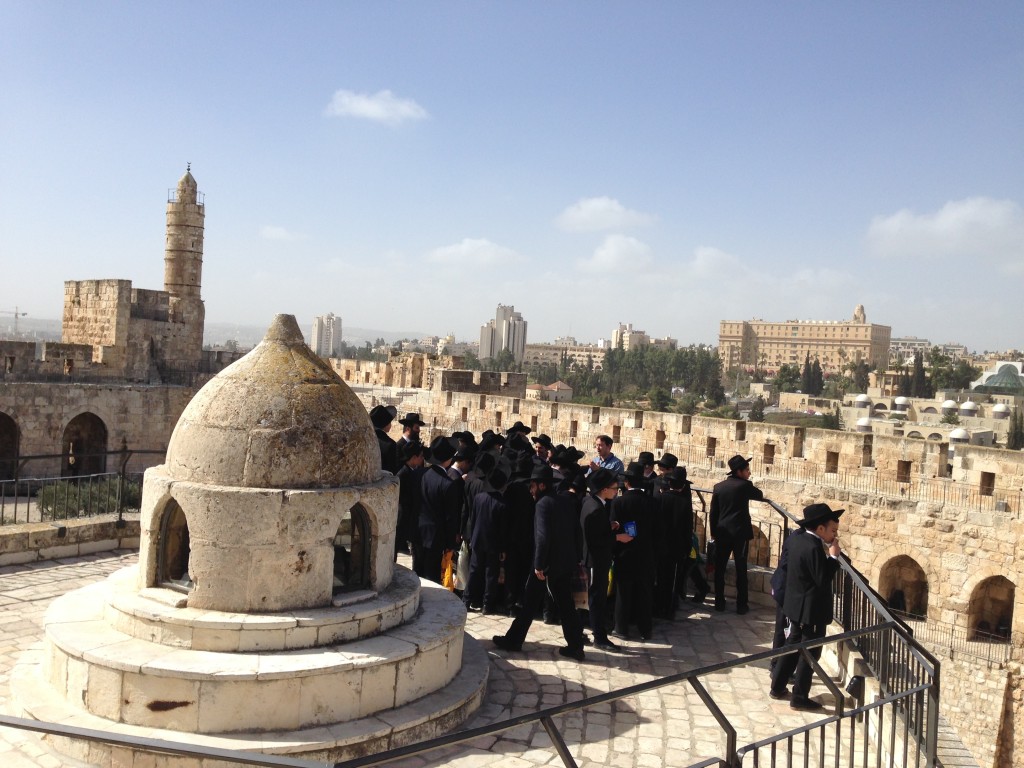 Since we were only here for 2 days and 1 night, Tiki, our Israel expert guide from Outstanding Travel toured us around the highlights of the city. We walked through the Old City and visited the Tower of King David, the Room of the Last Supper, the Western Wall and the Church of the Holy Sepulcher (where Jesus was supposedly crucified and buried!) among others. We also visited the Israel Museum which has an impressive collection of different things related to the history and culture of Israel.
I can't wrap my head around it. Everything was too real. I've learned so much in one day going around the Old City than sitting in the classroom for the last 15 years. I'm still processing them in my mind even as I write this.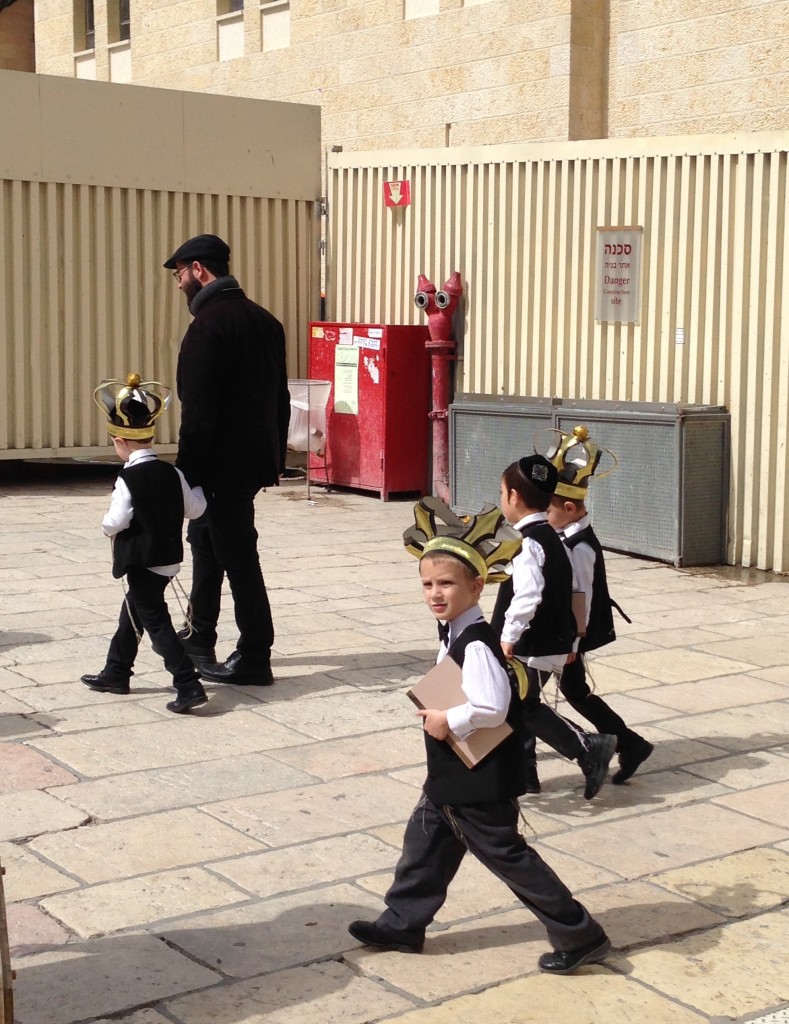 We ate amazing lunch at Bulghourji and dinner at Olive and Fish where I learned more about Israeli food: that it is a mix of a lot of things Middle Eastern, North African and Mediterranean. I also found my new favorite Israeli food: shakshuka.
Over dinner at Mamila Hotel, as much as I tried not to delve into politics, I couldn't stop talking to locals like Ronit and hearing what she has to say about THE situation. I have this idea that it's so dangerous to live in Israel and that it's at the brink of war and destruction anytime.
That all this drama with money, power and land mixed with religion must be very complicated. Ronit was quick to answer: "It's not complicated. It's just the politicians and the media that's making it complicated. But if you let normal people be, it's just fine and easy."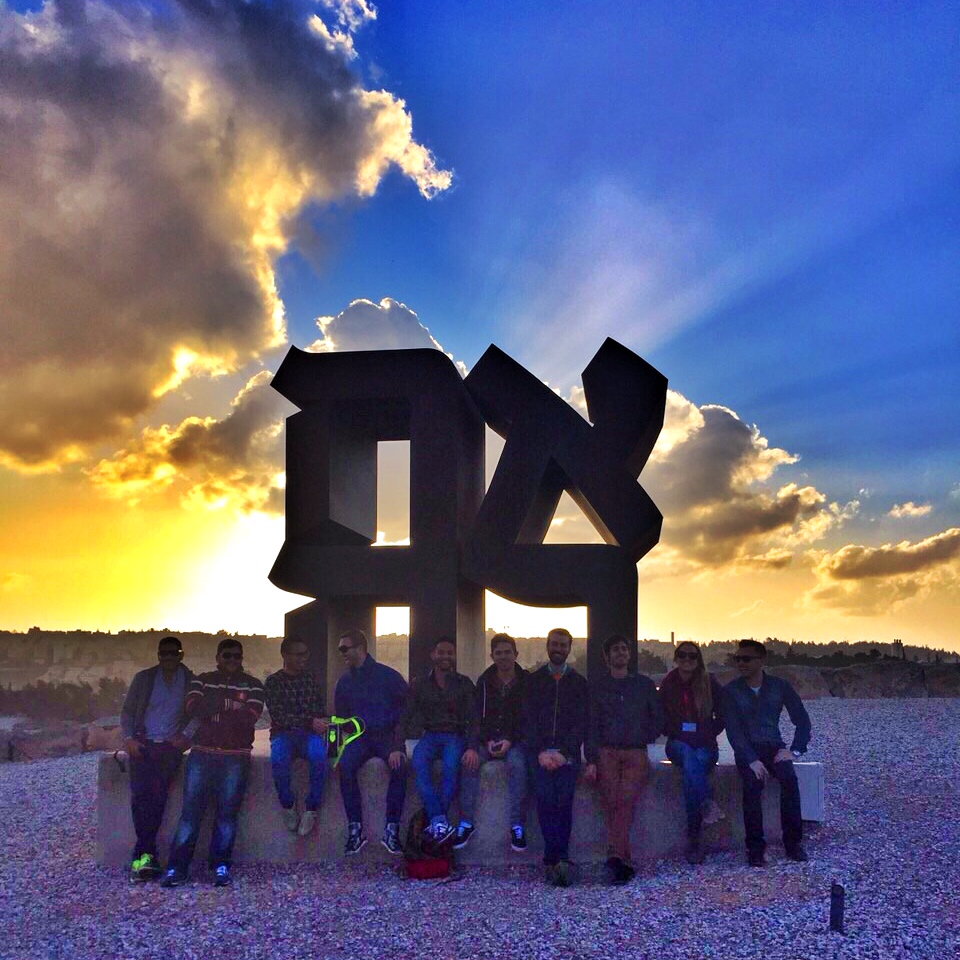 And this is so true.
I am from the Philippines, a country that also gets its fair share of media attention every time there's a terrorist attack or kidnapping and killing of tourists or a war breaking loose in Mindanao. Everyone who is not in the Philippines thinks the whole country is not safe for travel. That it's dangerous. That you could die any moment by being here.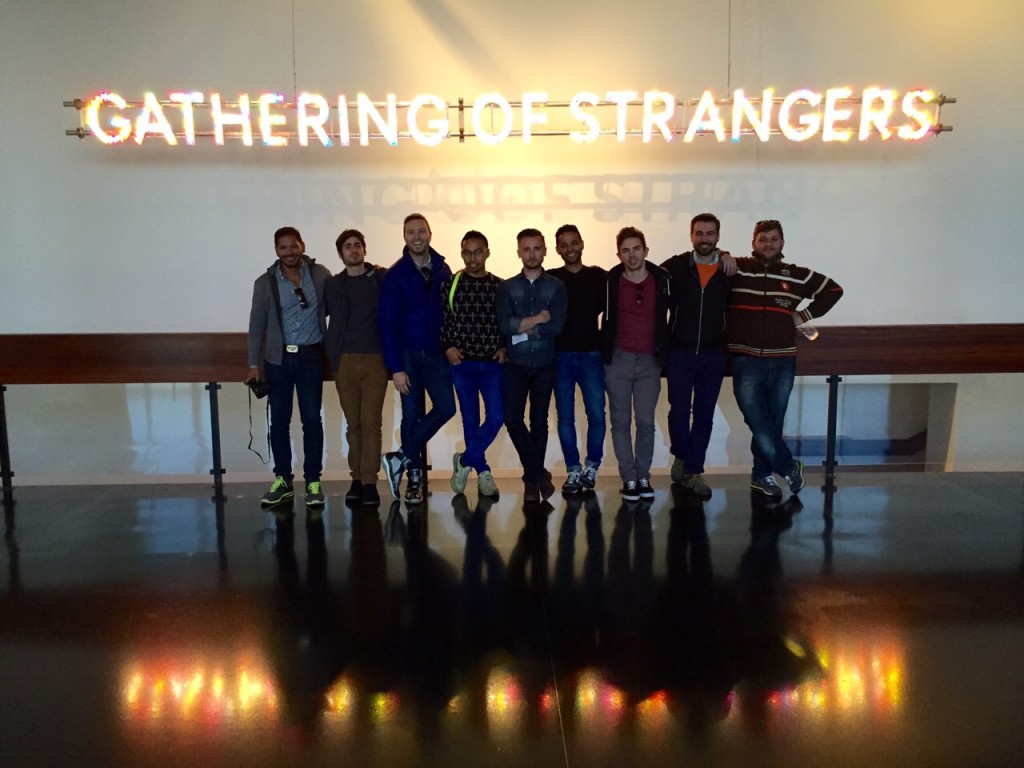 This is simply not true.
Usually the conflict happens only in one small part of the country and the rest of the country goes about its days normally. And this also applies in Israel. People go about their daily grind here like everyone else.
Day 3 – Dead Sea, Masada and Kfar HaNokdim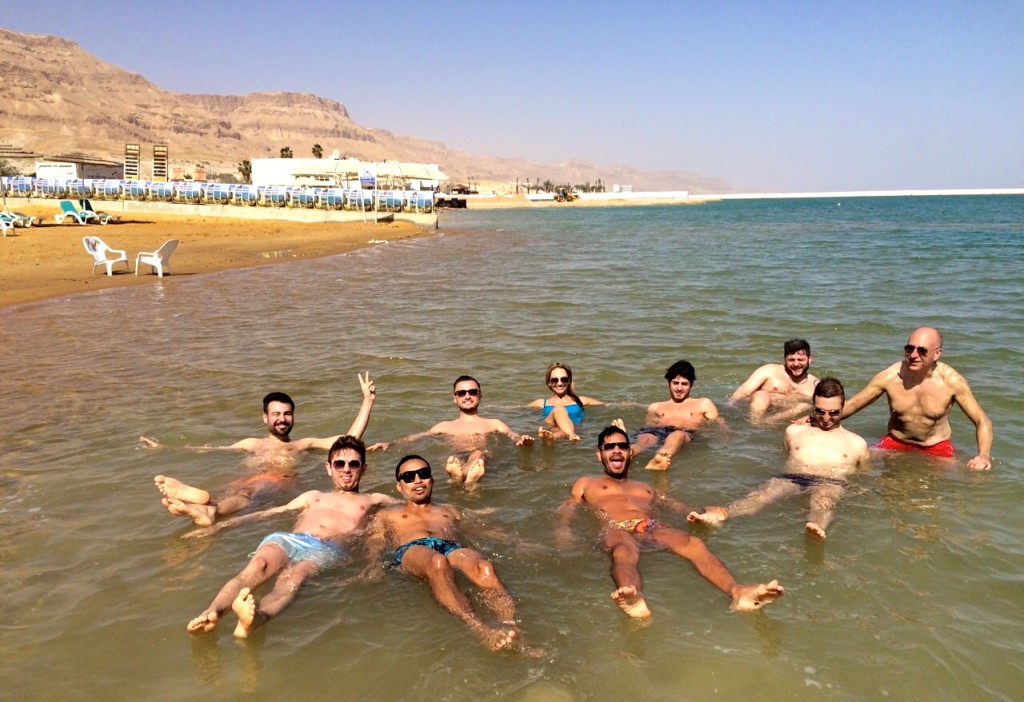 The Dead Sea
The deepest hypersaline lake in the world, the Dead Sea, was the perfect second stop in our trip. We left Jerusalem in the evening and arrived at the fabulous Herods Dead Sea hotel. And #BOGs being #BOGs, we decided to have a night swim at the pool outside our rooms. It was more of us soaking in the water and drinking wine than swimming really. We deserved it after all the walking we did in Jerusalem.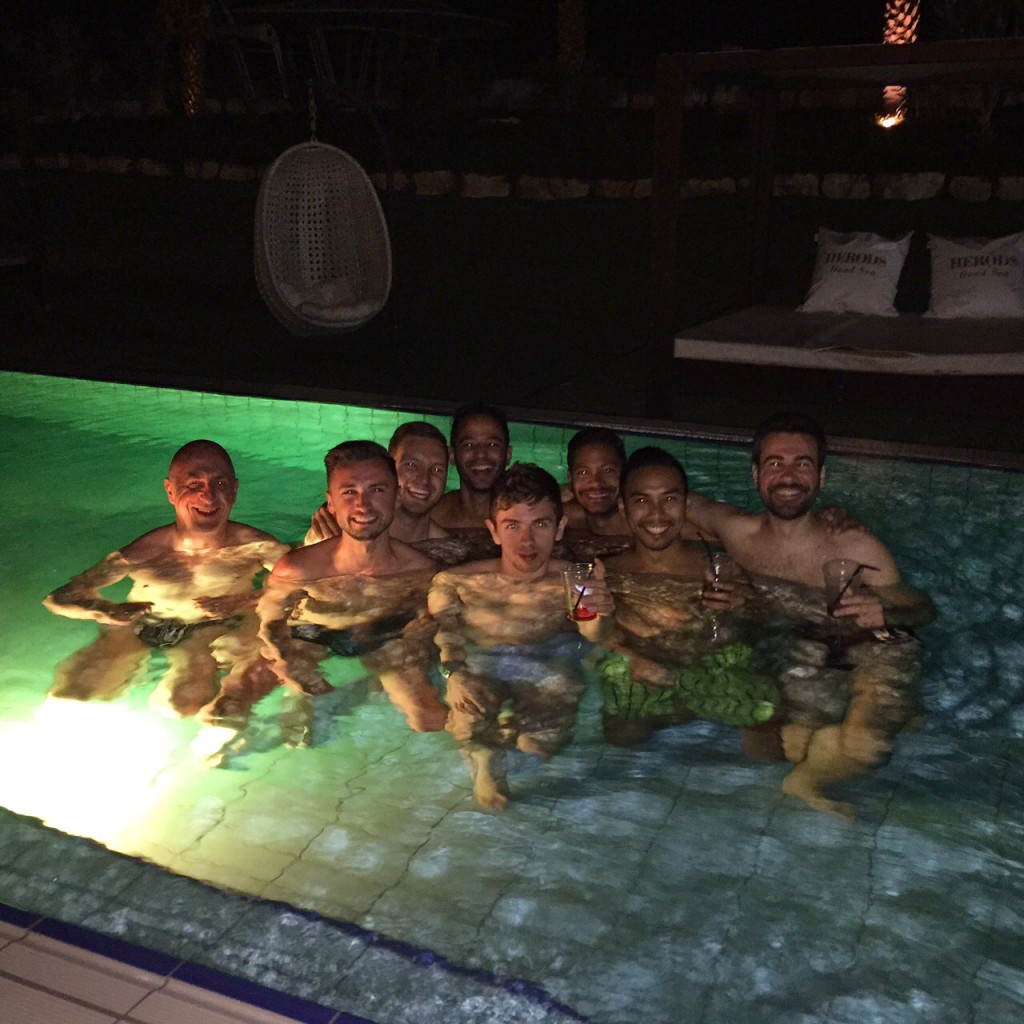 We even managed to convince the manager, Itai, to open a bottle of vodka and hangout by the pool with us. We were a bunch of strangers laughing, drinking and fast becoming friends. Our bodies freezing but our souls warm. I was initially scared with the idea of traveling with #BOGs who I don't know but this night made me realize that these guys were very cool. In between stories about our lives and boys, we agreed that we were all quite happy with everyone in our group. We went to sleep late a bit tipsy and happy.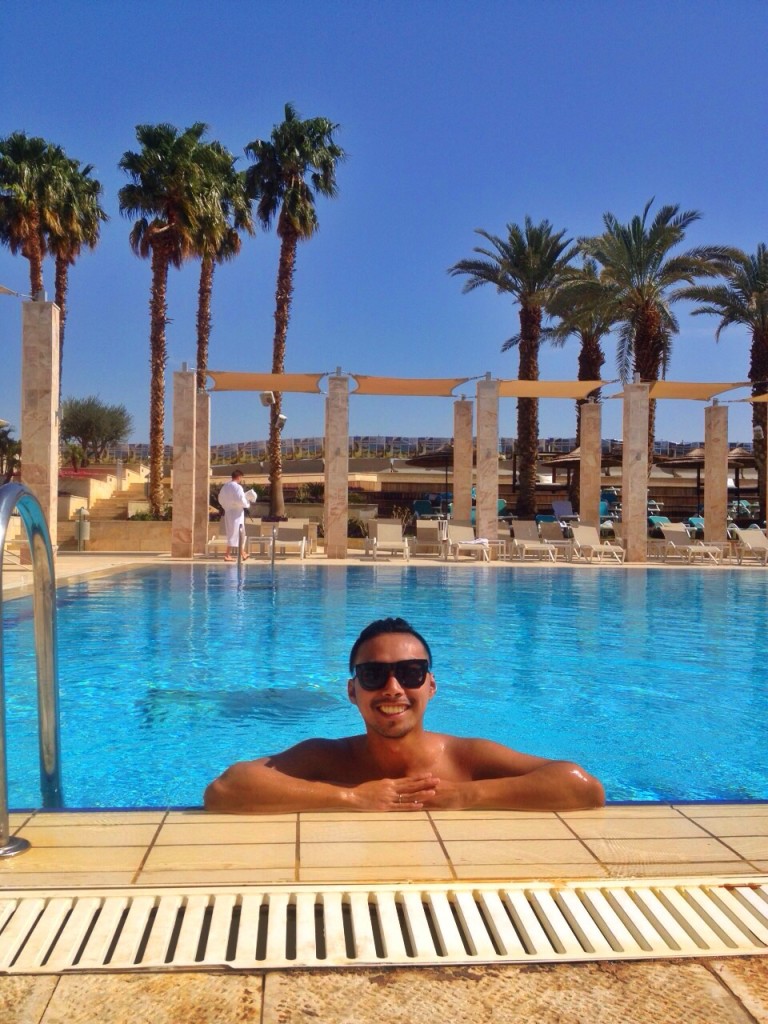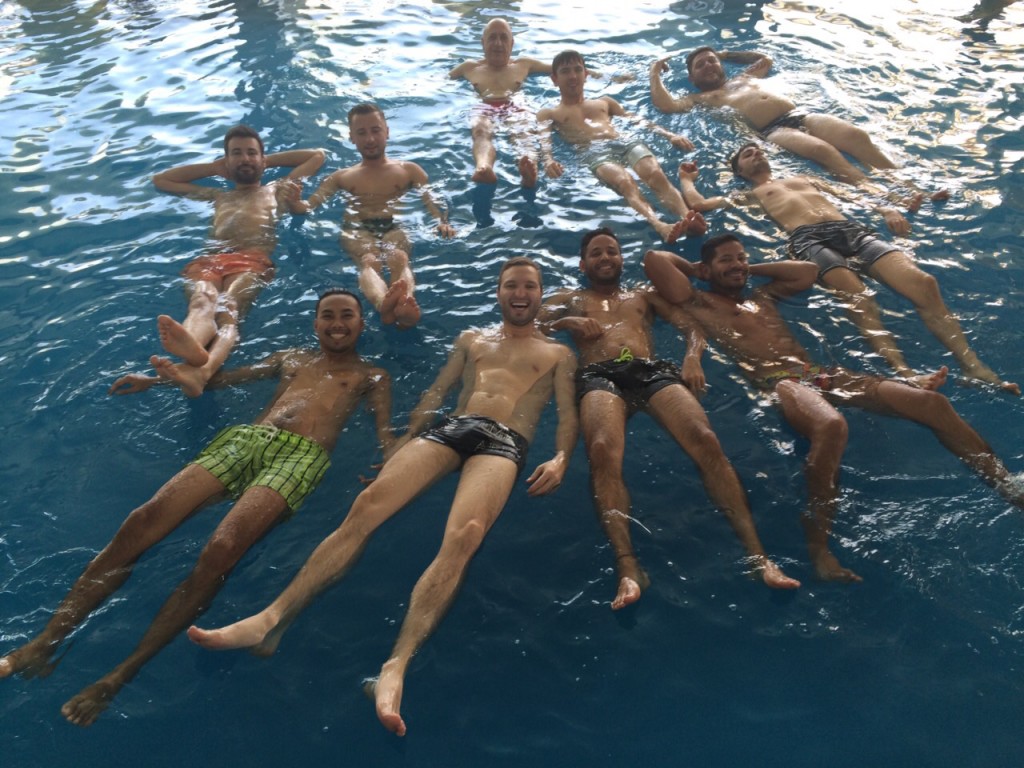 We bonded more the next day as we floated on the Dead Sea and rubbed mud on each other's bodies. I felt like a new gay after. My skin was so smooth and so soft.
Here's a tip: DO NOT SHAVE anytime before you plan to float on the Dead Sea. It's super salty and it will BURN like a biatch if you have any open wound, however small it is. And while we're at it, please don't even think of submerging your head in the water because you might go blind, lose your beauty or possibly die.
You're welcome.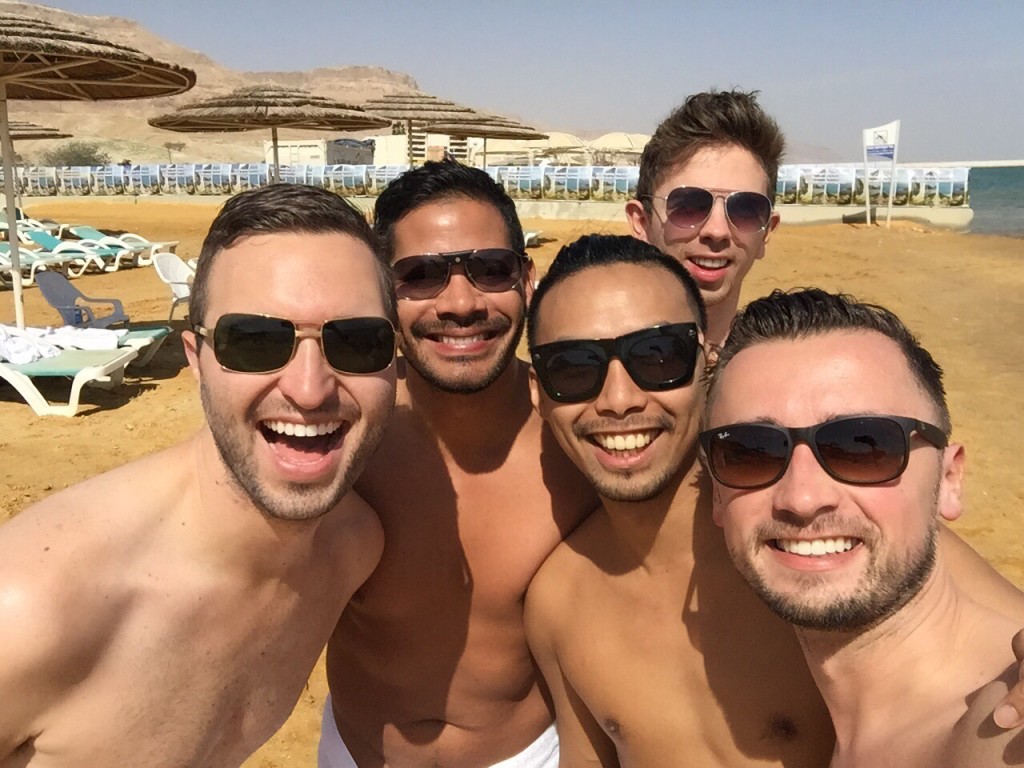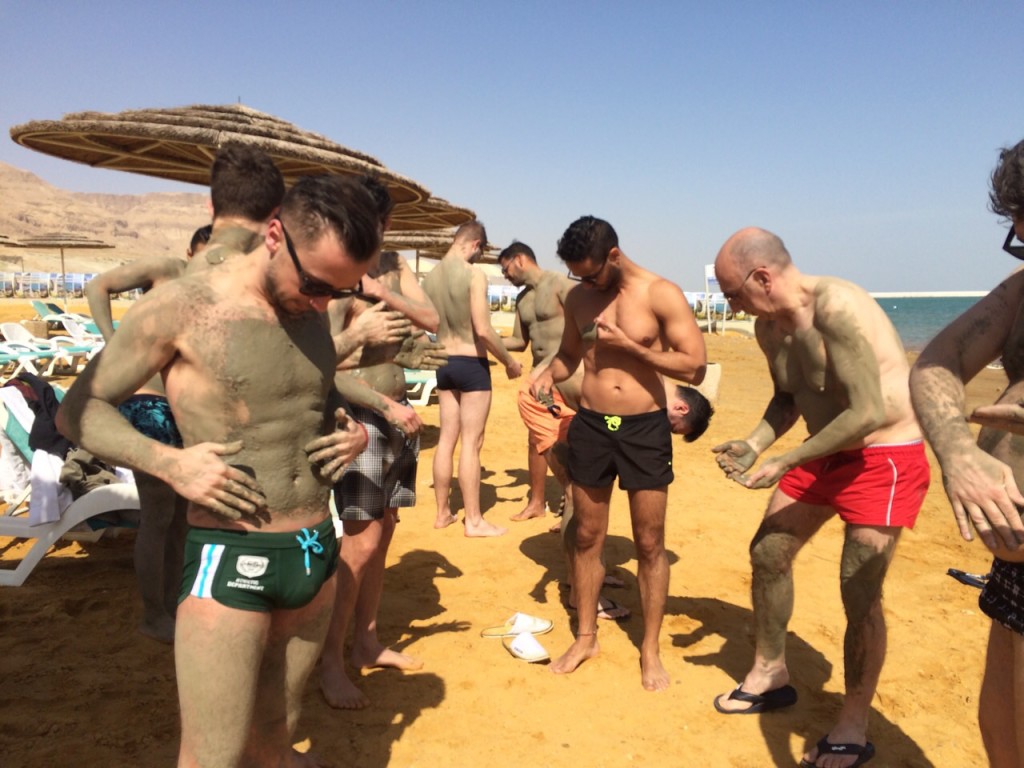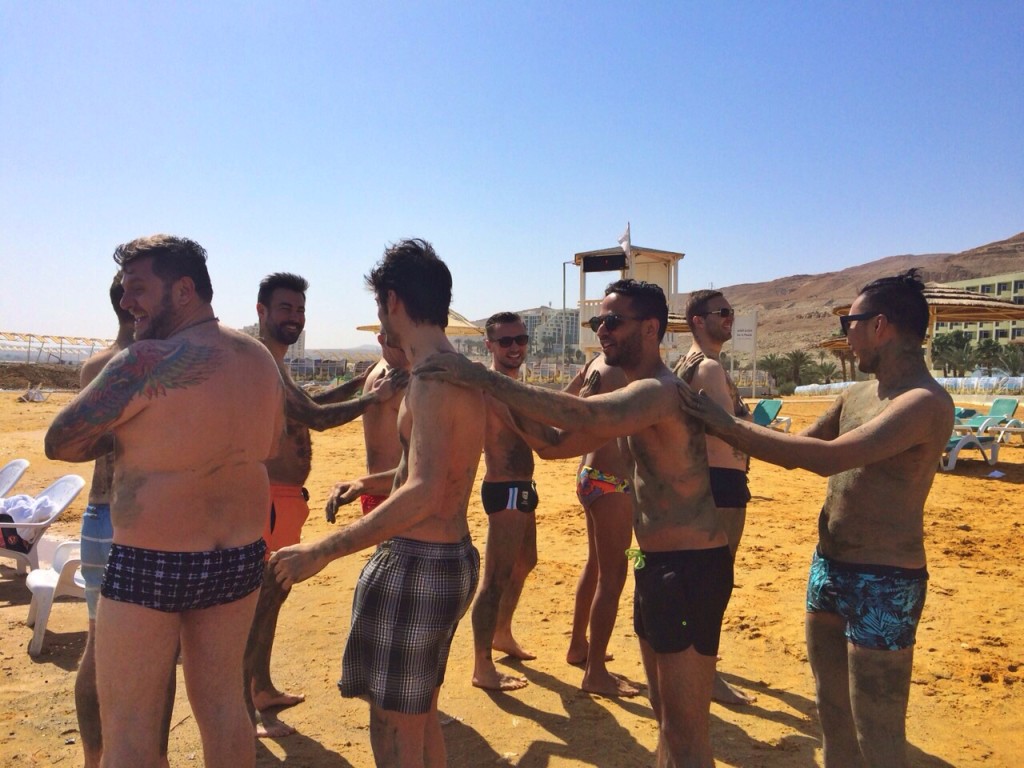 We met Nadav's very cool mom who was also there at that time and told us about her struggle with cancer and how surviving it changed her perspective on life. She turned to yoga and now preaches living life to the fullest. She loves going to the Dead Sea and makes it a habit to go 3 times a year to rejuvenate. She said it's one of her beauty secrets.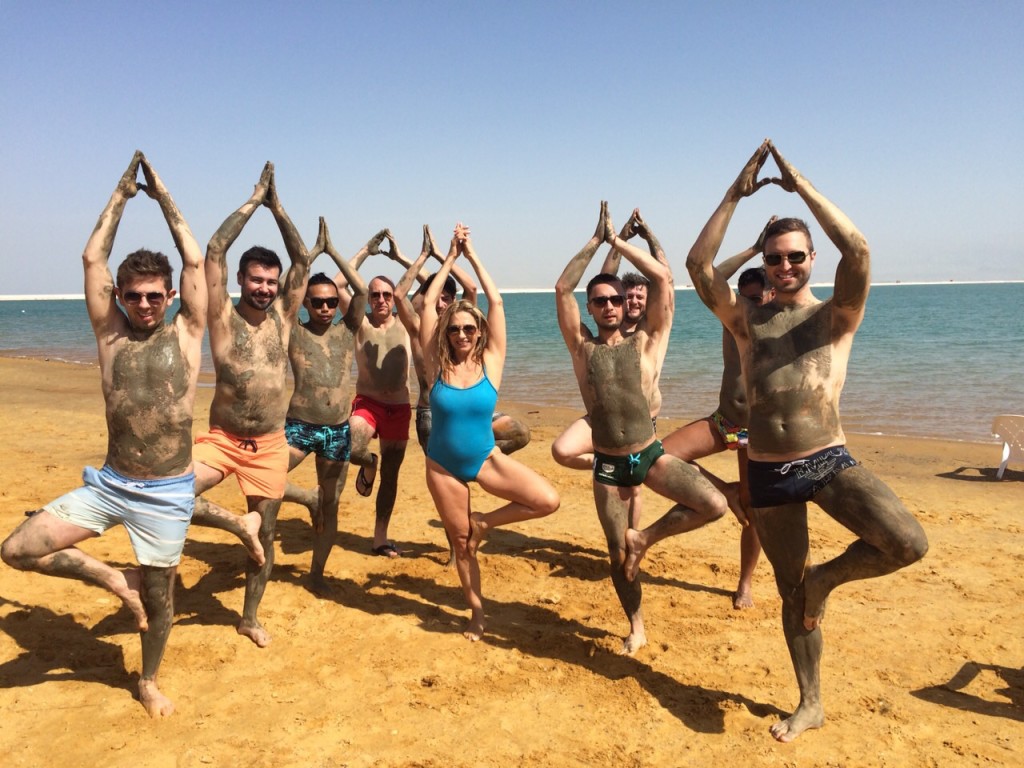 Vasco, the Portuguese #BOG, also opened up to me and told me how he survived testicular cancer at the age of 30.
"I was always working and so stressed. But when that happened, I realized life can change any minute and what's really important in life. So now I don't let things stress me and just be."
And I am reminded again to just enjoy life and not sweat the small stuff.
Because you only die once and you live everyday.
Masada Fortress
After a fun day at the Dead Sea, we drove south to the mountain fortress of Masada on the eastern edge of the Judaean Desert, overlooking the Dead Sea. Israel is pretty small so it's easy to go from one place to another.
The desert orange scenery along the way was just breathtaking. I was trying to take a nap but I couldn't stop looking outside my window to enjoy the view.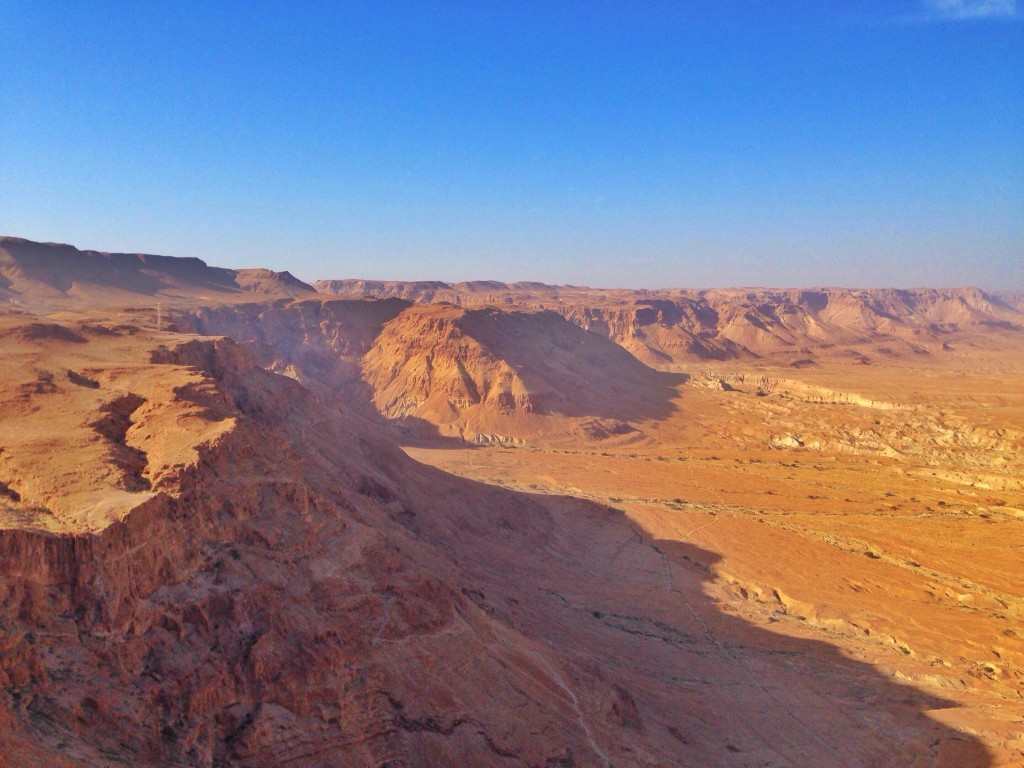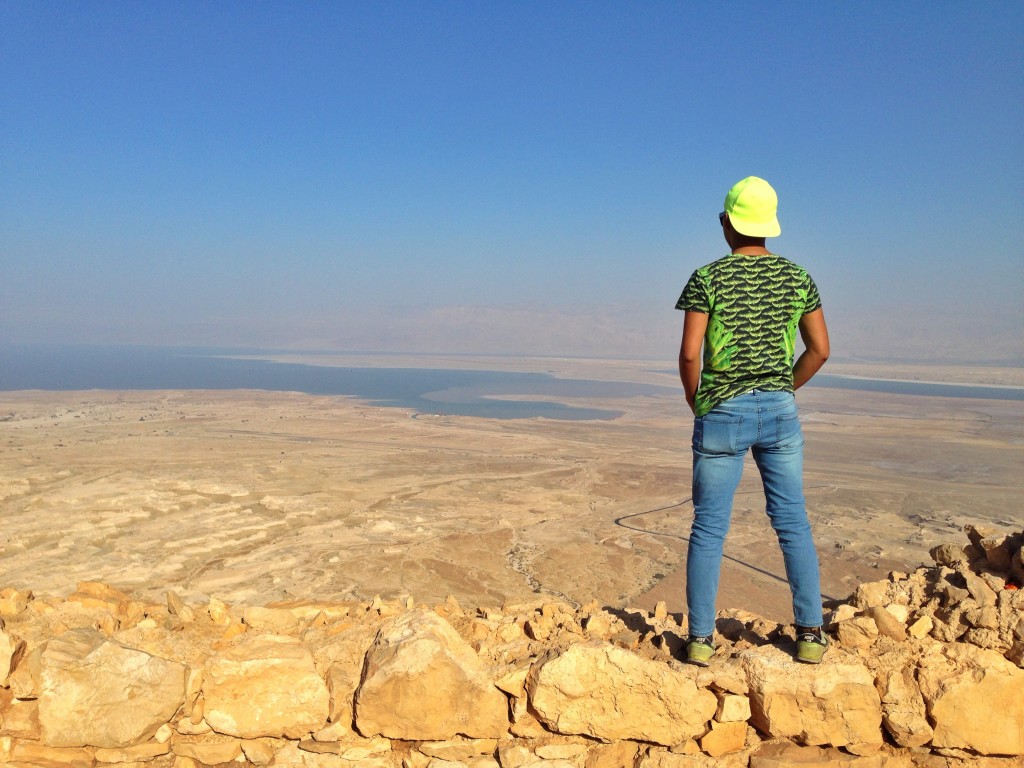 Herod the Great built this fortress on top of an isolated rock plateau. It has a fascinating history which includes sparties (spa parties!) that Herod's must have thrown in his fabulous sauna with a view and the mass suicide of almost a thousand Sicarii rebels and their families hiding there during the Siege of Masada by the Romans.
We took a funicular to the top and explored his fortress before walking down the side of the mountain.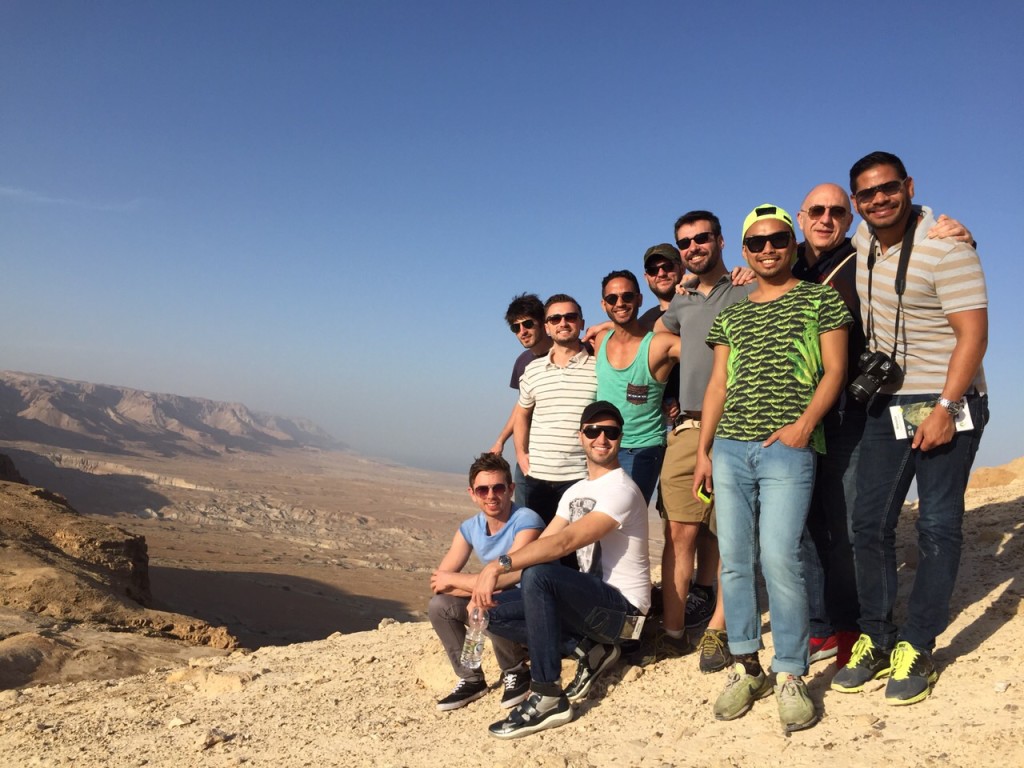 Our last stop was the Bedouin oasis called Kfar HaNokdim in the Judean desert. I didn't know we would be riding camels so this excited me to no end. It was also my first time to see camels and ride them! I had so many first times on this trip. This was one of them. We only rode them for a short time though because we had a limited time. I would have loved to ride longer into the desert.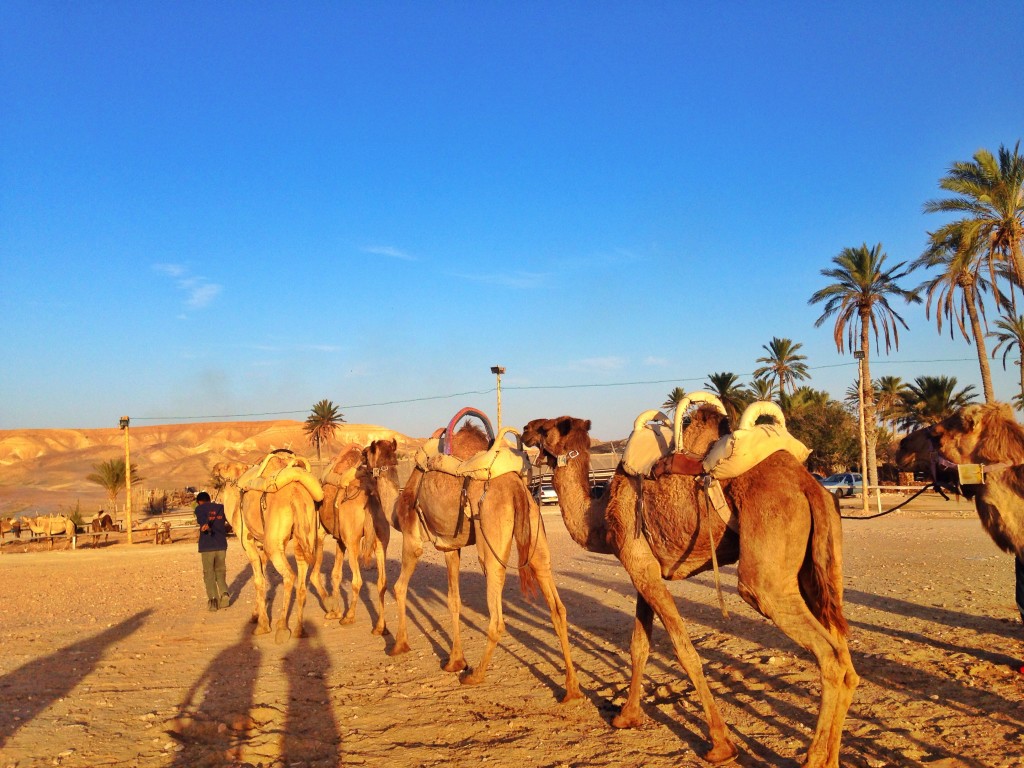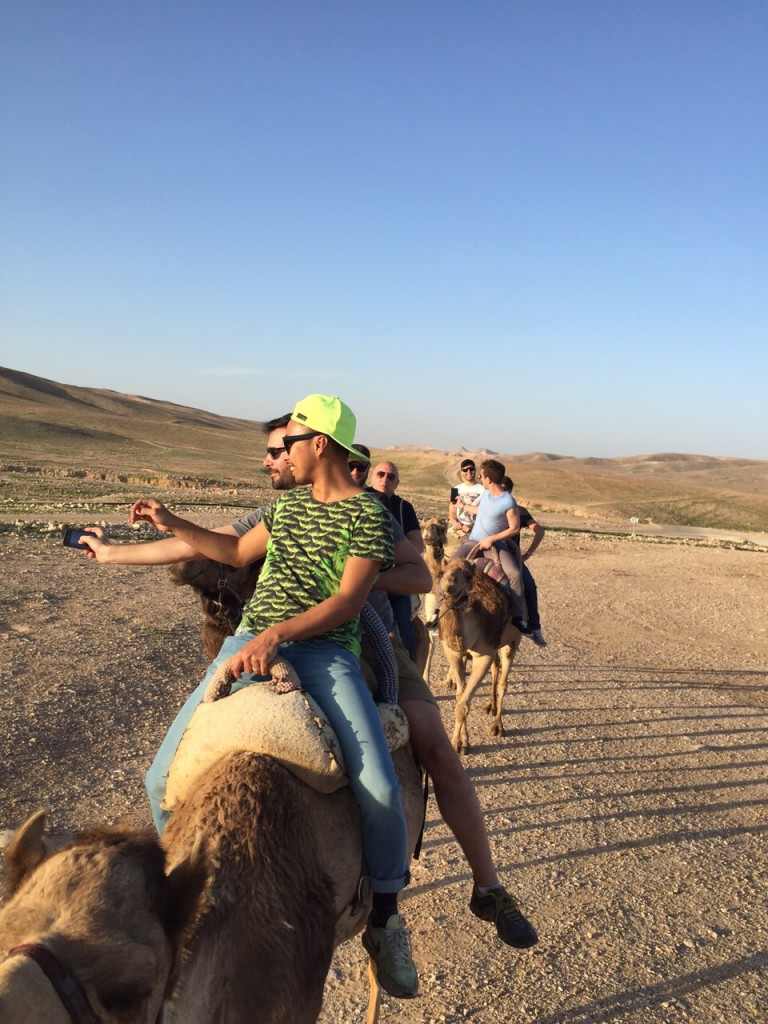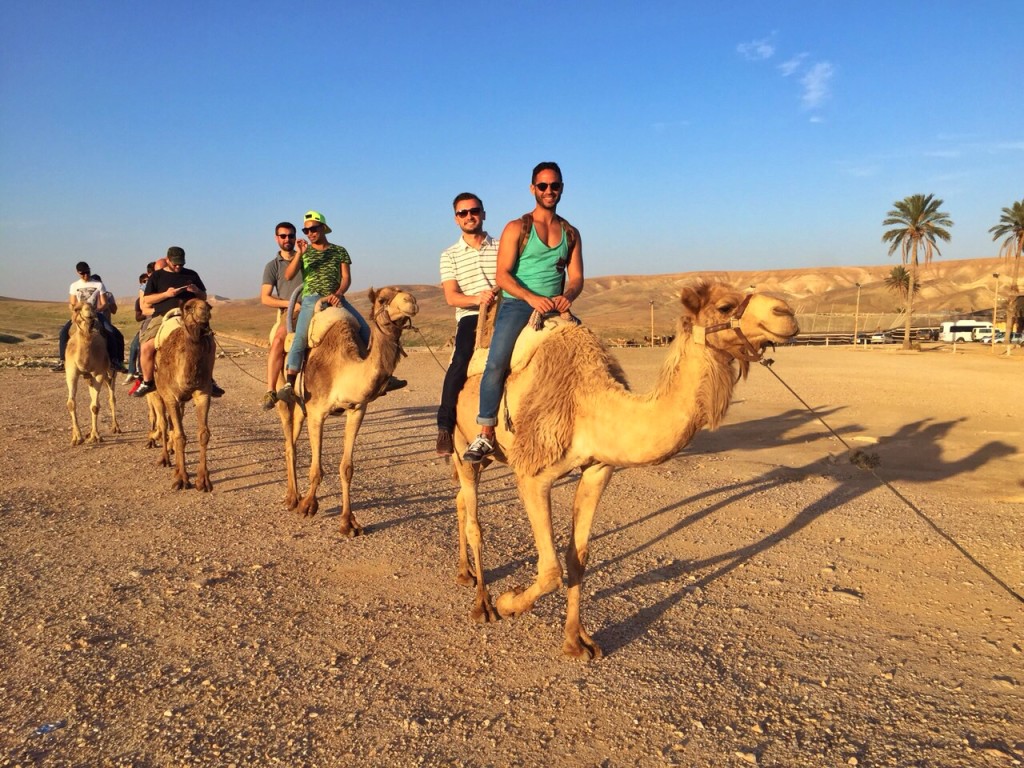 We also got the chance to talk to a real Bedouin and of course ask him awkward questions related to the bedroom situation. They all live in tents together. And the men are allowed to marry as many women as they like. This guy has 3 wives and 33 kids. One of them is triplets. The number three must be his lucky number.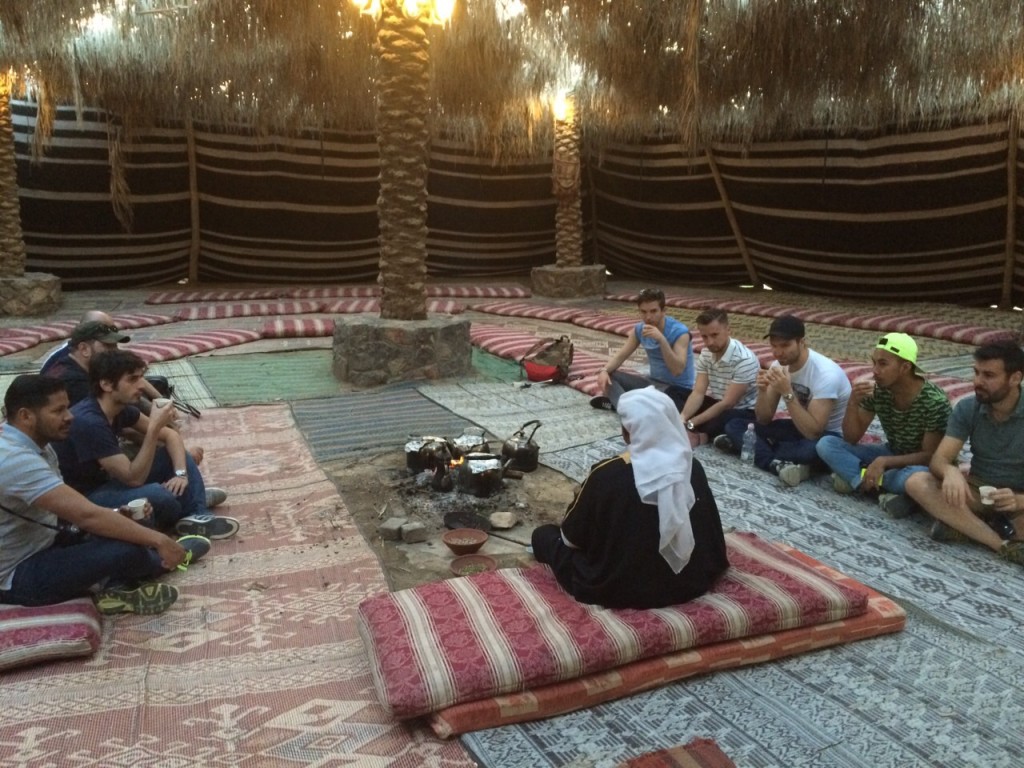 So the #BOGs were curious about the bedroom situation but no one dared ask explicitly. We all ask it disguised as other questions. Apparently none of the real Bedouins really live in this village. They all live in another village not far from Kfar HaNokdim. It seemed like it was created solely to welcome and host tourists.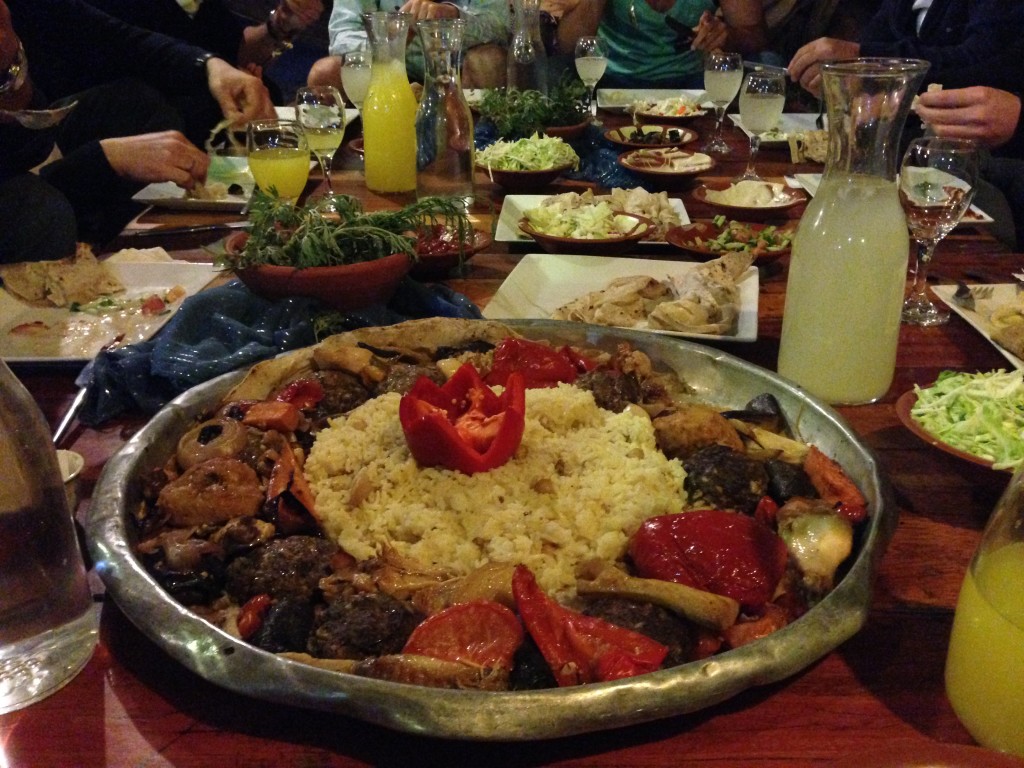 We enjoyed an amazing Bedouin dinner which again made me learn more about Israeli food. What I noticed though was that everything was so fresh and healthy. Thomas even pointed out that it's so easy to be a vegetarian or vegan in Israel. So if you're one, Israel is a great place for you!
Day 4 – Tel Aviv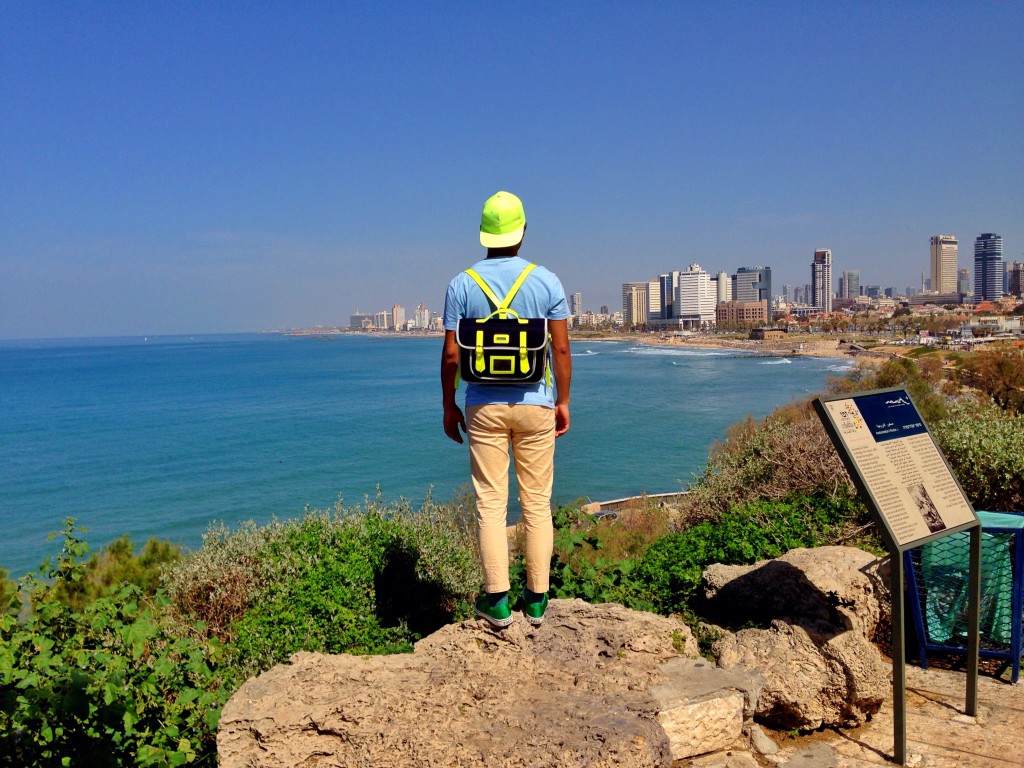 And then Tel Aviv! A city I've been dreaming of this for awhile. I was so excited to be finally here! You have to schedule Tel Aviv on a weekend so you don't miss out on all the fun (although I later learn it's still pretty happening during the week too).
We made it our base for the next 4 days. We arrive at night after our Bedouin visit so our first agenda? Drinks and party at Brown Hotel and boy, is Israel full of beautiful people? The place is packed with beauty! It's ridiculous.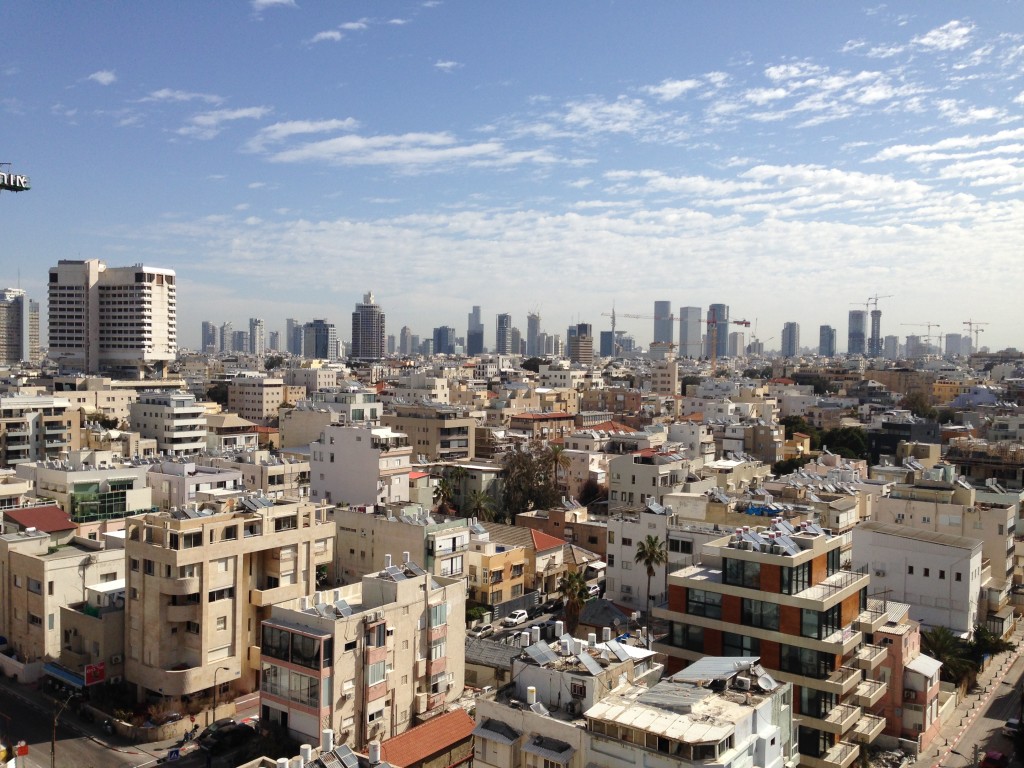 Our lovely expert tour guide, Tiki, met us again the next day and showed us around the various neighborhoods of the city. Tel Aviv was pretty small so we pretty much walked most of the day.
Commercial break: Israeli men are so handsome and they are everywhere!
Ok back to regular programming: We visited Jaffa, one of the oldest cities in the world. It's interesting how this place looks so different from Tel Aviv itself which is pretty modern with it's Bauhaus-influenced buildings.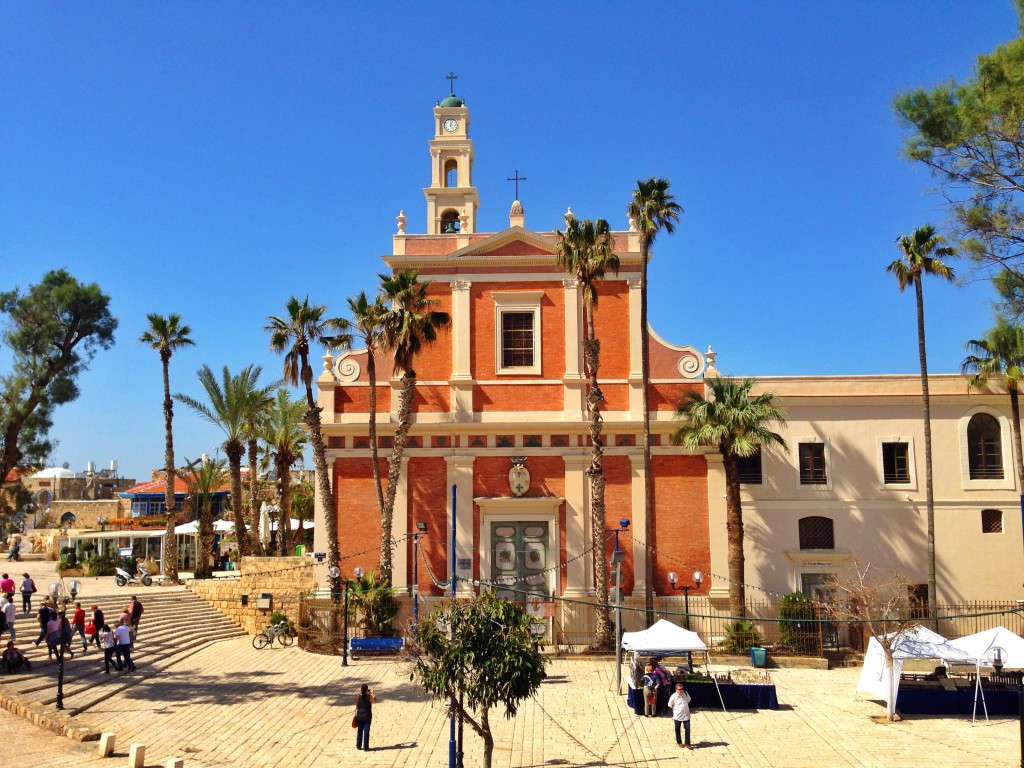 We explored Neve Tzedek, Rothschild boulevard, Carmel market and Shenkin area. I love people watching at Shenkin and Rotschild or actually pretty much everywhere in this side of town we explored.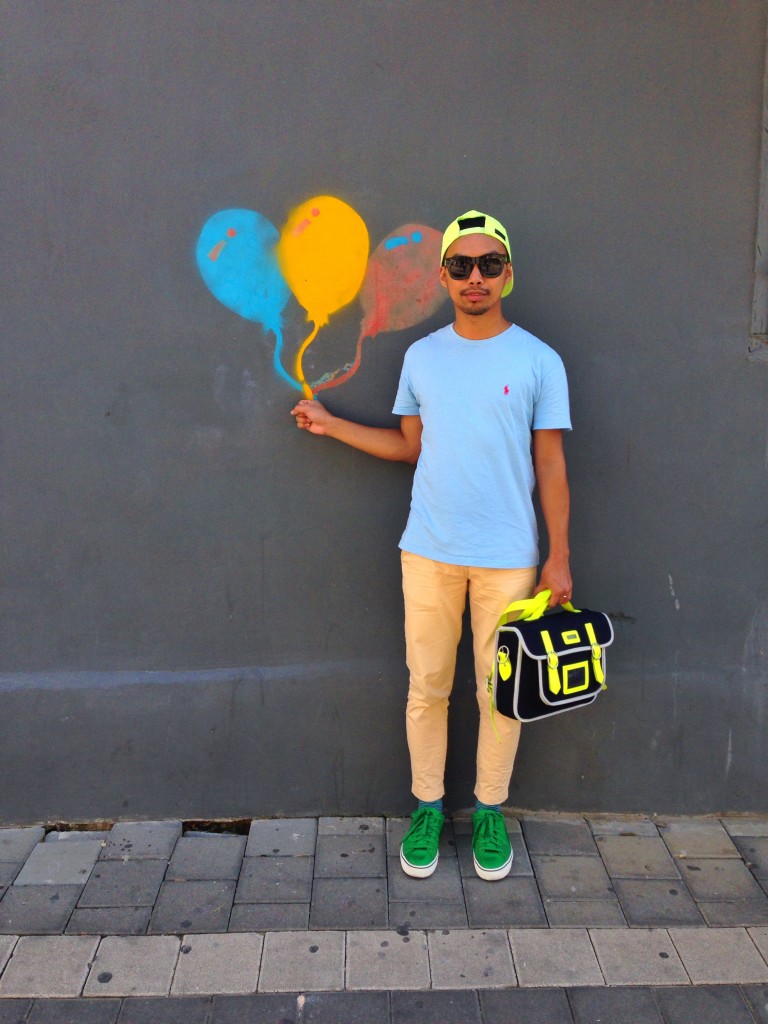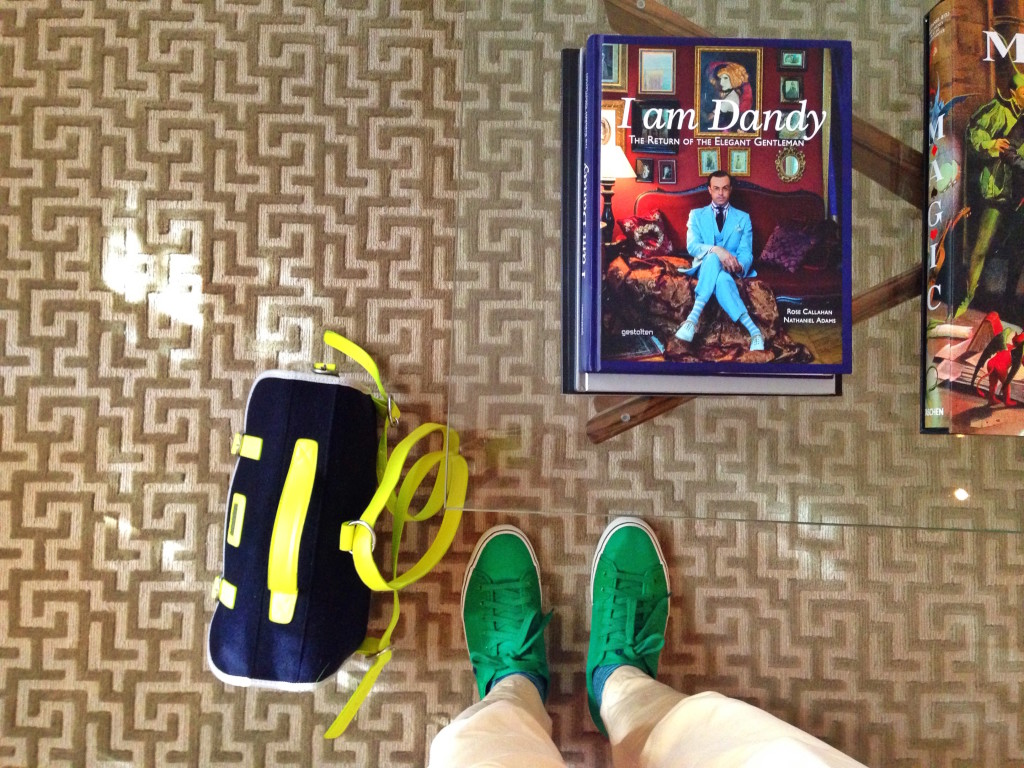 I am in love. Or at least super infatuated with the city. You know when you have a crush and you just kind of obsess over him/her specially on the first few days that you've seen him/her? That feeling. I am in love with Tel Aviv. I know it. I feel so connected to it immediately like how I felt with Stockholm.
I'm so in love with it I already want to move in and live here. It'll happen one of these days. I just know it.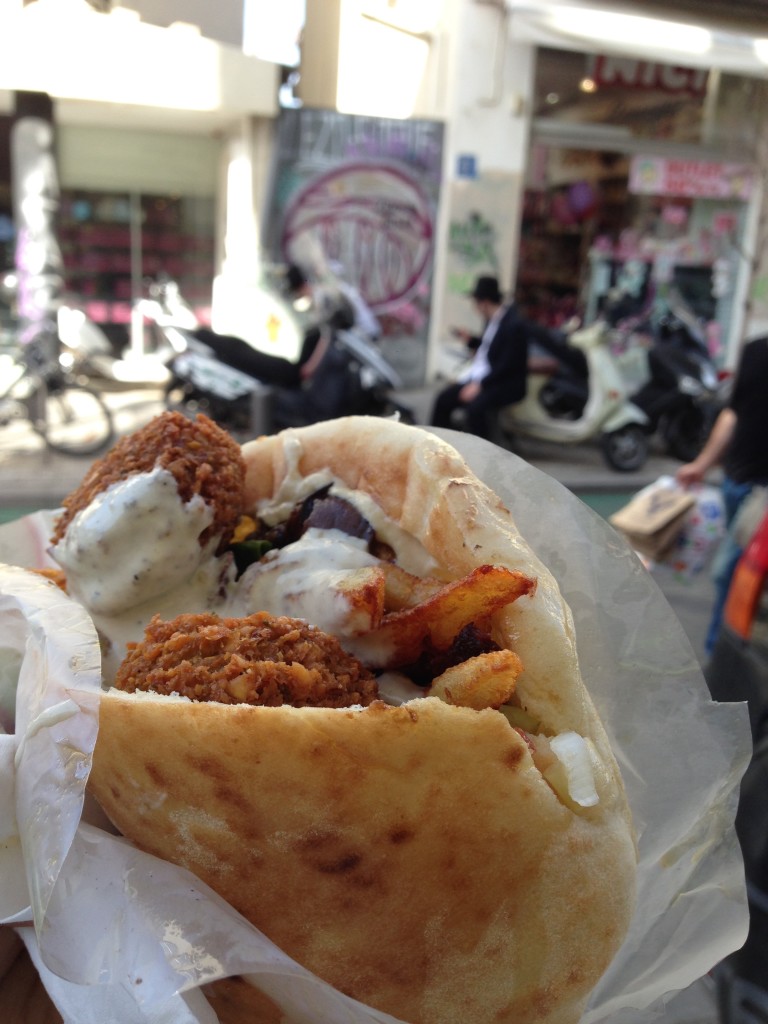 In the evening, Nadav took us to one of the best monthly gay parties at HaOman 17 club. The music was only Middle Eastern R&B and pop. It was so fun! Our favorite song during this trip was the kitschy Tel Aviv by Arisa featuring Omer Adam just to give you an idea what kind of songs was played in this party. Here are instavideos from the party.
Day 5  – Haifa and Caesarea
Let's just say it was difficult to wake up the next day for our day trip to the northern cities Haifa and Caesarea. I literally woke up, brushed my teeth, put my clothes on and run to our van waiting for us. Good thing I showered before going to sleep because I smelled like an ashtray after the Friday night party.
Haifa
Haifa is the largest city in northern Israel and is home to the beautiful Baha'i Gardens. I learned that Baha'i is a a monotheistic religion which emphasizes the spiritual unity of all humankind. They worship the flowers and the bees and the trees and we are all connected or something to that effect.
I am not even gonna pretend I know a lot about this religion because all I did was appreciate how pretty their garden is and enjoyed the views of the city from the top.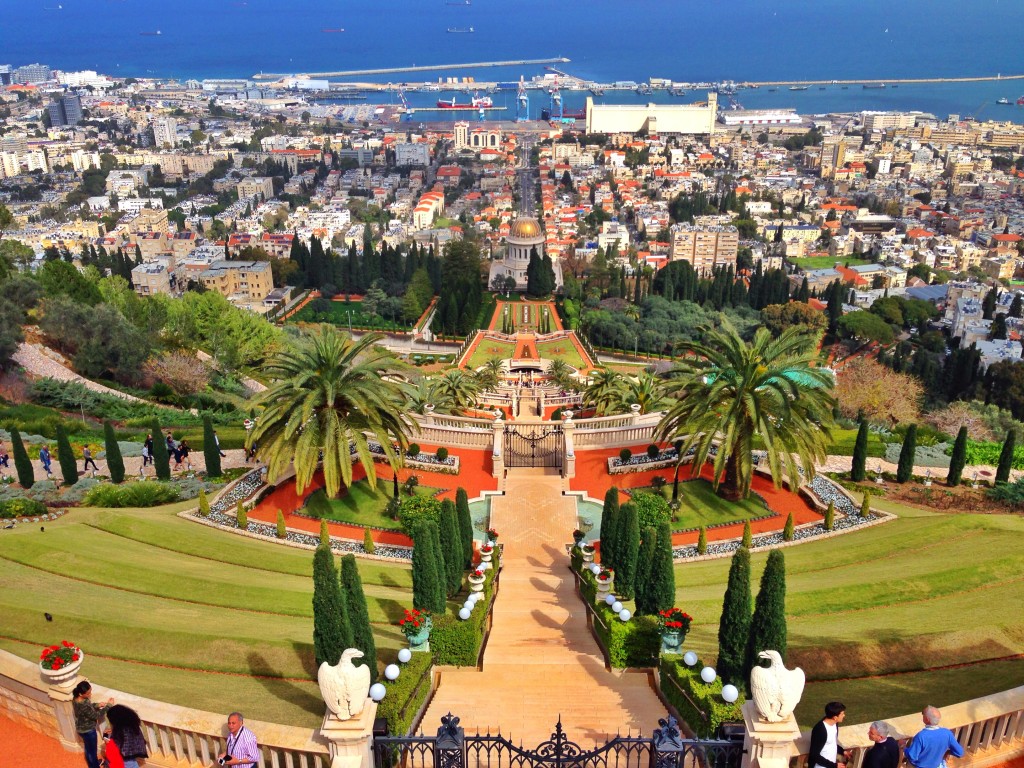 Caesarea
Most of our fourth day was spent on Caesarea, a town built by Herod the Great as a port city. It has a fascinating history and I enjoyed learning about how they constructed the port using super advance science (at that time!).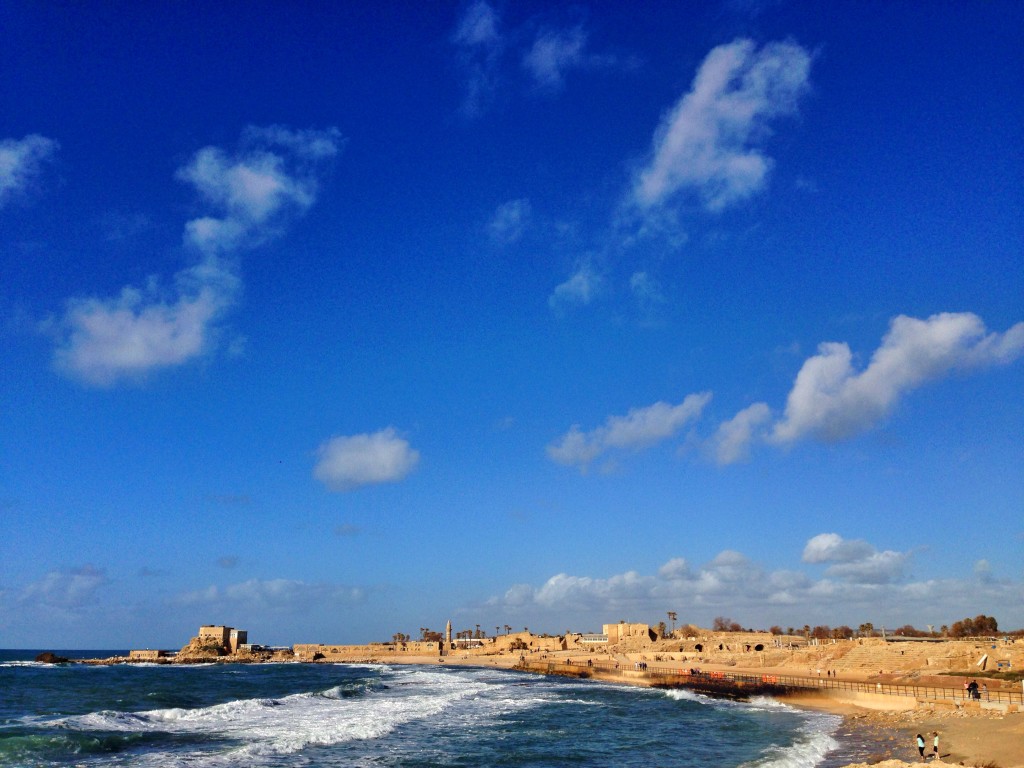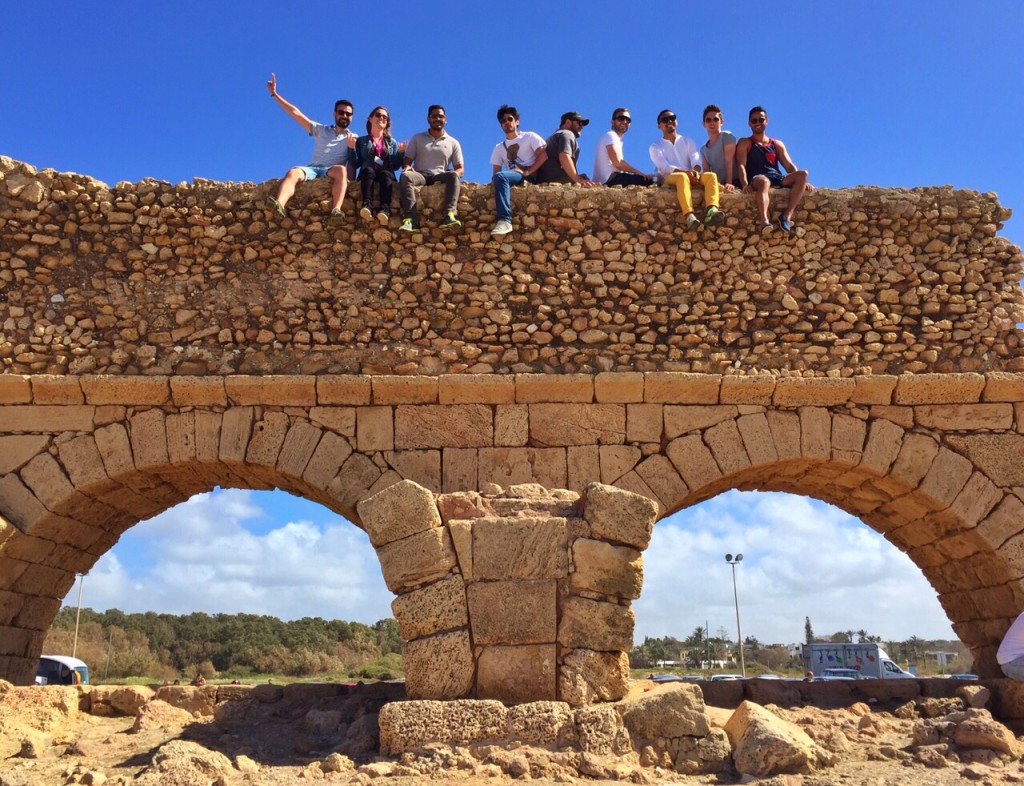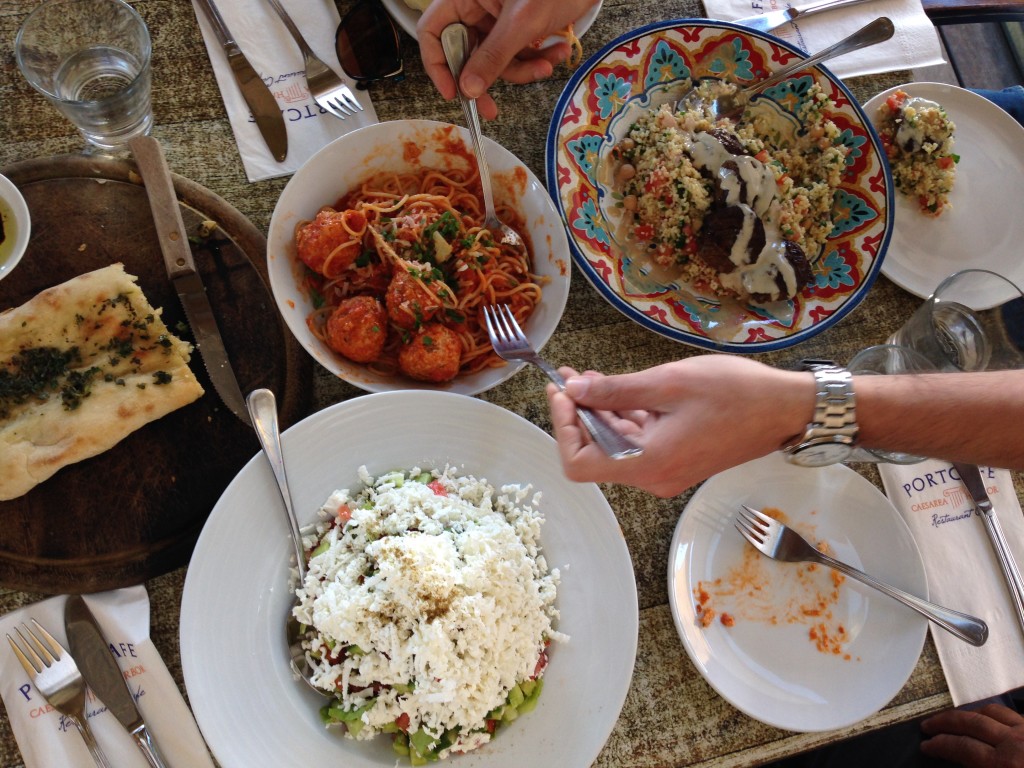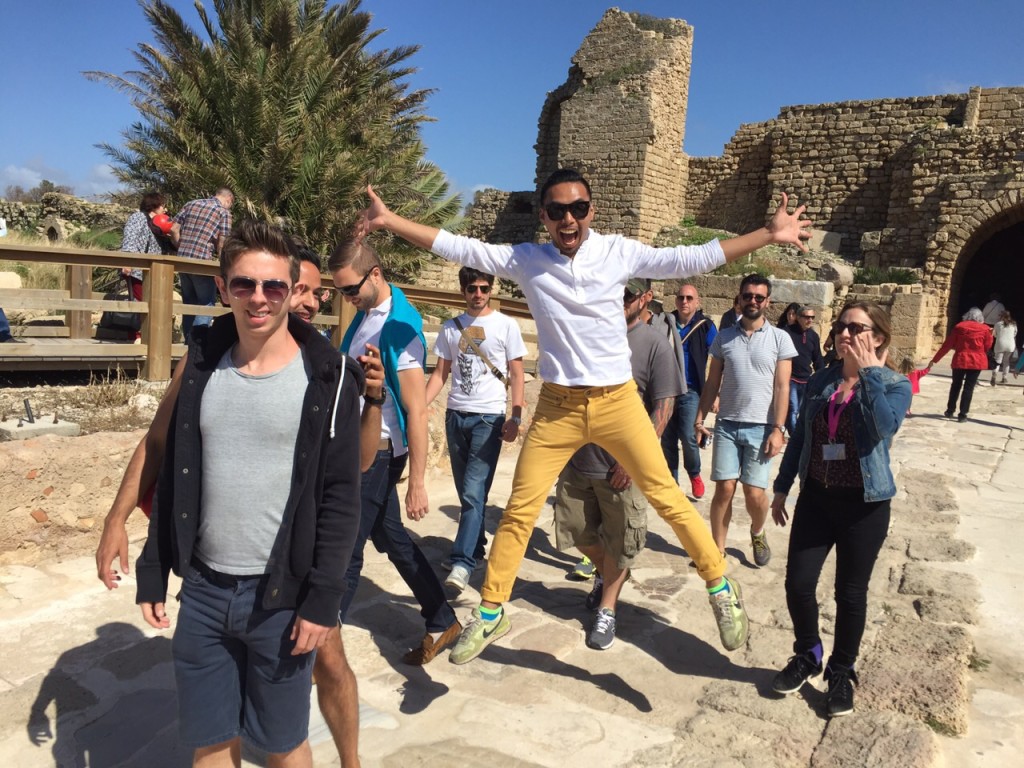 Day 6-7 Tel Aviv
We spent our last days enjoying the warm, sunny weekends in Tel Aviv by the beach and going around the town some more. Obviously we spent some time getting some tan at the gay beach in front of the Hilton Hotel.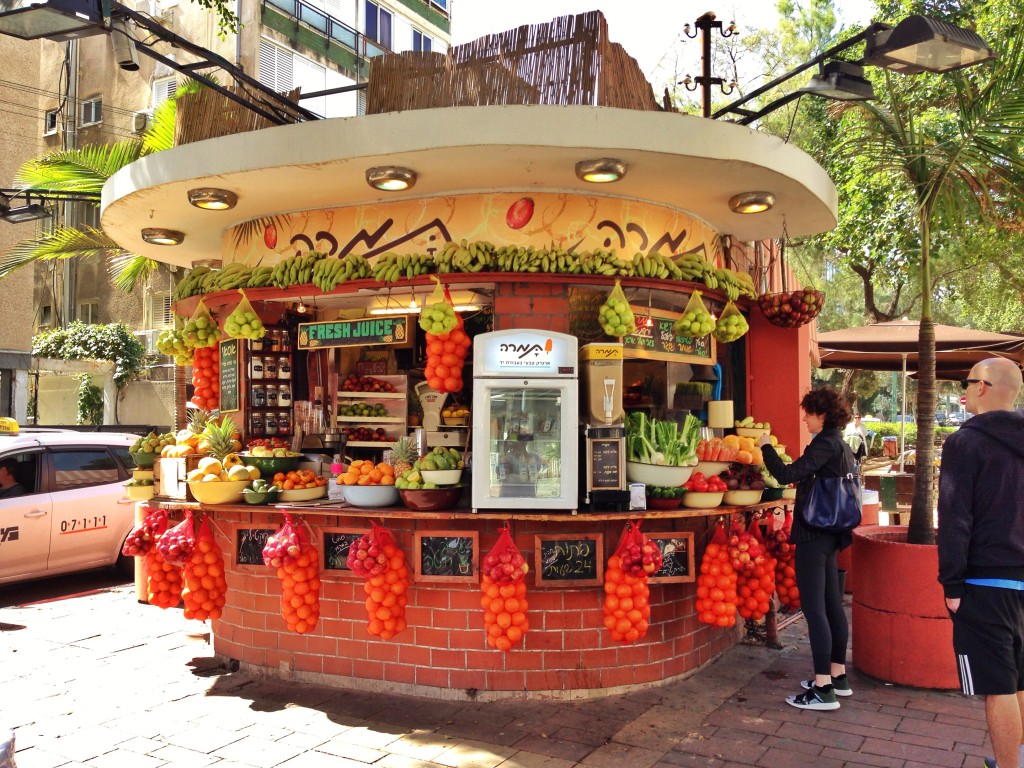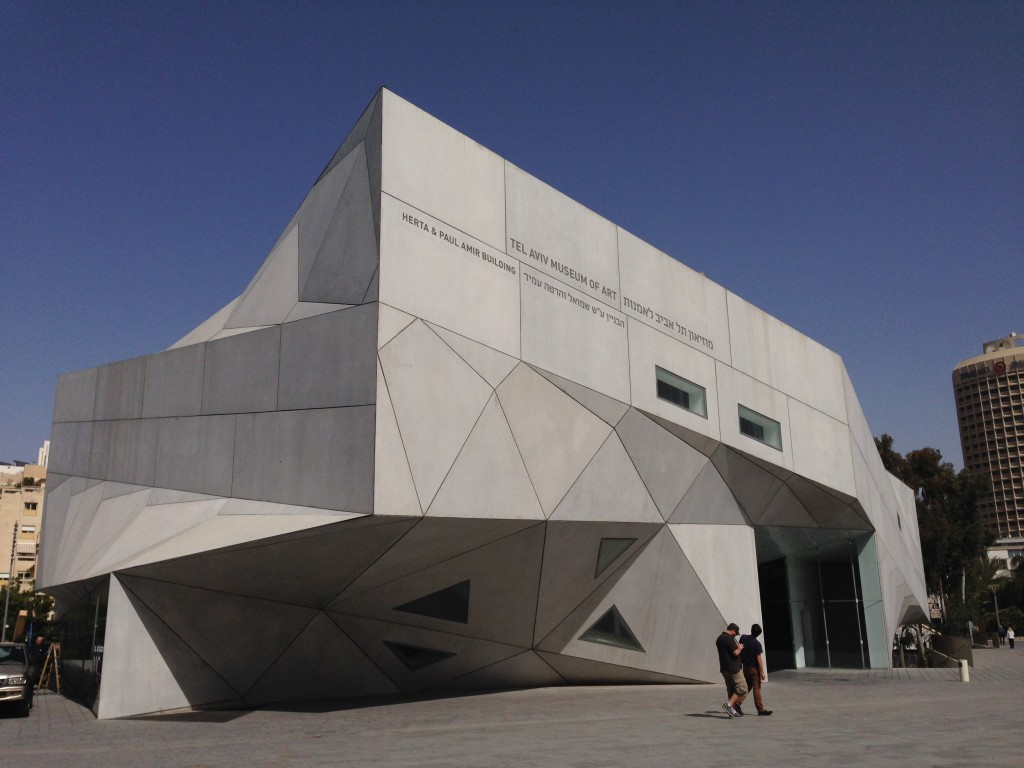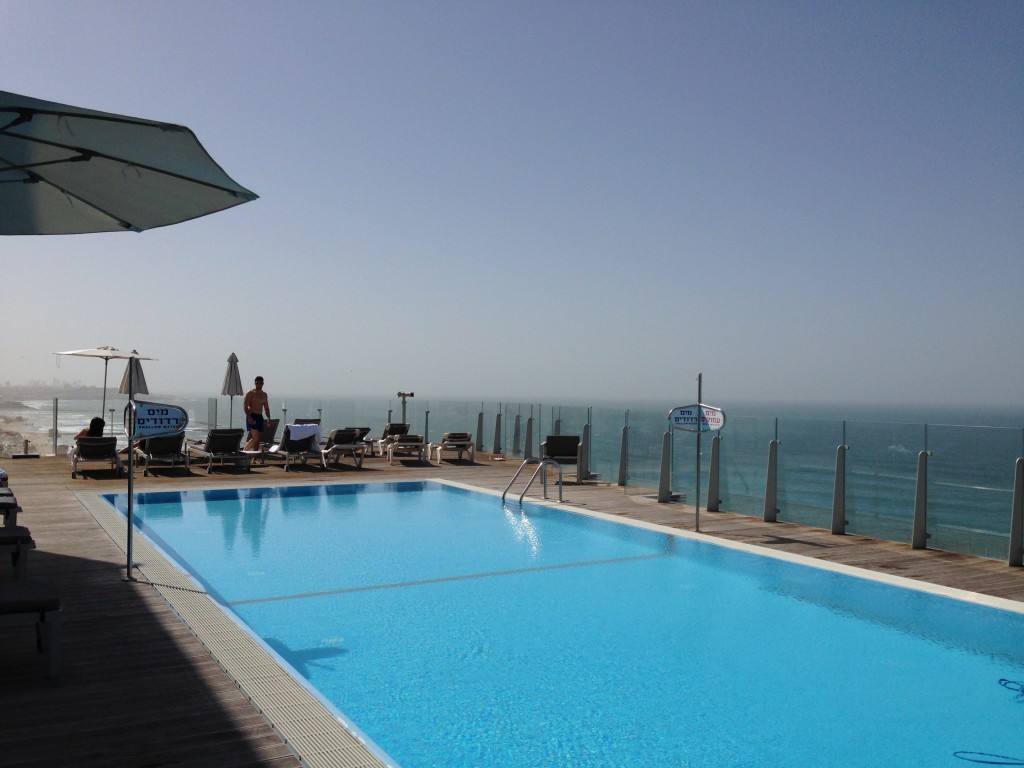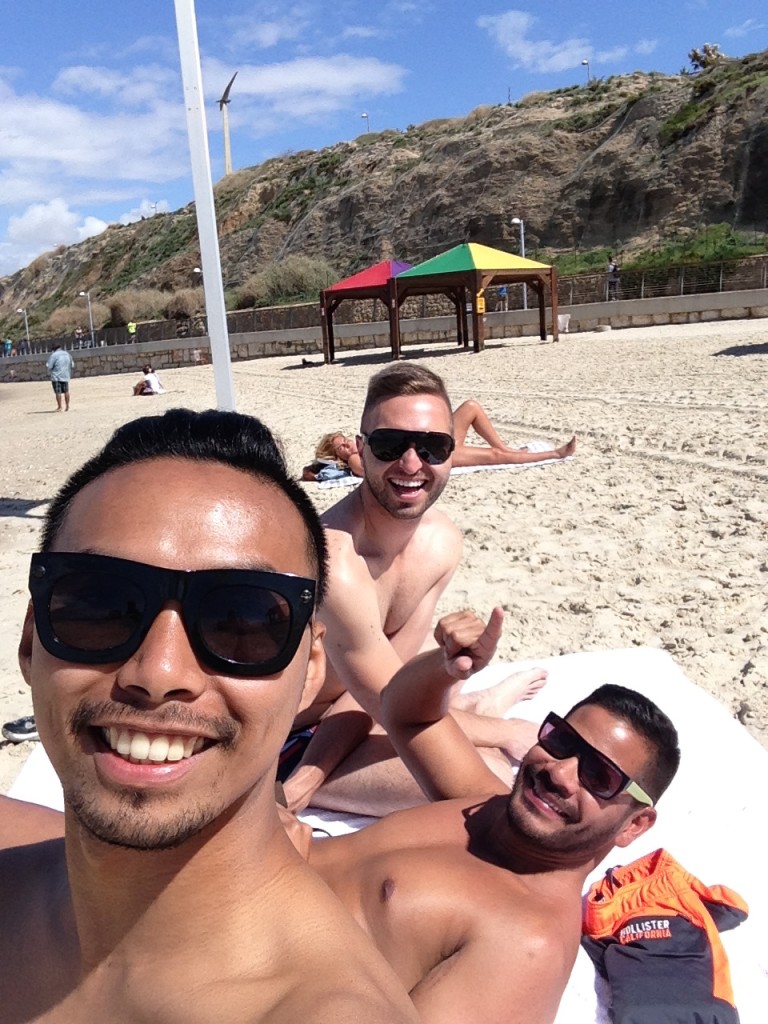 Here are some more places you should check out when you are in Tel Aviv:
Kuli Alma – cool, alternative club that also has a space for art exhibitions
Shpagat bar – cozy, design-forward gay bar; perfect for drinking al fresco and people-watching
Evita gay bar – one of the most popular gay bars in Tel Aviv and it's open daily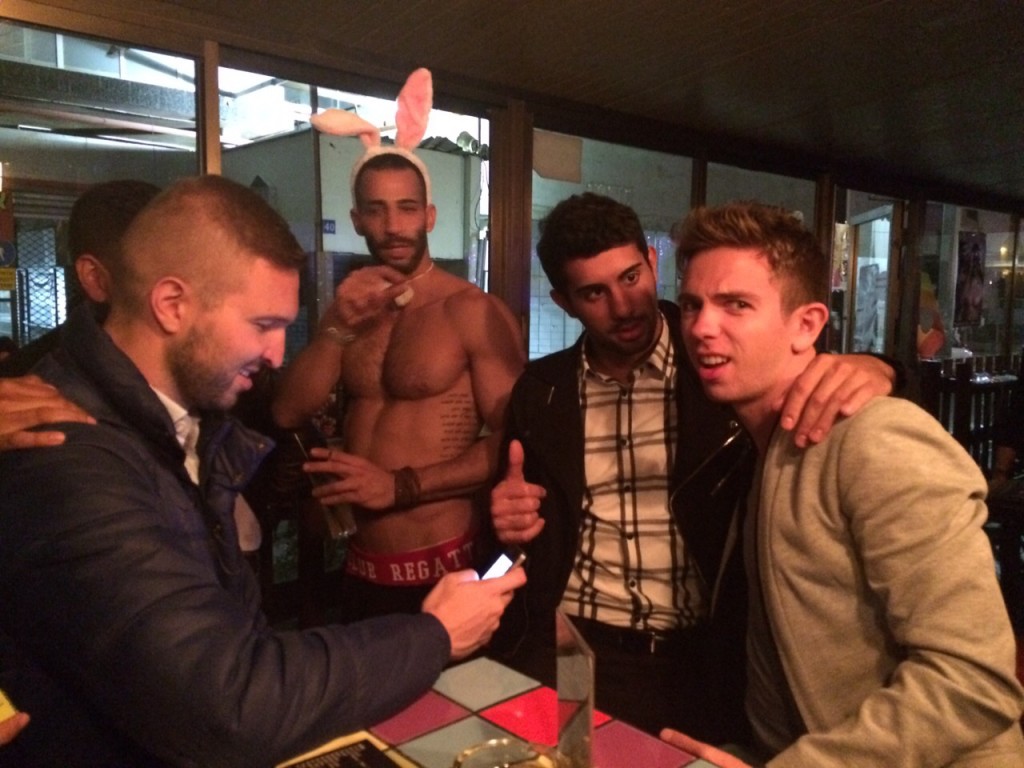 I truly had a great time in Israel with the #BOGs and Outstanding Travel. If you want to have a great time in Israel, contact Nadav and he'll make sure you'll enjoy the country. I'm so planning to go back in June for Tel Aviv Gay Pride.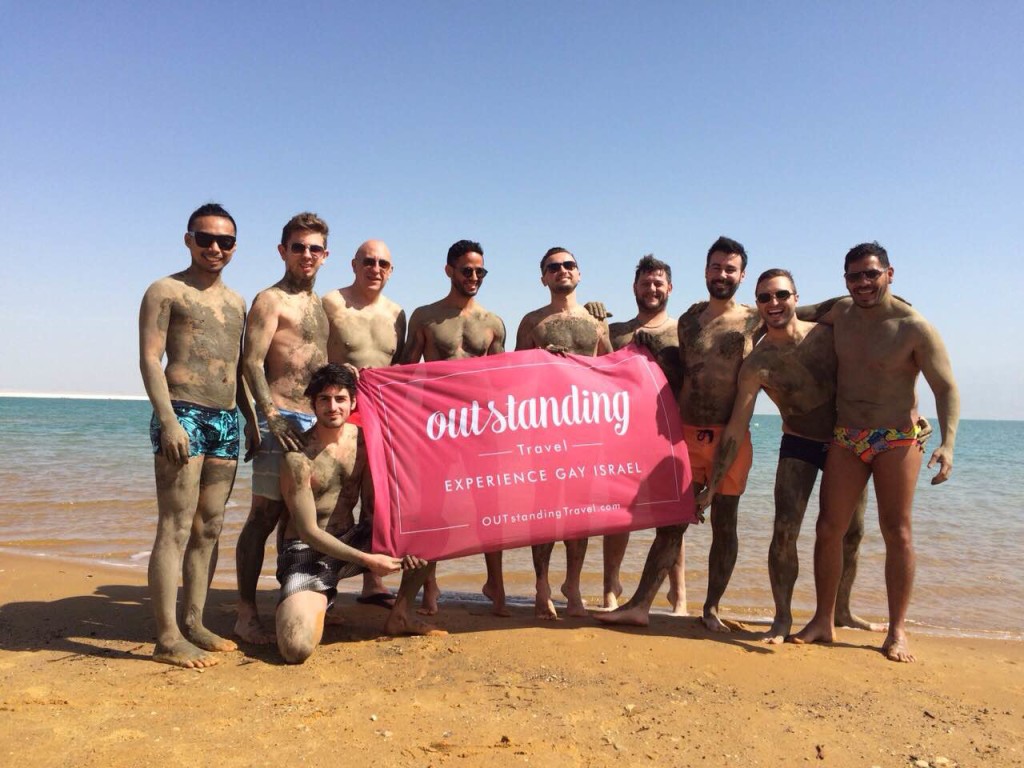 Disclaimer: This trip was in collaboration with Outstanding Travel. I paid my own flights and other stuff and stayed in Tel Aviv longer on my own to explore the city. All thoughts and photos unless otherwise stated are my own.