La bella vita.
The words roll off the tongue like a triple somersault of ahh's.
Lah bel-lah vi-tah.
The beautiful life.
What is a beautiful life exactly? Is it a life full of never ending euphoric moments? Or is it one replete with the beauty of both the pains and joys of living?
If there is a perennial aspect of Italy, it would be the pursuit of la bella vita or la dolce vita, the sweet, beautiful life of pleasure. It is for this pursuit that I found myself in Cesenatico, Italy one beautiful, sunny day in May.
Let's explore the concept of bella vita with mantis shrimps.
Chapter 1. The Pains of Living I
Like all important pursuits in life, this one came with its own set of obstacles. I spent three glorious summer days in Hamburg with Michael before my flight to Italy. I have a 7 AM flight to Bologna with a 2-hour layover in Munich.
I only slept for 2 hours and woke up at 5 AM to a very rainy morning in Hamburg. Obviously I did not plan to walk to the train station with my luggage in tow in this scheisse weather. So we asked the hotel receptionist to call a cab. "No one is available," he said after calling the taxi company.
Unbelievable.
Five o'clock in the morning and not one taxi was available? Were all the taxis being used by lonely men and working girls? I wasn't surprised since we were staying at Ibis hotel right by the Reeperbahn.
Time was running out so Michael, with umbrella on hand, decided to walk me to the train station. The poor thing. I got to the station wet but on time to take my train to the airport.
I flew with Lufthansa and had a stopover in Munich. "I feel so out of place flying with Lufthansa with all the biznaz men in suits while I don casual summer ghey away clothes. So I try to fit in by reading WSJ. I can't feign interest about politics though so I'm skipping to the lifestyle section where they feature upscale hamburgers in Bologna (sacrilegious!) and tracking down esoteric wines in France." I posted on Instagram.
Five hours later I arrived in Bologna, tired and exhausted. I have a 50-minute window to take the bus to Bologna Centrale and catch the train to Cesenatico. But of course my luggage took forever to arrive so I missed the bus and have to take another one.
Chapter 2. The Pains of Living II
Welcome back to Italy, I muttered under my breath.
I have been to Italy a gazillion times so this was not something that should frazzle me. I met Hubert and Martina, German travel bloggers who were with me on this trip, on the bus to Bologna. We ran to the main lobby as soon as we arrived at the train station.
People were running to the stairs, standing in the middle while looking at the info board or lining up to buy train tickets. There were shouts, laughter, announcements over microphone and the sound of someone about to miss a train.
There is such a sound. The sound of someone about to miss a train. It sounds like a panting dog and rubber soles squeaking on floors.
A beautiful Italian chaos. And then there was us, horrified to read that our train was delayed for an hour.
We went outside the station and spent the time eating on a bench under the sun.
Since the train was delayed, the platform was full of Italians waiting to go home to their families for the weekend. I resolved to get a seat and not stand in the entire duration of the trip. Not sleeping was taking its toll on me and I needed to get some rest.
When the train arrived, I elbowed my way in and successfully got a seat. Hubert and Martina ran to another wagon. The train was Standing Room Only, packed like a bus in South East Asia. I had to put my heavy luggage up to make space for other people to stand in the aisle. As soon as the train left, I fell asleep.
I woke up 30 minutes later because our train stopped longer than usual. I felt hot and sweaty and wanting some breeze of air. But the feeling of exhaustion won over the feeling of being uncomfortable. I ignored how warm I felt and dozed off.
I bolted awake 20 minutes later from the noise of Italians in the train. The train was not moving and I was confused if it was a new stop or we haven't moved at all. I looked around a bit and realized that we haven't moved. A lot of people were starting to exit the train in haste. What the hell is happening, I wondered. Do we have to change trains?
"Excuse me, do you speak English?" I asked my seat mate who looked like he was busy studying for a Calculus exam. He shook his head. I asked three other people nearest to me and of course no one spoke English. I figured my seatmates were still seating so everything should be fine.
WRONG.
The train continued its journey and I found myself in Cesena station after a 2-hour journey with Hubert and Martina. (The trip is normally one hour.) I asked if they know why we got stuck in the middle of nowhere for almost an hour.
"There was a fire or something in your wagon."
What the Beyonce?!? If I had known this I would have freaked out and took another train. Talk about ignorance is bliss. Or possible death. Le sigh.
We waited for Alessandra who picked us up and drove us to our hotel. I arrived at Hotel Roxy and Beach at around 4:30 PM, almost 12 hours after I left our hotel in Hamburg. It takes as much time to fly from the Philippines to Europe. I just wanted to drop dead in exhaustion.
Chapter 3: The Joys of Living Part I
But I couldn't. As soon as I looked out from my balcony, I know the sea was calling my name. Isn't this why you came to Cesenatico? I told myself.
You have to understand that I haven't been to the beach in almost a year. I need me some beach. I borrowed a bike from my hotel and biked to the beach with the guys. There was nothing like the smell of the sea and the warmth of the sun on my face. I am famished at this point and I was happy that we were hanging out and eating at the gorgeous Mare Cesenatico cafe and restaurant.
You could guess what I ordered first. No. It was not a plate of pasta.
Bloody Mary, per favore. I kind of needed it.
Is that bella vita? Drinking whenever and whatever you want and enjoying the moment when you're breathing fresh, sea air?
We biked along the canal and went to the the picturesque historical center. This was my absolute favorite part of Cesenatico. It kind of represented everything I love about Europe. It has a beautiful canal where historic fishing boats are displayed. Cesenatico's port canal was surveyed and drawn by Leonardo da Vinci and it is often claimed erroneously that da Vinci designed it. Restaurants, gelateria, clothing shops and cute, colorful houses line the canal.
What I loved about it the most though was the atmosphere. At 11PM, the town was very much alive. Kids running around with gelato in hand. Families having dinner together, all dressed up. An old couple holding hands, taking a stroll. Groups of young Italian boys having dinner together in dress shirts and leather shoes. Caitlyn, an Australian blogger who was also with us on the trip, pointed this out to me as something weird. She said that guys in Australia would hangout to get pissed drunk and not dress up to eat dinner with other guys.
Well, not in Italy. Is this bella vita? Dressing nice and enjoying long dinners at 11 PM with people you love as if you don't have work at 7 AM tomorrow? If it is, I like this concept and I would like to enroll in the program. Because I am a huge advocate of long brunches/lunches/dinners. They ARE good for the soul.
Why else do I throw dinner parties or Sunday brunches in our apartment?
Chapter 4: The Joys of Living Part II
The next day we biked to Stamperia Braghittoni, an artisanal shop, and learned how they make their own colors and prints. It's a lot of hard work and dedication to create one piece. Here's me trying it taken by Hubert:
Here are some of the finished products. Notice how artisanal products are not perfect. That's what makes them unique and special. You can also tell if something is hand-made or machine-printed: the colors seep through the cloth if its hand-made. There's always something new to learn everyday.
Is that a bella vita life? Owning your own little shop and being content and happy with it?
The rest of the day was spent eating more Italian food. I discovered Cannochia (mantis shrimp or squill in English), a crustacean only found in the Adriatic and Mediterranean. It looked like a cross-eyed flat lobster. It looked weird and kinda unappetizing but it was delicious. You eat it by sucking its white flesh from its shell. I love it.
Wine and olive oil are staples in Italy. You could not leave Italy without having some of both. I drank glasses of Sangiovese wine in Tenuta Neri vineyard and tasted some of their olive oil. The Italians are pretty serious about their wine, olive oil and pasta. How bella vita is it to have your own vineyard and olive trees to produce your own wine and olive oil?
We couldn't care to see a fortress since we were in a beach destination and we still didn't spend some time in the beach (the horror!) so we spent the afternoon by the beach. We talked about how Caitlyn was kind of stressed with European beaches. And then there was me ordering beers and talking in German with Italians. ME TALKING IN GERMAN! They don't speak English but they speak German because they have many German-speaking tourists.
Sometimes I question myself why I even bother learning German. Well, I think I should stop questioning this now.
Later that night, we had dinner at Hotel Excelsior which was massive and delicious. Italy you can stop impressing me with your food. I can't anymore. I had Cozze alla marinara con pane all'aglio (mussels with garlic bread) and proceeded to eat it with my bare hands.
"Bravo," said Marina from Hotel Excelsior, complimenting me for knowing how to really eat mussels.
In my country we love eating with our hands! Can I be the first to pen this as organic eating? You have organic vegetables, organic meat etc so I guess we can also have organic eating? Natural, Paleolithic-era style of eating.
But I guess that's not so bella vita.
By the time I finished my pasta and risotto (yes, carb-loading is a thing in Italy), I was super ready for the sorbet dessert. But no, they served me more plates of fish. I was in a state of shock for a second – only for a second – and then continued eating. How could I not?
Let's just say I slept soundly that night.
Chapter 5: The Joys of Living Part III
We ate a proper breakfast at Grand Hotel da Vinci on our last day. I say proper breakfast because most hotels/hostels/BnBs/friends in Italy mostly serve just sweet pastries and coffee and call it breakfast. Grand Hotel da Vinci had everything I wanted.
Finally we spent more time at the beach, enjoying the sun and water and me getting some Vitamin Sea.
Before we left, we were eating lunch and Alessandro, a local from Hotel Stacchini, came to join us. He grew up in Cesenatico, lived in other European cities and decided to come back and stay. I asked what he loves most about Cesenatico and he immediately replied:
People go to the beach from 9 AM until aperitivo.
I guess that's truly bella vita.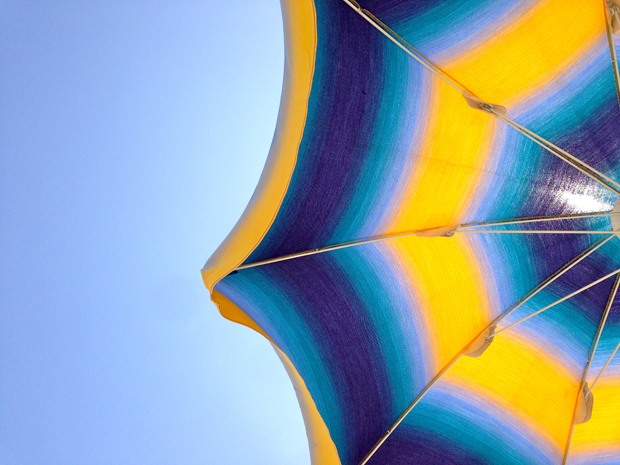 Disclosure: I was a participant of the blog tour hosted and organized by Cesenatico Bella Vitta Union in cooperation with 21 Grammy. All stories, experiences and thoughts are my own.