Inspired by Brucie's Valentines menu in New York, I created our own Beyonce-themed Valentines dinner menu that I will cook tonight for my hot, hot date. I probably haven't made it public yet but Beyonce is my favorite pop star.
I have been a fan way back in high school when she was still with now-defunct Destiny's Child. Their album The Writings on the Wall is THE only original music CD I ever bought in my life. Free downloads happened after that so there. This coming March I will see her live for the first time in Cologne! I already have my tickets. Eeeeek. *confetti confetti*
Anyway, back on topic. People said "make love not dinner" this Valentines and to that I say, "fuck that shit! make a full-course dinner, get drunk and then make love". And since I wanna have fun as usual, below is my version of a Beyonce-themed Valentines dinner menu.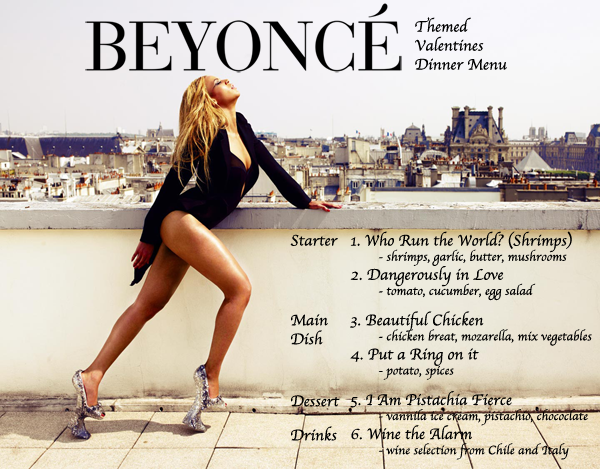 Let me explain what these fierce foods are.
Who Run the World? (Shrimps)
This one will be an easy breezy buttered garlic shrimp with mushrooms. Heat the butter, fry the garlic and then put the shrimps and mushroom. Add salt and pepper to taste.
Dangerously in Love
I'll be preparing a salad channeling this deadly, poisonous mushroom lewk: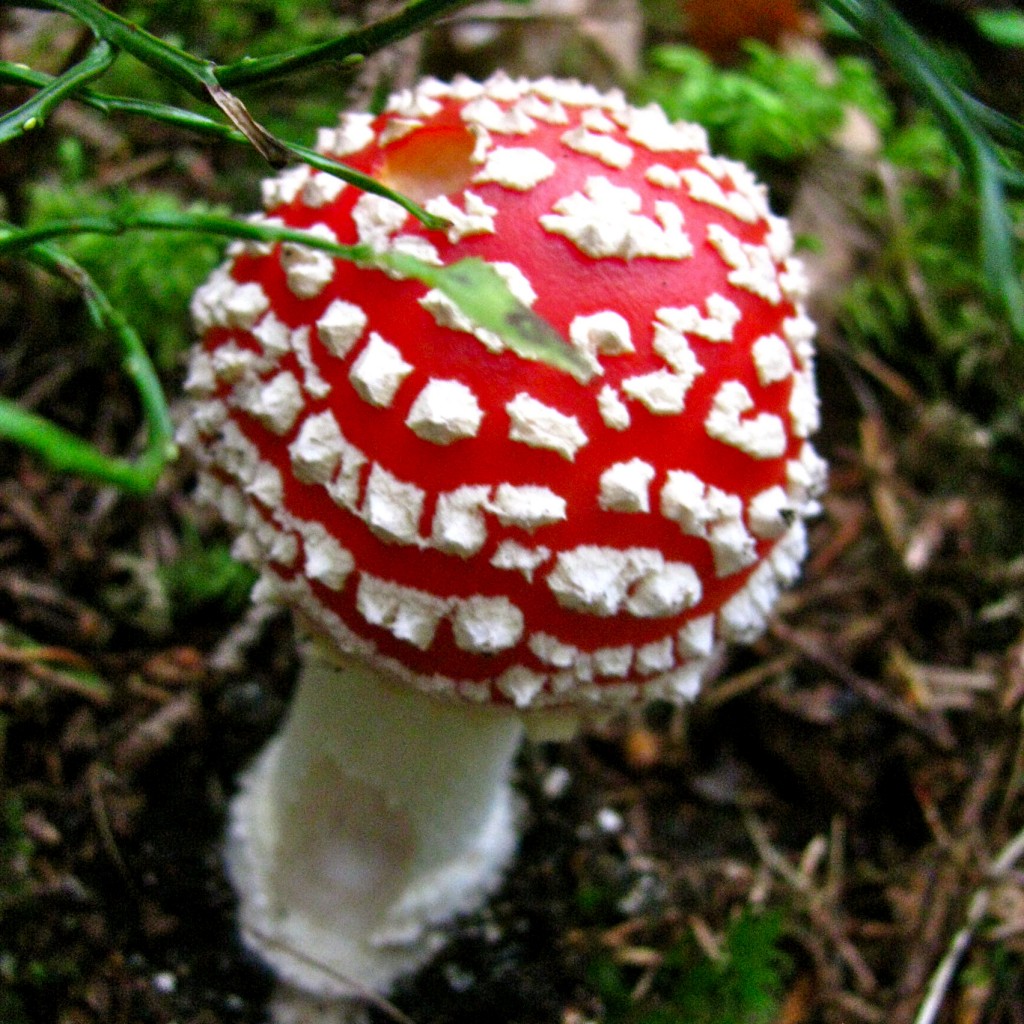 It's made of cucumber, tomatoes and egg salad. The egg salad is an easy breezy mixture of creme, hard-boiled eggs and gewuerzgurke (spiced cucumber in English). The cucumber will be the stem, the tomatoes the head. I'll use mayonnaise to create the white dots. And the egg salad? It will be inside the cucumber.
Beautiful Chicken
This is baked chicken breast covered in mozzarella on a bed of mixed vegetables (carrots, zucchini, mushrooms and bell peppers). I'll add cream to keep the dish wet and creamy. Add some basil, oregano, salt and pepper to taste. And then pop it inside the oven at 200 degrees for around 30 minutes. Voila!
Put a Ring On It
Circular potato slices fried lightly with some Arabic spices. Add salt to taste!
I am Pistachia Fierce
I am addicted to pistachios lately and so one time I experimented with it. I love ice cream and I decided to add crushed pistachios on top of my vanilla ice cream. Add as much as you want. Make sure the pistachios you buy is the salted one. The saltiness of the pistachio and its texture adds an interesting dimension to an otherwise boring vanilla ice cream. Squeeze some liquid chocolate if you like.
Wine the Alarm
We'll have some wines from Chile and Italy and I probably will have some champagne. My hot date is not so much into champagne so I'll most likely finish the bottle myself.
And then you know…
…the REAL dessert. 😀
Happy Valentines everyone! Watch out for Part 2! I'll let you know how my Beyonce-themed Valentines dinner go the next day!
What are you doing this Valentines?
*