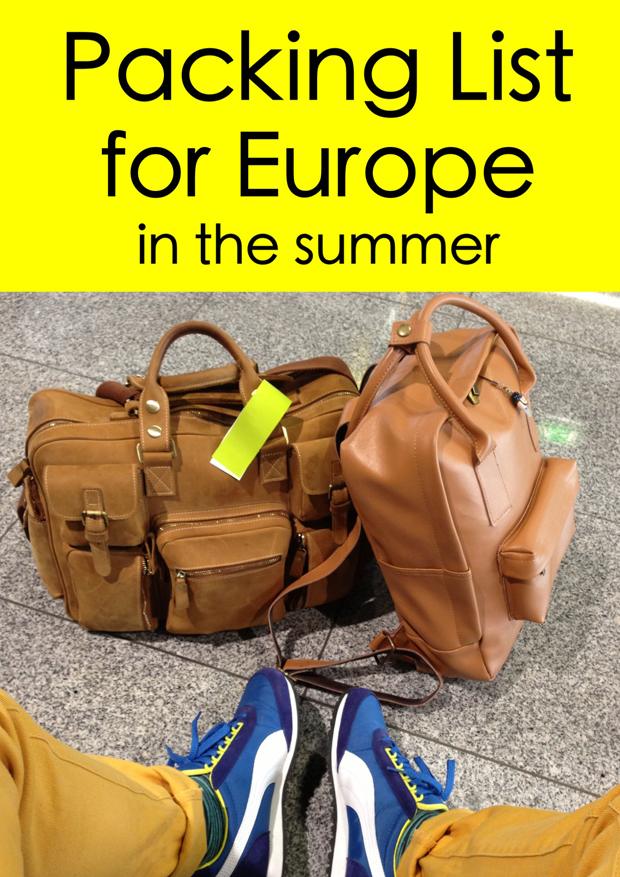 What's hot and what's yuck in Europe for summer? How do you stay looking amasin' (as the cute Spanish boys would say) and stylish as you're getting tanned in Mykonos, partying in Berlin or eating gelato in Rome?
Hint: NOT jersey shirts and DEFINITELY NOT zip-off pants.
This is a totally unsexy topic but I'll try to make it a tad bit sexier. Summer is definitely here and I get asked every now and then how to pack for a summer trip in Europe.
Well, it's actually pretty easy and you don't need to pack too much. There are just a few essentials you need to pack and here are mine:
1. Tank tops – get them with summer prints or plain bold colors and a size bigger because fitted tank tops are a no-no. They make you look cheap and chav-y.
2. Shorts – denim, flower prints, silk or whatever flatters your ass. Get them! Europeans are all about wearing shorts as soon as the sun creeps in the horizon in spring even if it's still 10 degrees. Sun = shorts time.
3. Printed shirts – Tank tops are perfect for your trip to the Med (that's short for Mediterranean) but you might want to pack one or two nice printed shirts for those times you'll be going out for dinner in big cities. You don't want to look like just another faux-hippie backpacker. You should look like you're a well-travelled, fabulous biatch and you're like lunching in Paris, aperitivo-ing in Rome and dinnering in Madrid at 11 PM because that's totally the norm in Spain.
4. Straw hats – it's versatile and works with any lewk.
5. Sunglasses – Summer days are long here. And I mean LONG like almost 22 hours in Scandinavia. 11 AM til 6PM can be blindingly sunny and you would want to protect your eyes so you can ogle those cute Europeans easier.
6. Leather bag – it's effortlessly stylish and classy period.
7. Funky headphones – if you listen to Kelly Clarkson just stick with your supermarket earphones. Just kiddin'. I mean if you've got taste in music, flaunt it via your stylish headphones.
8. Swim shorts or trunks – I love Europe because everyone just freakin wears Speedoes or goes naked here. Whether you're in Barcelona or Sardinian beaches, the speedo situation is everywhere. But if that makes you feel uncomfortable, it's okay to wear shorts. Just don't wear a T-shirt with it though because it instantly makes you stick like a thumb covered in mittens. It's warm. Lose as much clothing as possible.
9. Sneakers – because if you know anyone who walked around in Europe (or pretty much anywhere in the world) wearing chucks without getting blisters and shit please tell me. I need to know how he/she does it. People wearing chucks and walking around them are suffering for fashion. Pack a comfortable walking shoes because you will be walking A LOT. I love my Puma and Nike sneakers.
10. Underwear – traveling for two weeks? Pack a week's worth. Traveling in Europe for a month? Pack a dozen. Well at least that's what I do anyway. Some people pack less but I can't be bothered to think about the laundry all the time.
11. Flip flops – well. DUH.
12. Moisturizers/sunscreen– swimming in the ocean or pools can make your skin dry, so moisturize! And it goes without saying: sunscreen your beauty.
13. Lip balm – those lips gonna be kissin'. Burt's Bees is the best!
14. Macbook Pro – you don't need to but I always bring my laptop when I travel. It's like MY LIFE.
15. iPhone 5 – or whichever smartphone you are loyal to so you can Instagram and Facebook and do all that social bragging shizz that comes with traveling.
What do you normally pack for your summer trips?
*
Related: How to get a flight reservation for visa application