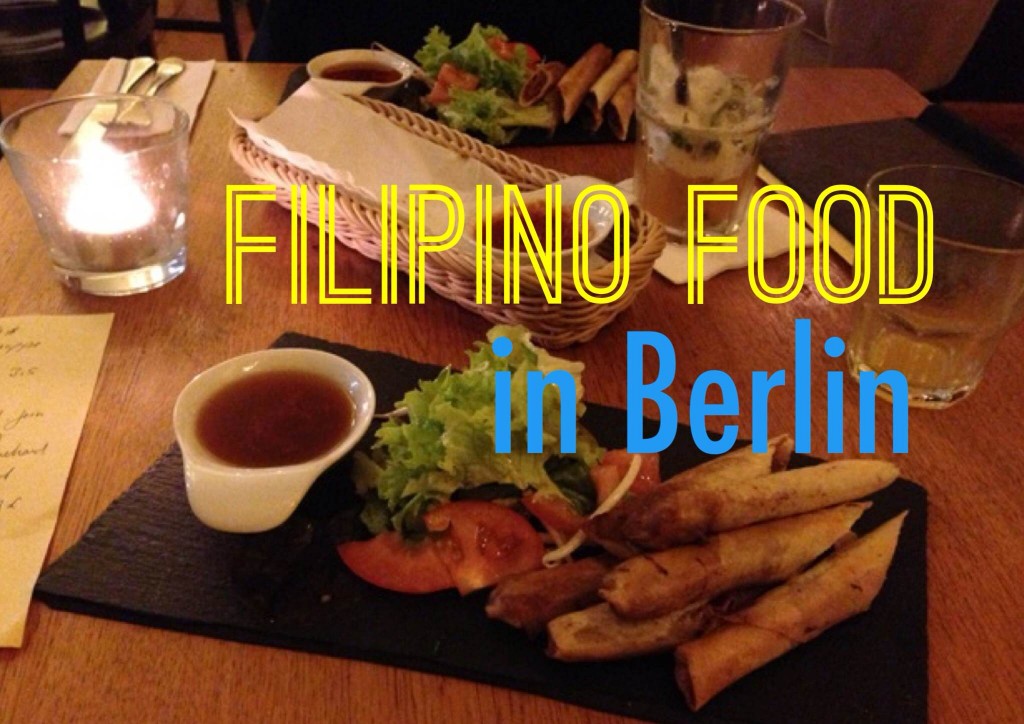 You know that feeling when you're traveling and you get cravings for food from home? You just can't ingest another plate of schnitzel or curry wurst anymore? I sometimes have that. I want to pig out on adobo lechon kare-kare sinigang na ulo ng bangus tinolang manok longganisa shet pati dinuguan pinakbet ginataang alimango ok tama na. Nagutom ako bigla.
But it's always difficult to find a Filipino restaurant in Europe even in the big cities eh so I always end up going Vietnamese or Thai just to satisfy my cravings, you know? Naging conyo bigla haha.
Imagine my excitement when my Fil-Am friend Anne told me that there is a Filipino restaurant in Berlin and asked if I wanna go check it out with her. I said YES without batting an eyelash.

Located in Prenzlauer Berg, Pan Restaurant is small, cozy and not overran by hipsters. It has bamboo walls on one side of the restaurant and the interiors have a bit of Filipino feel to it. The restaurant is actually just called Pan and not Pan Filipino Restaurant. It had the words "essen trinken leicht" (food, drinks, light snacks) underneath the name.
We met the Turkish owner who took our orders. I'm kind of anal about how companies brand and project their brands into their products and spaces. So I asked him why his restaurant doesn't say Filipino on it even though they clearly serve Filipino dishes among others. I mean it would totally help differentiate his business from the thousands of restaurants in Berlin. He shrugged. He seemed not prepared to answer such questions.
I ordered lumpiang shanghai (fried spring rolls) and pinakbet bagoong (mixed veggies in fish sauce) which is kind of redundant because pinakbet will ALWAYS have bagoong. Apparently, he is married to a Filipina which is why they have this restaurant. Anne had adobong manok and mango juice (and cassave cake as takeaway).
The food was both good and a bit disappointing. The pinakbet was good. It was nothing special. My mom cooks way better pinakbet but I'm not complaining. I devoured the plate like a hungry beggar and even asked for extra rice.
The lumpiang shanghai was served with fresh vegetables on the side. The lumpia was good but the salad on the side was drowned in patis (fish sauce). Who does that? Since when was patis ever used as a salad dressing? I ate it nevertheless because I was so hungry. I warned Anne not to have hers though.
Anne didn't seem impressed with her adobo too. The rice was drowning in soy sauce and I can just imagine how salty it was. But nevertheless I was happy that I satisfied my cravings for Filipino food. The price is very wallet-friendly. The appetizers are around 5 euros and the main dishes are between 8-15 euros.
Will I eat here again? Maybe. They are very friendly and the food is affordable. I'll probably try their tapa next time. If it still disappoints me then I'll keep searching and let you know if I find a good Filipino restaurant.
Pan Restaurant
Marienburger Str. 38, 10405 Berlin, Germany
Open daily from 9:30 – 23:00
Check their menu here
How to get to Berlin
The cheapest way to get to Berlin is by bus. I took Flixbus from Cologne for only 15 euros. WIN. They have buses all over Germany.