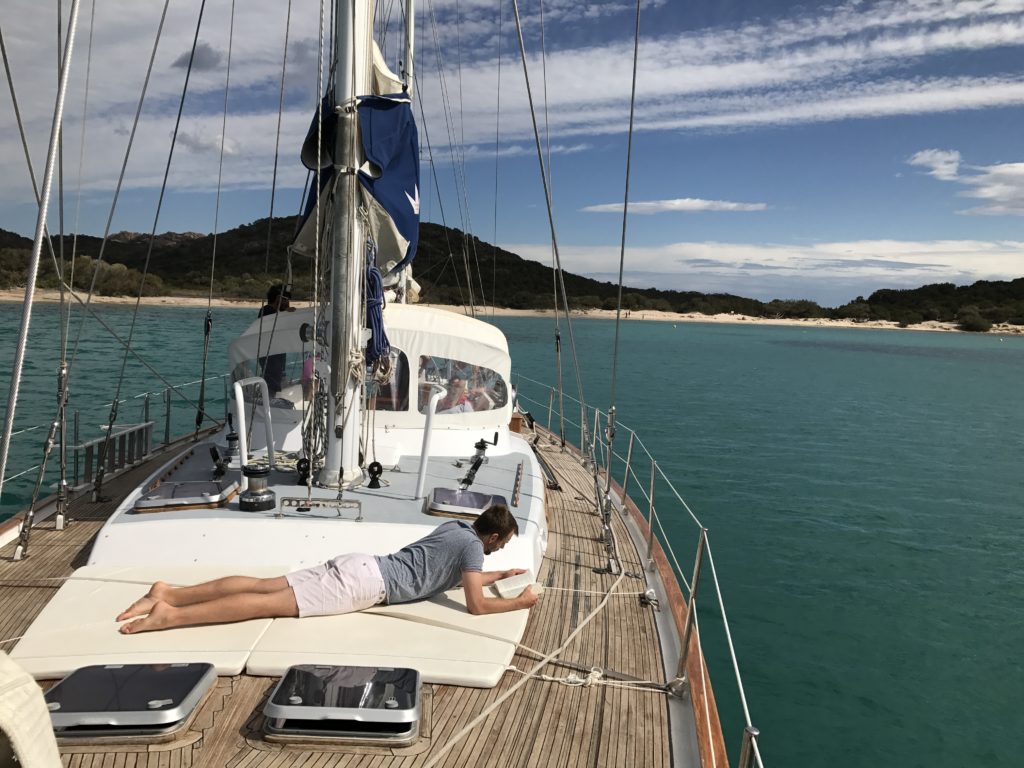 Sardinia and Corsica have some of the dreamiest beaches and coastlines In Europe. Yes the sand is really that white, and the sea the bluest blue. Imagine dropping anchor in Costa Smeralda, a jumble of fjord-like inlets and coasts of frost-white sand, and exploring the Sardinian coast at its most idyllic. Or imagine strolling in Corsican villages with their stony ramparts at their most captivating at dusk on a warm summer evening.
You get to experience all of this and more on a sailing trip to these beautiful islands. As most of you who follow the blog know I'm a beach person and there's nothing that could make me any happier than being in the water. Imagine my excitement when I was finally able to go on a sailing trip for a week. Sailing is definitely an experience you have to try at least once in your travels in Europe.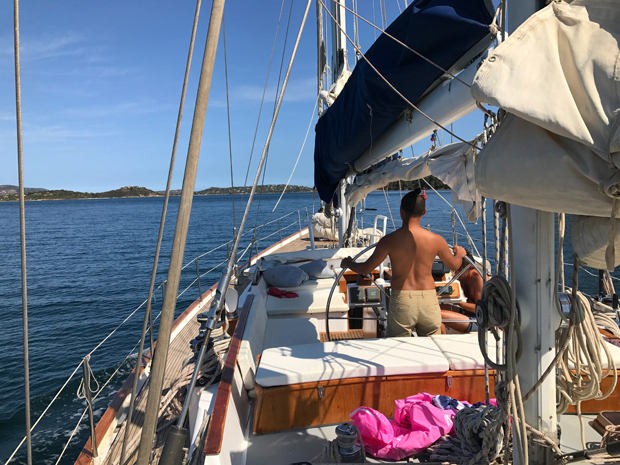 The Yacht-Sharing Experience
We sailed with Miaplacidus sailing yacht through Intersailclub. IntersailClub is a yacht-sharing concept which makes sailing much more affordable. It's like the Airbnb of yacht sailing because you can just rent a cabin and share the whole yacht with other people instead of paying for the whole yacht. They also call this concept as cabin charter in sailing lingo.
Renting a yacht that comes with a crew for 1 week can easily cost you from 5,000-20,000 euros for a week depending on how big the yacht is. With IntersailClub, you can book a cabin or a bed in a yacht from 700-1,000 euros for a week and they'll take care of everything! You're welcome.
Here are 4 things I loved about our sailing trip:
1. The Yacht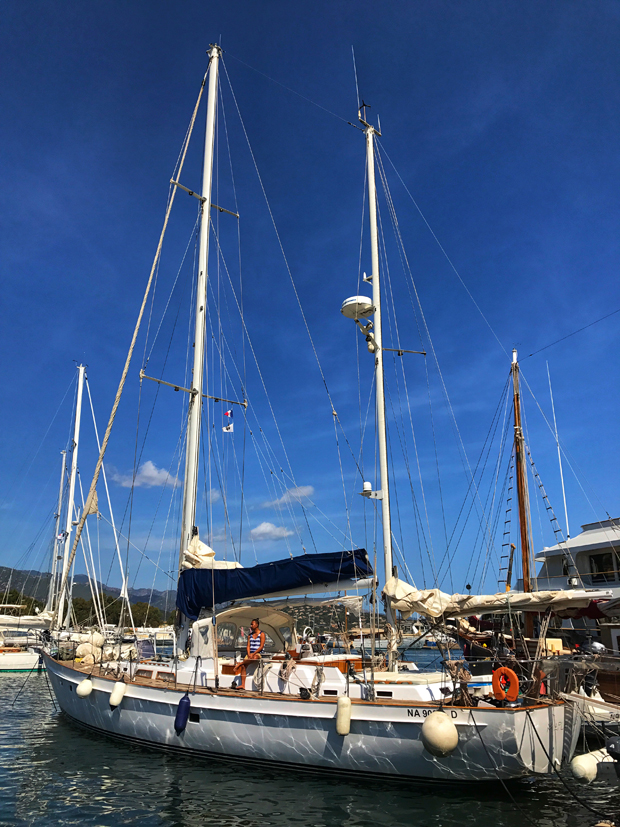 The yacht was gorgeous and it was the perfect size. Not too big, not too small. It can sleep around 9-12 people including the crew. Living with strangers for a week in a sail boat can be a bit suffocating but Miaplacidus felt spacious enough for everyone. There was enough space to lounge, to lie down, to read a book, to eat or play card games. And you will have enough time to do all of these things since they will take care of pretty much everything for you.
The yacht itself has stylish and functional interiors and spacious deck areas for sunbathing and lounging. And all the rooms have their own private bathroom and hot shower! What a luxury to have a hot shower on a yacht.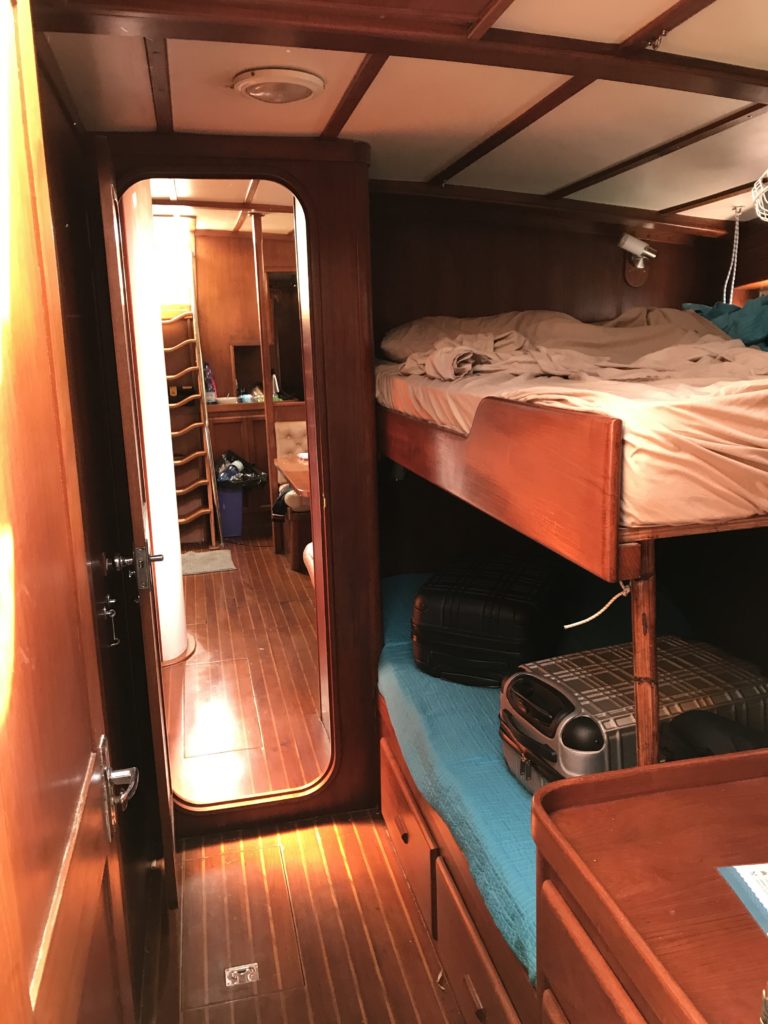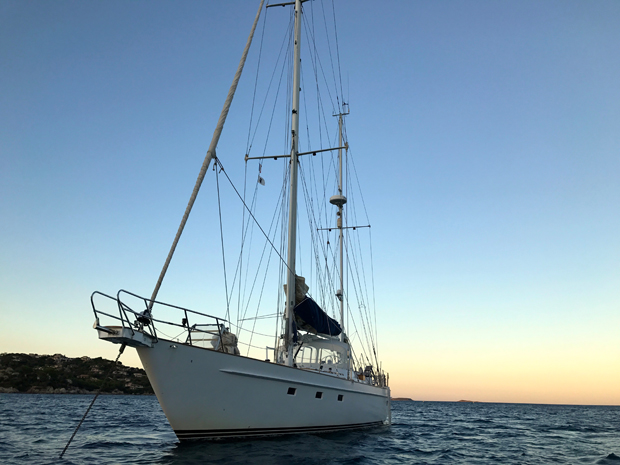 I learned how to drive a yacht and I started to love sailing even more. Luca, the onwer and captain, taught me how to read directions, harness the power of the wind and be fearless even when the yacht looks like it was going to tip over and drown. I freaked out in the beginning when it was so windy and wavy and I thought we will die. But of course I forgot that we were sailing with a very experienced captain who looked unfazed with it all (see photos below). I always reminded myself that a rough day at sea is better than any day in the office.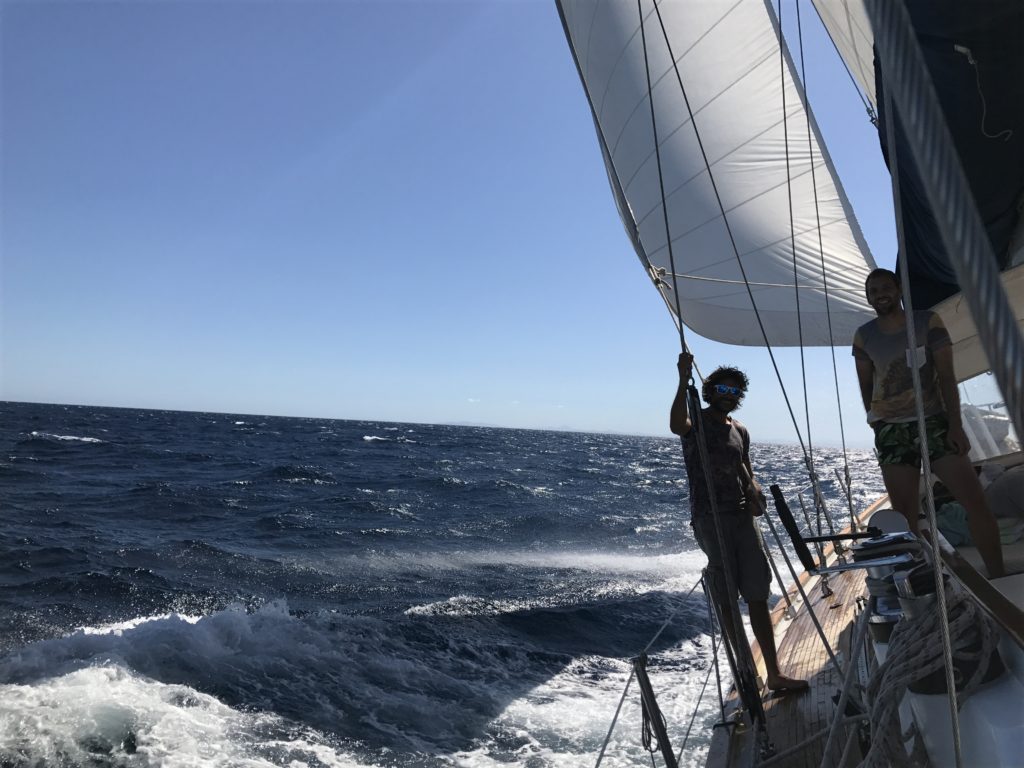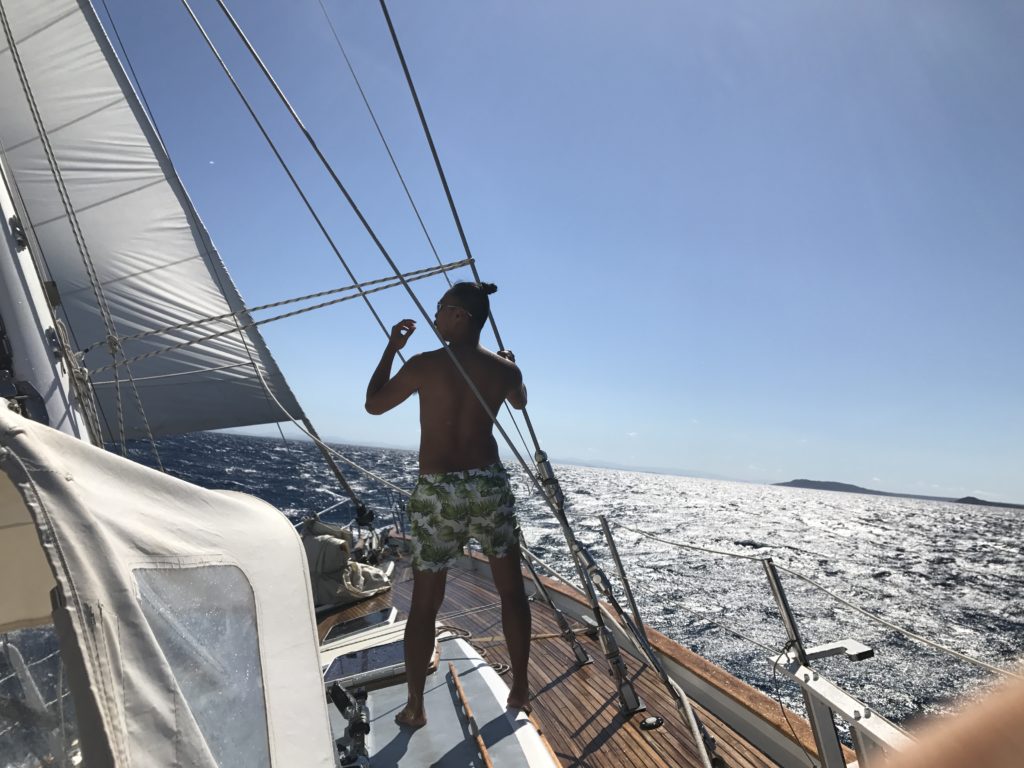 2. The Food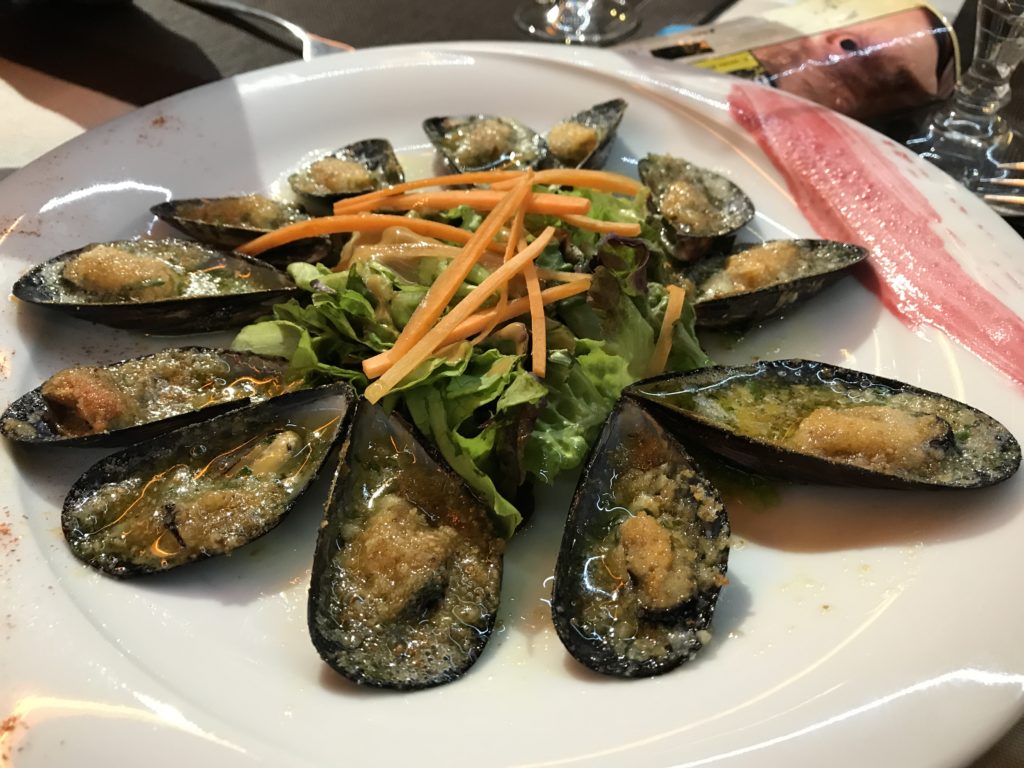 Since there was an onboard chef with us we always had divine and delicious Italian food from breakfast to dinner. I specially loved breslau with ricotta, hazelnut and rucola. So simple yet so good!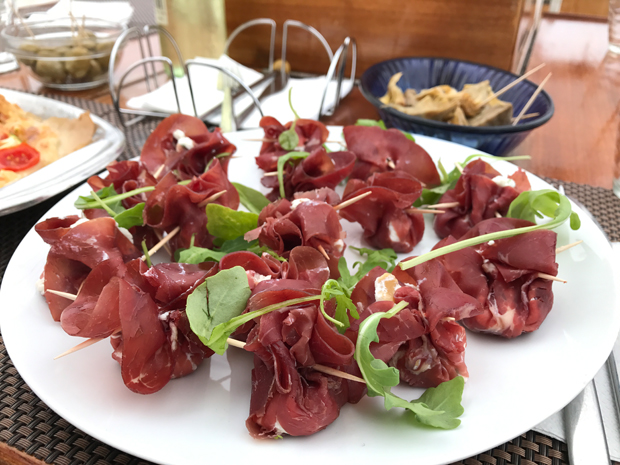 And of course all the pasta and fresh seafood that we ate. Lunch and dinner was always like a feast. We always had various appetizers and pasta, pizza or seafood as main dishes. We drank Italian wine and beers and enjoyed 2-hour dinners at sea with the sound of the water lapping on the side of the yacht. We also ate 3 dinners on land and enjoyed local French and Italian cuisine in both islands. Look at all these mouth-watering food we ate: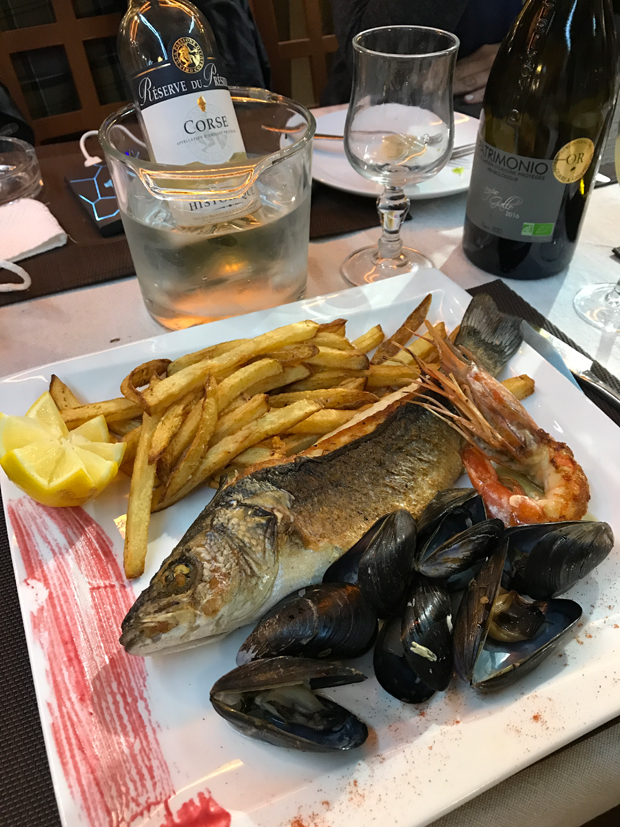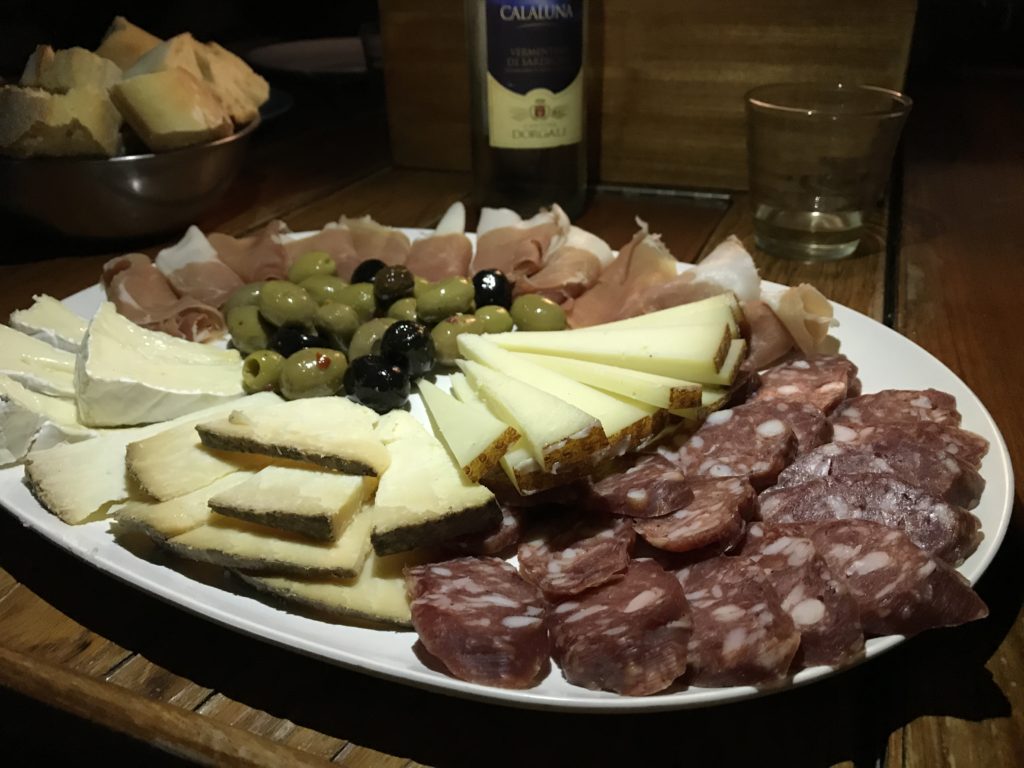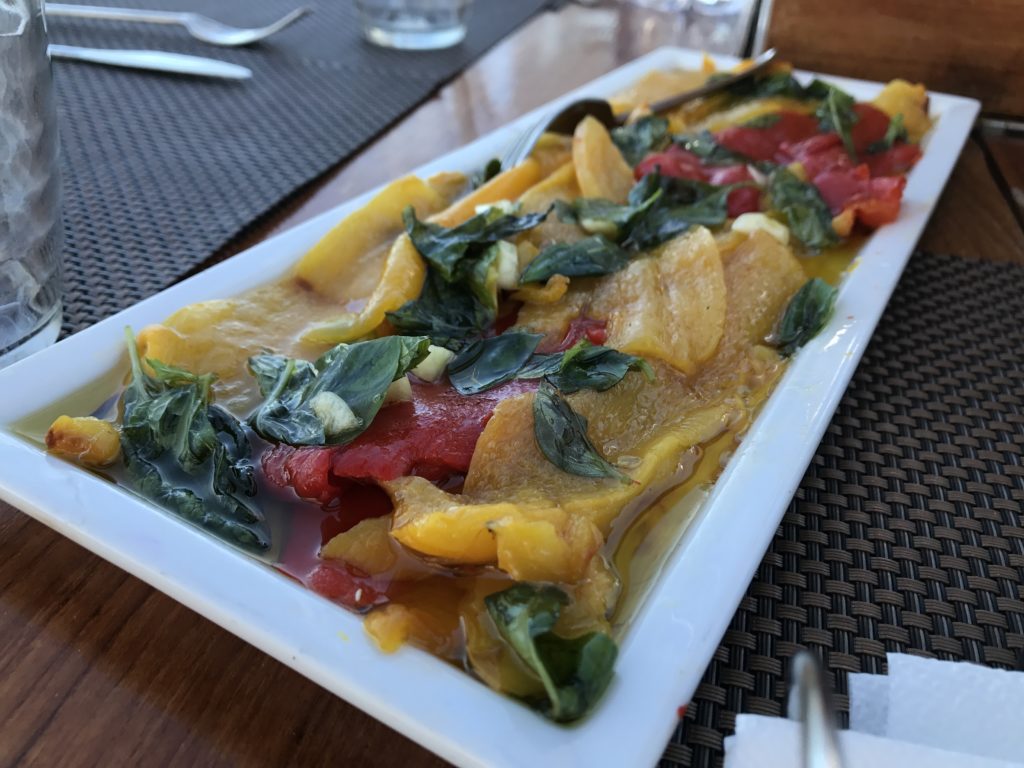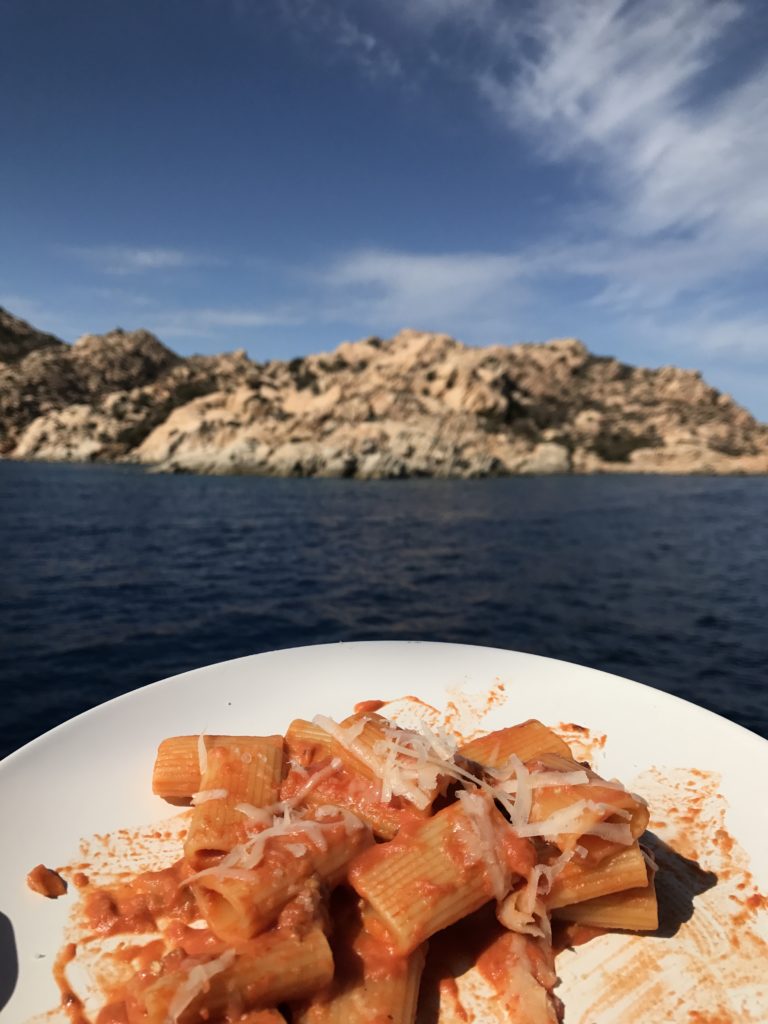 3. The Destinations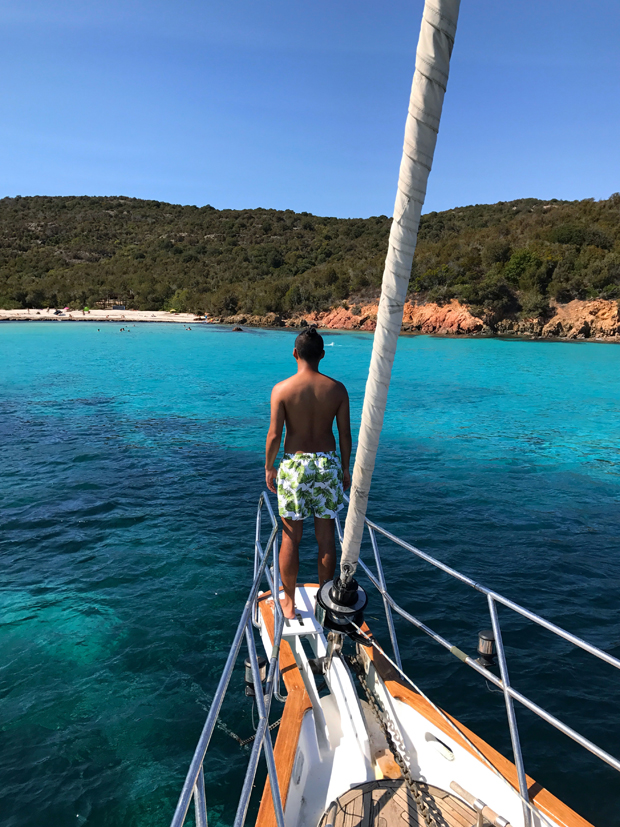 I have always dreamt of visiting both Sardinia and Corsica and was it a coincidence that the itinerary covers both islands? I think it was magic! We had a planned itinerary in the beginning but of course that changed because of the wind direction. Nevertheless I loved all the places we visited since Luca is very familiar with both islands. And he made sure we only visit some of the highlights of Sardinia and Corsica.
My favorite pit stops were Tahiti beach and Plage de Santa Guilia in Corsica, and La Caprera and La Magdalena in Sardinia. They are so dreamy and not too crowded when we visited. I loved it.
4. The People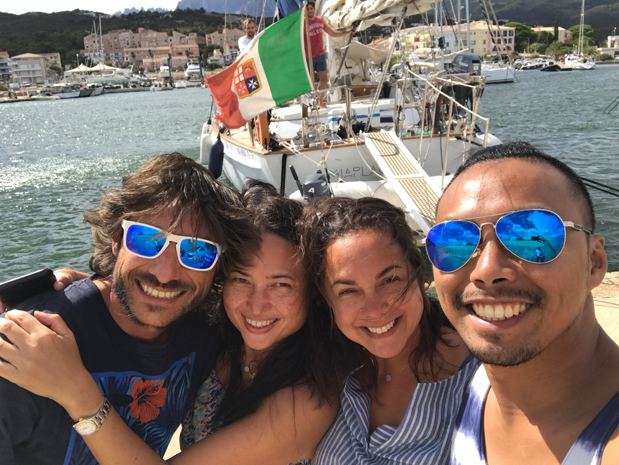 I think the kind of people who are not afraid to sign-up for shared yachts and travel with strangers for a week are my kind of people. You can't be an introvert and join this kind of sailing trip. You can't be an unfriendly, boring person with no stories to tell. You can't be picky and inflexible. It takes a special kind of person to go sailing and enjoy it.
I met some of the most interesting people in our sailing trip. And we bonded so well together as a group. We shared stories and laughed and sang songs to the moon until the wee hours of the morning.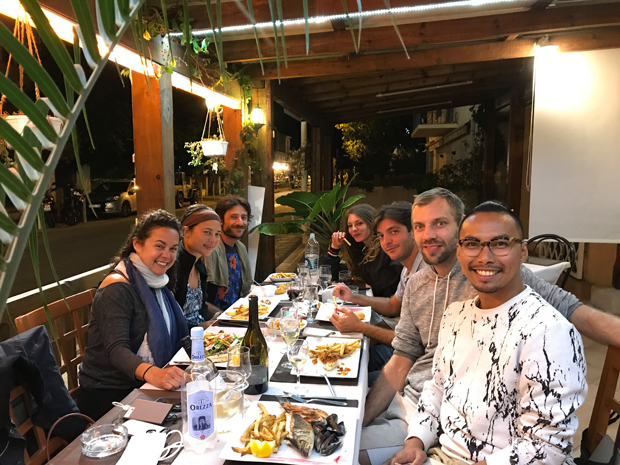 And of course the crew is also very important on a sailing trip. Thankfully the crew at Miaplacidus was very friendly, accommodating and they made you feel like part of the family.
Like all group travels, the people you're sailing with is probably the most important aspect of a sailing trip. It could either make or break your trip. Thankfully the crew and everyone on board our trip were all great, fun and interesting people.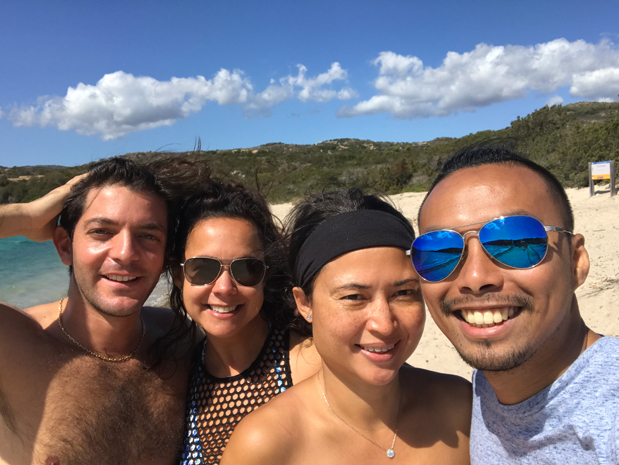 What's included?
You might be curious how cabin charter all works and what's included when you book a sailing trip via IntersailClub. When you book a cabin, your payment already covers a week in the yacht with crew members – usually a captain, a mariner and an on-board chef who will prepare all the delicious food for you. This includes your accommodation in a selected cabin with a private bathroom, air conditioning, linen and towels.
You also usually pay around 200 euros or so for the cost of half-board food and drinks as well as boat fuel and marina fees for 1 week so you don't have to do or think of anything except enjoy the sailing trip. They will literally do everything for you: take you to beautiful places, prepare you delicious meals and offer you a cozy bed to sleep on at night.
They have different sailing routes around Europe. They are currently sailing around Amalfi coast and Capri until September.
Have you ever done any sailing trip? Where to?