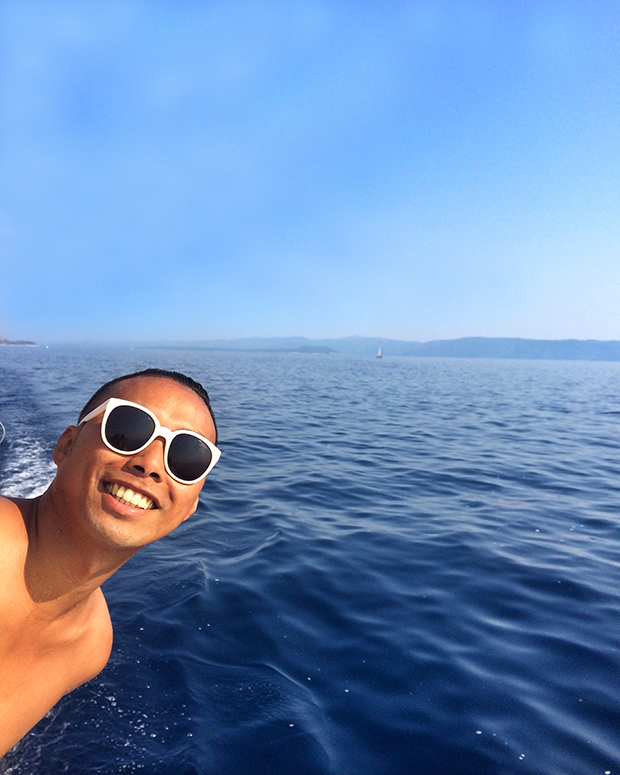 I'm so freaking excited to share this big news with you! I'm finally hosting my own #DreamEuroTrip this summer!
It's going to be a luxurious sailing trip for a week. And it's not just to any basic bitch islands either.
It's a sailing trip to two of the most beautiful and dreamiest islands in Europe: Sardinia, Italy and Corsica, France.
I am SO SO SOOOOOOO EXCITED!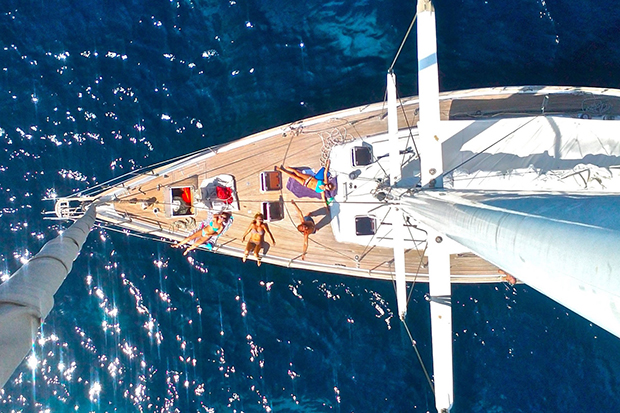 I have been living and traveling around Europe since 2009 and been blogging about it for a few years. If you've been following me for a while specially on Instagram you know that I am obsessed with Europe and that I love traveling with my family or friends to show them around my favorite places.
This year I want to offer the opportunity to YOU to travel with me!
I get emails and comments every now and then of you guys saying "Take me with you please!" or "Can I join you on your trip next time?" so now here is your chance to join me on a fabulous trip in Europe.
My Sailing History
You know I can't do summer in Europe without a bit of swimming and sailing right? I love being in the water. I swear I think I was a mermaid in my past life.
Last year I sailed in Santorini and Gran Canaria..
In 2015 I sailed in Croatia…
I joined one in Ponza island, Italy in 2014…
You get the idea. But most of these trips were short. I wished they were longer.
But this year, I'll be sailing for 7 days. The whole she-bang!
Sailing in Sardinia and Corsica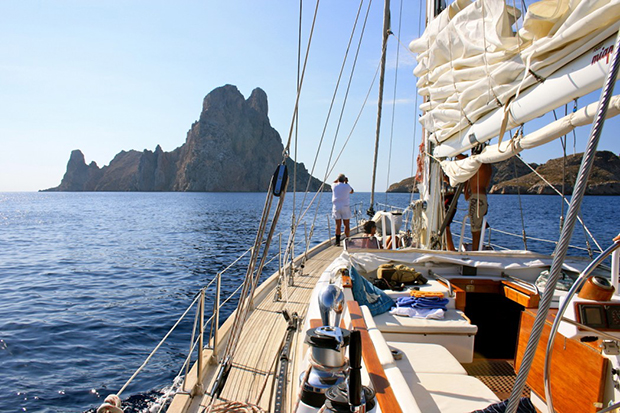 I have always dreamed of visiting these islands for a long time and I am making it happen this year. The cerulean waters of Sardinia and the gorgeous natural landscape of Corsica are total #DreamEuroTrip goals.
Just imagine swimming in clear blue waters, eating all the mouth-watering Italian food and wine, exploring quaint European towns and more!
I am so excited to finally explore these islands in September with Intersailclub, a yacht-sharing concept which makes this luxurious sailing trip more affordable. It's like the Airbnb of yacht sailing because you can share the whole yacht with other people.
I also chose to sail in September because August is way too busy and too hot for my taste. I try to avoid the south of Europe during the peak season of summer which is in July and August. I am going to Scandinavia instead. My favorite (and I think the best) time to travel in the Mediterranean is either May-June or September-October.
The Sailing Itinerary
OMG so where do I start? On board a luxurious sailing yacht, the trip will start in the north of Sardinia among crystalline bays and pink sand beaches to the southwest of Corsica through fjords and azure coves. Here's a quick summary of the itinerary:
Day 1 – Cannignione  – welcome on board!
Day 2 – La Maddalena – renowned for its beaches, just look at these photos!
Day 3 – Lavezzi and Bonifacio – Lavezzi, according to the Intersailclub guys, is the most beautiful island in the world. That's a big statement and I wanna see for myself
Day 4 – Budelli, Razzoli and Santa Maria – pink sand beaches!
Day 5 – Spargi – sailing through half a dozen beautiful coves
Day 6 – Caprera – visit Cala Italia with its natural pool of Caribbean azure waters
Day 7 – Cannigione – sailing towards the Gulf of Saline and Gulf of Arzachena where we will spend the night eating delicious typical dinner at a farmhouse
Day 8 – Canningione – disembarkation at 10AM
You can check out the full itinerary and map here.
The Luxury Sailing Yacht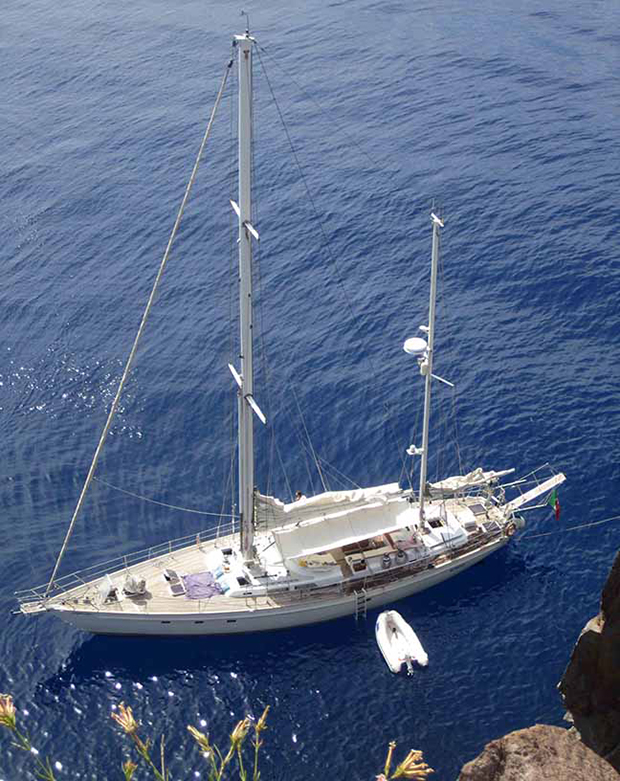 We will be sailing with a charter yacht called Miaplacidus, a Kanter 65 ketch rigged sailing yacht. I totally don't understand that description myself but it's supposedly a mini mega-yacht offering performance, luxury, style and safety.
It has stylish and functional interiors and spacious deck areas for sunbathing and lounging. All the rooms have their own private bathroom! YAS. There are only limited spaces for 9 passengers and 3 crew members so this will be a very intimate and private sailing trip.
We will probably spend most of our time lounging in the deck talking about life, love and travels. I can't wait to meet some of you.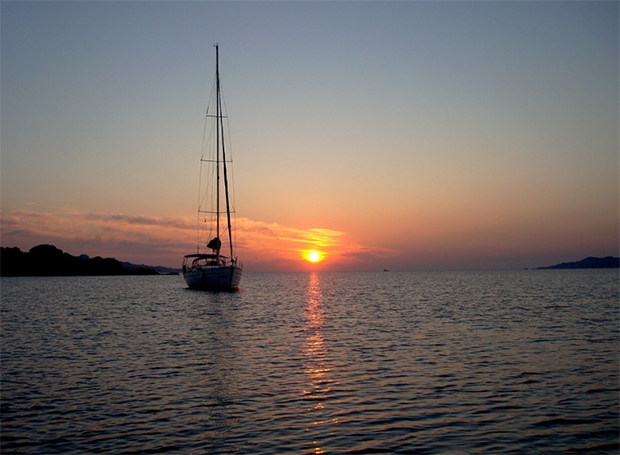 The Cost and Inclusions
If you don't have plans for summer yet, considering joining me on the sailing trip on September 9-16, 2017!
There are only limited spaces available. I mean this is not your basic sailing trip with 100 people on board. There's only going to be 9 of us plus the 3 crew members.
I'm already taking one room so there are actually only 7 spaces available to book!
The cost starts at 890 euros per person for a 7-day sailing cruise. If you book by July 31, 2017  you can get an exclusive 15% discount when you use the discount code DREAMEUROTRIP15.
With the discount you can book your sailing trip for only 757 euros per person for a week. Please note that this discount code is only valid until June 30, 2017 for the sailing trip with me on September 9-16, 2017.
This price already includes 3 crew members: a captain, mariner and an onboard chef who will prepare all the delicious Italian food for us! It also includes your accommodation in selected cabin with a private bathroom, air conditioning, linen and towels.
And since this is a luxury sailing trip, half-board food (breakfast and lunch) and some drinks (wine or beer) will be covered for an additional fee of 245 euros. This covers the food, drinks, boat fuel and marina fees for 1 week.
Check here for the complete list of what's included and extras. If you have any questions, please comment below or email me. I can also help you find affordable flights from wherever you are to Europe! Just message me.
I can't wait to sail with you!
SEA YOU SOOOOON!
-DJ