What are the list of requirements for a Schengen visa application? What documents do I need to submit? And what do these documents mean? While each country and embassy may have slightly different requirements, the following is a list of standard documents you will need to provide. You should bring the original as well as at least one copy or multiple copies when applicable.
I wrote a very detailed guide with a lot of tips and tricks so bookmark it for your visa application.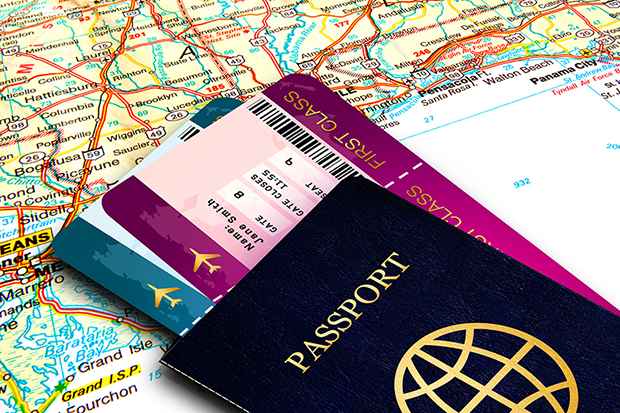 General Requirements for Schengen Visa Application
Read each section carefully for tips and tricks on how to fulfill each Schengen visa requirement. Note that the list below is applicable for 90-day short-stay Schengen visa application only. If you're moving to Europe to work or study, the list will be different!
1. Passport
Obviously you can't apply for any kind of visa without a passport! You need a valid passport that has two blank pages for the embassy to affix the visa. It should also be at least 6 months valid after your final day in the Schengen country. For example, if you are flying back from Europe on September 30, 2017 then your passport should be valid until March 30, 2018 which is 6 months after your arrival date.
Some European embassies are fine with 3 months validity though. But the longer the passport validity, the better. For example, the German embassy requires at least 6 months validity while the French embassy requires more than 3 months validity. Important note: The remaining validity of the passport is counted from the day the applicant intends to leave the Schengen area.
If you're applying for a new passport, make sure that you have organized getting it before scheduling your Schengen visa interview. It could mess up your application if your new passport doesn't arrive on time before your visa interview.
2. Visa Photos
There are certain guidelines you need to follow about the visa photo. They are super strict with requirements so make sure you follow it or else they will not accept your application. Make sure to bring extra photos just in case they need more than one.
Below is a common rule for the photo:
Coloured photo taken against a white or neutral grey background
Size: 35mm x 45mm, maximum head length: 25mm
Head must not be tilted; look directly into the camera with a neutral expression and without smiling
Absolutely no eyewear and headgear in any form
Image must not have been altered or photoshopped
Image must be clear; it must not have kinks, scratches or stains
For more information, here are photo samples and specification guideline from the embassy.
3. Application Form
There is a standard Schengen Visa Application Form which you have to fill out completely. Some embassies allow you to do it online ready for printing while others require you to download the form and fill it out manually by hand. You have to make sure all information are correct and that all information on your other documents match what you've written on your application form.
For example, the date of your flight and hotel reservation should match and the length of your travel insurance should cover your entire trip. If there are information discrepancies between your application form and required documents your visa could be denied! I suggest you quadruple check everything before submitting your visa application.
Important note: The application form is completely FREE. If someone ever offers it to you for a fee, RUN!
4. Confirmed Flight Reservation
Confirmed flight reservation is basically a flight reservation that looks like a real flight ticket except it is not yet paid in full and shows your travel itinerary. It should be a return ticket with a PNR (Passenger Registration Number) or booking code. One-way or open-ended tickets are not acceptable and can lead to visa rejection. This is also sometimes called as confirmed flight itinerary, roundtrip airline reservation or dummy flight booking as well.
Embassies ONLY require flight reservation and NOT a fully paid flight ticket unless stated otherwise. Why? Because your Schengen visa might be denied so what will you do with that $1000 flight to Paris? Flush it down the toilet that's what!
I wrote a detailed guide on how to book a flight reservation for visa application. Read it and don't book your flights until you get your visa approved!
I get so many emails from readers who are so stupid or misinformed they buy expensive flight tickets and book hotels and tours without their visas and then come crying to me after their visa rejection telling me they have spent so much money on a flight leaving next week what will I do huhuhu. Cry me a river. Don't be stupid. Don't be one of them.
You can easily get a flight reservation for your visa application online. Make sure you buy one with a unique booking code which you can verify on the airline website. And make sure your flight dates and application form details match or your visa will be denied! After you get your visa approved then you can book your actual flight tickets.
5. Hotel Reservation or Proof of Accommodation
This document proves where you will be staying during your visit to a Schengen country. There are different ways to show proof of lodging or accommodation depending on your reasons for visiting the Schengen zone:
a. For tourism, you must submit a confirmed hotel reservation. There are many ways to get a hotel reservation or hotel voucher. You can reserve either a hotel or hostel as proof. Yes you can definitely reserve hostels as well if you're a budget traveller. You can reserve your hotels or hostels online via Booking.com, Hostelworld, directly via the hotel/hostel website or let a travel agency book the hotel reservation for you. Whatever you choose to do, the most important thing is to have an official confirmed hotel reservation reflecting the dates of your trip and the total cost of your accommodation. If your travel dates and reservations don't match, your visa could be denied! 
b. For visiting family or friends, you must submit a document from your family or friends proving that they live in the area. Usually if you're applying to visit family and friends, they can get an Official Invitation from the City Hall which also proves their address and that they are a resident in the area (please see requirement 7b below for more info about this). If they are not getting this document, you can submit a copy of their passport and residency ID/permit which usually shows their current address.
c. For business travel, you must provide a letter of invitation from the company in the Schengen country, certificate of employment as well as hotel reservations under your name.
6. Travel Insurance
The international travel insurance has 3 basic requirements:
covers the entire period of the person's intended length of stay in the Schengen zone

must be valid for all Schengen countries

must have a minimum coverage of 30,000 euros
There are many travel insurance options out there that covers all the listed basic requirement above. Depending on what kind of travel insurance coverage you need and your budget, I highly recommend two companies.
Affordable and good coverage: Care Discover from Care Concept is one of the best and cheapest travel insurance that I always use for my Schengen visa application.It covers the requirements above, it's refundable if your visa gets denied plus you can easily order it online and have it within minutes. It's perfect for Schengen visa application. Me, my friends and family have been using it for the last 7 years or so. Best of all, it's really affordable! For example, 10 days insurance only costs 17 euros and 30 days insurance only costs 45 euros. Click here to check full coverage and cost.
Premium and more extensive coverage: WorldNomads has a great travel insurance and accident coverage. It is highly recommended by companies like Lonely Planet, Eurail and Hostelworld. It's definitely more expensive than Care Discover but that's because it covers more things like missed flights, stolen electronics, lost luggage, pre-trip cancellation etc. Click here to check full coverage and cost. Or feel free to get a quote from the widget below:
7. Bank Statement or Proof of Financial Capability
This document is required to prove that you can afford a trip to Europe. It is preferably issued within the last month. The more recent, the better. There are 2 ways to do this. You are either self-funded or have a European sponsor. You need to submit different documents depending on your situation as listed below:
a. If you are self-funded, this means that you will pay your European trip on your own (wow yayamanin!), you must submit an official bank statement from the last 6 months. You can get this from your bank. Your bank statement should show sufficient amount of money to cover your expected expenses during the trip. "Sufficient amount" is debatable. You might have read other websites or blogs telling you that you need a lot of money to have your visa approved. It's NOT true. You do not need 1 million pesos or 20,000 euros in your bank account to guarantee visa approval.
Each European embassy has a different requirement for the total amount you need for your visit. For example, German embassy requires 45 euros per day while Netherlands embassy requires 34 euros per day. Please check the embassy website for the most current daily budget requirement.
b. If you have a sponsor, you have to submit an Official Invitation Letter or an Official Sponsorship Certificate from your sponsor. It is called by different names for each embassy but it's the same document. For example, in German embassy they call it Verpflichtungserklärung and in French embassy they call it Attestation d'accueil.
Usually your sponsor can easily apply for this document at the City Hall where he/she lives. He/She can get it within the same day for a small fee depending on the city and country. Your sponsor needs to send you the original copy before your visa interview. Send it express via FedEx or DHL so you can get it ASAP. Other embassies also require you to submit a birth certificate or marriage certificate etc to prove the identity of your sponsor.
Important note: if you have a sponsor, you DO NOT need to submit your bank statement. The sponsorship is already enough to prove your financial capability.
Can my European friend's/boyfriend's/girlfriend's mother or father sponsor me? Yes that's possible. If your European friend/lover is still a student or has no full-time job, his or her parent can be your sponsor as long as you can prove that he/she is the parent and that you have corresponded with them via email or Skype etc before.
8. Occupation or Proof of Rootedness
These documents are required to prove that you will come back and have no plans to be an illegal immigrant. This is probably one of the most important requirements for Schengen visa application. A lot of visa applicants get denied because of failing to submit the proper documents for this requirement.
There are different ways to prove this depending on your current situation. You are either employed by a company, own a business, studying as a student or you're a minor. You need to submit different documents depending on your situation as enumerated below:
a. If you're employed:
Certificate of Employment – you can get this from your HR office. It should be official with your company logo. It usually states your position in the company as well as your salary per month.

Income Tax Return or Pay Slips – you can get this from the tax office in your country. It is usually processed by HR as well if you work for a company. If you are new to the job and don't have an ITR yet you can ask HR to provide you with monthly pay slips and show this as proof instead.

Authorised Leave of Absence – this MUST be signed by your boss or HR and should officially come from your office. I'm pretty sure your company has a template for this document as it is usually needed by employees. If not, you can create one yourself with your company logo and ask your boss to sign it. Note that the embassy can call your company to confirm your leave. And it is very important that this document is SIGNED by someone in your company to confirm that you are allowed to go on a leave. Failure to provide a signed leave of absence can lead to visa rejection.
b. If you own a business:
Business registration and permits – to show proof that your business exists; example documents are DTI permit, Mayor's Permit, SEC or BIR registration etc whichever is applicable in your home country

Income Tax Return – to show proof of the commercial activity of your business

Business Financial Statements – to show proof of your business earnings and cashflow
c. If you're a student:
Certificate of Enrolment – your enrolment form which you usually have if you're a student

School or university certificate – you can get this from your school or university registrar

Letter of exemption from studies or leave of absence IF you are traveling during the school year – you can request this from your College or Registrar as well
d. If you're a minor:
Certified birth certificate of the minor
Affidavit of Support and Consent of parents or legal guardian
Copy of passport of parents or legal guardian
Proof of economic means of parents or legal guardian
e. Additional/optional documents
Here are some additional documents you can submit which some European embassies accept as proof of rootedness
Copy of real estate property – title deed if relevant; this is to prove that you own a house, land or property in your home country

Copy of marriage certificate – this is to prove that you are married or have family ties in your home country
9. Schengen Visa Fee
The appropriate fees payable in the form preferred by the embassy at which you apply. At the time of writing, the visa fee for adults is 60 euros or converted to your local currency at the current exchange rate. This is usually paid in cash and it is not refundable even if your visa is denied. It's like a service fee for processing your visa. Please check the embassy website for the current visa fee cost and payment method. Sample visa fees varies depending on your age:
Children up to 6 years no fee
Children from 6 to 12 years € 35
Applicants older than 12 years € 60
Additional Visa Requirements
As I've said in the beginning, the requirements for Schengen visa application is pretty standard but may have slightly different requirements.
10. Cover letter
Cover letter is one of those additional requirements. Some embassies like the French embassy requires it. A cover letter is a letter addressed to the embassy that summarises the purpose of your trip and includes the dates of your trip, the cities or countries you are visiting as well as your corresponding plans for accommodation and transportation. This should be short and concise because the visa agent does not have all the time in the world to read a novel about your travel plans. They just want to know your general travel plans and purposes for visiting.
11. Travel Itinerary
When required the embassy usually wants to see a detailed day-to-day itinerary for your entire trip. This is usually included with the cover letter as well. You can easily create a tabulated day-to-day itinerary showing the dates of travel, location and tourist spots or travel plans that day. The clearer your itinerary is, the better. Don't make it too complicated. Not only Schengen embassies require this though.
12. Marriage contract and birth certificates
If you are traveling as a family with your spouse and/or children you need to submit these as well to show proof that you are indeed related.
Note: Check the embassy website where you are planning to apply for the most specific list of requirements.
If you have any questions, please comment below. Good luck on your visa application!