Learn what to do when your Schengen visa is denied or rejected. This is HOW IT IS to travel with a not-so-lucky passport. When applying for a visa is the 10th circle of hell. No visa, no travel la!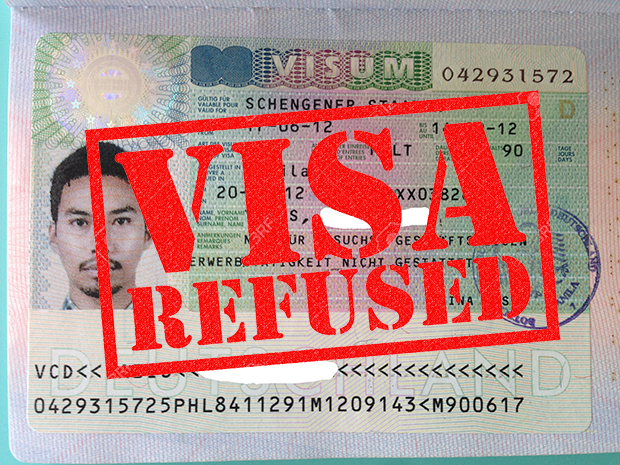 Don't we all have one or a dozen visa horror stories to tell?
You know, like that time you got a rejected Schengen visa and your travel dreams were shattered.
You raised hell, ranted on Facebook and cried yourself to sleep at night. You wake up the next morning and…your Schengen visa is still not there.
As a Filipino traveling with a third-world passport, you're probably all too familiar with this feeling.
I have been denied Schengen visas and even work visas a few times too many. I know the feeling TOO well. In fact, I know it too well that I am now writing this because all the horror feels came bubbling up while I am organizing our #DreamFamilyTrip this summer.
Here are our recent Schengen visa rejection horror stories of me and family.
Read these related Visa Appeal article:
1. How to Appeal a Schengen Visa Refusal and get your visa approved
2. How to Write an Appeal for Schengen Visa Refusal that works
3. Sample Appeal Letter for Schengen Visa Refusal
Schengen Visa Rejection, The Juicy Part
My parents were finally coming to visit me this summer in Europe and they applied for a German visa for their trip on June 25 to July 17 last April 18. They submitted all the required documents listed on the embassy website. I also gave them an informal invitation letter complete with a copy of my passport and my German ID even if they were NOT required. Just to be sure.
One of the main reasons your Schengen visa will be rejected is if your documents are incomplete. That seems pretty obvious but a lot of people who email me or comment on the blog are shocked that their Schengen visa applications were denied when they have not submitted all the required documents.
I personally checked each of the documents my parents were submitting to make sure everything was in order. Their application form, flight reservation, employment papers, travel insurance, hotel reservation etc. I mean I have applied a few times for a Schengen visa at the German embassy in Manila and even wrote a huge-ass guide about it. So I am pretty familiar with the whole hellish process.
Note though that my parents were applying for a tourist Schengen visa on their own. This means that I was not officially sponsoring their trip nor did I get them a Formal Obligation Letter from the city hall. They have to show their own bank accounts and employment papers and prove that they can afford to come visit me. It was much easier this way as it was more trouble to get the Formal Obligation Letter here in Germany and then FedEx it to them.
But guess what these Dementors at the German embassy asked for during their interview?
"Can you please show me the visa of your son when he entered Germany in 2012?"
This after you show and submit them everything: your employment papers, all your properties, all your freakin bank accounts. It's worse than applying to run for Philippine Presidency.
Can't they see I have a legit German ID? How the freak did I get that? And what does my 2012 visa have to do with my parents coming to visit me here as tourists? Aren't they supposed to look at the merits of their own documents and not go looking for random stuff like my visa in 2012? WHAAAT?
Apparently they wanted to make sure I entered Germany legally in 2012. Or in layman's terms, they wanted to make sure I wasn't some third-world illegal immigrant in Germany.
Seriously these paranoid androids were getting to my nerves.
EVERY. SINGLE. TIME.
The worse was that all my files are actually at the German embassy because I have applied for visas with them 3 times in the past. The girl at the window could have easily checked her computer to search my name and verify my German visa in 2012. Of course my parents didn't know this so they didn't tell her to do that. They just said they will ask me and submit it as well.
It was just so absurd.
So they gave my parents a paper asking for additional documents that states "Copy of son's Schengen visa, the one used when he entered Germany".
I already gave them a photo of my official German residency ID even if it was not required. And yet they wanted this random extra document. Do they think it's so easy to get an official German residency ID?
I don't get it. But whatever. I wanted my parents to get a Schengen visa so I emailed the embassy a photo of my previous Schengen visa.
And we waited.
Normally, Schengen visas are approved or denied within 3-7 days but a week or two have passed and there was still no sign of my parents' passports with visas on the mail.
Waiting is a nightmare.
When you wake up everyday checking your email or your phone for updates about your visa application and there are no updates.
I was getting impatient so I emailed the embassy a few times. And on the 16th day since their interview, the embassy emailed to tell me their passport was on the way and should be delivered within 3 days or so.
They won't tell you if it's approved or denied. So it was so nerve-wracking to wait for the delivery to arrive. But at least we know we only have to wait 3 more days instead of forever!
Finally when it arrived, my father sent me a photo of their passports WITH VISAS! Hallelujah, Praise the Lord Jesus Buddha and Allah.
It took three weeks instead of 3-7 days!
But DJ, your parents got their visas! I thought this was a Schengen visa rejection horror story?
Well, thank God they got their visas but the whole ordeal was a nightmare. Actually I am sharing this because this is an important part of the real Schengen Visa rejection story.
This is just an intro! It gets juicier and meatier!

Schengen Visa Rejection, The Meaty Part
What I didn't tell you in the first part of the story was that my youngest sister also planned to join us in this trip. I did mention I was planning a summer #DreamFamilyTrip (emphasis on family), right?
So my sister, Diane, was planning to join us. She was supposed to apply for a visa at the same time as parents but she applied for her new Philippine passport late and it didn't arrive on time before their visa interview as a group.
Diane is the Queen Procrastinator. She would do everything last minute and half the time it was already too late. She's the youngest and I think we spoiled her too much. She knows she always has other people taking care of her. But she's already 23 so she should learn to adult by now.
Anyway, since her passport was late, she had to reschedule her April 18 interview to another date. And because March to September are usually busy months at the embassy, the earliest date she could get was May 24, a month before our planned trip. This means she had an extra month to complete all her documents so it was all good.
Diane being Diane, she completed her documents super duper last minute again.
Well, kind of.
During the day of her interview, she still did not have her Certificate of Leave of Absence. Why? Because the zip file that HR sent her a few days before her interview could not be opened. It was password-protected and there was no way she could open it with the password they gave her. I also tried and can't figure it out. Her HR is located in another city so she could not just easily drop by and get a physical copy.
So it was partially HR's fault. But then again, if she asked for this document waaaaaaay earlier she could have seen this problem and solved it in time.
Of course they had to ask for her Certificate of Leave of Absence during her visa interview. She didn't have it. But she went to the HR office that same day, got a copy and went back to the German embassy the next day to submit it. We thought it was all good.
She submitted all the required documents. She mentioned that she will join our parents in visiting me. They have the same travel dates and plans. She even included a photo of my parents' approved Schengen visas as proof.
But of course planning this #DreamFamilytrip has been a nightmare mostly because the German embassy is THE DEVIL.
Remember, we have less than a month to finalize our trip. It's not cheap to book last-minute flights from the Philippines to Europe in summer!
In less than a week, Diane got her passport back. Without a visa. With a rejection letter.
They freaking DENIED her visa application!
The reason for her refused Schengen visa?  Your intention to leave the territory of the Member States before the expiry of the visa could not be ascertained.
In layman's terms: "We think you look like the illegal immigrant type."
I LOST IT.
These foreign embassies in the Philippines truly hate single, brown females. This has been the theory of my friend, Nicola, who was also denied a Schengen visa before. I have dozens of Filipina friends who have been denied a visa for the same reason. Even if they have shown sufficient proof that they will come back.
What does the German embassy require as proof of your rootedness in the Philippines, that you will come back? You need to show that you either have a job or a business or you are a student. If you have a job, you need to submit your certificate of employment, Income Tax Return, approved Certificate Leave of Absence as proof that you will come back.
Diane works for Unilever and probably earns more money than all these Dementors working at the front desk at the embassy. She has also lived and travelled all over Europe before as a scholar of the European Commission. If she wants to be an illegal immigrant she could have done it then. Also, she's traveling with our parents to visit me. What could we be planning?
I was also denied a tourist visa before for the same reason even after living in Europe for 2 years! I wrote an appeal letter and got a 3-month visa after.
I'm not gonna let them get away with this.
But Diane didn't want to talk about it anymore for a week and completely got out of touch. She ignored us for a week. She won't read my messages and won't return or answer my calls. She was obviously depressed about it. I thought she doesn't want to join us anymore. But after bribing her and forcing her a week after her rejection, she finally agreed to write an appeal letter.
I asked her, "Do you really want a Schengen visa rejection on your record? You know that will probably make it harder for you to get a Schengen visa next time, right?" I think that kinda did it.
So I forced my sister to appeal the Schengen visa rejection. To fight back. To not let these embassy bullies keep rejecting legitimate visa applications.
She was running out of time because my parents are due to fly on June 25 and she sent her appeal letter on the 2nd week of June. Visa appeals usually take 4-6 weeks processing time.
The struggle was super real.
I helped my sister write a bitchy appeal letter calling them out on their disgusting system and pretty much demanded that they give my sister a visa.
In less than 48 hours, the embassy called my sister and approved her visa. And she can dictate how long she wants to visit. Not them, which is usually the case.
Imagine? All it took was a one-page appeal letter to make them change their minds?
Does everyone really have to go through this hell to get a visa? Does everyone have to beg for a visa? Really German embassy? Thanks for the nice welcome!
Don;t get me wrong, I don't hate the German embassy. I hate the system in general. I hate visas. I hate borders. I hate how they treat Philippine-passport holders.
These days, when the employment rate of of countries spikes up or it feels like there's a shooting or bombing happening every time you check your Facebook feed or turn the TV on, there's probably increased pressure at embassies and border controls to make us feel "safe": stricter visa rules, tightening security, upping deportation quotas. But in an effort to make ourselves feel safer, we're setting up situations where good people are being punished for wanting to travel or visiting a loved one abroad.
So frustrating.
Now it's your turn. What's your Schengen Visa horror story? Or any visa horror story. I wanna hear it in the comments!
Read these related Visa Appeal article:
How to Appeal a Schengen Visa Refusal and get your visa approved
How to Write an Appeal for Schengen Visa Refusal that works
Sample Appeal Letter for Schengen Visa Refusal
I'm writing a book!
After all these horror stories – horror realities – and all the comments and rejection emails I receive everyday from you guys, I decided to make it my mission to help as many people as possible to get their Schengen visas approved. Because all my blogs promoting travel in Europe will go to waste if you don't even have the permission to set foot in Europe. A very basic human right to be honest. Like it's up there with breathing. The freedom to move! To go anywhere you like! But then embassies and visas happened.
There's no point fretting about this in the corner. It can be done. The first step in your Dream Euro Trip is to get that damn Schengen visa! So let me help you with that. I will be posting more articles in the next weeks about Schengen visas to help you get it.
So I'm writing a book about it! I've been writing for a few months now. That's why I have been missing in action in the blog for a while. I didn't wanna say it but I figured making it public will pressure me to finish it already. Email me at djyabis at dreameurotrip dot com with the subject line: FINISH THE DAMN BOOK, DJ! for extra pressure 😀
Sign up below so you can be the first to know when it's out. Plus I'll be emailing exclusive information to people who have signed up. I will be sending you a free copy of my Schengen Visa appeal letter we used that helped me and my sister get our visas approved within 48 hours! Only available to people who signed up.
So sign up if you're planning to apply for a Schengen visa soon!