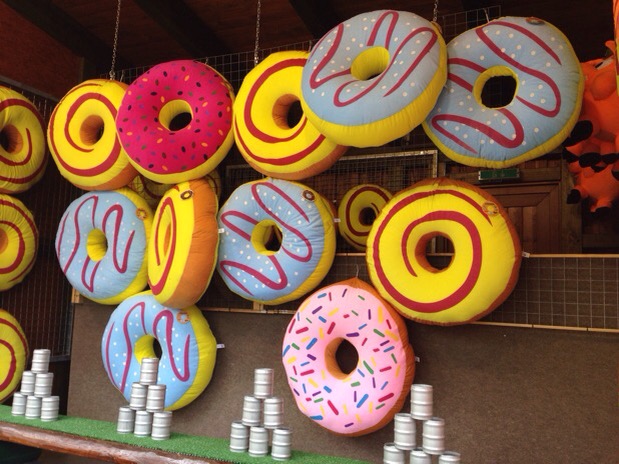 If you've noticed lately I've been blogging prolifically last week. I mean I cranked out 4 blogposts in a week! That's crazy prolific for someone who doesn't believe in blogging about every single thing in life and adding more noise to the already noisy and über-saturated interwebs.
So you went to a bar last night and got drunk? Just tweet it so no one will read it because no one freaking cares. That's kind of my blogging constitution.
Well I think that's about to change. I hope so. I think I will just blog my heart out and share pixelated iPhone snaps of everything I see and experience in almost-real-time.
That means more frequent blogposts and photo stories since a lot of you guys have been asking for it for awhile now. Well, here's me serving them to you!
So to continue the momentum, I'll be writing about what happened few days ago because it was a really fun day full of surprises and screams.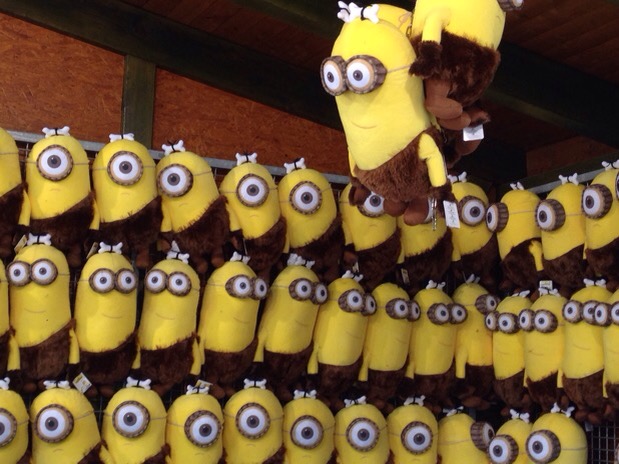 Mein Schatz, Michael, has a surprise for me so we woke up and 6AM and met up our German friends downstairs and went on a road trip to somewhere I don't know. It's a surprise! And you know me, the only way I will ever wake up early is when I have to travel.
On the way to surprise location, we've been drinking take-away coffee and belting our hearts out to 90's hits. Katrin, who drove us, inherited a box of CDs from the 90's so we chose and played our favorites. We're talking I Saw The Sign, Ooops I Did It Again, Let's Get Loud and Shaggy classics here. It was so fun and made me remember high school days when the class was divided between Team Britney and Team Christina. I am #TeamChristina by the way.
I have no idea where we were going, although after 3 hours of driving I saw signs of Hannover everywhere so I figured we were somewhere a bit north of Germany.
All Michael told me was to pack extra clothes just in case I get wet. I didn't care where we go actually. I love being on the road and being outside exploring the world.
So guess where we ended up…….in a theme park called Heide Park in Soltau, Germany.
So much #yaaaaasss! I love theme parks and haven't been to one for awhile. The kid in me was giddy with excitement.
Since Michael already bought our tickets online in advance, we wasted no time. We went in and lined up for our first ride: The Krake Roller Coaster.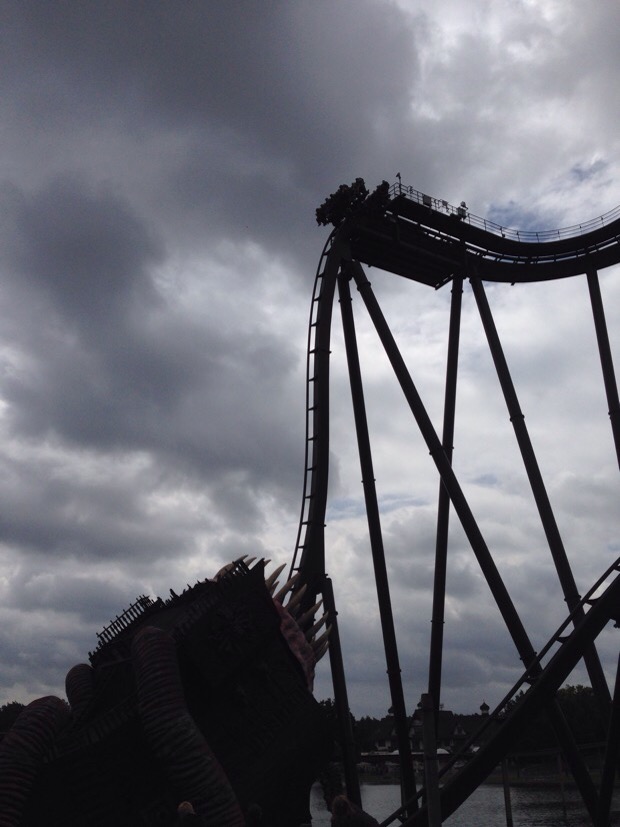 Yes it looks like an 89-degree drop! That's how steep it is. You drop into the mouth of the Krake (octopus in English) and do a loop and then a twist and it ends.
The ride was probably 15 seconds in total but it was so freakin' scary. I closed my eyes most of the ride. We sat in front and I just couldn't drop and stare at the big mouth of the octopus which is about to gobble us alive. Check out the video below to see how it looks like.
You know how theme parks always have gratuitous photos of you at your most freaked-out moment? I LOVE THAT. We always had a laugh seeing our faces after the ride. A photo costs 10 euros. Pretty expensive if you ask me.
But they have a promo for 4 photos for 25 euros so I told Michael we should get that. I mean how many times do you go to a theme park anyway? Let's spend money on kitschy, low-quality photos of our freaked-out faces. Because why not?
I mean we got photos like this from the Krake ride: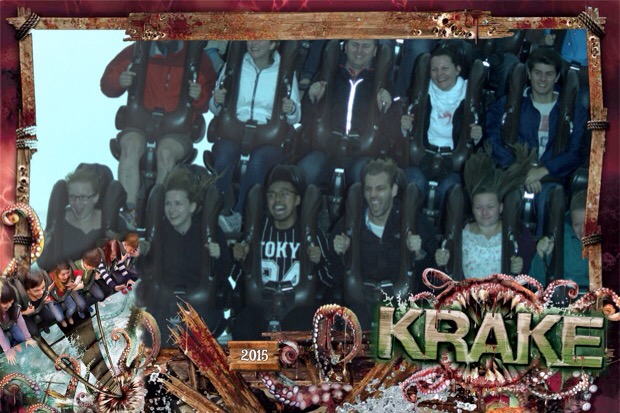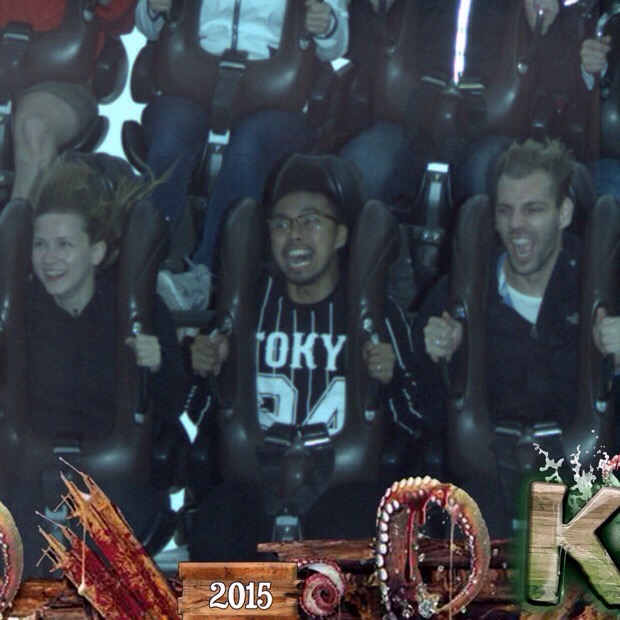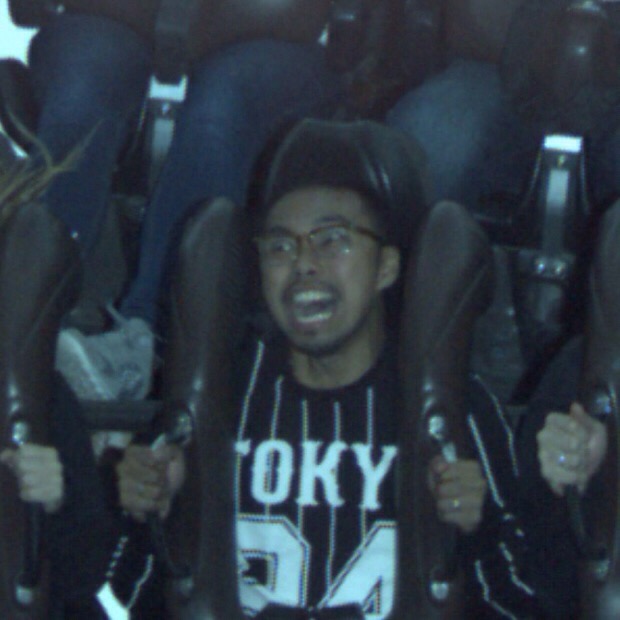 I will probably regret posting these photos online. 😀
It was a bit overcast that Tuesday morning with some moments of sunshine so Heide Park was not as crowded as it normally is. People stayed at home instead and couldn't be bothered to go to the theme park. This was perfect for us so we don't have to wait long in the queue to take a ride.
Me and my friends all love roller coasters and this park has around 7 big roller coasters so we decided to ride most of them.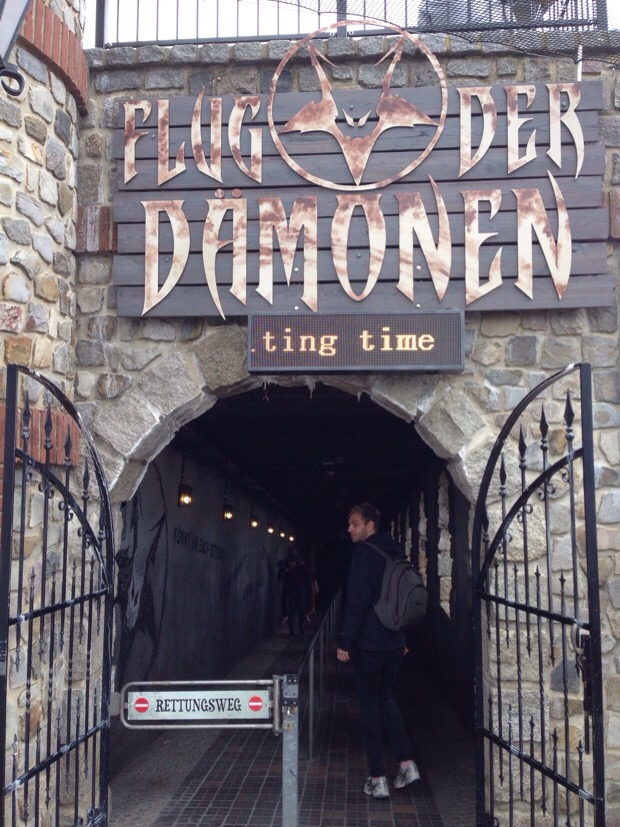 Our second stop was Flug der Dämonen (or Flight of the Demons). This roller coaster twists and turns and has a dozen loops. It was also a bit scary but I loved this the most because the ride was relatively much longer so I enjoyed it after I get past my initial fear during the first 10 seconds.
It looked like this: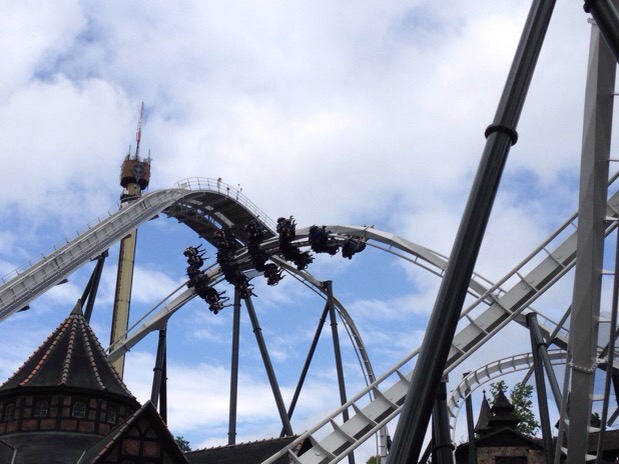 Our third roller coaster ride was called Schweizer Bobbahn which was also a bit crazy because it's not really connected to rails. I think it's magnetic or something. So I always had the fear of us falling off because it has no rails!
While walking around the theme park for our next ride, we would look around and check out other roller coasters.
Me: That roller coaster looks boring. No one is screaming.
Katrina: Because we're NOT riding it!
HAHAHAHAHAHAHAHA
And then we lined up for the Colossus Roller Coaster. People go to Heide Park for this shit.
Here's one fact about it: it's a Guinness World Record holder for the world's steepest wooden roller coaster. Look how crazy it is: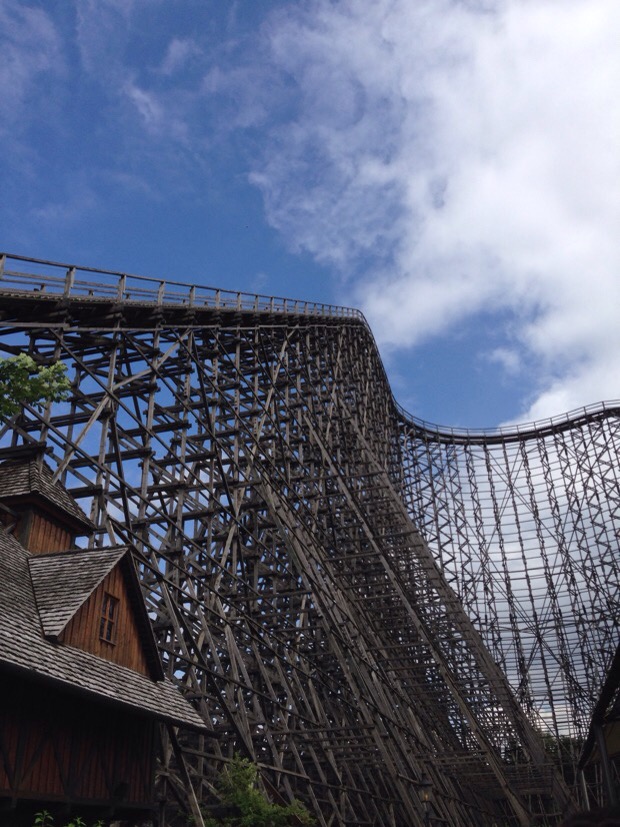 This track has no bullshit tricks. It's a straight-up, classic roller coaster track waves with one curve and that's it. But those damn tracks? It's fucking high and steep! I literally didn't see anything besides the sky because I couldn't look down at all during the ride.
It was so freaking scary.
Yet fucking fun!
We made our day more fun by doing funny poses for the camera during the rides. Vogue it! Do the fish mouth! Asian fingers! It was so fun to see the photos after the rides. We bought a few more of them.
 
  
We enjoyed a dozen other rides. Heck, we even did the 4-storey kiddie slides. There was no stopping us.
But by 4PM I was already exhausted. And when you think about it, all the rides we took probably took 15 minutes in total. The rest of the time were spent queuing, snacking on the queue and talking about life.
Those 15 minutes were super adrenaline-rush moments of fear and happiness. Up and down and up and down my body went.
And these guys won't stop. We freaking took the Krake again and – "Just one last time!" they said – the Colossus.
Sweet Buddha.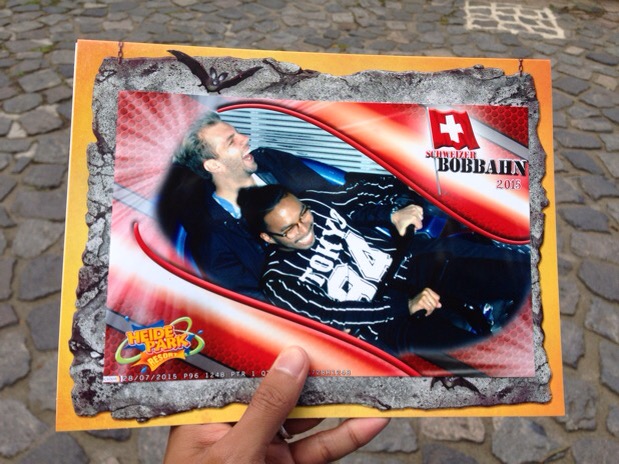 I just can't anymore. I feel like puking from too much fun, too much excitement. I know it must be weird to hear that. Too much of everything can make you feel like puking.
I forced myself to do it because yes, just one last time. I don't know when I'll be back here again.
I realized while we drove home by 7PM that this day pretty much explains how I feel about non-stop travel. Traveling is a looooooooot of fun like theme park rides. But after awhile, you get tired too and you stop enjoying it. Your body needs to rest. It needs to stay still.
Not many people live the way I do – traveling all the time – and they never get it. When I tell them I'm tired of traveling they think I'm kind of a cuckoo.
It's super exhausting guys. Imagine all your senses in hyperdrive for a month. Now make that 8 years.
I've been traveling the world since 2007 and after awhile it doesn't feel as exciting as your first trips. It still gets pretty exciting but not so much like your first few years of traveling. The worse is when you are doing a lot of work trips which is my reality sometimes as a full-time travel blogger. They are doubly exhausting. I prefer to travel with my own plans and my own way.
This is why I cancelled all my travel plans to Amsterdam, Tuscany, Norway, Finland and Estonia because I couldn't be bother to work. Girl needs to rest! Plus I am currently planning my trip with my high school best friends to Serbia, Montenegro and Croatia later in August which I would rather do. No work, all travel!
Don't get me wrong, I'm not complaining at all. I am just trying to illustrate how it feels like to travel all the time.
It's fun but I need to rest in between travels. I'm staying at home to focus on other things like reading books, watching movies and tv shows, decorating the apartment, throwing dinner parties and spending time with people dear to me.
I am doing other things that I love.
Because moderation is everything. Balance is everything.