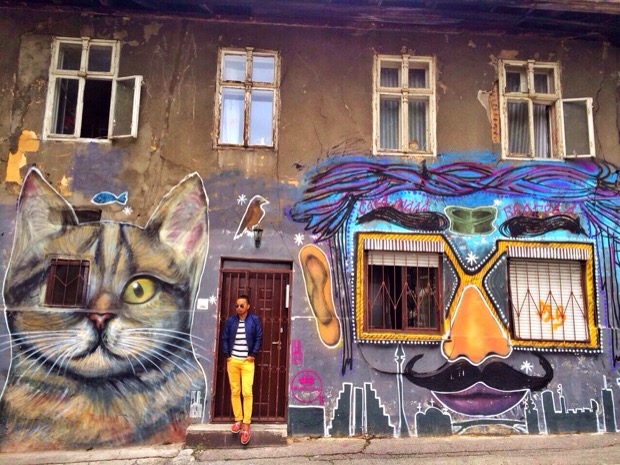 We really really like Serbians. They are some of the nicest people we've encountered in our travels in Europe.
And then this happened.
We almost got scammed by a taxi driver and we were all shocked by what he did next.
I am still shaken and I am writing this at our place because I couldn't sleep.
Here's the full story.
We were out clubbing until 4am and decided to call it a night because we have a flight to catch to Montenegro at 9:30am and we still have to pack and get some sleep.
Our last stop was Lasta Club at Savamala when we decided to take a taxi home. As soon as we went out of the club on the water, there were a number of empty taxis waiting outside and we took one of them.
I sat in front and my friends MM and Zan sat at the back. The driver was kind of nice. He was quite chatty and curious about where we were from.
The meter read 170 Serbian dinars which was the normal flag down rate so I didn't think we took a scam taxi. But a few hundred meters away, the girls noticed that the meter was running fast.
They told me in Filipino that the meter was running really fast and we might have chosen a scamming taxi driver. We are from the Philippines and we are very familiar with all sorts of scams. We can easily smell one and this was nothing new to us.
Half a kilometer away, the meter already read almost a thousand Serbian dinars and that was when we started asking the driver what was happening. Our apartment was only 5-10 minutes away and it shouldn't cost us more than 700 dinars. We know this because we've taken taxis in the last few days.
He was still trying to be chatty and that's when I noticed he was only being chatty because he was nervous.
I kept asking him why was the meter so high already and I kept on pointing at it.
He said it will cost us 2000 dinars to get to our place and then he switched off the meter.
To be honest I didn't really care paying 2000 dinars to get home knowing fully well that fuck we got scammed! But what pissed me off was when he switched off the meter and told us a rate.
I was also a bit scared. We were in Serbia at 4am with an evil taxi driver. Buddha knows what this guy could do to us.
I asked what he was doing and told him to switch the meter on but he wouldn't. So I pressed all the 3 buttons on the meter but nothing was happening.
Luckily (or unluckily depending on how you see it), he stopped. We were on the highway. I told the girls in Filipino that we should get off now and take another taxi.
"We're getting off. We don't want to take your taxi anymore," I said.
I fumbled nervously for the door handle and immediately got off. I saw that my friends were also getting off the taxi as fast as they could. I was walking ahead and I told them to walk away as fast as they can in Filipino.
I kept walking towards a tram stop and the girls were behind me since they were wearing heels and couldn't walk as fast as I could.
I heard the taxi driver shout something but I told the girls to just walk away faster. I didn't even dare look back (I should have!). I figured we were at the highway so the taxi driver won't get off his car and chase us.
How wrong I was!
I thought we were already pretty far from the taxi driver when I heard Zan shout "He pushed me!"  I turned around and I saw my friend lying by the pavement on the train tracks and the taxi driver running away really fast. He got on his car and drove away.
"Putang Ina! (Son of a bitch!), MM exclaimed.
The taxi driver pushed her! He pushed her really hard that she fell on the pavement.
OMG the taxi driver actually pushed her.
MM and I were both in shock and didn't know what to do. Things happened so fast.
Zan got up on her own and then we came closer to check if she was okay.
She wasn't okay obviously. She got bruises and abrasions on her elbows, on the palm of her hands and on her knees. Here are a few photos:
We were so shocked that taxi driver was able to drive away before we got his plate number.
I didn't even run after him.
I can't believe this happened to us. I've been scammed by taxis, just recently in Kuala Lumpur last January, and it seriously doesn't get any better. You don't get used to it. You don't learn how to deal with it better next time. It is still traumatising every single time.
This is the most traumatising so far specially for Zan. She already had an episode in Manila with a holdaper who grabbed her bag and she fell and she also had bruises.
It's so frustrating that this has to happen a few hours before we leave Serbia. We still think Serbians are nice people. Just be careful with these damn taxi scams.
We took another taxi and told the driver about the incident. He said that they are illegal and that we should only take yellow, pink or blue taxis. So next time you're in Belgrade, make sure you avoid other taxis.
Have you ever been scammed by a taxi driver or during your travels?