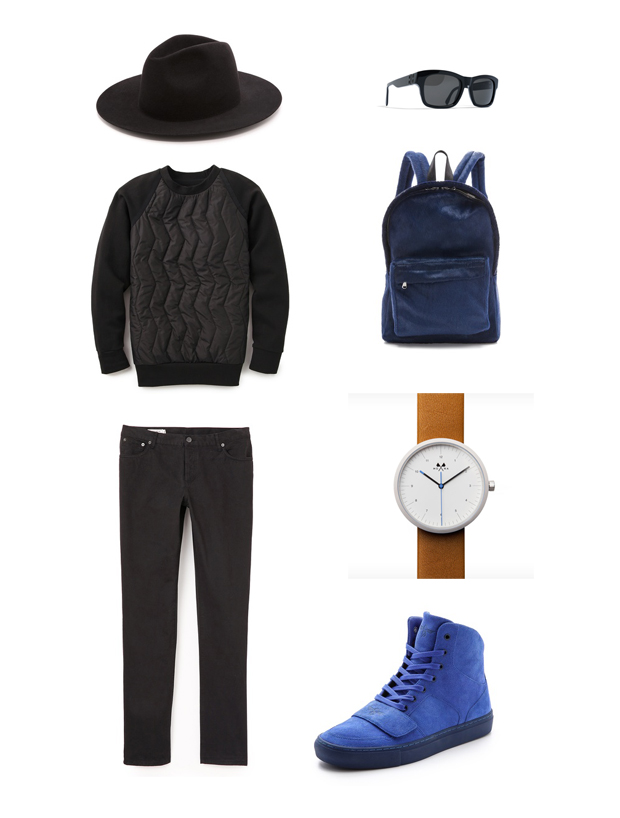 I'll start my big birthday trip in Paris soon and this city makes me feel like I need to step up my game when I visit it for the third time. And since it will be cozy and cold in the fall, I would love to rock this look. Most of you who know me know that I love bright, happy colors and none of this black monochromatic burial ceremony lewk. But I want to be mysterious and stylish in this black and blue combo. I mean I don't want to be another tourist wearing stripes, beret and holding a baguette in hand AS IF French people dress this way. Enough with the stereotypes.
1. Sunglasses by Mykita. Black and classic.
2. Midnight Felt Hat by Etudes Studio. Classic top and totally creates a dramatic effect for this look.
3. Quilted Raglan Pullover by Christopher Raeburn. I love the graphic feel of the quilting.
4. Chinos by Maison Kitsune. Simple and understated. No point to be flashy.
5. Haircalf Backpack by Anzevino Getty. I repeat: hair calf. HAIR CALF. How luxurious does that sound?
6. Watch by MONA. A touch of color to an almost-monochromatic look by French brand Mona.
7. High top sneakers by Creative Recreation. Saturated blue suede shoes to finish off the look.
*