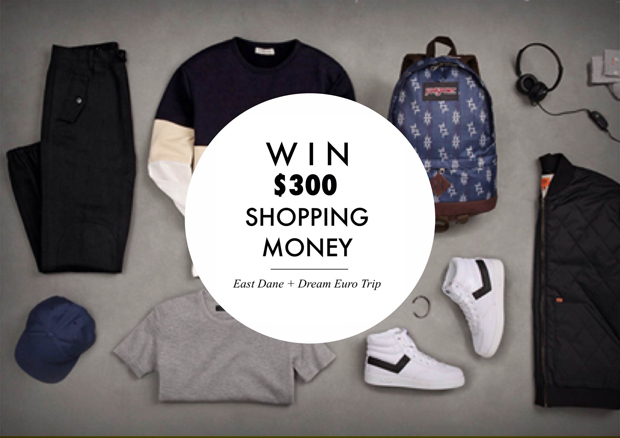 To celebrate the day when I first set foot in my dream continent and start my adventures of a lifetime that lead me to where I am now, I am giving away $300 worth of shopping moolah from East Dane to my readers and subscribers.
That day was August 23, 2009. Tomorrow I will celebrate the day I flew to Europe five years ago and start my years of magical living as a full scholar of the prestigious Erasmus Mundus scholarship.
It was all I ever wanted in life.
I remember that day vividly. I didn't sleep because, the night before, I was busy packing all of my stuff in boxes in my apartment in Manila so my parents can take it home. OBVI I was not bringing all of these bits and pieces of me to Europe.
All I was bringing was one piece of luggage and my dreams.
Diane, my poor youngest sister was crying even before we went to the airport. She would cry in the shopping mall. She went there with us to see me and say goodbye. I remember seeing her crying as she took the escalator to leave. I stood on the 4th floor watching her go down. And then I allowed myself to cry. I cried all the way out to the busy streets of Malate.
But at the airport I couldn't bring myself to cry. I was exhausted from packing all night. I had not slept. My family and friends were there to see me go. My mom cried and hugged me tight a dozen times and I still did not cry. My friends Nicola and Marian were wiping their eyes, trying not to cry, and I still did not cry.
It was definitely a mixture of exhaustion and that overwhelming feeling of excitement it was almost like I could not feel anything else.
I hugged them all goodbye and went in.
When I passed through immigration and told the Immigration Officer that I was going to Europe to study, he was confused and asked the other Immigration Officer about my situation. He was holding all my documents which I handed to him. The confusion stems from the fact that most Filipinos who go abroad are going to work as seamen, domestic helpers, skilled immigrants etc and rarely as a student.
Immigration Officer 1: Mag-aaral daw siya sa Europe. (He said he is going to study in Europe.)
Immigration Officer 2: Ah, au pair siguro yan. (He is probably an au pair.)
I was mad. Did this cretin just say I was an au pair? WORSE. DID I FREAKING LOOK LIKE ONE?!?
Me: Pupunta akong Europe para mag-aral ng Masters ko. Eto yung acceptance letter at diploma ko from UP Diliman. (I am going to Europe to study my Masters. Here is my acceptance letter and diploma from UP Diliman [a.k.a. the best university in the Philippines; a.k.a. your-son-will-never-get-into-that-school])
That made him shut up and shuffled my documents with a raised eyebrow. He then stamped my passport and let me pass through. I still couldn't believe that I am moving to Europe even after I boarded my plane to Amsterdam and got settled on my seat.
"This is it. It's all happening!" I thought.
I looked out the window and stared at this ugly NAIA airport. It was my last memory of Manila. And then I arrived in the Netherlands. My European adventure started here.
For the next 2 years I did not set foot in my country. And all the most amazing things has happened to me since then.
Dreams do come true. Believe in them and chase them!
The East Dane Giveaway! For real!
So I'm celebrating 5 years of that this August 23 which obviously is the perfect time to give away $300 worth of shopping moolah from East Dane. You can't choose your face but you can choose your clothes! Agree?
There will be 3 winners of $100 gift card each which you can use to buy anything on East Dane. For example, you can buy fabulous men's shoes perfect for your eurotrip or better yet, get anything from over 400+ items of 50% Off Men's goodies. With the stuff on sale you can literally buy an entire look for you or your boyfriend!
How do you enter the giveaway?
Easy breezy.
1. Comment on this post with your biggest dream in life in one sentence and you get 2 points. *MANDATORY*
2. Follow me on Facebook, Instagram or Twitter.
3. AND share this post on Facebook, Instagram or Twitter. You can choose any social media platform you like. But I'd love it if you follow me everywhere of course. (Don't pretend you're not stalking me! :P)
3.1. For Facebook, share this post and tag my page Dream Euro Trip
3.2. For Instagram, post a photo of an East Dane item you love and hashtag #dreameurotrip on your caption
3.3. For Twitter, share this post (which automatically tweets @DreamEuroTrip)
4. Each follow + share = 1 point. You should follow AND share to qualify. For example, if you follow me on the 3 social media platforms and share this post, you get 3 points. If you share it multiple times, you get 1 point for every share. So the more you share it, the more points you get.
5. Easy right? This contest will run for 11 days from August 22 – September 1 (12 noon Central European Time). The winner will be chosen randomly using random.org and notified via email and announced via the blog on September 2.
Ready, Set, SHOP! WIN!
*