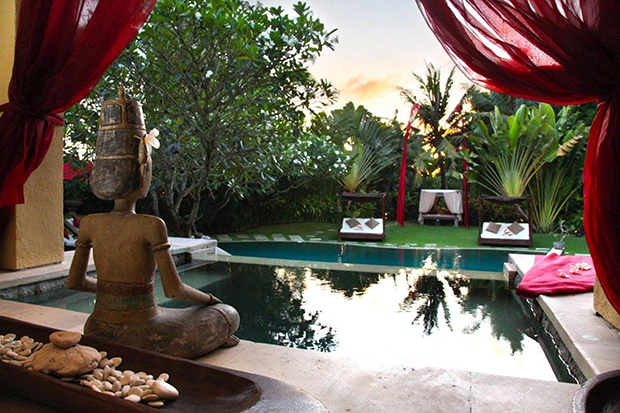 I've always been obsessed with Balinese architecture and design philosophy with its distinct flair for being in harmony with nature. Many Balinese domestic homes and luxury villas use the unmistakable philosophies of Balinese architecture. It's so beautiful and poetic how they use nature as a focus to provide perfect spaces with a relaxed and tropical atmosphere. 
Like traveling to Morocco and staying in a gorgeous riad, there's really only one way to do Bali: stay in a luxurious Balinese villa.
Luxury villas in Bali come in different shapes, sizes and prices. From private estates with resident staff, infinity swimming pools, luxurious spa treatments, organic food and transport on tap to cheap, cookie-cutter compounds masquerading as villas, there are thousands to choose from. Will you be shocked if I tell you that there are almost 10,000 hotels, villas and resorts in Bali? Ten thousand! I WAS SHOCKED.
And to compound the problem, Bali is huge and spread out. How do you choose which area and were you should stay? You've got to pick from more than a dozen areas from surfer-friendly Canggu to trendy Seminyak to bohemian Ubud. 
You're obviously spoilt for choice. But with thousands of luxury villas to choose from, you're probably experiencing analysis paralysis while researching where to stay and which luxury villa to book. It doesn't help that all these listicles showing up on Google are written by people who have never actually stayed in these hotels and are recommending them.
This is not one of those listicles.
Bali's luxury villas are the holy grail of effortless indulgence. Let me help you choose the best ones. The selection below doesn't normally appear on these generic listicles. I get to let you in on the best gems in the island of the Gods.
I have chosen 5 of the best luxury villas in Bali in 4 of the best areas to stay at. I have certain criteria for choosing these villas. They are unique, mostly small and independently run businesses. They are design-led and pack a lot of charm and character because I obviously won't recommend any fugly villa. As if you would ever see me do that. Most of them are also sustainable and support locals by employing them or supporting the local community.
Let's go! Just a quick warning though: lots of delicious breakfast spreads ahead!
Best Luxury Villa for Art Lovers: Hotel Tugu Bali
Location Canggu, one of the best surfing spots in Bali
Perfect for art lovers
The lowdown Hotel Tugu Bali is a super charming and unique hotel tucked away in Canggu. It exclusively houses a vast collection of Indonesian art and antiques it almost feels like you're staying in a well-curated museum. Tugu Hotels' founder, Anhar Setjadibrata, made it his mission to bring back to life the art, soul and romance of Indonesia's yesteryears through his collection of beautiful boutique museum hotels. This is not your cookie-cuter hotel.
This is why staying in Hotel Tugu is an experience.
As soon as you enter the property you are immediately transported to a full Balinese experience through its artful design and themed decor. The magical Bale Agung lobby features an impressive 4.9-meter tall wooden giant Garuda carved from a whole 120-year-old tree. The suites and villas are all very private and most of them have their own plunge pools.
The best villas in the hotel are Puri Le Mayeur and the Walter Spies Pavilion. Puri Le Mayeur is a spacious single story villa floating above a lotus pond over-looking the sea while the Walter Spies Pavilion is a romantic art deco villa dedicated to the legendary German poet and artist Walter Spies, an influential German musician and painter who made Indonesia his home.
What to love: most unique Balinese villa experience We stayed in one of the Dedari Suites which I also highly recommend more than the Rejang Suites because the Dedari Suites are on the ground floor. This means that you have your own tropical plunge pool and mini garden outside. We enjoyed eating our breakfast outdoors by the pool. And oh my, talking about breakfasts… look at this breakfast spread! So delicious! I'm salivating while writing this article.
The spacious room itself features a massive canopy bed enveloped in white curtains. So dreamy! The bathroom is almost like a private spa area with a unique sunken bathtub that opens to a mini pond full of colorful koi fishes. It was such a joy to take a long bath in this bathtub.
The hotel is full of various tropical plants and trees you almost feel like you're in a jungle. There is also a big lotus pond in the hotel and it's so magical to walk through it to get to our villa. When you go outside the hotel, you're by the beach where all the surfers are busy catching waves. You feel really close to nature here.
But the Balinese experience doesn't stop there. Hotel Tugu Bali offers exclusive cultural experiences to guests as well. I highly recommend taking the Djamoe class. You'll learn how to make a Djamoe drink, a mixture of traditional herbs and spices which are used by Indonesians for healing, rejuvenation and general wellbeing. The drink is so fresh and full of vitamins and minerals.
Of course a spa treatment is a must. I tried the Purnama & Tilem Massage, a special massage carried out with purification ceremonies which the Balinese practice during the two days of full moon (Purnama) and new moon (Tilem).
I loved every minute of our stay in Hotel Tugu Bali. There's something about the hotel that made me feel so at peace.
Book at Booking.com
Best Luxury Villa for Romantic Getaways: Villa Mathis
Location Umalas, near the trendy neighborhood of Seminyak
Perfect for honeymooners and LGBTQ travelers
The lowdown Villa Mathis has 4 villas set in a lush 10-000 sq. meter tropical garden. There are 18 rooms in total and each villa has its own swimming pool and living area surrounded by various native and exotic plant species. The hotel layout is designed in such a way that each villa has its own private space so you can fully enjoy this beautiful place. All the villas and rooms are very different and unique but accentuated and detailed by the same Balinese materials and decor.
We spent two nights at the Ricefields Suite. The room featured a romantic canopy bed, a spacious veranda overlooking the lush garden and rice fields, an indoor bathroom with a bathtub and an outdoor bathroom with a shower. It was gorgeous.
I was so in love with the landscaping of the whole property. The plants, the trees, the beautifully decorated common areas, the dreamy gardens, the cute swimming pools. They all worked together in perfect harmony. If I designed a Balinese style villa compound, it would almost look like that Villa Mathis'.
I also felt so at peace and calm while staying at Villa Mathis. It is always so soothing when a space is focused on nature. I spent most of my days lounging in all 4 villas because I loved them all.
What to love: most romantic dinner experience And the food and the romance of it all. Wow. I LOVE LOVE LOVE their Ephemera dinner. They set-up the most romantic candle-lit dinner setting ever with a sumptuous 5-course Indonesian food. I highly recommend taking this dinner. It was probably my favorite dinner in our two-week stay in Bali. It was so romantic and just so perfect. They win the most romantic dinner for me.
The fact that this place is very gay-friendly too is an icing on top of the cake.
This truly is a perfect place for romantic getaways for everyone including the gays!
Book at Booking.com
Best All-Inclusive Luxury Villa: Samabe Bali Villa and Suites
Location Nusa Dua, the most exclusive area in Bali
Perfect for the ultimate luxurious indulgence
The lowdown Samabe Bali Villa and Suites is my new gold standard for all-inclusive resorts. It is everything you ever dreamed of when you dream of staying in a luxury all-inclusive resort. It is stylish, private, serves amazing food, has exceptional 24/7 butler service and extra luxurious. This is how all all-inclusive resorts should be.
Let me explain the difference between Samabe Bali and other all-inclusive resorts.
All-inclusive resorts sometimes have a bad reputation and certain travellers avoid them like the plague. They are usually massive hotels with hundreds of rooms, big pools with screaming kids and bad buffet food are just some of the things that come to mind.
What to love: most beautiful villa and best butler service  Samabe is a league of its own. You have your own stylish private villa with a swimming pool instead of staying in a massive hotel with hundreds of rooms and sharing a common swimming pool (although Samabe has common pools too). You can have delicious, freshly cooked food delivered to your villa 24 hours a day instead of eating bad buffet food. If you don't feel bad leaving your gorgeous villa (and super bad you will feel!), you can also dine in a number of restaurants all over the hotel. Screaming kids? I have not seen one kid in our stay. Probably because they are all enjoying their own private villa.
And that's not all. Samabe has its own private white sand beach. It's beautiful and mostly empty. If you want a beach all to yourself, this is it. (Beaches in Bali are kinda dirty so it's great to have a beach that you can actually swim in.)
If that doesn't convince you, how about it's world-class spa? You can even have your choice of full-body massage in your room included with your all-inclusive indulgence.
If this is not heaven, what is?
It felt so good to just relax, drink fresh coconut juice on tap and eat whatever food I wanted anytime of the day. We stayed here during my birthday and it was the best decision I have ever made. It was the perfect place to celebrate my birthday. Even Flamingay came to visit and he brought us some donuts and pizza 😛
We seriously didn't want to leave our villa during our stay here. But of course we did!
One night we went out to watch the Devdan Show which I highly recommend. It's a 90-minute spectacular stage performance featuring a fusion of traditional Indonesian dance activities with modern contemporary dance, world-class aerial acrobatic attractions, dazzling costumes and hi-tech special effects.
Samabe truly raised the bar for all-inclusive resorts for me. It's not easy to find something as good as this gem.
If you want to stay in a regular all-inclusive resort, check out Grand Mirage Resort in Nusa Dua as well.
Book at Booking.com
Best Luxury Villa by the Forest: Kayumanis Ubud Private Villa and Spa
Location Ubud, the bohemian enclave in Bali
Perfect for nature lovers and luxurious spa hunters
The lowdown The mere mention of Bali evokes thoughts of paradise and lush, tropical islands. If you're looking for a luxury villa that will bring you immediately to this achingly beautiful image of Bali, then you have to stay at Kayumanis Ubud Private Villa and Spa.
Kayumanis Ubud is an intimate hideaway in the heart of Bali's bohemian and mystical Ubud. It is nestled amongst groves of cinnamon trees and fragrant blooms overlooking a tropical forest and the gently flowing River Ayung. It couldn't get any more Bali than this.
There are 23 private villas designed in exceptionally themed interiors to suit everyone's own personal taste and preferences.  You can choose among Balinese, Javanese, Oriental, Palembang, Primitive, Ethnic and Modern interior style. Regardless of what you choose, each villa is tastefully furnished in a blend of ethic, modern, and traditional Indonesian aesthetic which they do so well in Bali.
We stayed at the one-bedroom private villa which had its own swimming pool, separate open-air living and dining pavilion and and open-air garden bath. I love the spacious, open-air layout of the villas so you can enjoy the feeling of being in the heart of a tropical forest. I did tell you this is perfect for a getaway in nature, right?
Of course we enjoyed sumptuous breakfasts and afternoon high tea by the pool while listening to the meditative sound of birds and insects.
We would eat lunch and dinner at Dining Corner, Kayumanis Ubud's gorgeous restaurant overlooking the tropical forest. And because the hotel was located high up the hill, it felt like we were in a big tree house surrounded by hundreds of trees. It has a gorgeous top view of the forest as well as that feeling of being suspended in the midst of it. It was so magical eating here.
The hotel has other swimming pools besides the one you have in your own private villa. There's one by the restaurant and the biggest one is further down the forest nearer to the river. It was always nearly empty of course because everyone was enjoying their own private villas. So you could have the entire pool area to yourself if you swim laps like I usually do.
What to love: best spa experience Amongst all the hotels we've stayed at, Kayumanis Ubud has the best spa experience. Its multi-awarded spa offers a menu of treatment to rejuvenate the body and restore vitality. The spa is surrounded by cinnamon trees and other foliage giving you that consistent feeling of being in the heart of the forest. It can only accommodate a couple at a time so you are truly private and you have their full attention during your session.
We tried the Relaxing Massage for 1 hour. From the moment we stepped foot in the spa to the time we finished our massage and left, the attention to detail and the genuine care of the masseuse were super impressive. I have taken many spa treatments in my life and there was something about the way the masseuse took care of us that made it extra special. Its spa was a true testament of Kayumanis' core as a service-oriented property.
So if you want that lush, tropical getaway in Ubud, this is your place. Except if you're a family with young kids. They only allow adults and young adults from 16 year old and above to stay in the hotel. Sorry.
Book at Booking.com
Best Luxury Villa by the Rice Fields: Mathis Retreat
Location Ubud, the bohemian enclave in Bali
Perfect for lush getaway in the middle of rice fields
The lowdown If you've seen a few photos of Bali, you've probably seen photos of the rice terraces near Ubud and pictures of villas and hotels in the middle of rice fields. You probably also pictured yourself staying in one.
Well at least I did. We stayed the longest in Ubud area so of course we had to stay in a charming hotel by the rice fields.
Enter Mathis Retreat.
Mathis Retreat, formerly known as Kenanga Hotel, is located at the heart of Balinese rice fields in Ubud. This is a sister hotel of Villa Mathis as you can easily guess from the name.
If you're dreaming of luxurious boutique hotels with infinity pools overlooking rice fields, this is the hotel for you. Mathis Retreat has 21 rooms and bungalows. We stayed in one of the private bungalows. The bungalows themselves don't have a private swimming pool but they are all right by the infinity pool.
What to love: best infinity pool with a view The bungalow was full of character. Like all the other properties we've stayed at, it blended modern and Balinese pieces to create a harmonious interior design. I love the high ceiling treatment which made the room feel so much bigger and more spacious. I also love the gorgeous bath tub, the center piece of the bath area, which you can see as soon as you walk into the bungalow.
The boutique hotel has its own restaurant called Terracotta which is a hotspot on its own. It's a refined and elegant restaurant serving amazing Indonesian dishes alongside some international dishes at affordable prices. I love love love its version of Pepes Ikan, Balinese spice fish in banana leaf served with vegetable wrap and steamed rice, and Kare Ayam, Balinese chicken curry simmered with coconut milk and Balinese curry spice served with steamed rice.
My favorite part of the day was twilight because the hotel lighted up candles and lanterns by the pool and along the borders of the rice fields. It was so beautiful and so romantic. I felt so in love while the day transitioned to night.
I also love the fact that Ubud center was just 10 minutes away. The hotel has its own free drop-off and pick-up service so you can go to the city center to do your shopping and exploration. Ubud is one of the best places to shop in Bali so you should definitely shop while you're here.
Book at Booking.com
How to get around Bali
Bali is huge so you need a car or a motorbike to get around but taking a taxi is very affordable. There are many taxi scams in Bali so it's better to organize your transportation via a trusted source. Whenever possible, arrange for shuttle services provided by your hotel or villa (mostly free for certain distances and areas), including airport transfers depending on your booking details. Check out Blacklane for your airport transfers to your hotel in Bali.
Since we moved around a lot for two weeks it made sense to organize our transportation via a local travel agency so we don't have to haggle or look for a new taxi every time we move. We used Shanti Travel to organize our taxi. We had the same taxi driver for two weeks who picked us up and dropped us off whenever we need it. We just had to text him or agree on a time for him to come to us. It made our logistics around Bali so much smoother.
Have you ever been to Bali? What's your favorite Balinese villa for the ultimate getaway?