The ultimate travel guide to Ponza Island, Italy with insider tips on the best activities, restaurants, gelateria, beaches & hotels. It's Italy's best-kept secret. Looking for la dolce vita? THIS is the place.
Inside this guide: Things to see and do | Restaurants | Gelateria | Beaches | Accommodation | When to go | How to get there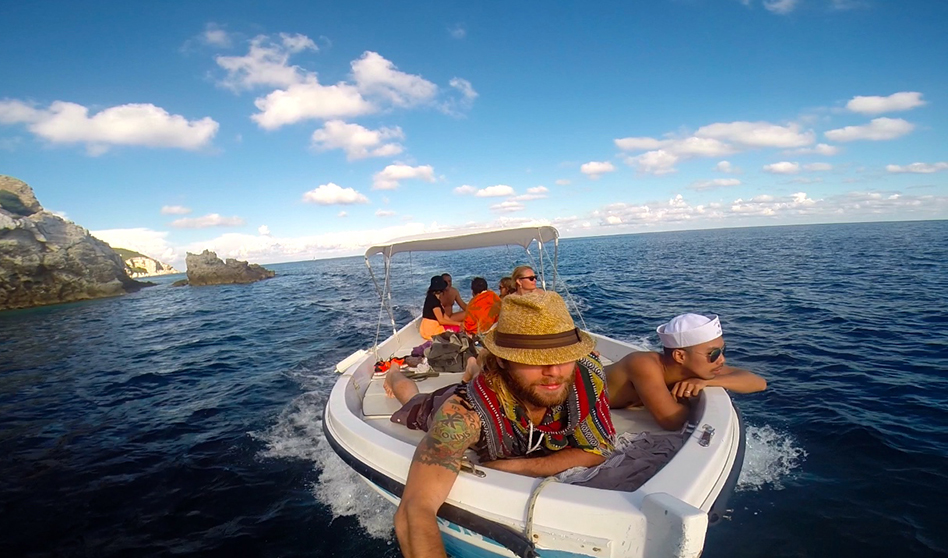 You know that dolce vita or the dolce far niente you've been hearing about? Or maybe you've been chasing it yourself on your quest to experience the real Italy away from the maddening tourist crowd?
What if I tell you I know where it's at?
I'll tell you a secret. Come closer.
Okay, not THAT close.
The sunny slice of la dolce vita is on Ponza island.
It is the place you've been looking for.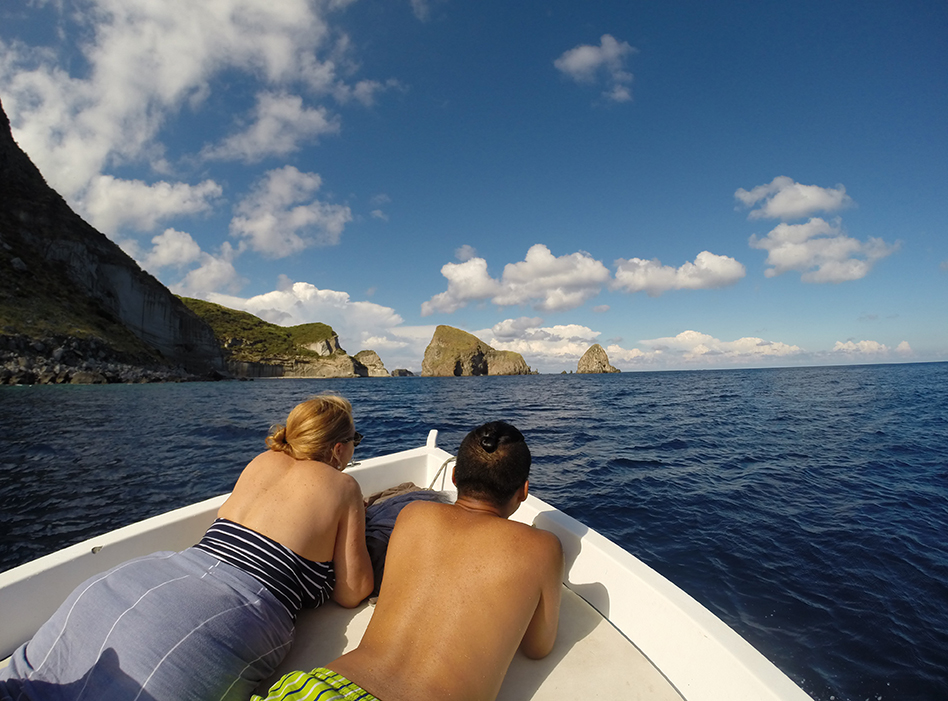 Ponza island is located only 2-3 hours away from Rome and yet I'm pretty sure most travellers who are not Italians have never heard of it. You probably know Capri or Sardinia or Sicily but Ponza? Nope. Where is that?!
Ponza is characterised by its high white cliffs and craggy brown rocks surrounded by serene blue water. Its terraced slopes are carpeted with tiny vineyards and wild bushes that erupt with yellow flowers. The hills are dotted with a mix of whitewashed villas and houses painted in delicious gelato colors.
"Enjoy Ponza. Please don't tell everyone about it!", shouted our host in Umbria, Alina, to us on our way to Ponza. Well I didn't promise her I won't tell.
People come to Ponza to swim and sail, to snorkel and scuba dive, to bask in the island's beauty. They sit in cafes and eat pastry and drink wine and flirt with one another. They go for long walks and spend hours in the trattoria and ristorante eating the world's freshest seafood.
Unlike other Italian islands like the overcrowded Capri, the vibe in Ponza is exceedingly laidback and chill. It's truly perfect for people looking for a sunny slice of la dolce vita.
This is a place where it's perfectly okay to do nothing. If your plans for the day involve doing 3 things, you're too busy. Go on a boat. Bring a book. Eat the freshest seafood. Enjoy the company of your friends or family. Watch the sunset.
And don't forget: wear sunscreen.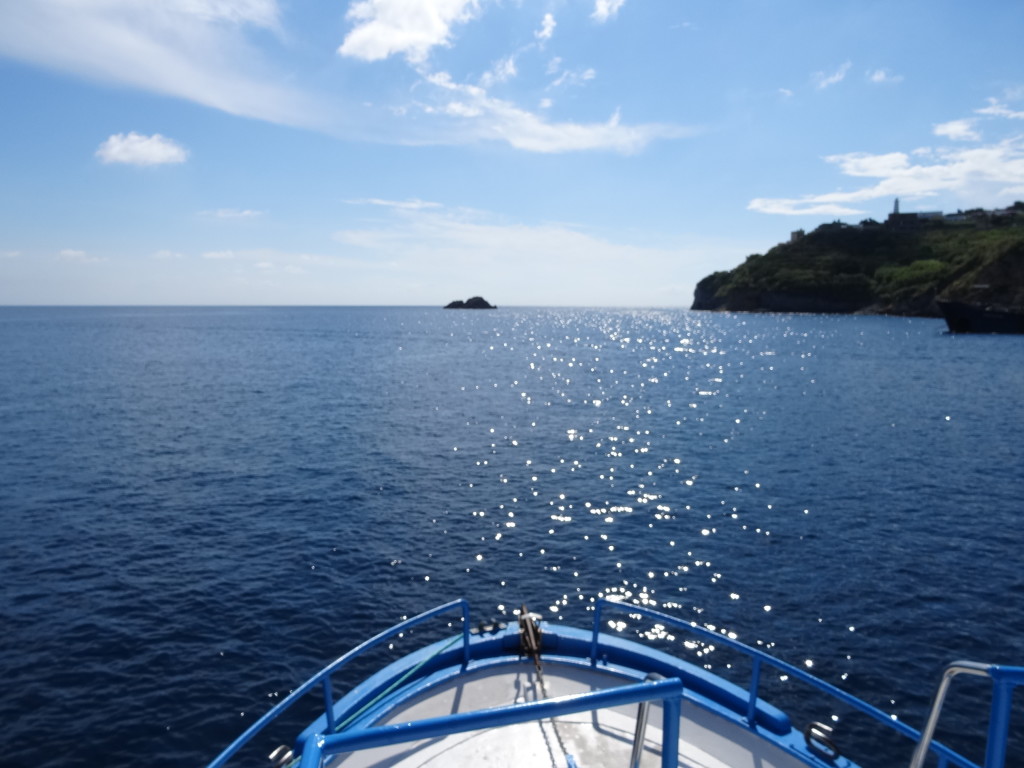 Best Things To See and Do on Ponza Island
1. Be on a boat. Ponza Island is quite big and the best vantage to appreciate the island is from the sea. Explore ancient Roman caves where the nobility used to swim, marvel at gorgeous coves and enjoy the refreshing blue waters.
2. Go snorkelling or scuba diving! Read my full story about scuba diving in Ponza.
3. Hike and enjoy the breathtaking 360 degree views.
4. Rent a motorbike and cruise around the island.
5. Actually, it's better to be on a boat. Rent a boat. Or join a boat trip.
6. Tan in one of its beaches or coves. Don't overdo it. You have 3 months of summer.
7. Take 3-hour lunches and dinners. Ponza has some of the best meals I've ever had in Italy. Check out my restaurant recommendations below.
8. Gelato. As much as you can. Need I say more?
9. Watch the sunset from a water taxi. Or from some of the best restaurants on the island.
10. Smile. Life is sweet.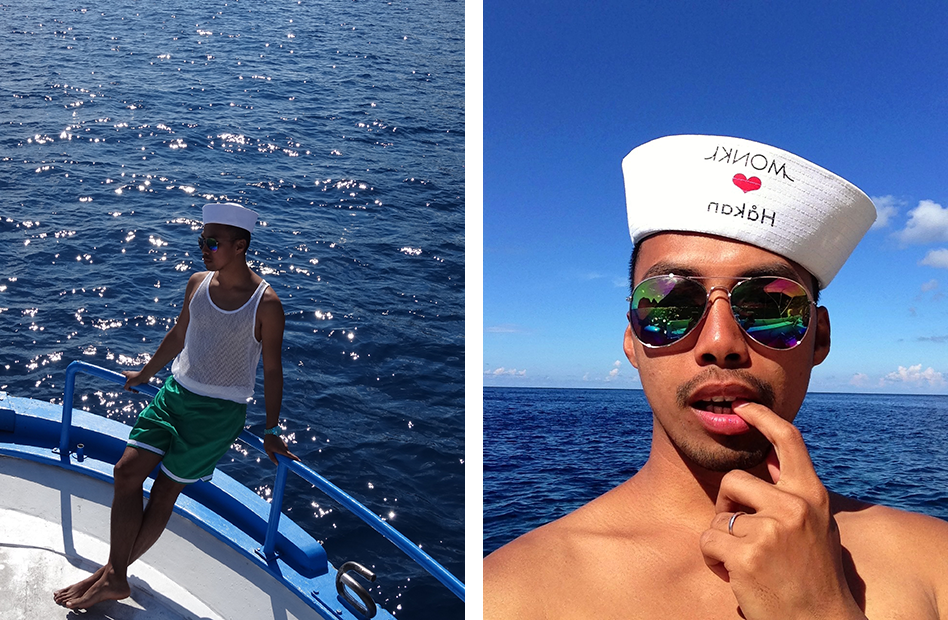 Best restaurants on Ponza Island
You're here to experience la dolce vita. Is there anything sweeter than savouring a 3-hour lunch or dinner?
On Ponza you can devour some of the freshest seafood ever. My personal constitution dictates that I eat as much seafood as I can if I'm on an island or by the sea.  So the list of restaurants below offers an array of great seafood and the best views while dining. Because if there's anything sweeter than a 3-hour lunch or dinner that would be a 3-hour lunch or dinner with amazing views.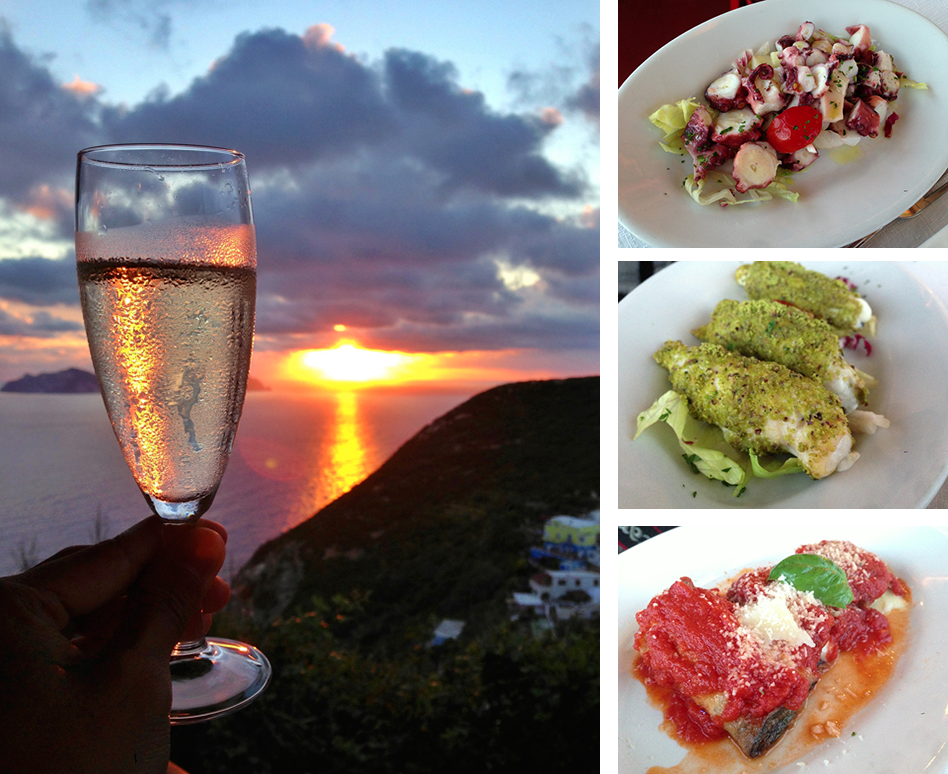 Ristorante Il Tramonto – aptly called the sunset restaurant as you can see from the photo above, this summer dining place has one of the best sunset views in the island. It was literally breathtaking. But you don't just come here for the sunset. Feast on local seafood and simple yet delicious classic Italian dishes while enjoying the views of the sea, the coast and Palmarola in the distance. The food here just makes me want to cry.
I highly recommend having a glass of Prosecco with your meal. With a sunset view like that it would be criminal not to!
Address: via Campo Inglese – Le Forna (dinner only)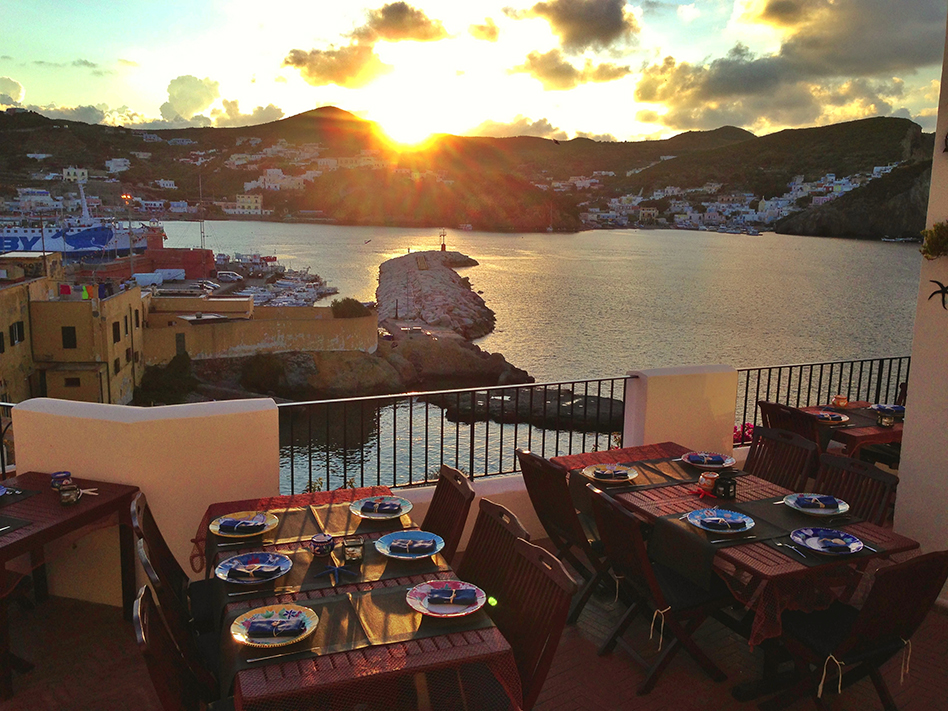 Orestorante – Probably the most romantic restaurant in Ponza. No contest. Orestorante is one of the best restaurants on Ponza with a great view of the harbor. It's also a great sunset dinner spot as you can see in the photo above. They serve classic Italian seafood dishes as well as sophisticated culinary creations. They also have the best wine selection amongst all the restaurants I've tried on Ponza.
Try any of their seafood dishes like the swordfish skillets on a hot rock (yummy!) or risotto topped with buttery white fish (divine!). Or, simple ask the chef for one of his creations. He's very friendly.
The desserts are also fantastic. I love the homemade strawberry shortcake in a glass jar. Make sure you go early or make a reservation so you can seat at the prime spots at the restaurant. It's only open for dinner. Don't fret. The owner also opened a more relaxed and affordable version called Oresteria by Ponza Fish and it's open for lunch and dinner all year round.
Address: via Dietro la Chiesa, 3 (Orestorante)
via Carlo Pisacane, 51 (Oresteria by Ponza Fish)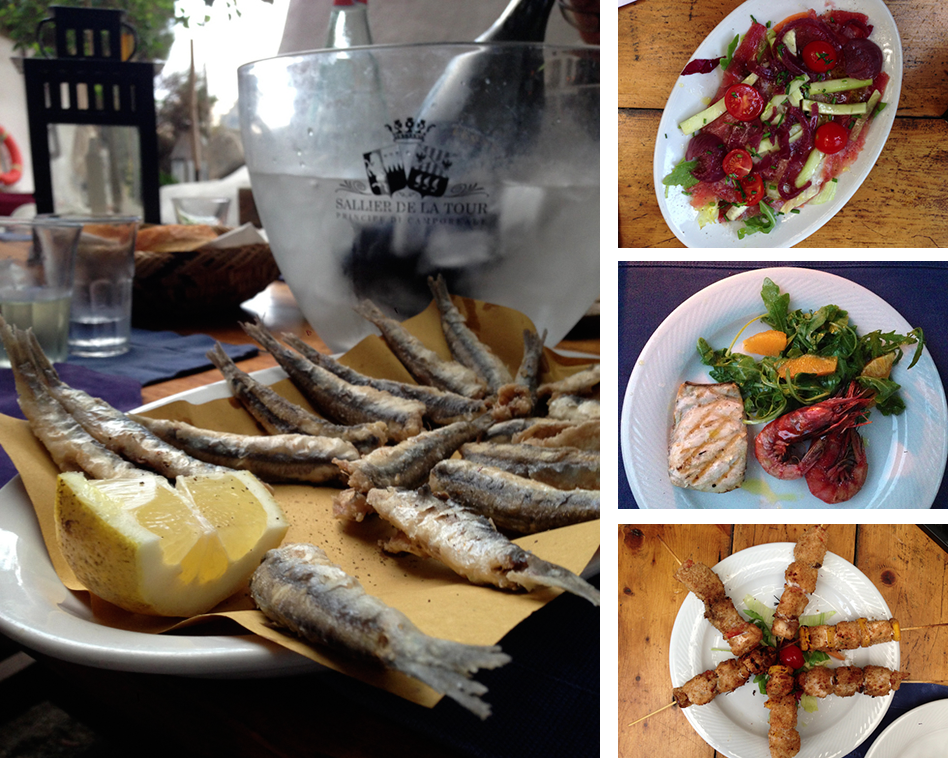 Da Enzo Al Frontone Restaurant – it has an open kitchen and restaurant carved into a rocky cliff located in Frontone beach. The restaurant's main philosophy is "zero kilometer" which means that they only serve food prepared from ingredients caught from the sea around Ponza that day. So you won't see imported frozen catfish on the menu, for example. You can totally taste the freshness of the food, from the anchovies to the crawfish found only around the Pontine islands. Humble dishes yet super mouthwatering.
Address: Spiaggia di Frontone

You can see more pics and read more about these restaurants on my full article here.
Best Gelateria on Ponza Island
What's a guide written by me without featuring one of my favorite things in the world? Garbage, obviously. I searched the island, asked locals and found the best gelato. Located in the center of Ponza just a few minutes walk from the port, Bar Gelateria Panoramica is easily and unanimously the best gelateria on Ponza. It tastes as good as it looks.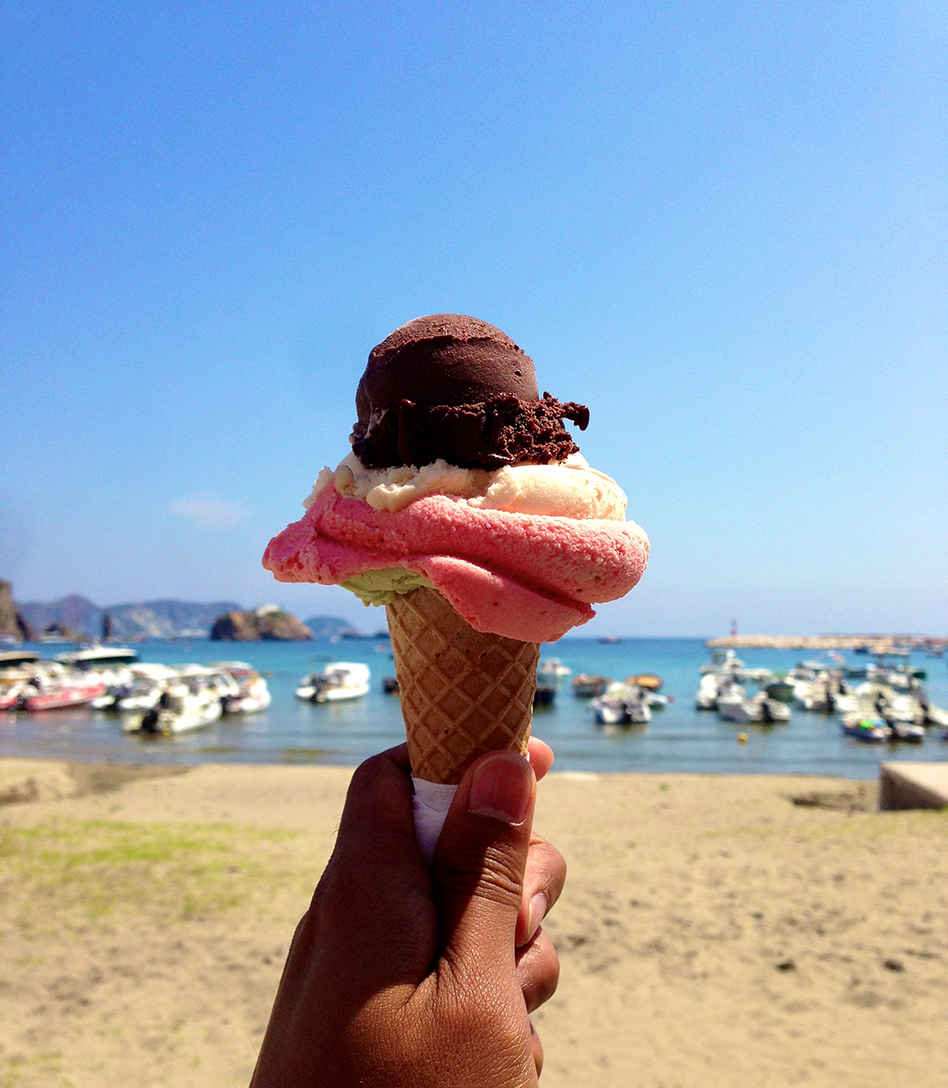 Best Beaches on Ponza Island
Many of Ponza's beautiful beaches and coves are reachable by water taxi so take one or schedule an appointment to have them pick you up. The best beaches worth visiting are: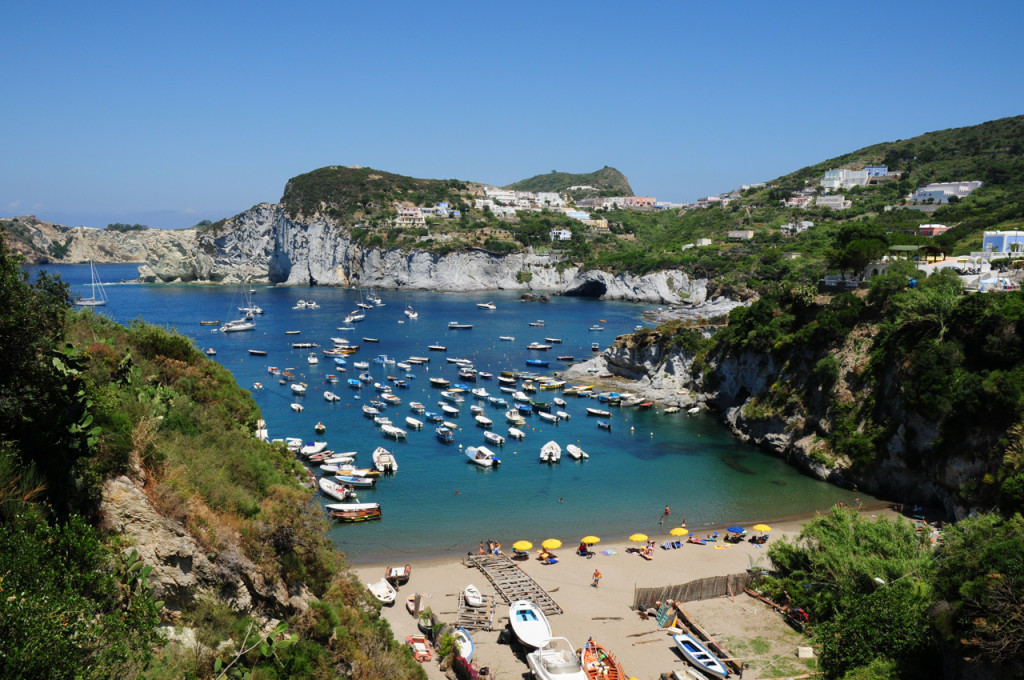 Spiaggia di Frontone – this is probably the most popular beach on the island. Spiaggia di Frontone is a wide and long pebble beach with a few bars, restaurants and nightclub. The water is clear and quite calm because it's nestled between hills. This beach strip is quite happening in the evening. It can be crowded and full of beach chairs so if that's not your thing, the others below are great alternatives.
Cala Feola – one of the rare sandy beaches in Ponza. Hallelujah! It's smaller than Frontone but it's sandy! Most beaches on Ponza are pebbled or rocky so if you prefer a sandy beach, Cala Feola is made for you. The cliffs of Cala Feola is also quite popular because it offers breathtaking views of the bay and rock pools below. One of my favorite restaurants, Ristorante Il Tramonto, is above this beach. So you can enjoy a nice day at the beach and then go up to Il Tramonto and feast on delicious Italian food at sunset for dinner. Perfect day.
Piscine naturali – it's actually not a beach per se. It's more a swimming area of rock pools and reefs protected by white tuff cliffs so the water is calm and clear. It's perfect for people who love to snorkel and swim. It's just at the other side of Cala Feola so you can visit both in the same day if you like.
Cala Fonte – a bit further north of the island is Cala Fonte which has an interesting rocky formation that served as shelter for fishermen before. What makes this beach special is that it offers great views of Palmarola island and the coast of Lazio.

You can also find your own beach or cove if you have rent your own boat. If you have more time, you can also spend a day at Palmarola.
Best Hotels and B&B's on Ponza Island
Ponza is not riddled with chain hotels or big luxury hotels. Far from that. There are only a few "luxury" hotels on the island. As you should know by now, July and August are usually the busiest months in Europe and places like Ponza (even though it's not THAT popular) is no exception. Expect hotel prices to be crazy during these months. Shoulder season (May – June or September – October) is usually cheaper, sometimes even more than half the price cheaper than high season prices so plan accordingly.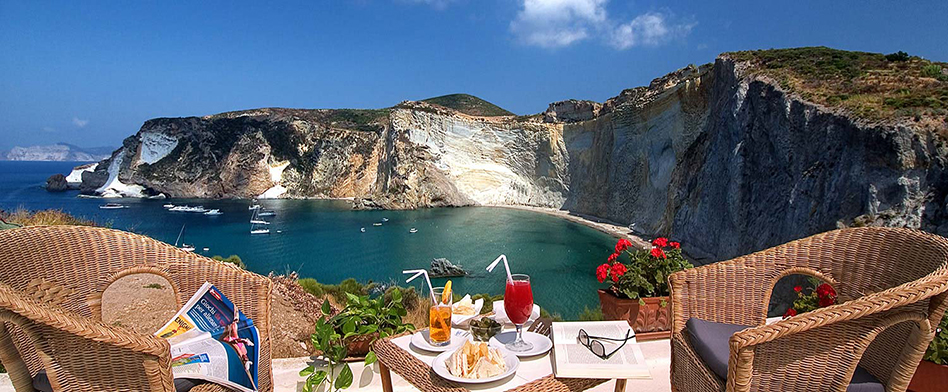 Luxury
Grand Hotel Chiaia Di Luna – highly-rated as one of the best hotels on Ponza offering the best views of the island (see above photo). This hotel features 2000 square meter of terraces with fabulous views of the port, Chiaia di Luna Bay, and Palmarola island. Not to mention it's just 3 sashays away from the beach. You could never go wrong with this hotel. Book waaaaay in advance though because the rooms get snapped up fast. A bit expensive in high season but you could easily book a room for less than 100 euros in shoulder season.
Grand Hotel Santa Domitilla – this is one of two luxury hotels in the island. This 4-star hotel is located centrally in town but tucked in a quite area. It's surrounded by a lush garden and has all the amenities that comes with a 4-star hotel: a wellness spa, two swimming pools with sea water, a fabulous restaurant and great views of the island. When booking ask for the rooms with a terrace overlooking the port. 
Budget
Villa Laetitia – this 1920's style villa is owned by Anna Fendi (yes, THAT Fendi family) so the rooms are nice and design-conscious. All three rooms offer sea views including the rooftop where you can eat your homemade breakfast. It's also located in the center of Ponza so it's near everything! Book in advance if you want to stay here as it only has 3 rooms.
Piccolo Hotel Luisa – a simple family-run nautical-themed hotel near the port. This is a more affordable option if Villa Laetitia is booked. It's also located in the center and a few minutes walk to the beach.
Airbnb – if there's 3 or more of you or if you're planning to stay longer, it might be more affordable for you to rent an airbnb apartment. There are many apartments and villas available for rent in the summer. Get $25 FREE for your first night if you sign-up here.
Turist Casa – You can also rent local villas, apartments and B&Bs on Ponza island via Turist Casa, a local website catering to tourism on Ponza. You can rent apartments for as low as 40 euros a night. We have previously stayed in one of the rock houses in Frontone which has amazing views of Ponza.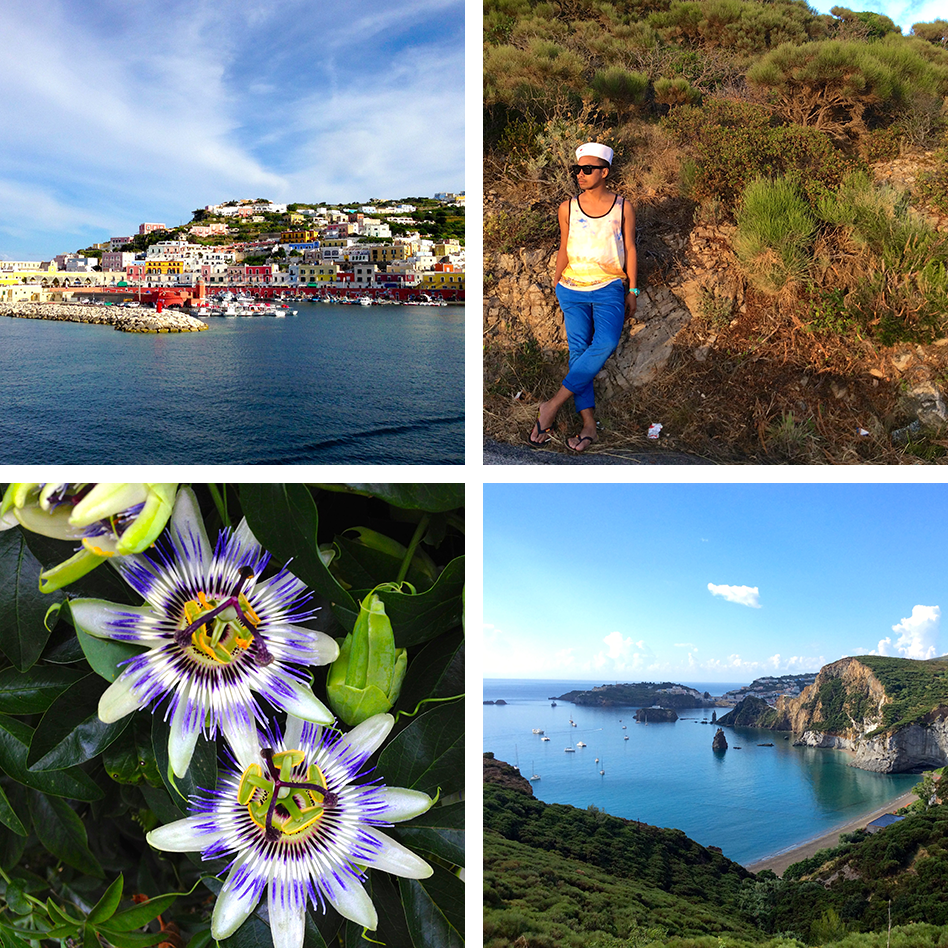 Travel Tips
Below are general info on how to get there and get around Ponza plus useful links to trains, ferries and rental companies.
When to Go
The best time to go is June or September. It's way cheaper to book a room and the island is not packed with tourists like in July or August. It's a favorite weekend getaway among Romans and Neapolitans. Avoid them by going to Ponza during the week.
How long to visit Ponza
I suggest you stay at least 3 full days. Anything shorter is a bit rushed. If you can stay for a week or longer, the better of course!
How to Get There
From Rome, take the train south to Anzio or Formia, either of which is just over an hour ride away (longer if you take the slow train).  Then take the 1-hour hydrofoil  or the 2-3 hour ferry. Boats to Ponza also leave directly from Naples in July and August.
Getting Around
There are public buses that go around the island but this being Italy and an island, don't expect them to have timetables nor be super modern. It's best to rent a scooter or motorbike to get around the island. There are a few rental companies in the center for this.
It's also easier to get to the beaches and coves by water taxi. You see them by the harbor. You can even book an appointment so they can come pick you up. Just get the mobile number of your favorite water taxi driver.
You can also rent a boat and inflatable speedboats from 50 euros a day excluding fuel through Diva Luna.
* * *
I'm pretty sure I have given you more than enough tips and ideas to experience la dolce vita. I'd love to hear your thoughts about this travel guide. If you have any questions or comments, please write them below.
If you enjoyed the guide, please share it and pin the photos to your heart's content! It means a lot to me and will push me to create more guides for you. Thank you <3
Follow me on Instagram or Facebook!