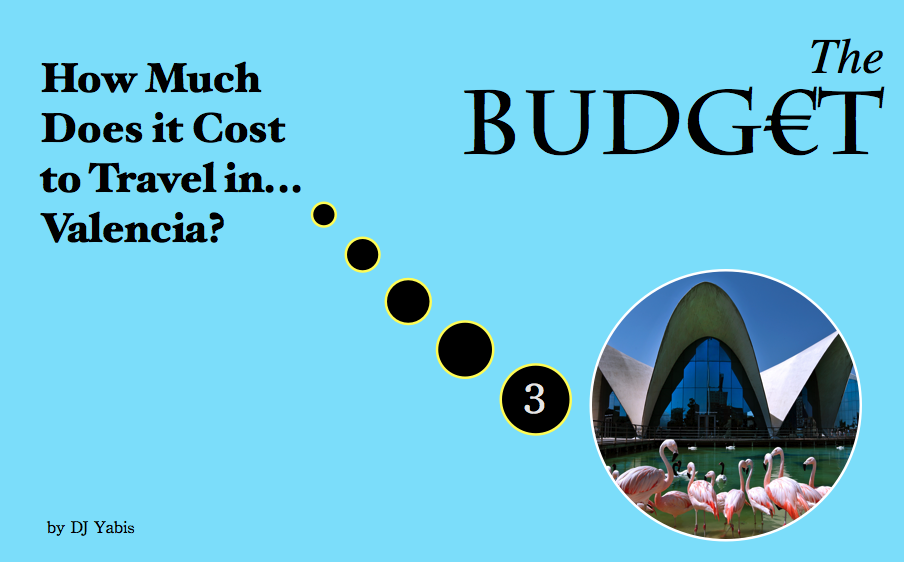 Here's my travel expenses breakdown of my 3-day trip in Valencia, Spain. I am very transparent with my expenses because what's a budget travel website without actually talking about money and the actual cost of traveling?
See All Europe Travel Cost Reports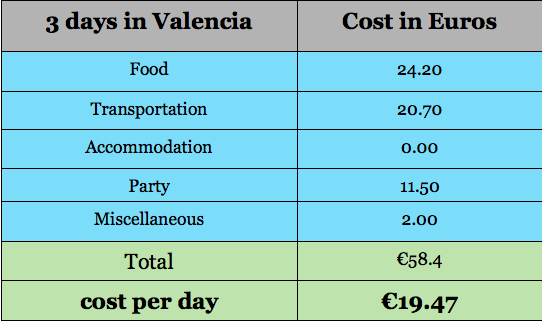 How much does it cost to travel in Valencia for 3 days? Mine came down to 58.4 euros or 19.47 euros per day. The detailed explanation follows:
Valencia Food Cost
The cost of food in Valencia includes me eating out a few times for lunch and dinner. Some of the meals cost less than 10 euros. If you want to eat paella, the nice ones by the seaside would cost you more than 10 euros (very touristy) but you can find cheaper ones in the city center. I also bought some food in the grocery like yoghurt and cheese and jamon. Yoghurt is really cheap in Europe so I eat almost a liter of it everyday!
Valencia Transportation Cost
The transportation cost includes the cost of going to Valencia from Madrid and cost of public transportation within the city. I didn't spend alot in city transportation because Valencia is quite compact so I walked a lot. The only times I used the public transport was when I went to the stunning Ciudad de las Artes y las Ciencias nerdplex and to Malvarrosa beach.
I also used ridesharing website, BlablaCar, for my trip from Madrid to Valencia and I totally recommend it. Normally it would cost you 25+ euros by bus or 40+ euros by train but through this, I only paid 15 euros. Great savings!
Valencia Accommodation Cost
I didn't pay for accommodation because I was staying with a friend. But I don't have friends in Valencia, you say. You can try hospitality websites like Couchsurfing.
Valencia Party Cost
I went out for 2 nights in Valencia. The first night me and my Spanish friend Enric and his friends were bar hopping around the center and also drank beer outside (it's cultural, its called botellon). Beer is not that expensive in Valencia. A bottle can be had for 1-2 euros. There are many people giving flyers for their bars and usually they have some deals like buy 1 take 1 and stuff like that so you can take advantage of them.
The other night I went to meet other friends who were hanging out by the student area in Blasco Ibanez Avenue. Beer was cheaper here and they sold it for 0.50 euro cents for a small bottle. My Polish friend, Ania, who lives in Valencia said they have these kinds of promos for students all the time. There are also a lot of international people hanging out here so the atmosphere is great. Shots can be had for as cheap as 2 euros.
Valencia Miscellaneous Cost
This includes the prepaid cost of my cellphone which I used to contact people while in Valencia. I didn't pay for the museum and amazing oceanographic because the good people in Ciudad de las Artes y las Ciencias gave me a press pass. Normally, it would cost you 29.70 euros to go to both sites for 2 consecutive days.
See All Europe Travel Cost Reports
—
My travel expenses in Valencia is pretty good I think. If you don't go out drinking, you can even have a cheaper travel budget.
Want to know how much your backpacking trip in Europe would cost? Use the free online EuroTrip calculator found at the sidebar.
Have questions? Feel free to post a comment or email me.
Happy travels!
DJ
*